It draws compliments to its smooth naturally aspirated V6 engine, car-like driving dynamics, and comfortable ride. However, as we noted with the 2018 Pilot (reviewed here), being two years old in this quickly developing segment makes it seem outdated and in need for a refresh.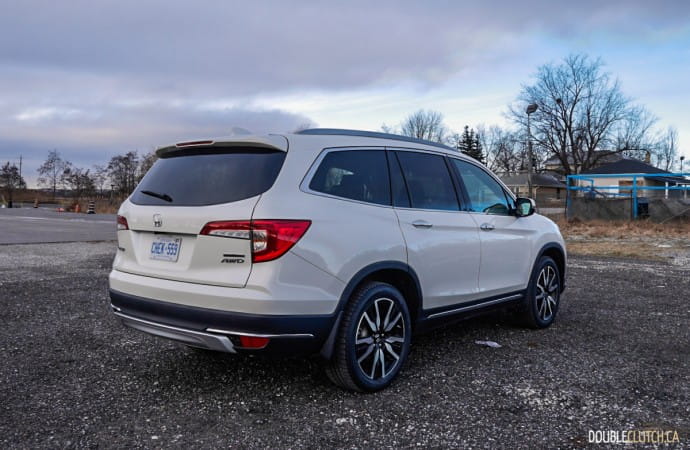 Honda also recognized this opportunity and announced that they have made a list of improvements to the Pilot for 2019 model year, including much-needed refinement to the ZF 9HP nine-speed automatic transmission, updated technology to include CabinTalk and CabinControl, tweaks to the infotainment layout, refreshed exterior design as well as other changes. We were curious whether the updates are significant enough to allow the popular SUV to continue to be one of the class leaders, so we borrowed a 2019 Honda Pilot Touring AWD for a road test.
At first glance, our White Diamond Pearl 2019 Honda Pilot Touring looks similar to last year's model. The 2019 Pilot grows a bit in size, being about 20mm taller and 50mm longer, and sports a new front fascia. It wears a new set of LED headlights that look similar to Acura's Jewel Eye design, and a sportier front bumper for a more rugged look. The Touring rides on new 20" aluminum-alloy wheels, and a set of redesigned taillights rounds out the exterior. Honda decided to keep the styling changes subtle and not change what is not broken, instead asking their engineers to focus on the refining the driving experience.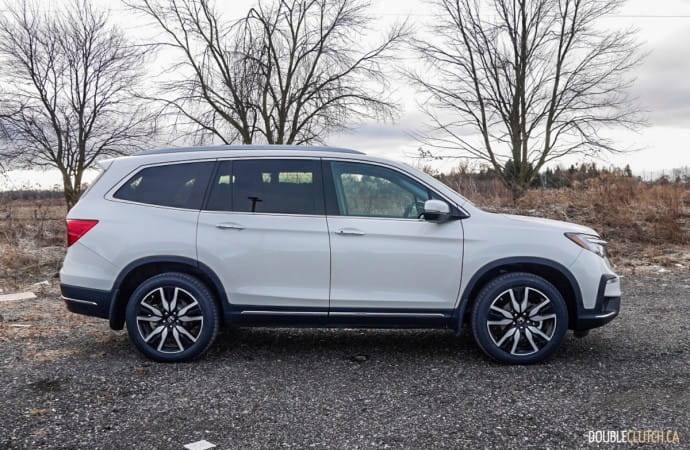 One of the emphasis to the 2019 refresh is to update the nine-speed automatic transmission that comes standard with on Touring and Black Edition trims. Honda has made adjustments to both the hardware and software of the gearbox to improve the responsiveness and smoothness of the gearshifts. Having tested both the 2018 and 2019 models back to back, we can confirm that the Honda engineers' efforts did not go to waste. We observed much tidier shifts and overall sharper response to the driver's input, a great improvement from last year's model.
In keeping with the theme of not changing what is not broken, Honda has kept the silky smooth 3.5L V6 naturally aspirated engine as the source of power. It's rated at 280 horsepower at 6,000RPM, and torque is rated at 262 lb-ft. at 4,700RPM. Getting the Pilot and its 2,650kg curb weight moving is rather effortless, and the fact that this power is not supplemented by forced induction means there's no waiting for acceleration at any point. In a segment where turbocharged engines are becoming the norm, the immediacy of the Pilot's V6 is becoming a rarity.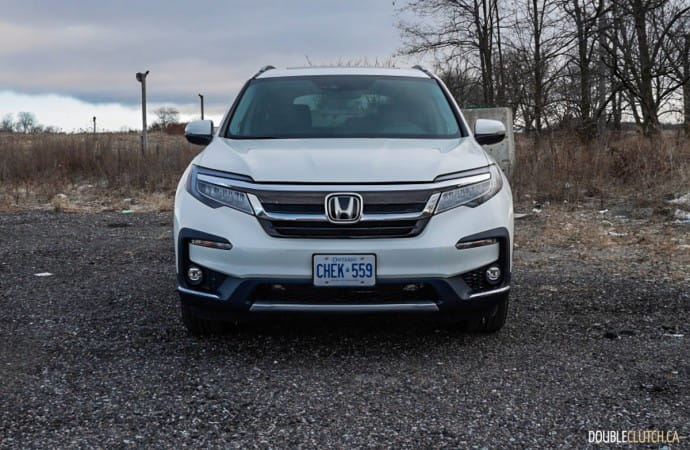 The reason so many car manufacturers are moving towards using turbocharged engines is because they seem to be more fuel efficient, at least in a laboratory setting. A look at the Pilot's rated fuel economy figures tells that there are two sides of this theory. The 2019 Honda Pilot is rated with 12.4L/100km city, 9.3L/100km highway, and 11L/100km combined fuel economy figures. This figure is similar to some of its competitors with turbocharged four-cylinders, such as the Subaru Ascent (reviewed here) and Mazda CX-9 (reviewed here). The Pilot's efficiency is aided by Variable Cylinder Management (VCM), that allows the engine to go from using six cylinders to four or three.
One of the biggest compliments the third generation Pilot has received is on the way it handles. We are not implying that this is a canyon carver, but its handling ability is sharp enough to successfully camouflage its size and that is enough to persuade. Steering weight is moderate with good road feel, and overall the 2019 Pilot maintains the same car-like driving dynamics as last year's model. It remains one of the better options for those who prefer the utility of a truck without the feeling of driving one.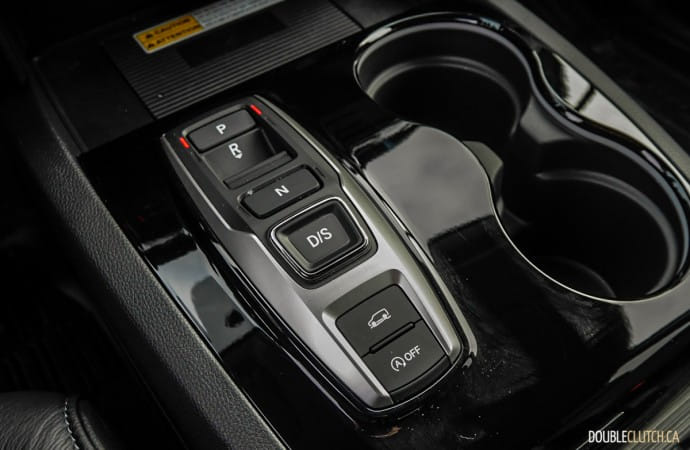 The interior layout of the new Pilot is very similar to the outgoing model, with the addition of one very minuscule yet significant feature – a volume knob. It is great that Honda has listened to feedback and reinstated the volume knob. This Touring model comes standard with perforated leather wrapped seats, and I was able to quickly find a suitable driving position with the help of the excellent visibility all around the cockpit.
The front seats are power adjustable, heated and ventilated, and the second-row seats are heated with one-touch control allowing passengers to enter the third row. We noted excellent head and leg room for occupants in all three rows. Honda has always been known to include lots of storage space in its cars and we observed a ton of storage cubbies, pockets, and cupholders on board. Cargo volume behind the second row is rated at an enormous 1,583L, and a respectable 510L behind the third row.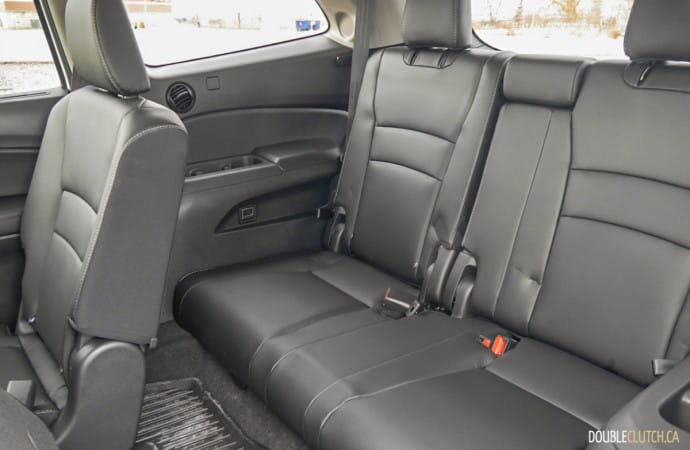 The difficult task of keeping your family entertained along the journey is assigned to the central touchscreen infotainment unit supporting Sirius XM (EX-L Navi and above), Apple CarPlay and Android Auto connectivity, and a Touring and Black Edition exclusive 600-watt 11-speaker Premium audio system including subwoofer and 5.1 Surround Sound. The infotainment is refreshed for the 2019 facelift, featuring CabinControl App (smartphone remote control for rear passengers to control audio, rear entertainment, and climate) as standard equipment across all trim levels.
Our tester was also equipped with a 10.2" Advanced Rear Entertainment System with Blu-ray player and embedded streaming media apps, a worthwhile addition for those who want to keep their family entertained. I have two young children and I particularly enjoyed the "How Much Farther" app that turns a maddening question into a fun and engaging experience using the rear screen.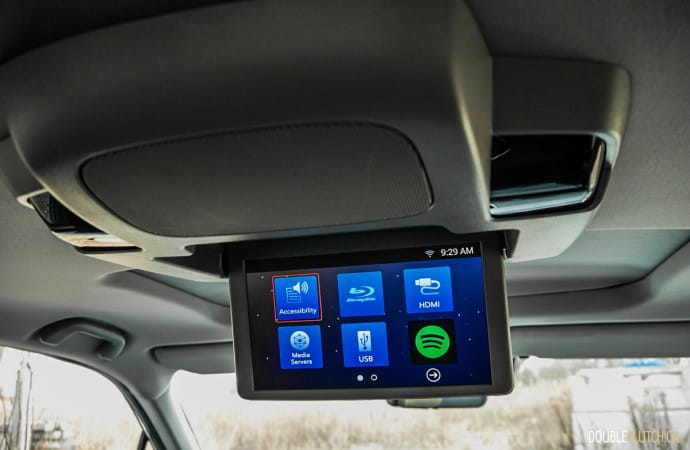 Honda has committed to equipping all of their new cars with their Honda Sensing safety technology by the year 2022, so it is not surprising to see the full suite of safety equipment come standard across all trim levels of the Pilot. That includes Collision Mitigation Braking, Forward Collision Warning, Lane Department Warning, Road Departure Mitigation, and a list of other safety systems that put the Honda Pilot amongst the leaders in safety equipment. Our tester came with the Blind Spot Information system with Rear Cross Traffic Monitor system, and it would be nice to see Honda include this system across all trim levels.
The 2019 Pilot starts at a reasonable $41,090 for the base LX trim level, and the as-tested Touring trim starts at $52,490. My tester had $300 added to the pricelist for the White Diamond Pearl paint, bringing the as-tested total to $52,790. Pricewise, it lands itself in the middle of some of its competitors such as the Subaru Ascent Premier ($49,995), Toyota Highlander Limited ($50,945), Mazda CX-9 Signature ($53,526), and Chevrolet Traverse High Country (reviewed here). The Honda Pilot is a bit larger than most of its direct competitors, thus offering a bit more interior space, and the latest updates have allowed it to be very competitive.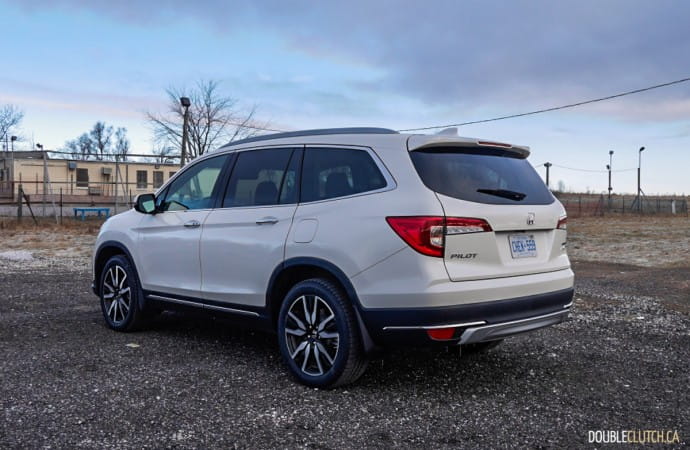 With an updated look, a tweak in its transmission response, a refreshed infotainment system, Honda has made a serious and successful effort in keeping the 2019 Honda Pilot Touring AWD fresh in this mid-cycle refresh. We expect Honda to keep its winning ways with its full-size SUV offering and we expect other automakers to make adjustments in the near future in this hotly contested family car segment.
See Also: