The Kicks is a youthful looking car that is perfect for its target audience.
Over the past few years, we noticed that as the popularity of crossovers and SUVs grew, so did the cost of entry. Some of the most popular subcompacts such as the Honda HR-V (reviewed here), Toyota C-HR (reviewed here), Mazda CX-3 (reviewed here), and Ford EcoSport, all start around $23,000 for the base models and top out north of $30,000 when loaded. For young people who are looking for a first car or families who do not want to break the bank for a daily commuter, they are often forced to shop for compact sedans instead for their more affordable price.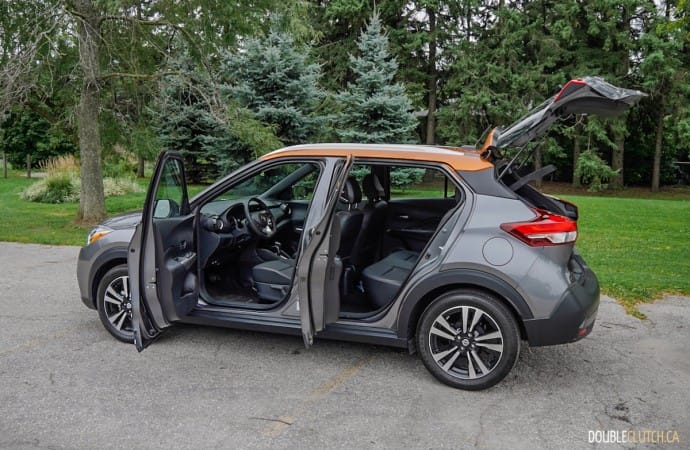 That is exactly why we were excited when Nissan Canada announced the launch of the Kicks, a brand new entry-level vehicle in their crossover lineup. Starting at an affordable $17,998, the Kicks presents huge value for anyone in the market for a new car. We had a chance to try it for a first drive in Old Montréal earlier this year and liked it for not only the starting price, but also its driving dynamics and the expansive list of features it comes with. We had the opportunity to spend a week in a fully loaded 2019 Nissan Kicks SR to understand its value proposition. Spoiler alert, this car is a legit contender in the compact SUV market and punches a class or two above its weight.
The Nissan Kicks is a youthful looking car that is perfect for its target audience. It is rather small in dimensions, yet it features an athletic stance with bulging fenders and a sloping roofline that makes it look sportier than most compact SUVs in the segment. My tester is painted in Gun Metallic colour, plus Monarch Orange colour roof and silver painted roof rails, both standard features on the SR trim. The orange roof made the Kicks stand out like a ray of sunshine shining through a cluster of grey clouds. In keeping with the two-tone design, the Kicks SR is equipped with a set of 17″ silver and gloss black alloy wheels. The Kicks SR might not be the most stylish car out there, but it looks far more expensive than its sub-$25K price tag suggests.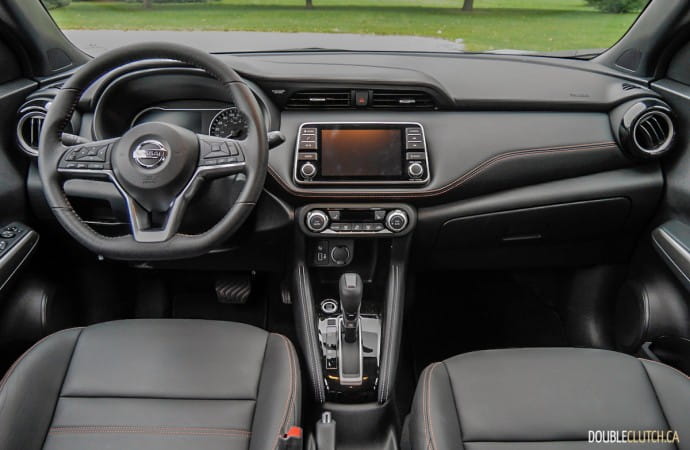 Step into the Kicks SR and you are greeted by an interior that is also far more impressive than one would expect given its price tag. Its interior layout is simple and pleasing to the eyes, with minimal hard plastics, leather-wrapped steering wheel and shift knob, and Prima-Tex™ faux leather wrapped instrument panel and seats with orange contrast stitching. The manual adjustable and heated driver's seat is comfortable and supportive, and visibility is excellent with the low belt-line of the Kicks. The rear seats have ample head and legroom, along with decent thigh support, an area where some automakers have overlooked in pursuit for more perceived legroom. Cargo capacity is rated at 716 litres, a figure that eclipses that of the Toyota C-HR, Honda HR-V, Mazda CX-3, and the Ford EcoSport.
The Nissan Kicks SR features a 7-inch touchscreen infotainment system with Sirius XM satellite radio, Apple CarPlay and Android Auto connectivity.  It also features a full colour digital instrument cluster that can be customized to display the tachometer, entertainment info, fuel economy information, or driving aid status.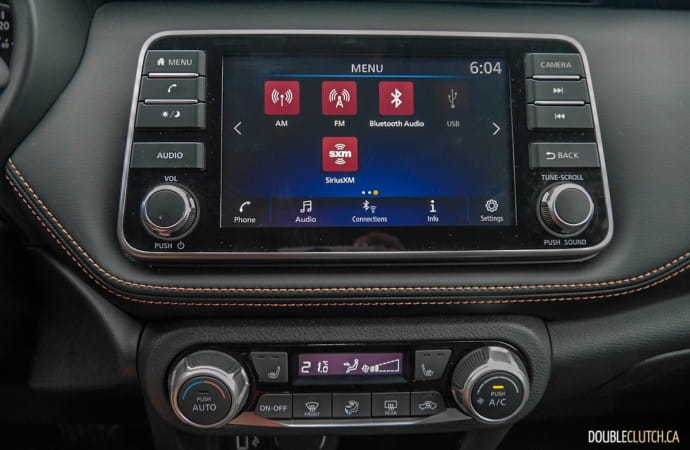 Safety is an area that the Nissan team has focused on in order to attract more buyers in the compact car segment. The Kicks SR does not have any safety features that its competitors do not offer, but to get an Around View Monitor, Blind Spot Warning system, Rear Cross Traffic Alert, and Intelligent Emergency Braking system for its $22,798 MSRP is a genuinely pleasant surprise.
All Kicks models are powered by a 1.6-litre four-cylinder naturally aspirated engine that produces 125 horsepower at 5,800RPM, and 115 lb-ft. of torque at 4,000RPM. The Kicks is front-wheel drive only, with power sent to the front wheels by the Xtronic Continuous Variable Transmission (CVT). The power delivery is smooth and linear, and the CVT does a good job with keeping the engine ready to roll. I quite enjoyed driving the Kicks in the city; its small dimensions and nimble steering make it fun to navigate around town. Its 10.2″ front vented disc brakes along with four-wheel ABS and Electronic Brake Force Distribution system were more than capable of stopping the car quickly and smoothly.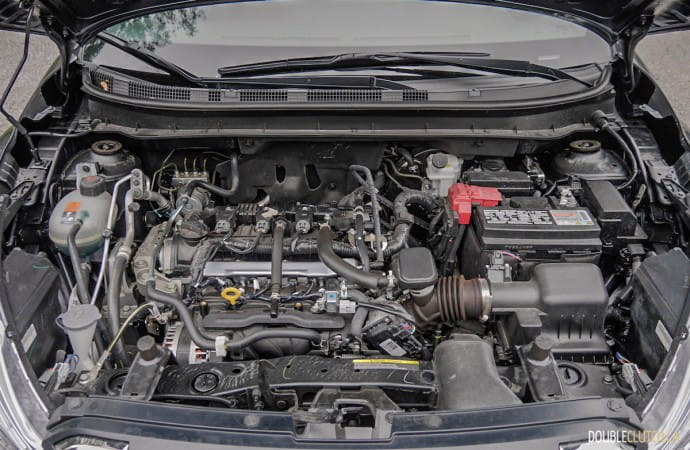 Nissan rates the Kicks' fuel economy at 6.6L/100km highway and 7.7L/100km city. My week of city driving averaged a slightly higher than posted 8.0L/100km, but this is still considered an efficient figure amongst many peers in its segment. The fuel efficiency figure is also a welcome one to make up for the Kicks' small 41L fuel tank to avoid frequent trips to the gas station. Like all of its rivals in the compact SUV segment, and in-line with its value proposition, the Kicks requires only 87-octane grade gasoline.
As mentioned, the price of the Nissan Kicks S starts at $17,998, with the middle trim Nissan Kicks SV starting at $20,898, and the fully loaded Nissan Kicks SR starting at $22,798. The gun metallic and monarch orange paint job was an extra $285, bringing the as-tested price to be $23,083. There are no options available for the Kicks SR to keep things simple, much like its personality.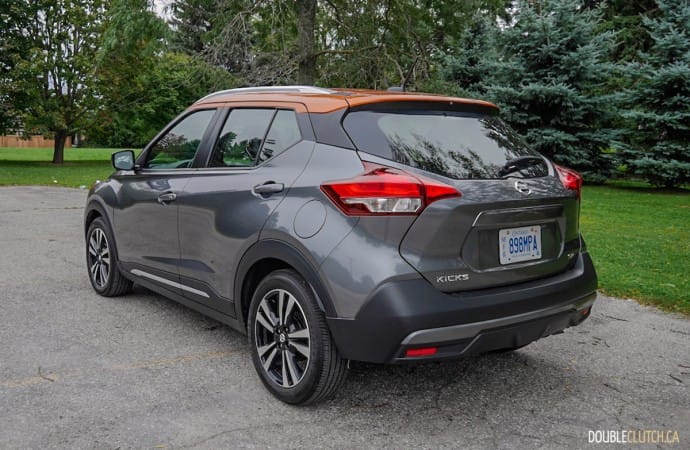 The 2019 Nissan Kicks SR represents tremendous value in the compact SUV segment. Some will complain about its lack of all-wheel drive, but that is really the only thing that stands in its way of challenging more expensive competitions. It has a combination of sporty looks, impressive list of features, and ample interior and cargo space. With the Kicks, Nissan has successfully challenged the status quo and created a car that is a slam-dunk winner for value-conscious shoppers.
See Also:
First Drive – 2019 Nissan Kicks