The Kona doesn't force any compromises compared to a gasoline-powered car.
As we progress towards the turn of a new decade, the world is abuzz with talk of two things in the automotive industry: electric vehicles, and vehicles that will drive themselves. Technology is developing at breakneck speed to answer all the questions associated with these new modes of transportation, but many challenges have come into play when it comes to getting the tech to the mass market. Newcomers such as Tesla seek to disrupt the very fabric of everything from dealer networks to public tastes in cars. Today's review of the 2019 Hyundai Kona Electric Ultimate takes a closer look at the Korean automaker's newest contender in the realm of the affordable electric car, and how it shapes up against a wide open playing field.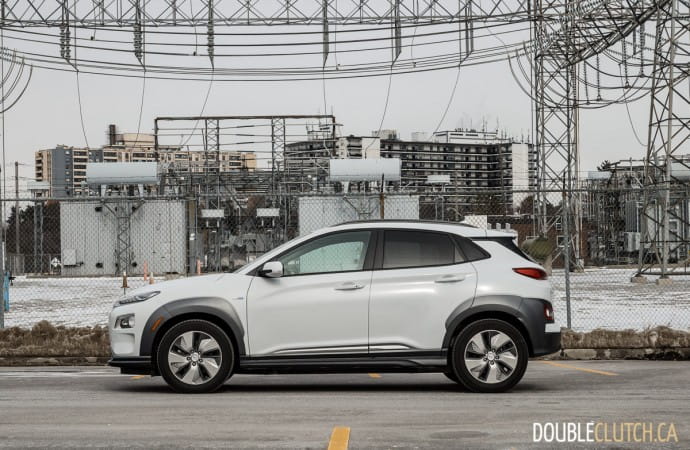 Fresh off a win as the 2019 North American Utility of the Year, the Kona Electric is a small subcompact crossover sport utility that's geared well to urban environments, and isn't too shabby everywhere else, too. Coming in with a total length of 4,180 millimetres (164.6 inches), its tight 10.6 metre (34.8 feet) turning circle diameter makes for excellent maneuverability and easy parking. The slightly elevated seating position makes ingress and egress easier for less mobile occupants, and the hatchback format swallows up a relatively good amount of cargo after remembering the subcompact part. With the seats up, there's 544 litres (19.2 cubic feet) of cargo capacity, growing to 1,296 litres (45.7 cubic feet) with the seats folded down.
Seat comfort and room is better than expected with average height and tall drivers doing just fine in any of the five seating positions. The Kona does trail the larger Tucson in legroom by three to five inches between the first and second rows, respectively, but is within an inch or two in terms of hip and shoulder room. The perforated leather front seats on the top-line Ultimate trim test car were comfortable, if not a little hard, but got the job done.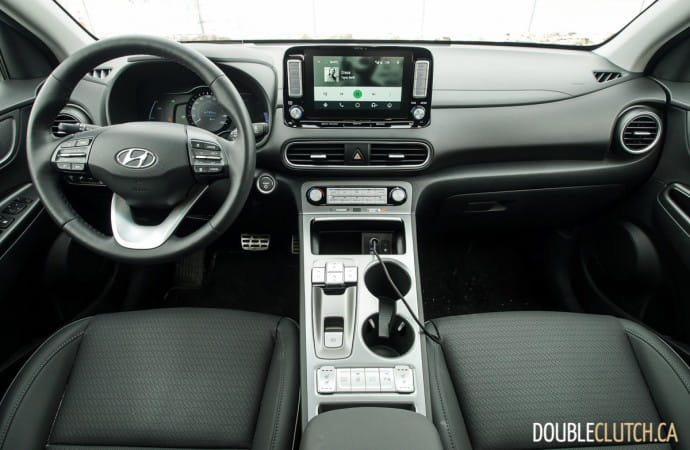 Powering the Kona is a synchronous electric motor (AC) packing 201 horsepower and 290 lb-ft of torque. As with all electric motors, peak torque happens at zero RPM, or just off idle. In this regard, the Kona's acceleration is very fun, with instant throttle response and a little futuristic warp-speed like sound as you get up to speed. There's more than enough torque to get up to illegal speeds pretty quickly (top speed is rated at 167KM/H), but the Kona does so with great refinement and smoothness. With power going to only the front wheels (no all-wheel drive is available unlike the gasoline powered Kona), traction is still good, even in inclement snowy weather.
Battery capacity on the Kona Electric is 64 kilowatt-hours (kWh), and Hyundai prescribes a range of 415 kilometres. This is 32 kilometres more than the Chevrolet Bolt, and falls right in between the short and long range Tesla Model 3 (354 and 499 kilometres, respectively). Official charge times from full depletion are 9 hours, 35 minutes at Level 2, which is your average 240-volt household or public charging outlet capable of 7.2 kilowatts (240V at 30 amps). With higher-speed Level 3 DC fast charging at 50 kW, 80% is attainable after 75 minutes, and at 100 kW, 80% charge time drops down to 54 minutes. A Level 1 charger (a normal 120V outlet) could take days, so those are out of the equation unless you absolutely have to, or can charge for free.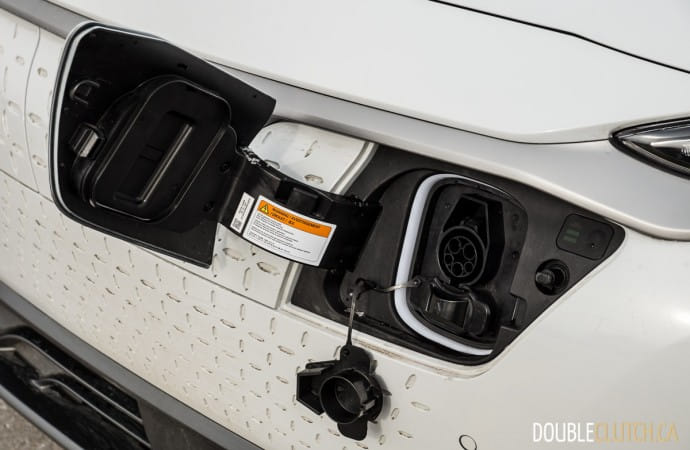 After a full week of driving that racked up 545 kilometres on the odometer, the Kona showed an average energy consumption of 18.7kWh/100KM with a heavy bias towards urban stop-and-go driving, which helps energy efficiency with regenerative braking. The Kona's forward collision and adaptive cruise systems took effect to automatically slow the car down when it detected a slowdown ahead, maximizing charge time in traffic. All told, it worked out to about 102 kWh of energy consumed, which was just over one and a half full charge cycles. Doing the math, at current off-peak (night time) electrical utility rates in the City of Toronto, it's about ten dollars' worth of energy. With a litre of regular octane fuel hovering around one dollar per litre, the Kona EV is costing the same as a gas-powered Kona getting 1.8L/100KM. Not bad!
Range anxiety is a common phenomenon being reported amongst electric vehicle users, but it's safe to say that the anxiety decreases as overall battery capabilities increase. In winter time, the 415 kilometres drops about twenty percent to about 330 kilometres due to heater use and temperature-related inefficiencies. Despite this, nightly charging is not necessarily required, and range anxiety is really only seen on extended out-of-town trips. Of note, however, is that public charge station reliability hasn't necessarily been the best, with many Level 2 and 3 charge stations out of service at places like shopping centres. Buyers should either ensure that Level 2 charging is available at home, and if not, they should familiarize themselves with multiple Level 2 or 3 stations nearby – there are apps available to assist with this.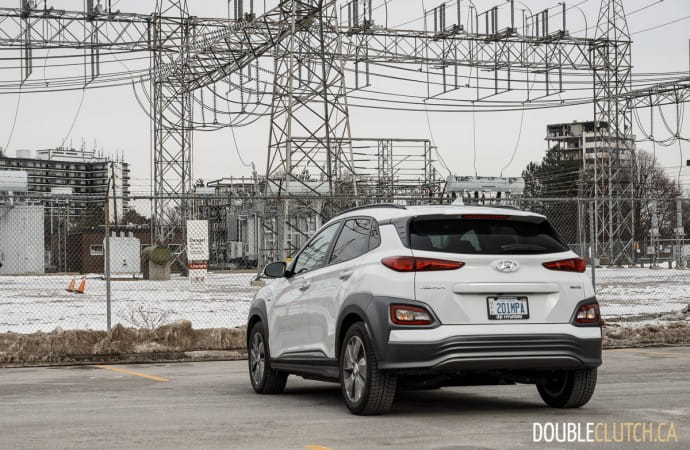 On the road, ride and handling of the Kona Electric is another strong suit, and Hyundai has done a good job at balancing firmness against roadholding. One would be hard pressed to say that electrifying the Kona negatively affected its driving dynamics, especially after throwing it into a few turns at speed. Despite its portly 1,685 kilogram (3,714 pound) curb weight because of its batteries, it behaves close enough like any other subcompact utility out there. One added bonus of the weight is enhanced traction in snowy conditions, and when combined with an aggressive electronic traction control system and good winter tires, the lack of all-wheel drive was barely noticed.
Where cars like the Tesla Model 3 try to wow the driver with cunning technology and large (distracting!) touch screens, the Hyundai Kona Electric takes a more simplified approach, offering a more conventional interior that most people are quite used to. With an 8-inch touch screen with navigation on Ultimate trim levels, it's plenty big enough and the flanking buttons and dials make operation an easier task. Hyundai's infotainment system is among the better in the business too, with intuitive menu layouts and standard-issue Apple CarPlay and Android Auto smartphone pairing connectivity. The only foray into the abstract is the use of four buttons on the centre console for Park, Reverse, Drive, and Neutral, although getting used to these happens a little faster than other automakers' implementations.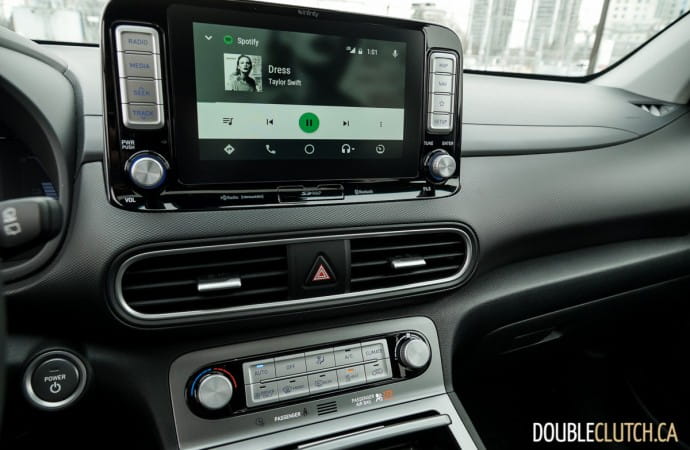 For the bottom line, the Kona Electric's Ultimate trim will hit your pocketbook for $52,999 as-tested. It includes the aforementioned 8-inch screen with navigation, LED headlights, power sunroof, premium Infinity audio, power adjustable driver's seat, ventilated front seats, rain-sensing wipers, head-up display, auto-dimming rear view mirror, and HomeLink garage door integration. Today's modern safety suite is standard on all trims, and includes blind spot warning, forward collision warning with autonomous braking, adaptive cruise, and lane keep assist. At press time, the cheaper Preferred trim level, to be priced at $45,599, was not yet available.
As far as the 2019 Hyundai Kona Electric Ultimate goes, it's as good as current day electric vehicles get, including when comparing against the Tesla Model 3 and Chevrolet Bolt. It has great rang and all the perks that come with an EV, and energy costs handily beat any gasoline or hybrid car out there. The Kona doesn't force any compromises for those who are used to a more conventional car. For jurisdictions without government incentive rebates, the business case does get diminished a considerable amount, considering that the gasoline-powered 1.6T Ultimate AWD Kona is nearly twenty grand less. Even when including some of the maintenance savings with an electric car that has fewer moving parts, it could take more than a decade of driving to make up this price delta. Your mileage may vary.
See Also:
2018 Chevrolet Bolt EV Premier
2018 Hyundai IONIQ Electric Plus PHEV