The automotive segment once known as personal luxury coupes enjoyed immense success through the 1970s and 80s, when buyers were willing to make some sacrifice to practicality in exchange for great looks and styling. I personally remain a big fan of the segment, even though it has largely fallen off everyone's radar. With merely a handful of Grand Touring type cars keeping the flame lit, and mostly just the typical German options, the Infiniti Q60 is a definite outlier. When done right, this can be a phenomenal formula for a greatly versatile driver's car.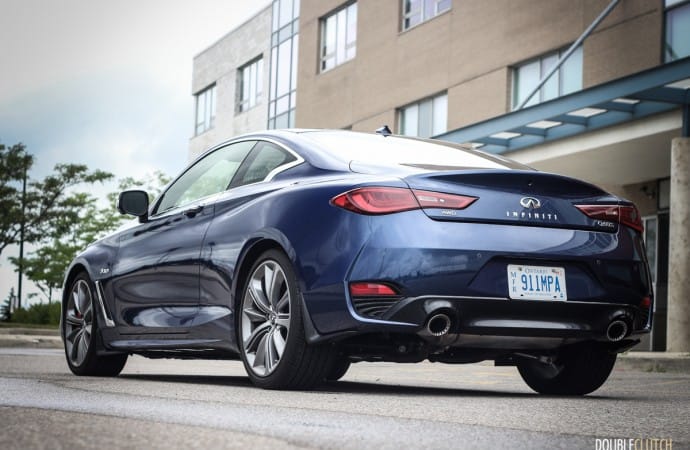 This 2018 Infiniti Q60 Red Sport 400 is a descendant of the now infamous Infiniti G35 that captured hearts and made big waves in the sporty car game back in the mid-2000s. Unlike the G35 though, the Q60 comes in three very different flavours, starting with a fairly pedestrian 2.0L four-cylinder, a well-equipped twin-turbo 3.0L V6 with 300 horsepower, and a true performance model known as the "Red Sport 400" with the same twin-turbo V6 now boosted to 400 horsepower and boasting a slew of brake and chassis performance upgrades.
In Canada, all models come standard with AWD and a base model 2.0L car (reviewed here) starts at $46,295. The top of the line Red Sport 400 like our test car starts at $61,295. Opting for the Red Sport means you have just one option package to choose; a $3,200 ProACTIVE package that includes adaptive forward lighting, intelligent cruise control, blind-spot intervention and an advanced climate control system that includes a fancy grape polyphenol filter. This, plus the $650 optional Electric Indigo Blue paint put the as-tested price on our tester at $65,145.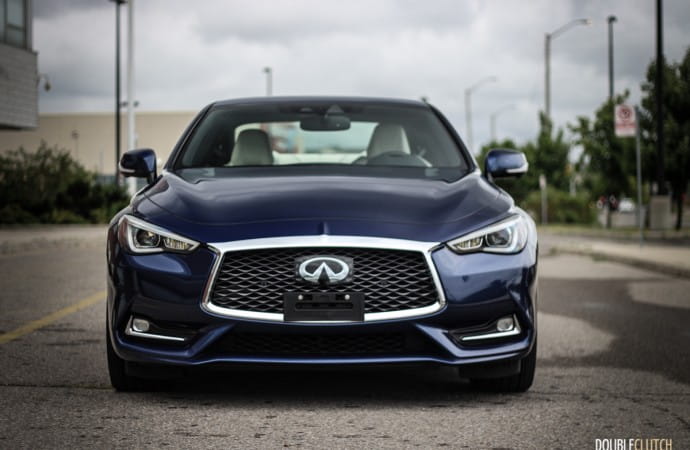 This isn't exactly as affordable as the G35 during its peak years, but the idea of a personal luxury coupe was that it was a bit of a status symbol. It's not something just anyone could afford, yet not totally over the top, and that notion is right in line with the Q60's pricing. The Red Sport 400 actually remains one of the most affordable ways to get into 400 horsepower right out of the showroom floor, short of opting for a much more brutish pony car like a Camaro or a Mustang (reviewed here).
True to its mission, the Q60 offers a lot of high-tech features and comfort for the money. Our fully loaded tester came with outstanding 'zero gravity' heated sport bucket seats perfectly trimmed in White Semi-Aniline leather, which paired very well with the Silver Fiber Optic trim throughout the heavily sculpted and styled cockpit. The space definitely provides a much appreciated sense of occasion every time you step into the Q60. The folks at Infiniti have also done a great job making sure that every surface you interact with while in the car feels of high quality and refinement.
The gauge cluster and its LCD screen is easy on the eyes and displays information well, and the infotainment is actually very easy to navigate and use, curiously unlike many other Nissan products. Speaking of navigation, the map is always on the top screen, but the really great part is that Infiniti has the controls nailed down perfectly. There's a knob on the centre console and with that you can easily adjust the map zoom or location. You also get all the typical modern luxuries like navigation, seven-speaker Bose surround sound, a heated steering wheel, rain sensing wipers, and a full selection of electronic driving aids.
Your hard-earned money also gets you a coupe that is absolutely fantastic to look at. The proportions are right on, the lines flow well, and it stands out from the crowd while still maintaining a link to its lineage. One look at this car and it's clear that you're looking at something that's a little bit special, and the amount of stares my test car got prove that it's a difficult car to ignore. My only gripe is the thick band of polished aluminum around the rear quarter windows; I find it a bit distracting from the otherwise really clean lines.
After spending a very enjoyable week cruising around and commuting in the Q60, I came to notice a few interior issues that made the car a little less than perfect for my daily needs. Firstly, there is very little space up front to store day-to-day items. Worse yet though is the front seat belt holder. It's complicated and holds the belt in an awkward spot that I was just never able to get used to. It also gets in the way every time you need to access the rear seat. I do appreciate the fact that the rear seat folds flat, uncommon in sporty cars like this, allowing for a pass-through to the relatively large trunk.
Not to neglect the performance side of things; Red Sport 400 models get electronic adjustable dampers, bigger brakes and quick ratio electronic power steering. Of course, what matters most with the Q60 Red Sport is how it performs out on the road, and the car does not disappoint. Even today, 400 horsepower is no joke, and when coupled with the 350 lb-ft. of torque at 5,200RPM, the car absolutely hauls butt; rocketing from stop to 100km/h in a reported 4.8 seconds.
The stealthy looking Red Sport is well poised to surprise the drivers of many more aggressive performance cars, especially off the line thanks to its four-wheel traction, crisp throttle response and quick shifts from the seven-speed automatic. The Red Sport's heavily boosted 3.0L V6 delivers the power with a surprising refinement, and cruises smoothly on the highway. In the name of conserving fuel, the seven-speed keeps cruising RPMs low, which will mean the turbochargers can take a second to spool up when asked to make those quick rolling passes.
The pure power is really what defines the driving experience of the Q60 Red Sport, but it's not the only thing to praise. The Q60 feels extremely well balanced, responsive and comfortable to drive. The brakes are phenomenal, and haul the car to a stop very quickly. Handling is exactly what I would want from a car like this. It's not excessively harsh during regular driving, but take the car through some quick corners and it stays perfectly planted, the steering is well-weighted, and the driver has total control at all times.
The Q60 actually uses the latest generation of Infiniti's Direct Adaptive Steering, which is fully electronic with no mechanical connection to the steering wheel. Infiniti has worked hard to make the system what it is today and it's now good enough to warrant a place in this car. If I was going to gripe about one thing from behind the wheel it's the road noise, it is louder in the car than expected, especially when you're surrounded by such a luxurious cockpit, the road noise feels out of place.
You might think that a 400-horsepower twin-turbo V6 with an AWD system would come with a pretty hefty fuel consumption penalty. However, driving with a relatively conservative right foot, I kept my fuel economy around 10.1L/100km, which is outstanding for a car like this, it does however require a steady diet of 91-octane of premium fuel to feed those turbos.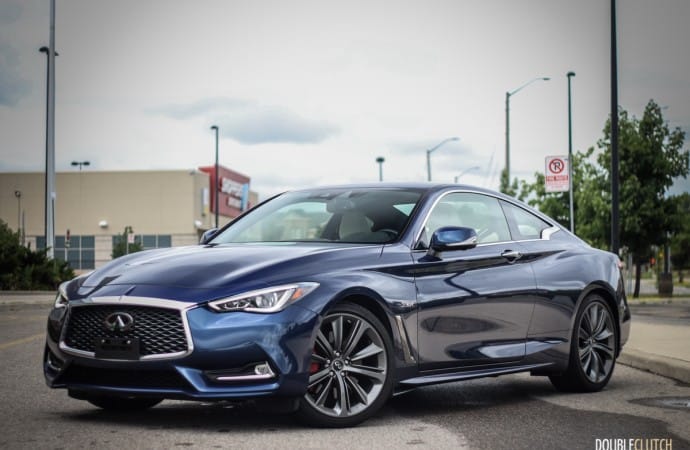 Despite its high power, even the Red Sport guise of the Q60 isn't a true sports car. It is a great grand tourer and personal luxury coupe, and that's what I love about it. If you're looking for a weekend track day car, there are better options than the Q60, but as a high-powered daily driver with the sexy looks of a coupe, it's hard to fault the sportiest car Infiniti makes.
See Also:
2018 Infiniti Q50 Red Sport 400 AWD
2018 Infiniti Q60 Sport 3.0t AWD