In the automotive enthusiast community, many look back longingly at performance cars of the 1990s and earlier 2000s, before the advent of numbing agents such as electric power steering and throttle by wire. No automaker has really been exempt from this gradual change to cars that are less engaging to wheel around, and it's only now that they're starting to figure out how to inject more intangibles to the driving experience. The 2019 BMW M2 Competition is the German automaker's latest iteration on the way back to the good old greatness, and boy, does it ever make a good first impression!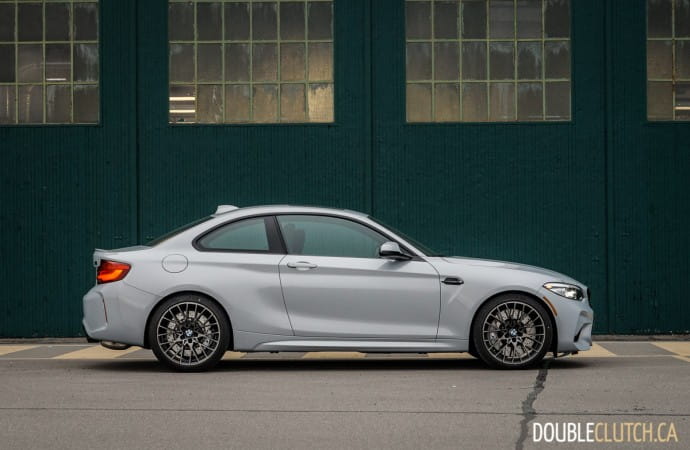 The main difference between the new-for-2019 M2 Competition and a regular M2 Coupe is what lies under the hood. Although both use a 3.0-litre turbocharged inline six, the non-Competitions draw upon the "N55" variant that's more like what's found in the M240i and 340i models. The Competition goes for gold and uses the Big Bad Wolf "S55" akin to that of the M3 and M4. The extra huff and puff is good for 405 horsepower between 5,230 and 7,000RPM, as well as 406 lb-ft of torque from 2,350 and 5,230RPM.
In addition to the extra 40 horsepower and 63 lb-ft of torque, there is plenty of beefing up internally with the S55 six. In addition to enhanced cooling, there's more airflow through the front end with enlarged grilles and aerodynamics. Continuous oil flow during hard acceleration, braking, and turning is improved by the use of a second oil sump, and flow is also prioritized to the twin single-scroll turbochargers. All in all, there is one large central radiator, two side radiators, and one oil cooling radiator.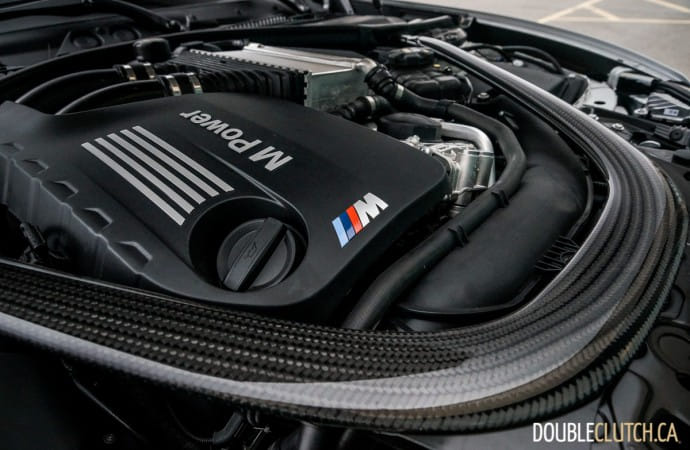 As with last year's model, transmission options for the M2 Competition consist of a six-speed manual or a seven-speed dual clutch. The inclusion of the row-your-own option is another welcome nod to die-hard gearheads, although the test car offered by BMW Canada was of the DCT variety. Adjustable to three levels of aggression, drivers will find that regular motoring does best at the lowest setting, which results in smooth shifts and the M2 taking full advantage of the ample torque afforded by the turbo six.
Setting the transmission (as well as engine and steering) to full boil, however, turns the little BMW into one of the sharpest and most fun cars on the market today – at any price point. The chassis and suspension work together to follow every command with a high level of precision, and all facets of driving feel help to inspire plenty of confidence.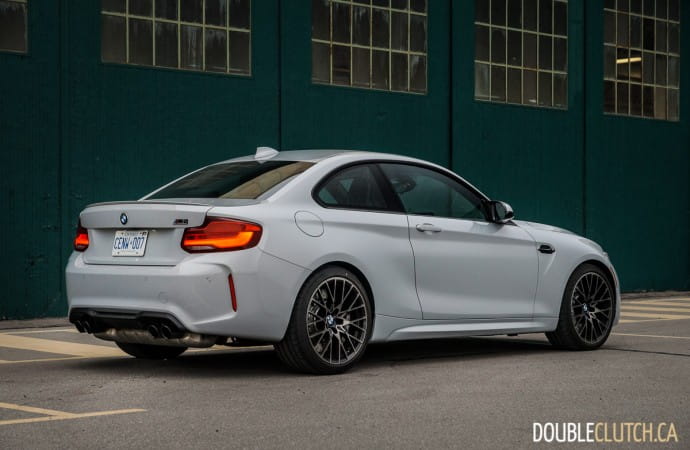 Like with the previous model years of M2, the suspension's damping is fixed, but is calibrated with a fantastic balance between ride quality and handling. In SPORT+ mode, the heavier steering is noticeably better than that of the M3 and M4, but the variable volume exhaust is still a bit annoying, and doesn't sound as good as yesteryear's V8 or naturally aspirated inline six. A recent review of an M4 Cabriolet (reviewed here) called it a flatulent bark, and it's more of the same here. The only difference is, this gripe matters a whole lot less when considering just how good the M2 Competition is to drive spiritedly.
For plain old street driving, fuel consumption isn't too shabby: nominal figures from Natural Resources Canada were not available at the time of publishing, but expect the Competition's S55 full-blown M engine to be somewhat worse than the less-sporty N55. For cars equipped with the seven-speed dual clutch transmission, city economy is pegged at 11.8L/100KM, and highway driving should use 8.9L/100KM. Observed economy after a week of testing with the higher output motor saw 12.3L/100KM in mixed driving and copious amounts of throttle use. Premium fuel is required.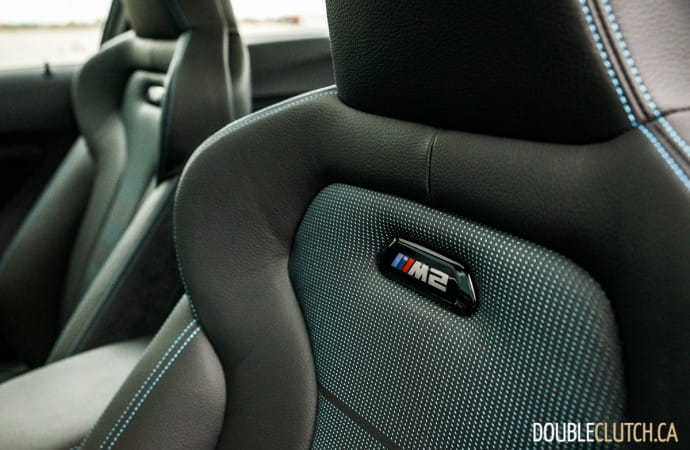 Inside, the M2 Competition is fairly standard BMW, which are all variations on a similar theme. The design is very smart looking, if not monotonous, and material quality along with fit and finish are top notch. The front seats are aggressively bolstered, are and will hold occupants well in twists and turns, and have blue stitching (M-colour stitching on the steering wheel!) to provide contrast. The M2 logo on the seat back also lights up, which is a neat visual to walk up to at night. Rear seat passengers are mostly just a suggestion, and most adults should only really be back there for short trips out of necessity.
Technologically speaking, BMW's iDrive infotainment follows up the interior design with a relatively well thought out and easy to use system. The control dial is good for quick menu navigation with lesser distraction than a full touch interface, and the inclusion of Apple CarPlay seamlessly pairs iPhones for connectivity on the go (sorry Android users, Android Auto is not available). The main ergonomic gripe with the user interface is the lack of a "Sync" function for the dual zone climate control, meaning that drivers going solo in their cars need to adjust the climate knobs twice to get a consistent temperature throughout the whole car.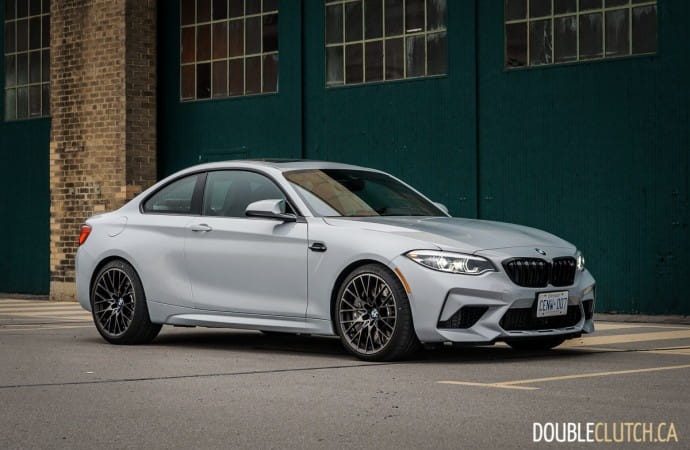 Starting at a base price of $75,150 equipped with the seven-speed dual clutch ($71,250 for six-speed manual cars), the M2 is quite unlike other BMW products in that there are very few options. Things come relatively loaded from the get-go, and options on the test car included $350 for wireless phone charging, $895 for the beautiful Hockenheim Silver Metallic paint, $1,000 for Harman/Kardon audio, and $1,500 for a glass sunroof, bringing the as-tested bottom line to $78,895; the only available checkbox left empty was the navigation system speed limit information for an extra $300.
At its price point, the 2019 BMW M2 Competition is more than worth its weight in gold. It's easily a contender for one of the most fun cars you can buy, and buyers may have to spend a lot more money in order to get a better driving experience. It's more communicative and responsive than the more-expensive M3 and M4, and should draw comparisons to the likes of the Porsche Cayman. It's also sharper than the Shelby GT350, although it goes without saying that it doesn't sound as good. For its entire week on test, the M2 Competition felt like it was constantly begging to be taken out to a race track, and for a company that touts itself as making the Ultimate Driving Machine, that's a very good thing.
See Also:
2018 BMW M4 Cabriolet Competition
2018 BMW 440i xDrive Cabriolet