The internet can be a cold and fickle place. We're in the midst of an arms race between pretty much every automaker – you're now able to find mainstream midsize family sedans that feature over 300 horsepower, which is a figure you could only find in sports cars twenty years ago. This arms race extends to the German super-saloon: Mercedes-AMG has their E 63 (both available in four and five-door variants), pushing 603 horsepower. When it was announced that they would be offering their E 63 with 4MATIC+ all-wheel drive, it almost seemed like a matter of time that BMW would respond, in kind. We sampled the BMW M5 sedan earlier this summer, but BMW, in their infinite wisdom, released a tweaked M5 Competition for those who need moreM5 in their lives. We picked up a Donington Grey Metallic M5 Competition for a week-long evaluation, just before the snow flies.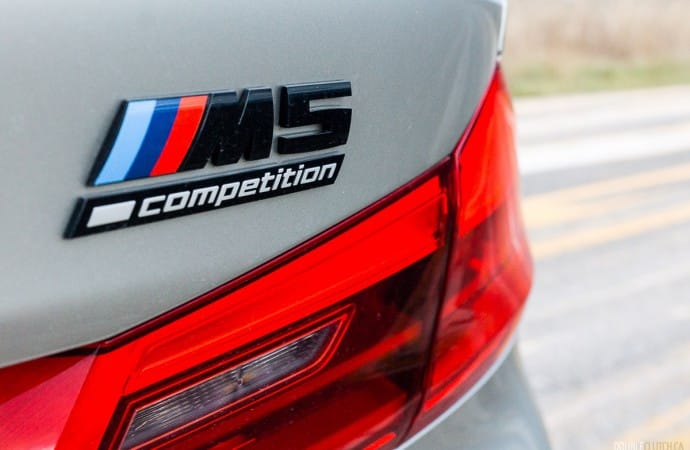 The whole idea of the BMW M5 is to provide maximum performance while also retaining a subtle and low-key look. This philosophy goes all the way back to the original E28 BMW M5, which debuted in 1985. Short of some blacked-out trim and small M5 badges, and the fact that it was available only in black, the M5 is revered for flying under the radar. This new generation M5, codenamed F90, largely continues this trend. There are larger air intakes in the front M-specific bumper, which allow air to pass through all the additional track-spec radiators responsible for removing heat from the intercooler charge, transmission, and engine oil.
The 20-inch forged "light alloy" wheels are unique to the M5 Competition, and are fitted with Michelin Pilot Sport 4S tires at all four corners (275-section up front and 285-section in the rear). Aside from the unique M fender garnish, M wing mirrors, and the quad exhaust tips, it is still quite possible to outfit a base, four-cylinder BMW 530i to look almostlike the fire-breathing M5 – though you'd still be missing the M-striped seatbelts. Throughout my week with the M5, it seemed that only BMW enthusiasts really knew what this car was about.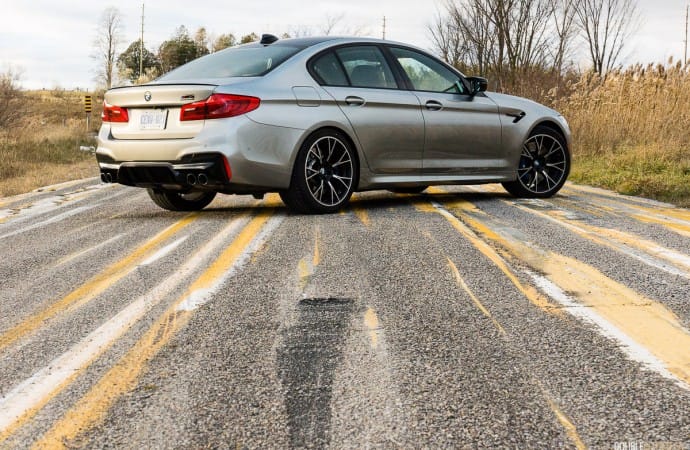 What I said about the internet being a fickle place: equipping the M5 with xDrive all-wheel drive meant endless moaning, groaning, and comparisons with M5s of the past. That recipe meant naturally-aspirated V8 (or V10) power, rear-wheel drive, and manual transmissions. All three of those are gone, weight has gone up (dramatically so), because feature content has also gone way up. The price of progress can really be whittled down to just one number: 617 horsepower.
The "standard" BMW M5 is powered by a 4.4L twin-turbocharged (with both turbos within the "vee" of the engine) and direct-injected V8, sending power to all four wheels through a traditional (torque converter) ZF 8HP eight-speed automatic. Gone is the M DCT double-clutch transmission from the previous-generation "F10" M5, which may seem like a downgrade at first, but the ZF 8HP automatic transmission has single-handedly revolutionized the transmission industry.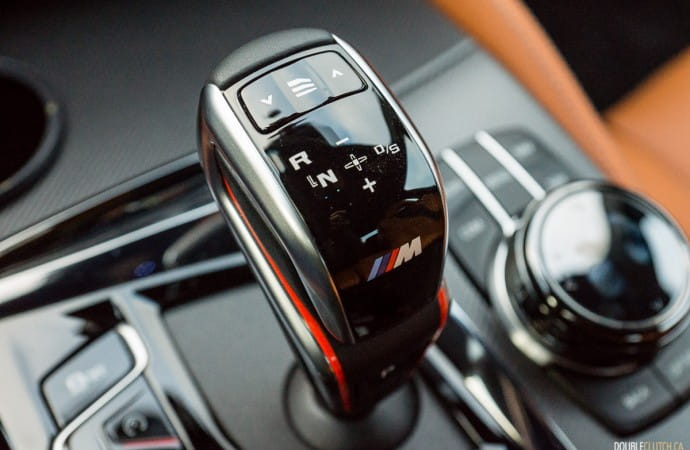 This transmission delivers fast and crisp gear changes that are not any slower than with the M DCT, and low-speed drivability is much improved, thanks to the natural "creep" function of the torque converter. The transmission can be configured with three specific programs that cover street cruising, sporty driving, and maximum performance. I had the transmission set to the medium sporty setting, which provided a good balance of gear shift speed and everyday drivability.
The M5 Competition is rated at 617 horsepower at 6,000RPM (an increase of 17 horsepower), and 553lb-ft. of torque from 1,800-5860RPM (the same figure, but with a wider peak torque band at the top end). This flexibility essentially guarantees that torque delivery throughout the majority of the M5's rev range, and power delivery to the ground is assured by the same rear-biased M xDrive all-wheel drive system first seen on the F90 M5. As seen on that car, one of the drive modes gives skilled and experienced drivers the option of a pure rear-wheel drive experience.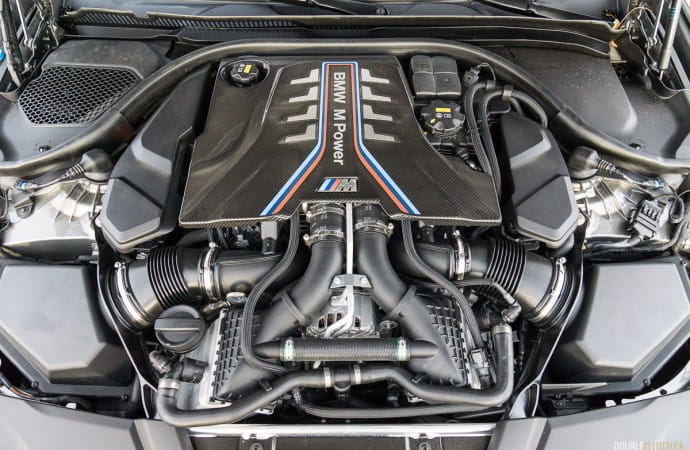 While this is a good nod to M5s of the past, putting down 617 horsepower and all that torque to just the rear wheels requires a great deal of care, since allof the electronic stability assists must be deactivated before you can enable "2WD mode" through the central iDrive user interface. In most "street driving" scenarios, this is simply too much, but it is this excess that is so attractive to some.
The M5 Competition not only gets additional horsepower to play with, but there are quite a few tweaks further under the skin that improve drivability and handling in a more tangible way. The engine mounts are about 1.5 times firmer, which means less engine movement under the hood and slightly better response as all that power is transferred to the rest of the drivetrain. In terms of suspension, the M5 Competition has a 7mm reduction in ride height, thanks to unique springs and dampers, which are 10% stiffer.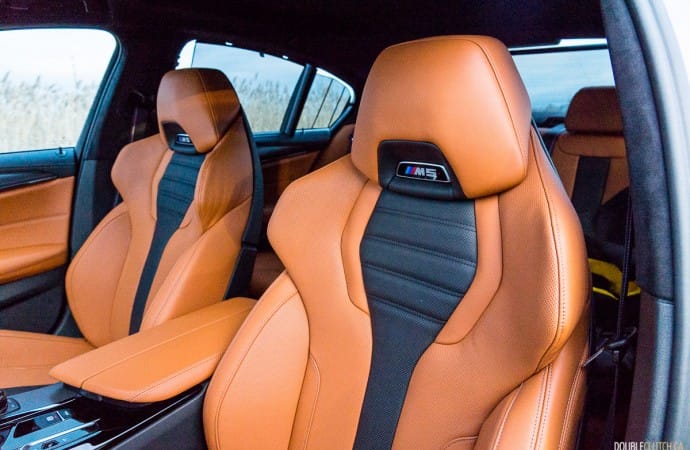 More tweaks include a more aggressive alignment, by way of increased negative camber in the front wheels – this improves turn-in and mid-corner grip under high lateral load. The rear toe links are mounted with metal spherical bearings, rather than rubber bushings, and the rear stabilizer bar is firmer – both of these items take out some of the slop during weight transfer. There are more tweaks, but how BMW has gone about improving the M5 Competition is not unlike an enthusiast making small, almost obscure tweaks that all add up to a major improvement in overall handling and feel.
Fun fact: this particular M5 Competition was not equipped with the optional carbon ceramic braking system, but even the steel brakes fitted as standard does an impressive job hauling down the almost-2000kg to a stop. There is a lot of thermal capacity to keep brake fade at bay, but it is almost amusing to see the rather pedestrian single-piston sliding caliper that squeezes the huge rear brake rotor. As much as the front brakes do the majority of the work, it would have been nicer to see at least a fixed-piston brake caliper at this price and performance point.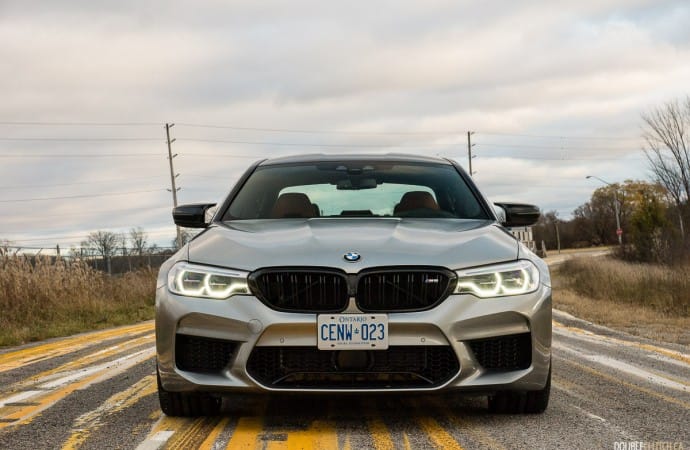 The feature set in this new M5 is more of a recent thing: the first three generations focused on being the "Ultimate Driving Machine", by way of simple styling (which remained), simple interiors, and a genuine focus on performance. The BMW of today is for throwing in the proverbial kitchen sink, and the M5 is no exception. While the M5 Competition can accelerate from 0-100km/h in just 3.3 seconds, and hit 200km/h in 10.8 seconds, it will deliver these performance figures while giving your back and bottom a massage, while you sit on infinitely configurable ventilated front seats. The headrests even have an M5 motif that lights up as you enter and exit the car, in case you needed a reminder of how ultimate this driving machine really is.
All the insulation and double-paned glass is fantastic at keeping the outside world at bay, but keep in mind that this M5 Competition is another addition to the list of vehicles that play synthesized engine sounds through its excellent Bowers & Wilkins audio system. It's quite a shame, because the M Sport exhaust is capable of producing gunfire under the right conditions.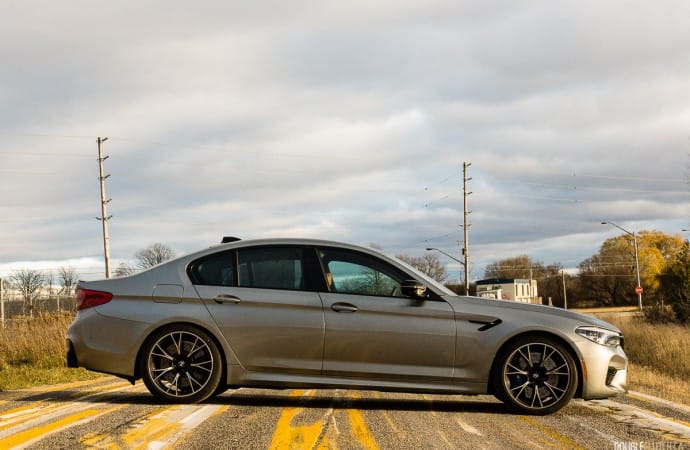 BMW Canada does not provide fuel efficiency estimates for the M5 or the M5 Competition at this time, nor does Natural Resources Canada, as part of their "2018 Fuel Consumption Guide". The closest match is BMW's M550i xDrive (reviewed here), which features a de-tuned version of the same 4.4L twin-turbo V8, eight-speed automatic transmission, and xDrive all-wheel drive. The M550i xDrive is rated at 14.3L/100km in the city, 9.4L/100km on the highway, and 12.1L/100km in a combined cycle. During my week of mixed city and highway driving with the M5 Competition, I ended up with an indicated average of 13.3L/100km. The fuel tank will hold 76L of the required premium fuel – BMW recommends 93 octane fuel, and goes as far as to say 91 octane may cause pinging and engine knock under load, as ignition timing needs to be adjusted for the poorer fuel.
The M5 Competition starts at $121,000. At this price point, you may think that there would be no more options available, but you would be incorrect. The $6,500 Premium Package adds an automatic trunk, soft-close doors, BMW's fancy display key, side and rear sunshades, ventilated and massaging front seats, parking assistant, and wireless phone charging. The $1,500 Advanced Driver Assistance Package adds active safety systems, including BMW's Driving Assistant Plus, Steering & Lane Control, adaptive radar cruise control, and lane keep assistant. There are some stand-alone options: $4,900 for the "Aragon Brown" and black full Merino leather, $4,900 for the excellent Bowers and Wilkins Diamond sound system, $1,200 for the M Carbon Engine cover, and $400 for the Ambient Air Package. This brings the as-tested price of this particular M5 Competition to $140,400.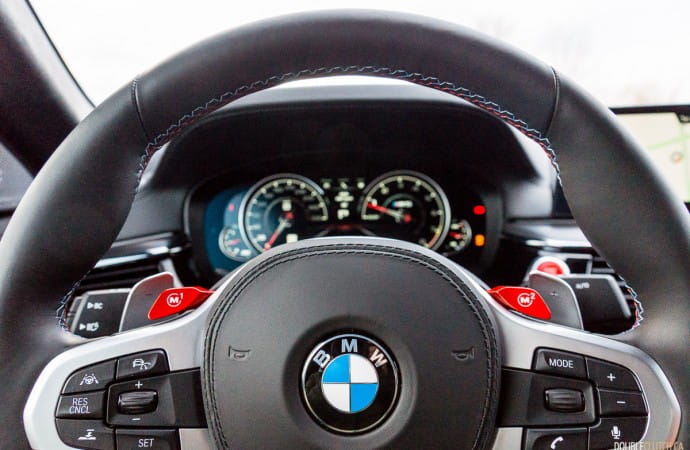 One of the questions I had when I started out my week with the M5 Competition is whether it is worth the premium over the standard M5 (which starts at $113,000). The small, but numerous tweaks baked into the M5 Competition tells me that this iteration of the M5 should have been what BMW sold from the start, and it would have helped give the M5 some needed breathing room, away from the M550i xDrive. The other conclusion that I came to: if you are looking for a driving experience that rivals that of the legendary E39 M5, you should go out and buy an E39 M5 while you still can.
$140,000 for one of BMW's fastest cars is no small amount of change, but cars like this M5 Competition want to exist, in order to fill a very specific niche. As much as the M5 itself has evolved, the philosophy and appeal of a low-key luxurious rocket ship has not changed. Mercedes-AMG has its E 63 sedan, and when you equip it similarly to the M5 Competition, you end up at a suggested price of $138,250, which is essentially, the same price. I have always preferred a two-car garage: one comfortable and practical daily driver, and one fun weekend car, but there are drivers out there who have access to only one parking spot. You would be hard-pressed to find a better way to get a luxurious executive sedan that can also decimate its opponents at the racetrack. That car is the BMW M5 Competition.
See Also:
Road Trip: 2018 BMW M550i xDrive