Review and photos by Dan Heyman
As I sit back and consider the 2018 Porsche 911 Carrera T, I'm reminded of another vehicle I drove recently. A vehicle that renewed my faith in the strength and solidarity of the performance car in this day of autonomy-or-bust and motherboards with wheels. The car in question may seem like a strange doppelganger at first, but please bear with me as what follows are two examples of cars that prove that not only is the performance car alive and well, but can thrive if paid enough attention.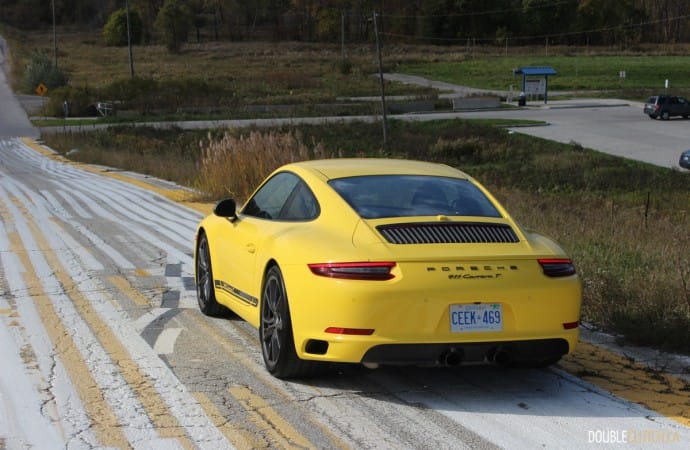 About two weeks before I sampled the Porsche, I spent a glorious week behind the wheel of the 2019 Ford Mustang Bullitt (reviewed here). Far from just being an exercise in badge engineering (thought there's plenty of that, too) the Bullitt – especially in Canada – is actually a surprisingly comprehensive performance package. The standard fitment of special brakes, intake, airbox and adaptive suspension (standard in Canada, but optional in other markets including the US) all offer some real performance for your money.
Like that great 'Stang, the Carrera T does get some cool visual differentiators (especially on my bestriped yellow tester), but the additions (and deletions) under the skin have turned the standard Carrera into a very different beast.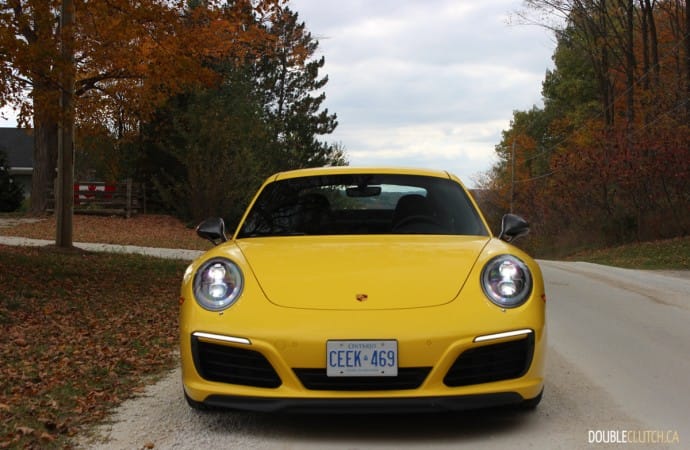 More to the point, though, is how the Porsche, like the Bullitt, is inspired by a classic; in this case, it's 1968's 911T. Which, as it happens, is the same year the movie for which the Mustang is eponymously named hit theatres. Imagine that.
In practice, the conversion to "T" spec provides lighter rear and side window glass, nylon straps as door pulls, short shifter and optional fixed-back carbon seats. My tester didn't have the latter, which I didn't mind as I've sampled Porsches with them before and found them too rigid and snug. Speaking of seats: standard-spec is a rear seat delete, but as you can see my tester had these as they are a no-cost option. Personally, I think I'd skip them as they're pretty useless in general and the extra weight they provide kind of flies in the face of what the T's all about. Other neat-o interior bots include yellow-on-black seat upholstery, yellow sport chrono clock atop the dash (yum yum yum) and Carrera T kickplate scripting. Oh, and don't forget the subtle yet très cool yellow "911" script on the headrests. Just "911"; no "911 Carrera T", or "Carrera" – just "911", because at its essence, that's what the T is: the purest 911you can get.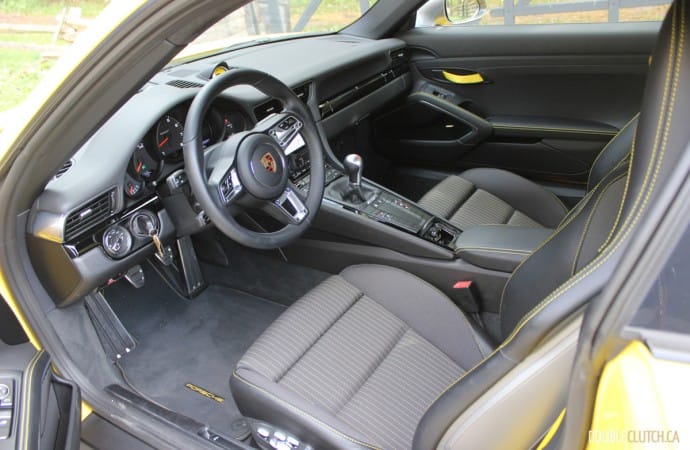 I mean, just look at it; all yellow and dark-wheeled and squat and good. This is a car that doesn't try to hide its intentions because they're meant to be celebrated, and you're meant to not be able to walk away from the car post-park without looking of your shoulder. As I did, every. Single. Time. Spectacular isn't enough; spectacularly sublime. Yes, that'll do.
Mechanically, the standard fitment of Porsche Active Suspension Management (PASM, a $1,020 option on the Carrera S) is absolutelywhat the T is all about, and that's getting you through the curves in quick, stable fashion and making you feel like an absolute star behind the wheel. There's no more power here than there is in a standard Carrera, though; that's 370 hp and 331 lb-ft of torque fed to the rear wheels and the rear wheels only. I get it; the T is more of a handling change, but I'm not going to sit here and say I wouldn't like to see how all that lightweighting works in concert with more power.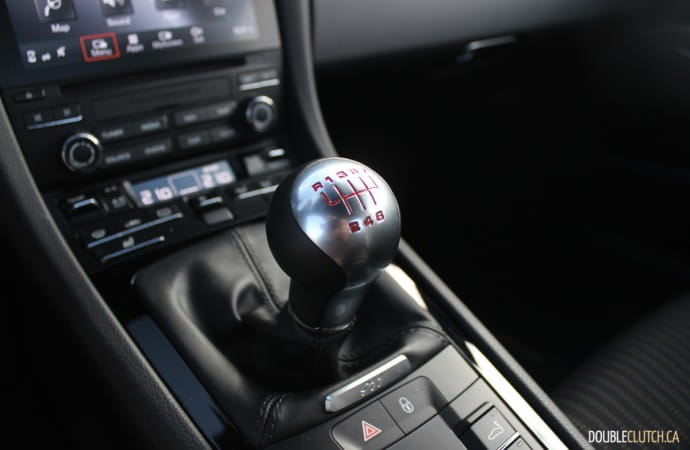 Then again, ask Porsche and they would likely tell you that if you wanted Carrera S power, you'd have to pay Carrera S money and one of the great aspects about the T is that even with all that great standard kit, it comes in at less — $116,500 — than does a Carrera S, less still if you've specced PASM for your S. After all, the original 911T did have a bit of a discount vibe to it, and it seems Porsche wanted to ensure that was true of the new car, too. Plus, it's not like the T feels slow; throttle response from the turbo-6 is immediate and satisfying, giving you peak torque at just 1,400 rpm, at which point the engine's propensity to rev takes over as you approach peak power at 6,500 rpm.
While you can get the T with either a 7-speed manual or PDK auto, mine – Huzzah! – had the former. In fact, when I first sampled the T at Mosport Raceway earlier this year, I was surprised to learn that the T was available with the PDK at all. In my opinion, it affects the "purity" of the car and since it costs a frankly staggering $4,250 to get, it also hurts the value proposition we talked about earlier.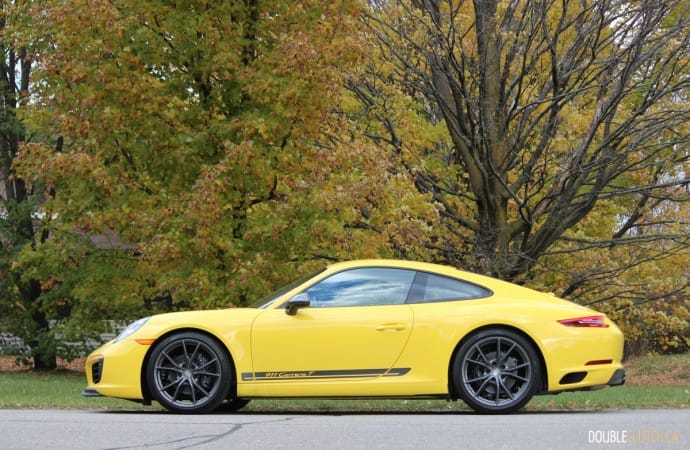 As soon as you start rowing those gears, you see just why the manual is the way to go. Incredibly snickity-snick lever action from the short shifter, plus pretty much perfect clutch take up (that does, admittedly, lean to the slightly heavy side) make for an involving drive.
After burbling out of the carpark, it wasn't long before I was snaking my way through the autumn-bronzed roads just north of Toronto. Very quickly the T's mantra came into focus; this is a car that is as in-tune with its driver as one could ask, a car that lets you feel the road through your fingertips and butt as much as you can see the scenery fly by, or hear the revs climbing.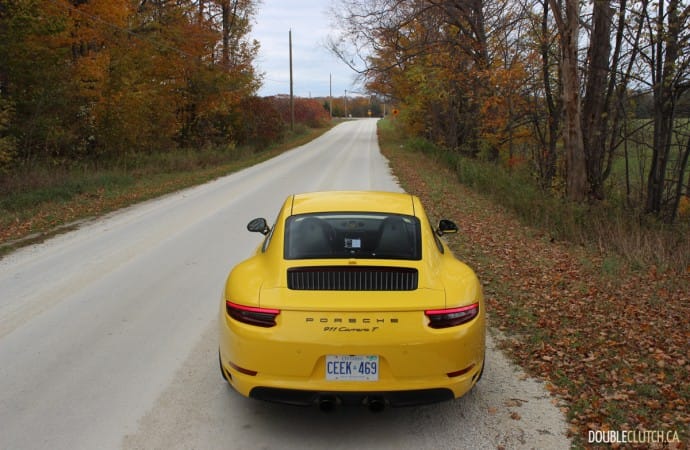 One of my favorite Porsche drives I've ever had was actually not at the wheel of a 911, but at the wheel of a base Cayman, because it just felt so granular, so precise and perfect. The 911 T with its PASM and modifiable drive modes is more of that, just with more power and the unique feeling that only a rear-engined car can provide. Instantaneous turn-in is matched by pristine body control, so you don't have energy-wasting and nausea-inducing body roll to go with quick left-right-left chicanes. I told myself I'd turn around at a certain time, but when I got there I was so engrossed in the drive that I kept right on going for many hours after. Hours; that's how positively addictive and rewarding the Carrera T is to drive.
Of course, the T, like any other Porsche – any other car, for that matter – is not without its faults; my main issue was that while I love the manual transmission, the extra gear makes for a very narrow shift pattern and I found myself hitting fifth gear instead of third on a number of occasions, and even seventh instead of fifth. Also, all that thin glass means more interior noise. Luckily, you can adjust the exhaust note with a stab of a button mounted to the right of the shifter. No matter how you set those dampers, meanwhile, the T is a frim riding car – such is its attitude – that you're going to have to be ready for the full onslaught of expansion joints, cateyes and even raised road paint.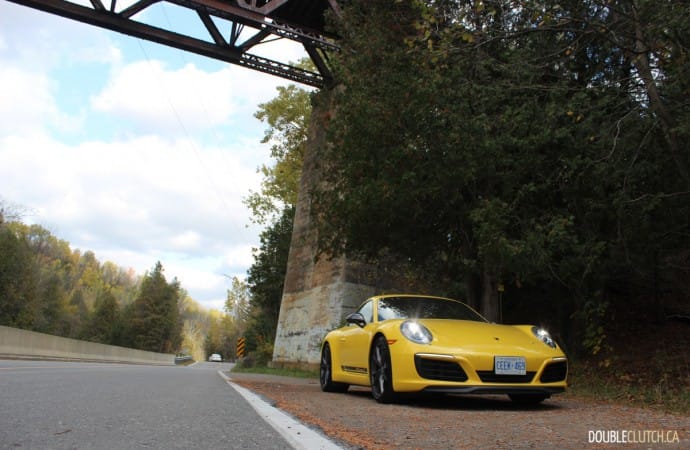 That's all you're going to hear from me on that front, though. If it wasn't for the existence of 2010's subline, ultra-rare 911 Sport Classic, the T just might be my favorite modern 911. You can make the argument that it loses on the purity front to the GT3/GT3 Touring, what with that car's track-ready chassis tuning and its being the only naturally-aspirated Porsche you can still buy. You could make that argument but it's damn expensive and while I haven't had the chance to sample the GT3 Touring, I'd bet deutschemarks to strudel that the T is still the more tractable car when it comes to everyday use. Plus, I know that hardly a thought of Porsche passes through my mind without my thinking of the immense heritage behind the marque, and the T taps right into the main nerve of that mantra, just like the Bullitt makes perfect use of the pop-culture Hollywood aura that's always surrounded the Mustang.
See Also:
2017 Porsche 911 Carrera S Cabriolet