While it's important for the car to be technically and dynamically good, the way it looks, sounds and feels is far more essential to the overall experience. I grew up in an era where the flagship V12 Lamborghini was always a staple poster on every kid's bedroom wall. When the Aventador launched as a 2012 model, its 217-mph top speed redefined the segment. It was extremely advanced but the single-clutch automated manual continued to be a thorn in the halo car's personality.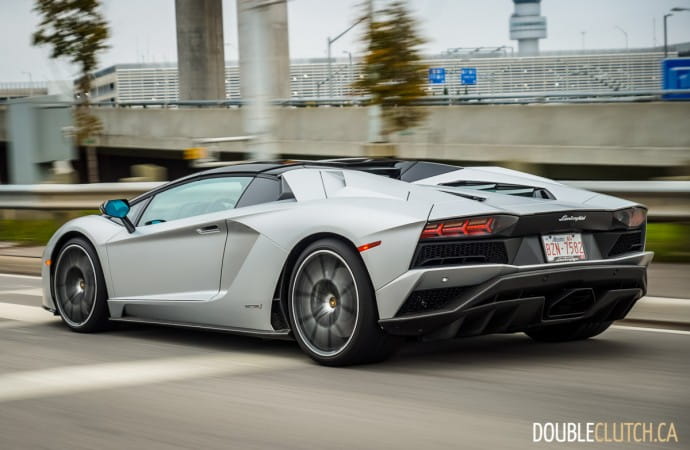 A few years and many updates later, we brought home the 2019 Lamborghini Aventador S Roadster for nearly a week to experience for ourselves how things have changed. Lamborghini updated the Aventador for the 2017 model year, giving it a new fascia, 39 more horsepower (for 730 total), and adding rear-wheel steering. While the original model was fast as all hell, it was largely a straight-line car with corners being a significant limitation.
The Aventador S Roadster adds even more horsepower, for 740 total at a screaming 8,400RPM, and 509 lb-ft. of torque at 5,400RPM. The naturally aspirated 6.5L V12 is very traditionally Lamborghini, and it's incredibly respectable to see the brand avoid using turbocharging. Efficiency? Who cares – this is a V12 Lamborghini. As such, the engine has an immense amount of response from anywhere in the rev range, and pulls with more ferocity than just about anything out there. 100km/h comes in about three seconds flat, and it will fly to a standing quarter mile in just 10.8 seconds.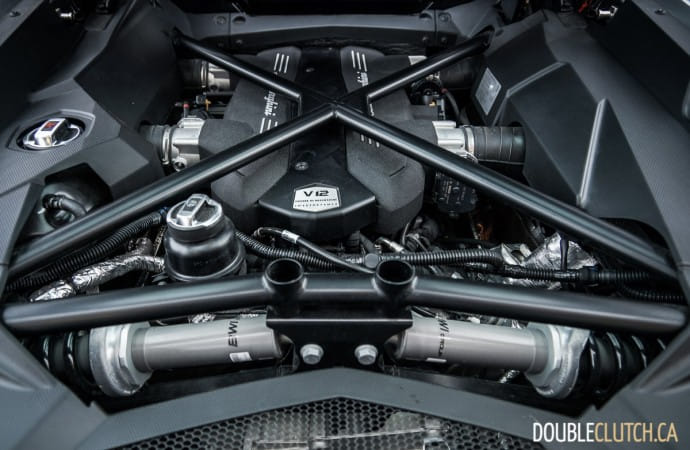 This is a car you have to trust to really drive fast. The seven-speed single-clutch transmission is nowhere near as quick as the brand's own dual-clutch setup in the Huracan (reviewed here), and lacks finesse in many ways. However, once past the learning curve, it's far more manageable than you'd think. It must be kept in manual mode, and shifting past the torque peak will result in somewhat crisp and refined gear changes. The Aventador's four-wheel steering system means it can carve corners with immense amounts of precision, and the potential of this car exceeds the skill of most drivers, by a huge margin.
The active steering rack is an absolute joy to use, with a tremendous amount of feel coming through to the driver's fingertips. It's far heavier than the electric power steering systems in most cars produced today, and feels more analog and satisfying. On-center feel is simply incredible, and the Aventador will demolish highway miles requiring zero overcorrection and with impeccable confidence. Commuting around the city is mostly effortless thanks to a nose-lift system that has been vastly improved over the years. The front end will lift a few inches very quickly at the touch of a button to provide enough clearance for most situations.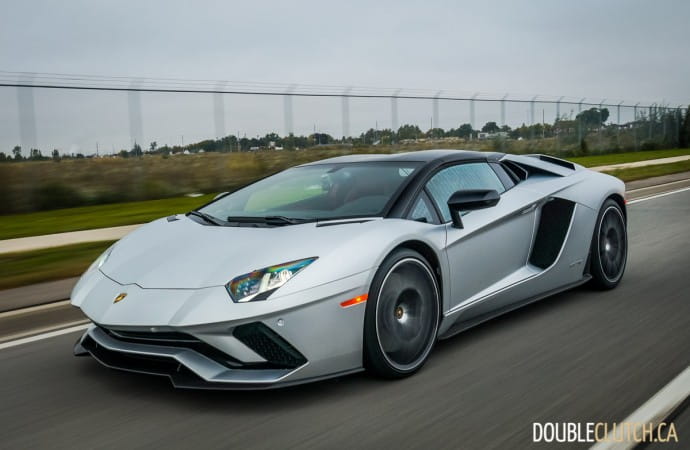 The biggest "challenge" to urban commuting with any Lamborghini isn't really related to how it drives, but how people react to it. It's absolutely impossible to be subtle with an Italian supercar. During our test we decided to take some photos of it with a waterfront backdrop, and we were quickly approached by a crowd of elementary school kids that had never seen a real Lamborghini before. It's not just kids; adults of all ages want to chat about the car or ask questions. Of course, the attention isn't always positive – a car that shows wealth like this one does, expectedly, garners some judgmental comments as well.
All drawbacks are forgotten when the drive mode selector is set to "Corsa" mode. Everything is cranked up a notch, and the response from the throttle and steering becomes even more urgent. The V12 already sounds absurdly good, but when the performance exhaust opens the baffles in "Sport" or "Corsa", it becomes one of the best sounding naturally aspirated engines in the world. This is the kind of sound that sets the Aventador S apart from other supercars like the McLaren 720S.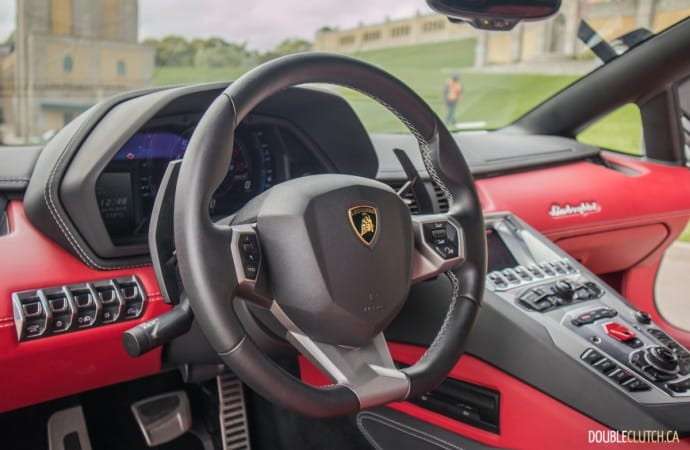 Lamborghini's familial ties to Volkswagen and Audi are very obvious in some aspects of the interior. Infotainment is a clone of Audi's previous-generation MMI setup. It now features Apple CarPlay for added connectivity, as well as a USB port (just one, though). A good chunk of the switchgear is also shared with Audi, which isn't a bad thing. The rest of the passenger cabin is very obviously Lamborghini though, with gorgeous Italian leather (Rosso on our test vehicle) throughout, and beautiful toggle switches for controls including the power windows.
We know the name says "Roadster", but the topless Aventador S is really a targa. This isn't a bad thing by any means – the roof is a two-piece affair that only requires about three minutes to take off. The panels above the driver and passenger lift off at the pull of a lever, and latch neatly into the front storage compartment. Open-air motoring adds an even more special feel to the driving experience of this car. Even with the roof in place, a small rear window can be opened to bring the natural soundtrack of the V12 into the cabin. One downside – with the roof panels stored, there is zero space for storage anywhere in the vehicle.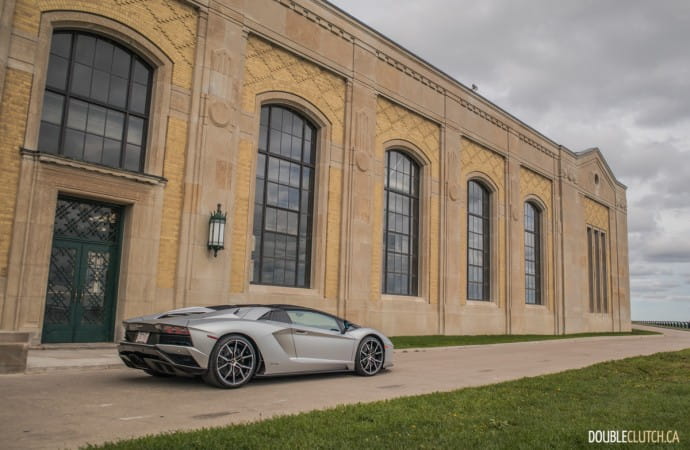 Canadian pricing for the Aventador S Roadster starts at just over $506,000. The Grigio Adamas Matte paint on our test vehicle is an extra $16,000, and the Dionne high gloss wheels are $3,200. An exterior carbon package is $23,500, and the Lamborghini upgraded sound system is $4,800. Factor in some individual options like powered and heated seats, a transparent engine cover, black mirrors, a visibility package, and more, and the as-tested sticker on our test vehicle came to $592,201. It's not cheap, but then again, $100,000 here and there won't make any difference to the clientele for this car.
Even though the Aventador S uses a carbon fiber structure, it's not exactly lightweight. At 4,200 pounds (110 more than the coupé), it can feel cumbersome in certain urban situations and visibility can be a challenge. Combine this with the 29L/100km observed fuel mileage and you've got the recipe of a very traditional supercar. That said, a traditional supercar is one that inspires young car enthusiasts and creates dreams. The 2019 Lamborghini Aventador S Roadster isn't a perfect daily driver, but as long as it maintains that howling V12 and telepathic steering, it will remain one of the most special cars ever created.
See Also:
2018 Lamborghini Huracan Performante
2018 McLaren 570S Spider Launch Edition