The 2018 Chevrolet Camaro 2SS Coupe needs very little introduction as a sports coupe that packs a big punch, and follows an age-old recipe that started over fifty years ago with the original Camaro's launch. The current generation, released for the 2016 model year, has received accolades for a fantastic chassis, great handling, and better than ever performance. Two years on, there have been only a small handful of changes, including the higher output ZL1 and the tricked-out suspension 1LE. With the heavier hitters in the room, would the regular Super Sport hold up?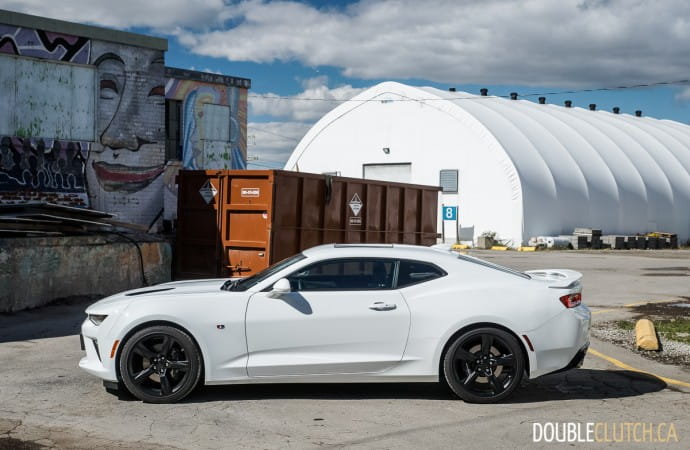 Starting at a relatively reasonable $48,745, buyers can get themselves into a not-so-base V8-powered 2SS Camaro – the 1SS starts at an even cheaper $43,745. Compared to the 1SS, the 2SS gets leather seats (heated and power adjustable up front), dual-zone climate control, heated steering wheel, Bose audio, head-up display, a blind spot warning system with rear cross traffic alert, rear parking sensors, and wireless phone charging.
Options on the Summit White included the $2,850 Ground Effects Package, $1,895 Magnetic Ride Control, $1,650 eight-speed automatic transmission, $1,595 Recaro performance front seats, $1,195 for a sunroof, $995 for a dual-mode performance exhaust, $330 for 20″ matte black wheels, and $175 for black bowtie emblems front and rear. With an as-tested price of $59,430, the decked out 2SS starts to get a little steep "for a Camaro", but it's still quite difficult to beat the performance for the money. The Ford Mustang (reviewed here) is in the same ballpark, and stepping up to a BMW M2 or M4 will set you back a whole lot more.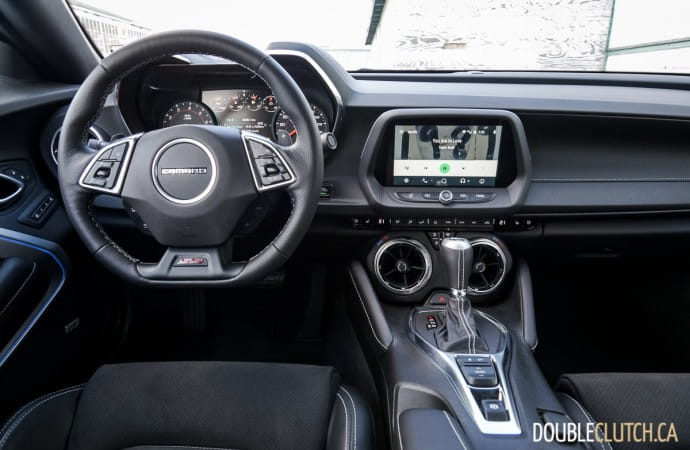 Inside, the Camaro 2SS had a monotone Jet Black interior that's more about getting down to business as opposed to luxury. The central gauge cluster screen is able to display oil temperature, oil pressure, battery volts, as well as track-focused information such as a G-Force counter. The climate controls buttons are laid out in a row, and are straightforward enough to use – to adjust temperature, the entire bezel ring around the vent is turned.
Leg room for taller drivers is pretty decent up front, but rear passengers should ideally only be there for shorter trips. The Recaro sport seats have aggressive bolsters, but average sized occupants should not find this to be a problem. Like the previous generation, visibility continues to be a weakness with the Camaro – high sills and not a whole lot of greenhouse make for difficult maneuvering in tight spaces. The 2SS' reverse camera and parking sensors come in handy a lot more handy than with other cars.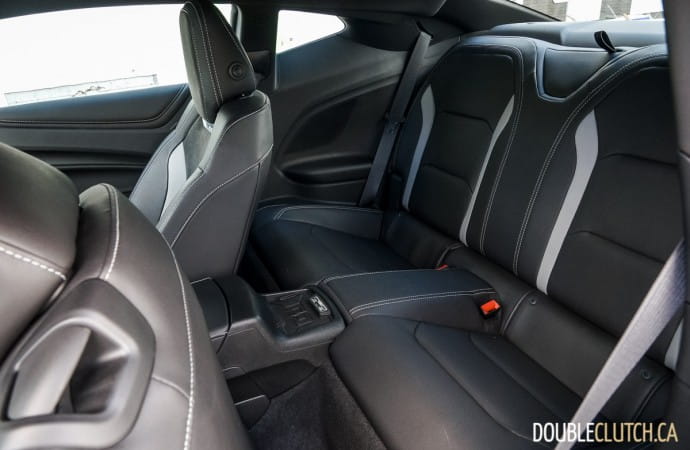 Technologically speaking, the central eight-inch touch screen on the Chevy features GM's MyLink infotainment system, which includes 4G LTE Wi-Fi hotspot capability through OnStar with the purchase of a data plan beyond the initial free trial. The system itself is relatively intuitive and easy to use, and the inclusion of Apple CarPlay and Android Auto is a very welcome touch that reduces distraction and modernizes the smartphone-to-car interface by a long shot.
Now, for the real meat and potatoes – an SS Camaro would not be a real SS if not for the trademark overhead valve V8 power plant that sits under the hood. Displacing 6.2 litres, peak output for the "LT1" is 455 horsepower at 6,000RPM and 455 lb-ft of torque at 4,400RPM. As a large displacement naturally aspirated engine that flows air well, throttle response is excellent, and the meaty torque curve from idle to the 6,600RPM redline is always a very special treat. This is a car that encourages you to put the hammer down, yet is equally rewarding with the oomph still available when taking it easy.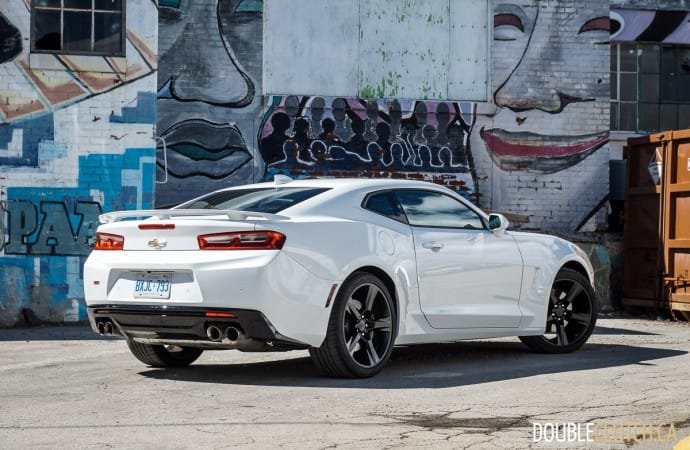 Sound is another key trait for any Camaro, and the LT1 V8 absolutely delivers in this regard as well. The dual mode performance exhaust reacts dynamically to heavy throttle input, and lets out a big bark to match the bite of its 455 horsepower. The transition between the two modes can be helped along by a few blips of throttle, or by setting the driving mode to Track. When demand calls for a more muffled tone, light throttle highway cruising remains whisper quiet with no drone.
In the case of the test car, coupled to the 6.2-litre V8 was an optional eight-speed automatic transmission designed in-house by General Motors themselves. Known as the 8L90, it's quickly become somewhat obsolete, as the 650-horsepower supercharged Camaro ZL1, Corvettes, and full-size trucks/SUVs are beginning to use a new ten-speed (10L80/10L90) unit that's been co-developed by Ford – the Mustang and F-150 use a similar gearbox.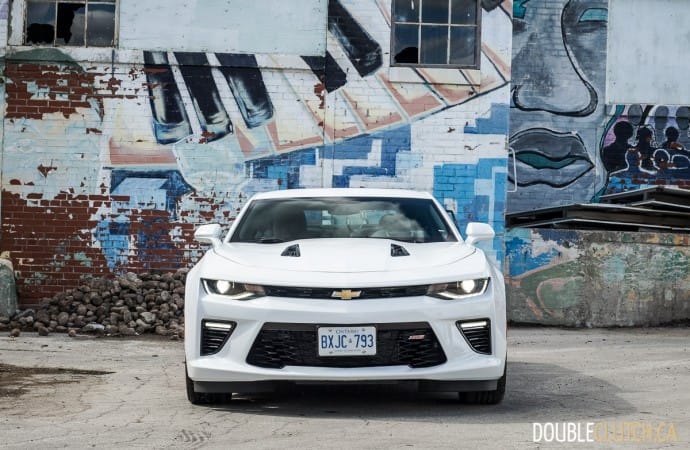 When pushing hard, upshifts are quick and crisp, but the rev-matched downshifts are still a bit chunky. Around town, the eight-speed isn't nearly as good as competing units from ZF (BMW, Jaguar-Land Rover, and Audi) or even Hyundai-Genesis-Kia. Relatively speaking, the Camaro shifts a bit mushier and softer between the gears, while also not feeling any smoother between gearchanges. There's good news for 2019, however – the ten-speed 10L80 will be made available for all V8-powered SS Camaros.
Despite having a large engine, nominal fuel economy figures for the 2018 Camaro SS aren't too shabby at all, ringing in at 14.2L/100KM in the city and a very miserly 8.7L/100KM on the highway. Observed economy after a week saw 10.5L/100KM, including significant highway and also leadfooting in the mix. Premium fuel is recommended, and tank capacity is 72 litres, making for good highway range on long road trips.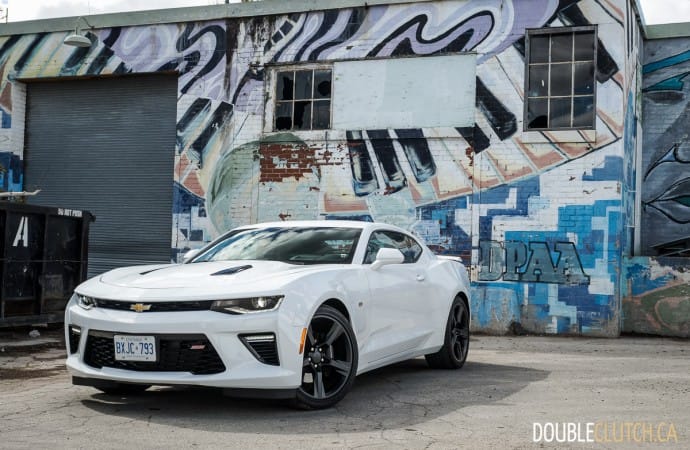 With the current Camaro built on GM's Alpha platform, the end result is confident surefootedness with any sort of spirited driving. The power steering assist is heavily weighted and there's plenty of feedback through the steering wheel. Grip levels out of the 245 front and 275 rear width tires are very high, and the Camaro goes around corners in a very neutral fashion, with neither oversteer or understeer being prevalent unless excess throttle or speeds are at play. A proper rear limited slip differential is standard equipment, which aids in traction, and Brembo four-piston front and rear calipers normal kit on 1SS and 2SS trim levels, as well. They do a great job at bringing things to a halt, with a firm, if not somewhat grabby pedal feel.
The 2018 Chevrolet Camaro 2SS Coupe gets loaded with just enough creature comforts to make for a good daily cruiser. The real focus and return on your investment, however, is the sheer performance and experience out of the 6.2-litre V8 and wonderful Alpha platform chassis and suspension. It is absolutely hard to beat in terms of value for dollar, and can blow the doors off many more expensive and European sports cars. At least for 2018, get the six-speed manual for best results, since the better performing ten-speed is coming for next year. It's a very good base with which to take to a race track or high performance driver education course, and is also a great place to start for customization through the aftermarket. If we were to guess, we'd say this car is destined to be a future classic.
See Also:
First Drive: 2019 Ford Mustang Bullitt
First Drive: 2019 Chevrolet Camaro Turbo 1LE