"An SUV for the city" – that's how Hyundai identifies their new subcompact SUV the Kona, which has entered an increasingly competitive segment in a bold way. Firstly, the subcompact crossover segment is of critical importance to a manufacturer like Hyundai. Similarly to how mid-sized and compact crossovers replaced traditional sedans on the road, these new subcompacts are taking a big bite out of the entry level crossover market.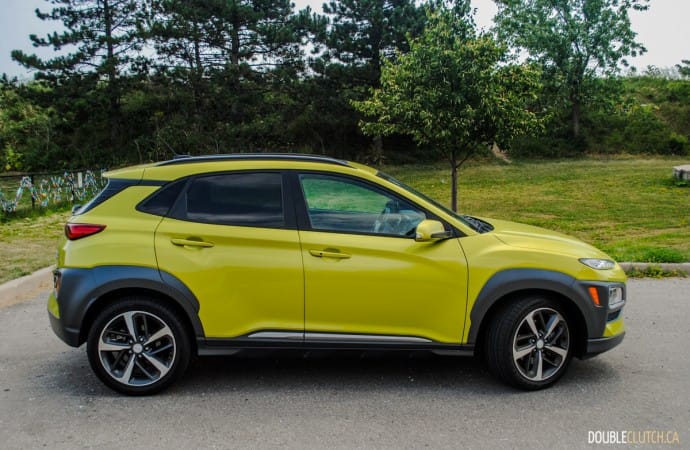 The idea is that one of these subcompact crossovers could take you out of the city, on an adventure, that a standard couldn't. Hyundai has built their brand from the ground up, starting with a strong foothold in the subcompact market, so even more so than for others, it's important that they remain strong in this new entry level segment. We spent a week with the quirky looking 2018 Hyundai Kona 1.6T Ultimate to see just how it would hold up to the competition.
The Kona marks a shift in Hyundai's design language, away from the conservative fluid lines that you'll find on the larger Tucson and towards a more aggressive and distinctive style that comes off as quirky. Interestingly though, the just-released 2019 Santa Fe sports very similar styling, so clearly Hyundai is serious about rolling out the new look to its larger platforms. The Kona itself has a bit of an angry bulldog look to it. A blunt and aggressive looking front fascia is distinguished by separate stacked LED daytime running lights and headlamp assemblies, loosely resembling the modern Jeep Cherokee's arrangement.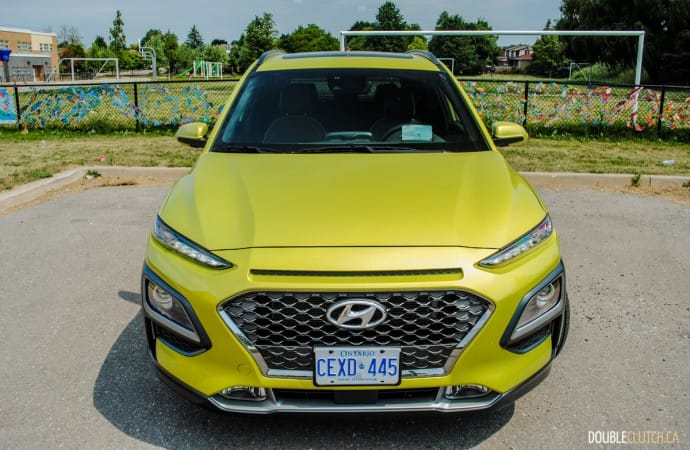 The Kona's rugged look is supported by tall charcoal grey cladding on the sides, over the wheel well arches and wrapping into the rear fascia which also has two separate lighting assemblies. The rugged looks seem to work well with muted colors like black or white, but our fully loaded 1.6T Ultimate trim level tester came finished in Acid Yellow, a neon yellow/green that not only draws a lot of attention, but highlights the contrasts between the dark cladding, chrome trim bits, and the vibrant color.
The interior is actually far more traditional looking than the exterior, which I think is one of the Kona's strong points. Quirkiness can be fun on the outside, but when it gets down to business inside a clean no-nonsense layout is where you want to be and Hyundai clearly understands that. The dash layout very closely resembles the current Elantra (reviewed here) and is dominated by the optional larger 8" touchscreen, simple single zone automatic climate control, and functional, if a bit boring, instrument cluster. The higher trim levels get a heads-up display that uses a plastic screen that rises up out of the dashboard.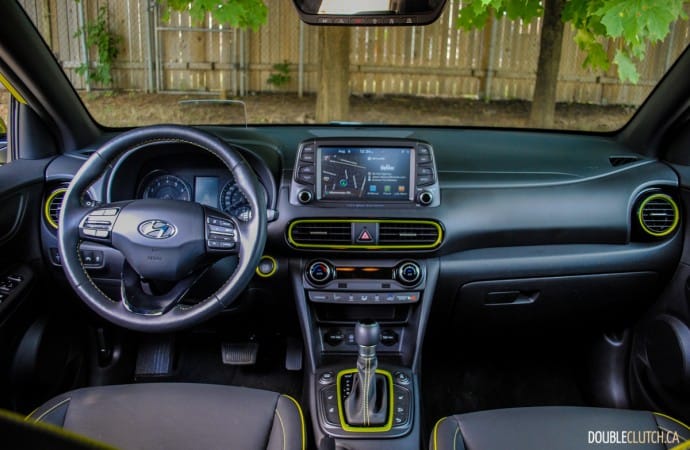 All controls up front fall easily to hand and there is plenty of convenient storage including a generous centre console armrest storage bin, two deep cupholders, and a wide storage tray at the front of the console that also serves as a wireless charging pad. The door panels also have storage bins and built in cupholders, but they're configured in a strange shape making them awkward to use. Materials throughout are nice given the price points and segment that the Kona competes in.
The leather seating in our tester definitely looks and feels like a lower grade of leather, but again that's somewhat expected in this segment. To the credit of the seats they are supportive, comfortable, heated and the driver's side in our tester has eight-way power adjustability. Our tester also came with the optional Acid Yellow interior accents to match the exterior, and while I didn't love the exterior color, inside the yellow is quite nice with piping and stitching on the seats, stitching on the thick heated leather wrapped steering wheel, and aluminized accents on the dash and console.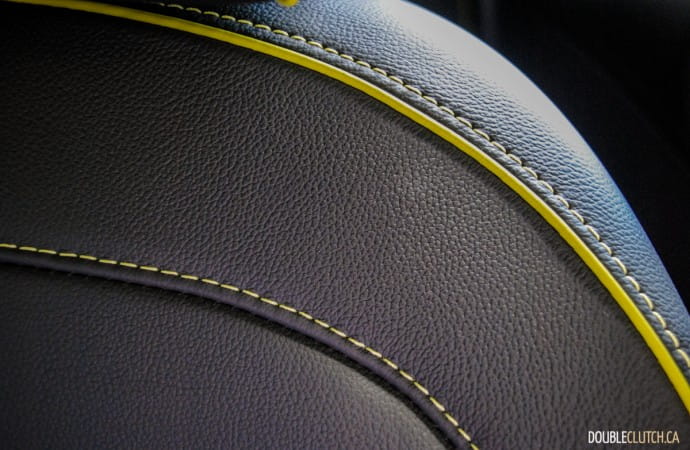 The split folding rear bench seat is good for two adults, three in a pinch, and folds relatively flat opening up the versatile cargo options that buyers are looking for. The cargo area itself is surprisingly large and our tester came with a handy cargo net to keep groceries and other items from rolling around. One complaint would be that the rear hatch does not have a power close function, nor is it particularly easy to close, requiring a bit of a slam in order to get it to latch all the way. The Kona is also available with a set of roof rails and crossbars, which will be useful for those buyers looking to take the Kona far outside of the city.
The base engine in the Kona is a 2.0L fourcylinder making 147 horsepower and 132 lb-ft. of torque at 4,500RPM. Our 1.6T Ultimate trim level tester came with a 1.6L turbocharged four that outputs a healthy 175 horsepower and 195 lb-ft. of torque from 1,500-4,500RPM. It's capable of taking the Kona from 0-100km/h in under eight seconds. The 2.0L version of the Kona gets a traditional six speed automatic, but power in the 1.6T version flows through a quick shifting seven speed dual clutch transmission.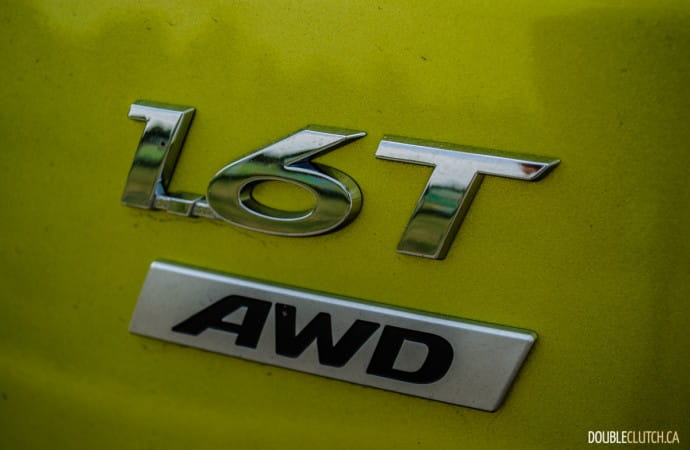 The dual-clutch is competent, but what it gains in speed and response it gives up in smoothness. The low-end torque from the turbo is perfect for quick maneuvers in the city and both throttle response and kick-down from the transmission are sharp enough to make the Kona 1.6T feel rather peppy around town. It does run out of breadth quickly at highway speeds which mean passing can require a bit of patience and isn't the smoothest experience.
The Kona is available in both FWD and AWD forms, but the more powerful turbo version like our tester is only available with AWD. While we didn't make much use of during this August heat wave in the city, come winter it would certainly make navigating poorly cleared city streets a lot easier.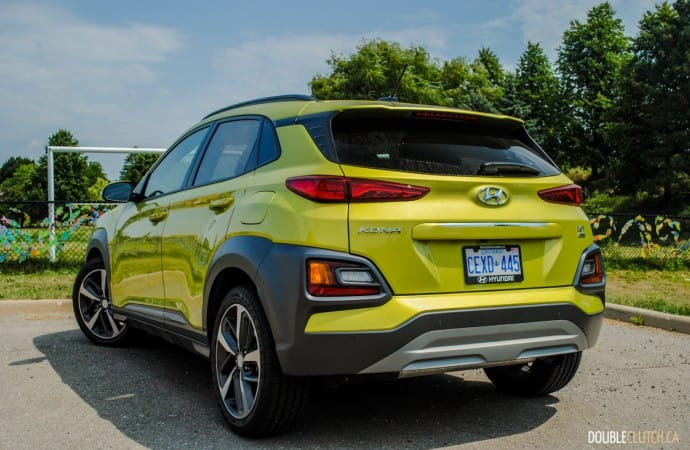 The steering in the Kona is exactly what I've learned to expect from recent Hyundai products; quick and with a nice sharp turn-in, but with limited road feel and a slightly awkward rubbery feel that serves to distract from a competently handling little crossover. The Kona is not a sporty vehicle, but it can be fun to toss through quick corners, especially with the torquey turbo to pull out of the corners with. Ride quality is nothing out of the ordinary. Thanks to a short wheelbase it can be choppy at times and a bit stiff when the roads get rough. Noise levels on the highway can be an irritation on longer rides with both road noise emanating into the cabin from the tires and a wind whistle audible on occasion.
It's important to remember that these driving dynamics are all fairly typical of all players within the segment, and while the Kona is a very competent machine, especially in the city, entry level subcompact SUVs are not luxury sedans. However, there was an opportunity for Hyundai to gain an edge on the competition by adding some more refinement to the Kona's driving experience and I am afraid they've missed out.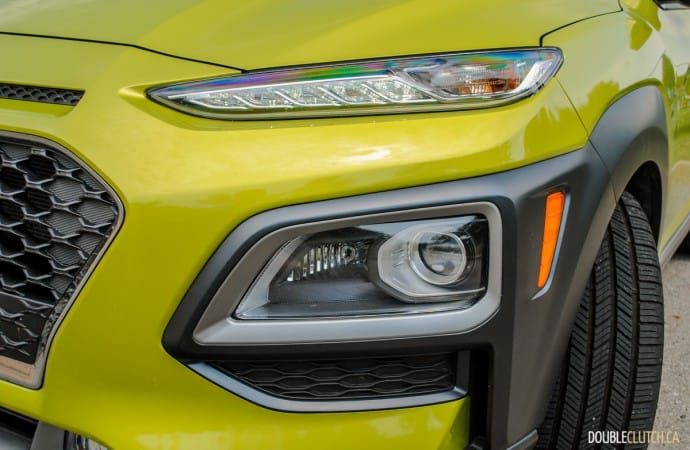 Where Hyundai has succeeded though is in managing the fuel consumption of the package as after a week of rush hour commuting and heavy A/C usage my average sat right at 8.0L/100km. This is quite good for an AWD crossover as peppy as the turbocharged Kona can be. Despite the turbocharger, it's also happy on regular grade fuel, although a tank larger than the Kona's 50L unit would be nice to help stretch out those pesky fuel stops.
The base price for a FWD 2.0L Kona is a very competitive $20,999 and at that price it comes equipped with a 7" touchscreen, Android Auto/Apple CarPlay, heated front seats and nice 16" alloy wheels. You can also add AWD to the base trim for a mere $2,000, not something a lot of competitors allow you to do. Sticking with a 2.0L you can opt for a mid-range Preferred trim, or the fully loaded AWD Luxury that includes leather and a power sunroof for $27,499.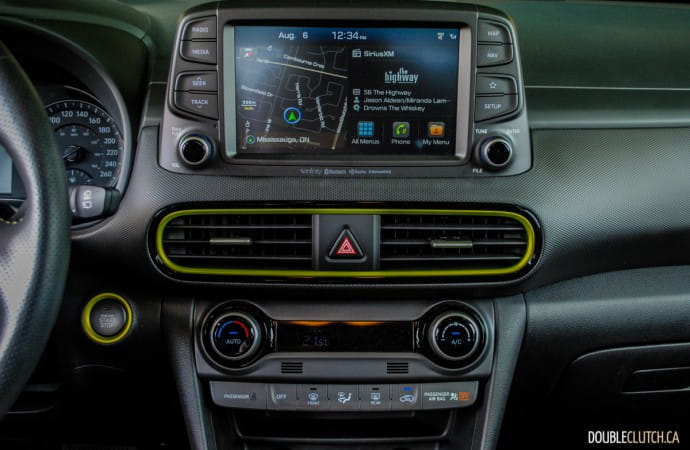 If the more powerful turbo is your thing, you can have a 1.6T AWD Trend for $26,899 or you can step up to the 1.6T AWD Ultimate like our tester for $31,799. Pricing then is right in line, if not slightly better than the Kona's closest competitors like the Mazda CX-3, Nissan Qashqai (reviewed here) and Honda HR-V. Notably, pricing is also close to what you might expect to pay for a compact sedan, like a Honda Civic, showing how these crossovers are starting to attract interest from other segments as well.
Opting for the fully loaded vehicle like our tester not only gives you all the aforementioned features like the heated steering wheel, sunroof, and leather. You also get the full suite of tech including the wireless charging pad, navigation, heads-up display, Infinity premium audio, LED headlamps (which work beautifully by the way) and the complete Hyundai SmartSense active safety suite including blind spot detection, rear cross traffic alert, rear parking sensors, lane keep assist and more.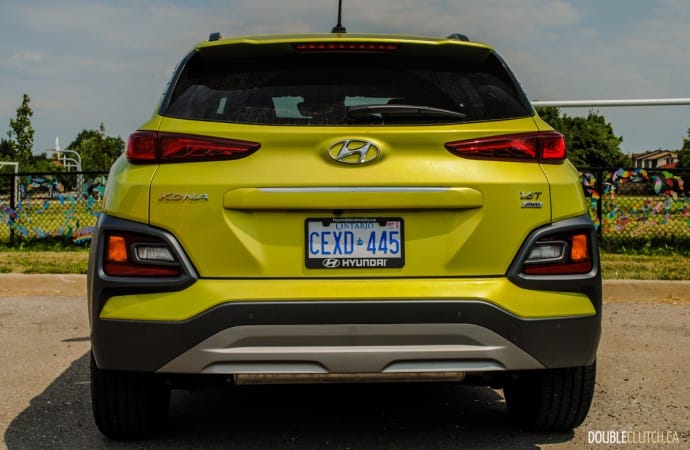 While it would have been great to see the 2018 Hyundai Kona 1.6T Ultimate hit the market with some more refined driving dynamics to blow its competitors away, it is entering the market with a compelling offer as an SUV designed as a city vehicle first and foremost. Its dimensions, tight turning circle available safety suite and general ruggedness mean it's up to battle while making your life easier. Despite my few gripes, the Kona is one of the best, if not the best, subcompact crossovers out there today. If shopping the segment, you owe it to yourself to check out a Hyundai dealer.
See Also: