Mercedes-Benz's Smart sub-brand has been the subject of quite a bit of humour. The amusing little two-door debuted in North America over a decade ago, and the first-generation model had one of the worst transmissions I've personally ever experienced. Fast forward to the present, where affordable subcompact cars have made a strong return to the Canadian market, and the Smart car has also made some leaps and bounds. Still maintaining the same cute cube-like proportions it debuted with, all Smart models sold in Canada are now electric-only.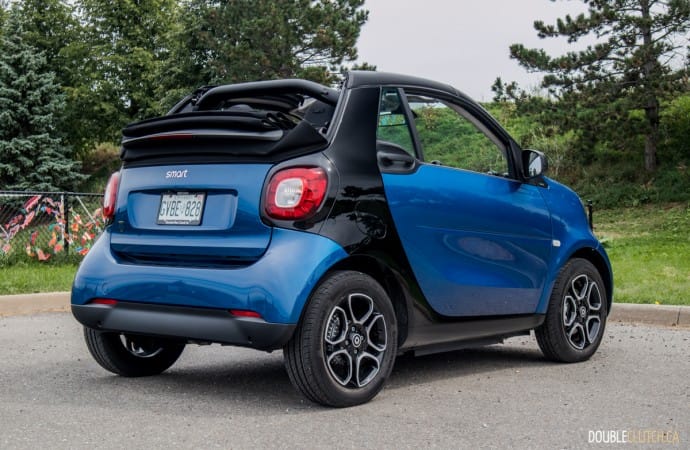 We borrowed a 2019 Smart EQ Fortwo Cabriolet in "Passion" trim, painted in a two-tone blue/black combination for testing. Moving to an all-EV lineup is one of the smarter (pun intended) decisions made for this vehicle, as the electric powertrain suits the car's quirky personality nicely. Its small dimensions mean it can be parked almost anywhere, and the low center of gravity as well as the tight turning radius all contribute to the overall zippiness of the Fortwo.
It's not without its flaws, but first I'd like to address what really stands out positively about this car. The interior is made for two, and it's actually very comfortable even for my taller frame. Headroom and legroom are both remarkably generous, with ample space to not feel claustrophobic. The retractable roof on the Cabriolet model tested here opens in a matter of seconds to make for an airy cabin. Our test period consisted of a cool fall weekend with favourable weather, and the open-top experience in the Smart makes the car feel even more enjoyable and cheerful.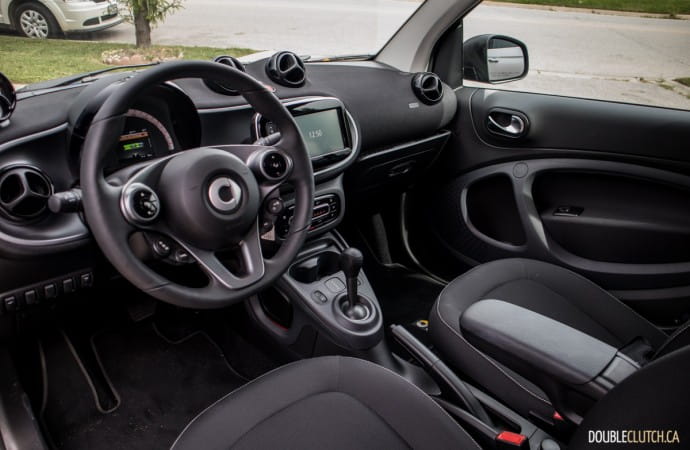 Powering the Smart EQ is a 60kW electric motor that's good for 80 horsepower and 118 lb-ft. of torque. The torque comes on right at idle, but it isn't as instantaneous as other electric vehicles we have sampled. It's almost as though Mercedes-Benz has numbed down the throttle response from a standing start in favour of smoothness rather than urgency. This is just fine, because the Smart isn't made for the Autobahn. Dashing around the city over the weekend and running miscellaneous errands was made to feel like child's play with this little car.
The tight turning radius is easily the Smart Fortwo's best asset. The car will spin around on a dime and will make you smile while doing it. The turning circle is narrow enough to emulate the feeling of the rear wheels turning along with the fronts; the Fortwo will spin around without needing a three-point turn on most standard neighbourhood streets. Regenerative braking works well like in any other EV, and it's worth noting that while the front brakes are discs, the rear setup is a conventional drum setup as with other subcompacts on the market.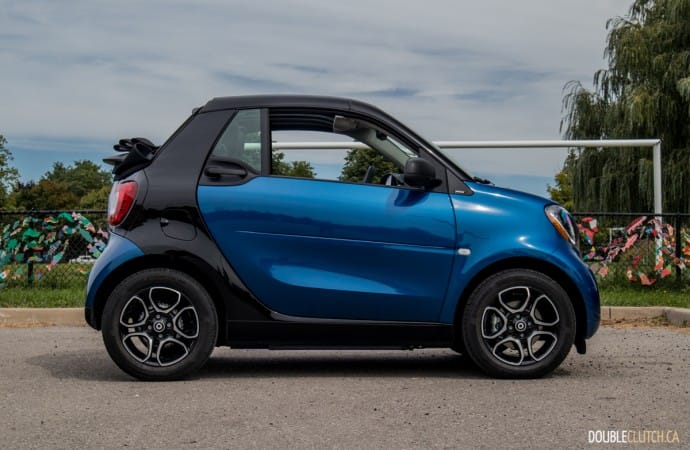 A top speed of 130 km/h means the Smart EQ can handle our nation's highways just fine, but those with longer highway commutes will have a challenge with regards to overall driving range. Highway manners are adequate, but the car does run out of breath above 100 km/h. High speed stability is decent, but again, the Smart EQ is at home in the city, for those with short commutes or primarily city driving.
Smart's latest little charmer can be charged via a 7.2kWh onboard charger. Plugging it into my home's wall outlet showed us a 12-hour charge time from 18% to full. Using a 240V Level 2 outlet can bump this to just over two hours. On a full charge, we observed an indicated range of 126km, and we can confirm this to be very realistic in ideal conditions. Use of the air conditioner will shave this range down significantly, and there is an "Eco" mode that maximizes your range as well.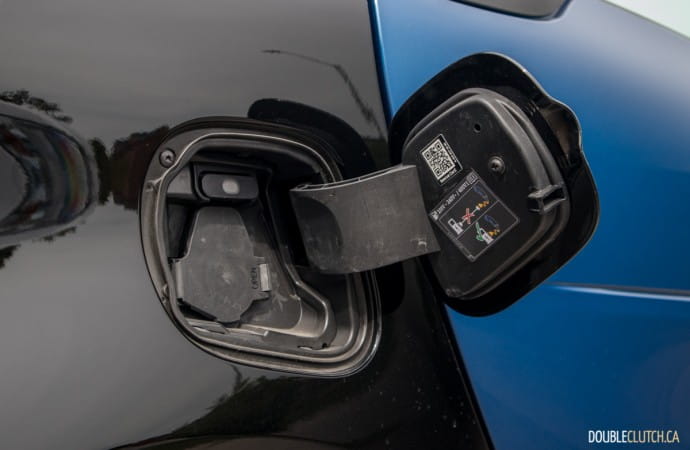 Interior materials are on par with other subcompacts in the market, and a notch below what's expected of anything in the Mercedes-Benz lineup. There are plastics used throughout the cabin, but overall fit and finish is just fine. We observed no strange creaks or rattles, and all of the panels come together nicely. The Smart EQ has Bluetooth connectivity as well as energy computers built into the infotainment system to help you maximize your driving range and monitor consumption, which is a great touch.
With almost every automaker wanting a slice of the proverbial EV pie, it has become inevitable for our country's infrastructure to slowly begin adapting to this newfound method of transportation. High-speed chargers placed in most major urban areas as well as along highway routes mean many electric vehicles can be used for lengthy road trips with some prior planning. Tesla has been placed on somewhat of a pedestal, but they have fallen short of expectations in many ways. Actual competitors to the Fortwo are the Volkswagen e-Golf (reviewed here) and the heavily-outdated Ford Focus EV, both of which add a little bit of practicality at the sacrifice of the Smart's fun style factor.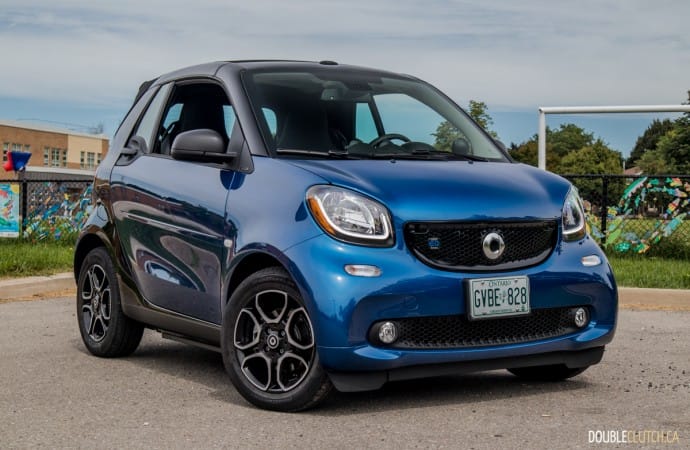 The reality is that the transition to a fully electric vehicle is very much a lifestyle change. It's one that can be easily embraced by certain drivers, and is more difficult for others. Without a 240V charger at home, we must rely on public charger availability to ensure our cars are ready to go when we want them to be. We strongly recommend anybody buying this Smart EQ or any other fully electric car to invest in 240V power accessible from the car's parking spot.
At roughly $35,000 as tested, the 2019 Smart EQ Fortwo Cabriolet isn't exactly cheap. The Ontario provincial government recently yanked the $11,000 rebates that would bring this car far closer in price to small, efficient gasoline-powered subcompacts. The Smart car does use some premium materials and branding to stand out a little bit more from the norm. At the end of the day this is a great second car for weekend errands, but can also be an excellent commuter if the 120-km range fits into your lifestyle.
See Also: