Sometimes, you want to have your cake and eat it too, especially when it comes to having an open-top, four-seater sports car. Many convertibles tend to err on the softer side of the equation, making them great for boulevard cruising in more sedate conditions. The rear-wheel drive 2018 BMW M4 Cabriolet Competition on the other hand, seeks to be the opposite, and is a drop-top version of the regular M4 Coupe that's already known to pack a serious punch. With the roof being of the hardtop variety, it's also useful for colder climates, or occasions when a quieter cabin is desired. With keys in hand to a vibrant Austin Yellow Metallic test car, we got down to seeing just exactly how potent this version of the M4 would be.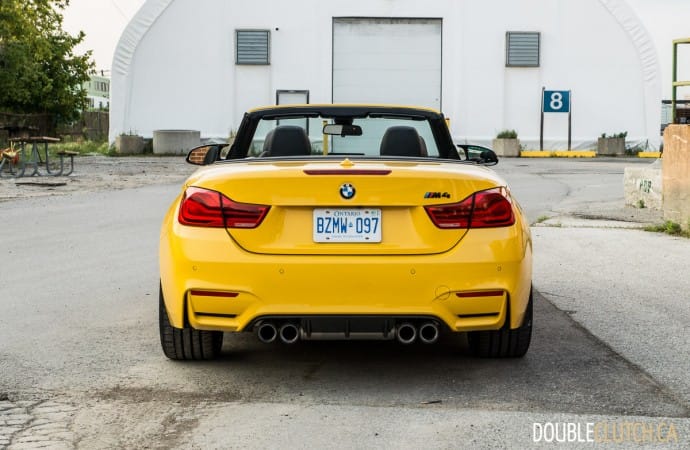 Starting at a base price of $88,000, the Cabriolet is just about ten large more than the Coupe. A small handful of packages and options balloon the price of the M4 by quite a bit: the $24,500 Ultimate Package includes just about everything under the sun, including the Adaptive M Suspension, the Competition Package, awesome 20-inch alloy wheels, an M Performance titanium exhaust with carbon fibre tips, adaptive LED headlights, head-up display, wireless phone charging, assorted carbon fibre trim, and much, much more.
The Ultimate Package itself can be broken down into chunks with various others if one doesn't need the whole kit and caboodle, thankfully. Add $3,900 for the M Double Clutch Transmission, $500 for extra carbon fibre trim with black chrome, and $350 for Speed Limit Info. With the bottom line coming to $117,250 as-tested, that's a big chunk of change for an M4 – and that doesn't even include the M Carbon Ceramic Brakes, which are an $8,500 standalone option.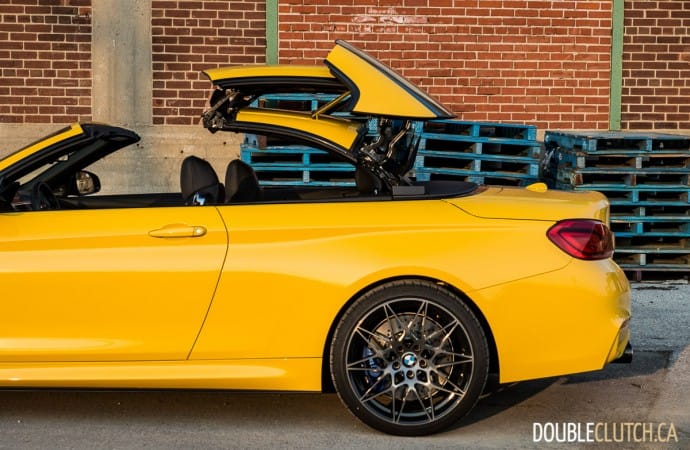 All M4s regardless of body style are powered by a 3.0-litre turbocharged inline six, known in BMW circles as the S55. The Competition Package adds an additional 19 horsepower for a total of 444 between 5,500 and 7,300RPM, combined with 406 lb-ft. of torque between 1,850 and 5,500RPM (torque figures are unchanged for the Competition Package). It's a beast of an engine, smoothly pulling like a freight train right from the bottom and all the way to its 7,500RPM redline. Throttle response with the twin-scroll turbo is another strong suit, and you won't be waiting long for boost when putting the throttle down. BMW says that the zero to 100KM/H sprint will happen in 4.4 seconds.
Where the motor falls short, however, is in the sound department. The M Performance Titanium Exhaust make things either loud or louder, depending on the Comfort, Sport, or Sport+ mode setting of the engine. Unfortunately, any level of loud doesn't really improve the quality of the sound. It's a bit of a flatulent bark more than anything, which is a big contrast to the screaming naturally aspirated six cylinder M3 of old (think the early 2000s E46 generation), or the stratospheric-revving later model E92 with its V8. The current engine gets the job done just as good, if not better, but it tosses some personality out the window in doing so.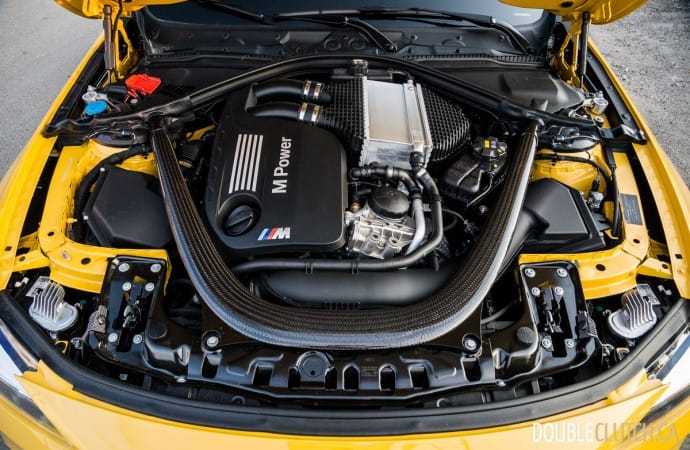 For transmissions, a six-speed manual or a seven-speed dual clutch, as was the case with the test car, are responsible for putting the power down. With the one extra ratio, acceleration and use of the turbocharger is better optimized, and one can count on a DCT-equipped M4 to win a drag race against a conventional row-your-own car. Add to that lightning quick upshifts that are faster than any human could ever do, and the DCT clearly becomes the gearbox of choice for the best laptimes or bragging rights. At low speeds and in city driving, however, it can be a bit chunky and unrefined, only settling down once up to speed, or at full throttle. Another strike against the dual clutch is the loss of engagement and driving fun due to the lack of autonomy.
Fuel economy ratings for the M4 Cabriolet with seven-speed dual clutch transmission are the thirstiest of all M4 variants, coming in at 14.5L/100KM in the city, and 10.5L/100KM on the highway. Observed economy over a week of testing matched the highway figure of 10.5L/100KM in mostly open road driving. Tank capacity is 60 litres, and premium fuel is required. 91 octane AKI is the minimum (anti-knock index, or AKI, and not to be confused with the European Research Octane Number, or RON), but 93 AKI is recommended.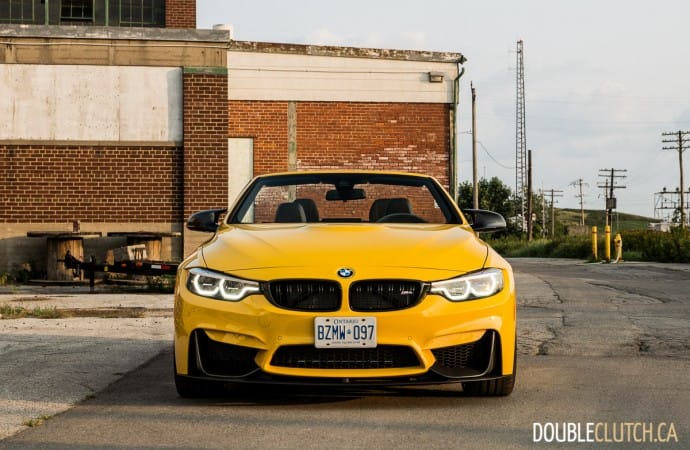 For handling, the 1,871 kilogram (4,125 pound) M4 Cabriolet more than holds its own as a four-seat open air sports car. Turn-in response is sharp, and grip levels are high with aggressive Michelin Pilot Super Sport summer tires wrapped around the 20-inch wheels. On the street, setting the suspension to stiffer Sport+ levels is a bit pointless, and serves to make the ride too firm more than anything – it's pretty much for track use only. In general, the roofless chassis still has enough stiffness to keep its composure in a bumpy corner rather than wobbling about like a pool noodle. Cowl shake is more present with the hardtop folded down, but is still better than most.
Loading up the steering in a turn produces very neutral handling, with both understeer and oversteer kept in check. Traction from the 285 section width rear tires is very impressive, and helps to slingshot the M4 forward without breaking a sweat. Steering is decently good, and while it was well-weighted, a little more feel would be nice. The large four-piston front and two-piston rear brakes stop the M4 confidently, and can be relied upon for most spirited driving without fading.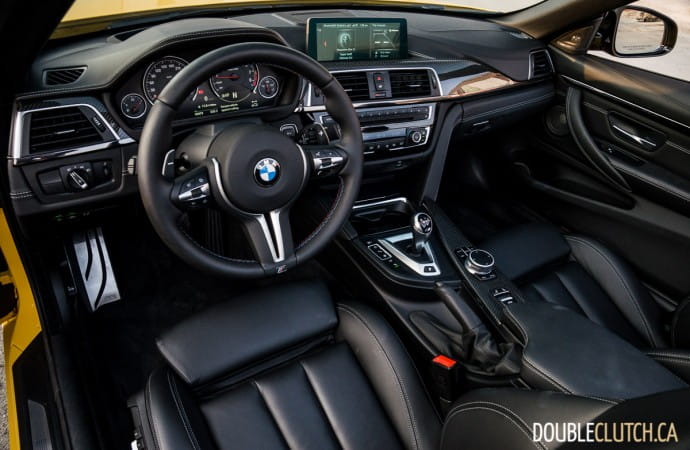 Inside, the M4 seats four reasonably well, although as with most two-door coupes, taller adults will object to sitting in the back. The front seats are adjustable in a multitude of ways, and after a bit of time spent tweaking, are very comfortable and supportive. While other brighter colour schemes can be chosen, the M4 Cab test car came in Black Full Merino Leather. Material quality and fit and finish are the best in the business, although the sea of black is only partially broken up by bits of carbon fibre, as well as the steering wheel's tri-colour stitching that matches the M logo.
It should be noted that rear cargo space is severely limited when the hard top is folded down. Operating the top is a complex dance in itself, with the trunk lid opening backward in order to allow for the roof panels to tuck into and out of the trunk. A shield that flips up and down acts as a guard to prevent the crushing of cargo, and must be tucked down and out of the way in order to for the top to function. A series of warning stickers and notices mark where cargo can and cannot be placed depending on the top's position – you have been warned!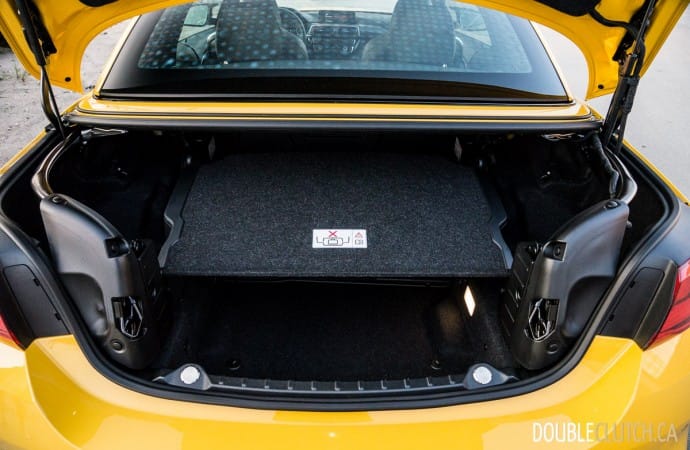 Infotainment in the M4 is done using BMW's excellent iDrive system, which can be very much regarded as being an industry benchmark. The control wheel is easy to use and minimizes the distraction of other automakers' touch-only interfaces. Split screen operation can allow for the display of both navigation and other menu functions at the same time, and the addition of the optional(!) Apple CarPlay is a welcome sight for smartphone connectivity. Countless other lower-end makes include such features as standard, which makes the optional CarPlay irksome at best. The Harman/Kardon audio is powerful and clear, doing well even at highway speeds with the top down.
At its nearly $120,000 as-tested price tag – even more if you consider the addition of carbon ceramic brakes – the 2018 BMW M4 Cabriolet Competition starts to creep into but is still cheaper than the likes of a base model Porsche 911 Cabriolet. It delivers a whole lot of open-roof fun that not many others can offer, yet is refined enough to be a daily driver. By token of sound alone, the Mercedes-AMG C 63 and C 63 S Cabriolet would be worth a look at, as well. Serious enthusiasts will have more fun shifting themselves with the six-speed manual, but the seven-speed dual clutch is no slouch and throws down more serious performance figures. To keep the price at a more reasonable level with better bang for your buck, say no to the Ultimate Package, and say yes to the Competition Package by itself, with the addition of one or two more options or packages to suit your tastes.
See Also:
2017 BMW M3 Competition Package