As far as large sport utility vehicles go, Chevrolet hasn't strayed too far from the tried and true formula for high-capacity family haulers. The 2018 Chevrolet Traverse High Country AWD is new for this model year, and is built atop the General Motors C1XX platform. C1XX also underpins the likes of the Cadillac XT5, Buick Enclave, and GMC Acadia, and a smaller variant from Chevy will debut next year with the resurrected Blazer nameplate. The High Country is the flagship trim level, and we recently had the chance to spend some time in one.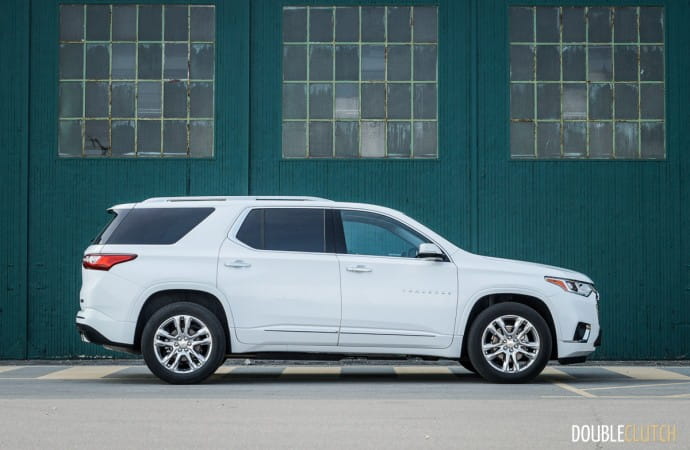 Starting at a base price of $58,600, standard features include an eight-inch infotainment touch screen with Android Auto and Apple CarPlay, GM's 4GLTE Wi-Fi hotspot, Bose audio, 20-inch aluminum wheels, LED headlights, a power liftgate, adaptive cruise control, heated/ventilated front seats, heated steering wheel, power tilt/telescoping steering, power folding third row, wireless phone charging, dual sunroof, and pushbutton start. It's not often the case for media test vehicles, but there were no further options added, keeping the as-tested price at $58,600.

For those concerned with standard safety features, the High Country gets standard autonomous front braking with collision warning, lane keep assist, automatic high beams, blind spot monitoring with lane change alert, as well as rear cross-traffic alert. There are head curtain side impact airbags for all outboard seating positions, and the driver gets a seat-mounted side airbag on the inboard side.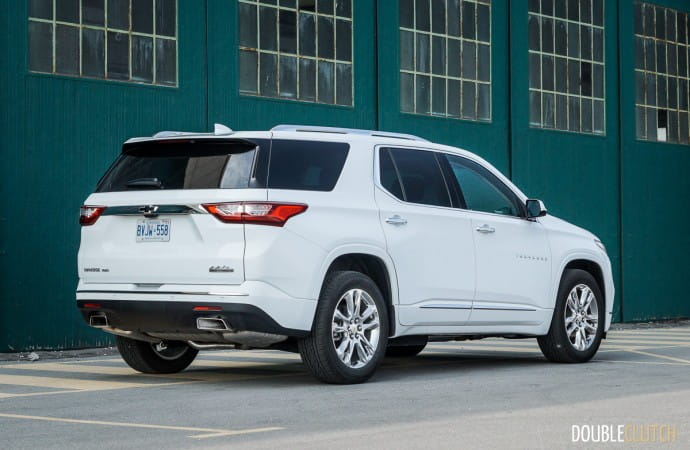 Dimensionally, the Traverse is eerily close to that of the body on frame Tahoe (reviewed here), which is just about a fully-fledged truck, as opposed to the Traverse's more car-like unibody chassis. It's 0.3 inches longer, but is nearly two inches narrower, and 3.7 inches lesser in height. Here's where things get more interesting: Behind the third row, there's 651 litres (23.0 cubic feet) of cargo space, and folding the third and second rows nets you 1,637 litres (57.8 cubic feet) and 2,781 litres (98.2 cubic feet), respectively. All three of these figures beat out the Tahoe by a decent margin, most likely due to the higher load floor of the Tahoe in order to make space for the frame and four-wheel drive components – the Traverse rubs salt in this wound by adding even more storage under the regular cargo floor.
Relative to the competition which includes the Honda Pilot, Toyota Highlander, and Ford Explorer, the Traverse beats all three on the inside, which shouldn't be a shock considering that it's the largest on the outside. Thankfully, the turning radius is about the same, and moving the Traverse in and around urban underground carparks isn't as unwieldy as one might think.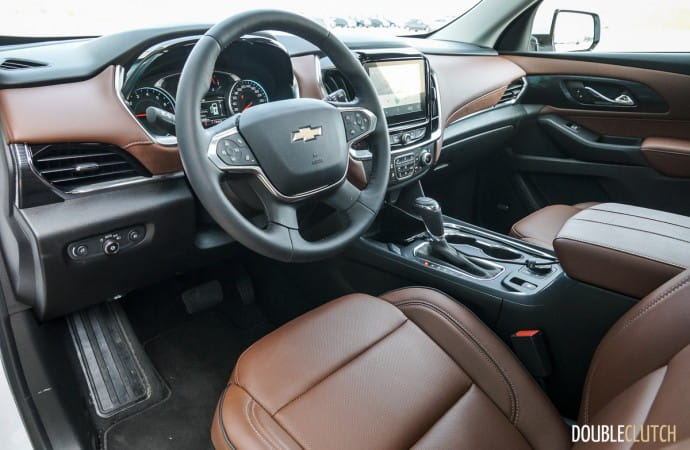 The design and features of the Traverse's cabin, for the most part, have shown that Chevrolet has come a long way since the malaise-inspired monotony of yesteryear. Switchgear and controls still feel a little too rental car chintzy (how about that 1990s turn signal stalk?!), but material fit and finish and colour palettes are more than fit for a car at this price point. The Jet Black / Loft Brown leather matched well with the Summit White exterior, and the centre console is generous in size.
Android Auto and Apple CarPlay round out a well-designed Chevrolet MyLink infotainment system, making both smartphone connectivity and menu diving a breeze. The HVAC control panel is a little bit confusing at first, but kudos to GM for including proper buttons, which is more ergonomic and minimizes distraction when on the road. The rear view mirror with full camera display didn't get used at all due to disorientation and borderline motion sickness when switching focus: When using a traditional mirror, the optics dictate that your eye stays focused on objects in the distance. Going to a full screen rear view mirror, however, forces your eye to focus on a subject that's much closer, creating a momentary disorientation.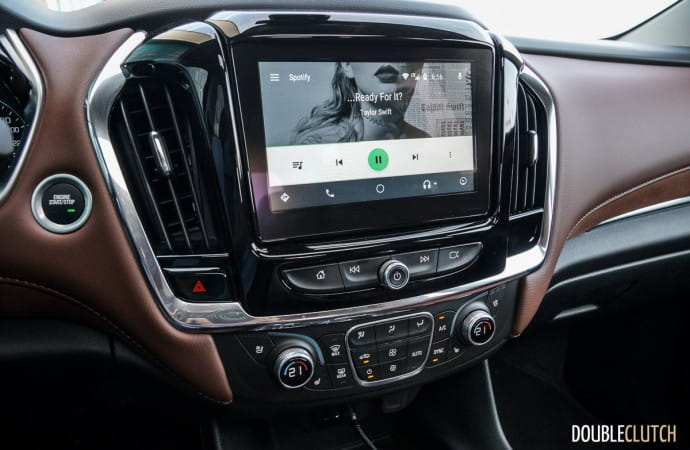 Powering all trim levels of Traverse (except for one) is GM's workhorse 3.6-litre V6, making 310 horsepower at 6,800RPM and 266 lb-ft of torque at 2,800RPM in this iteration. Front-drive RS models do get 2.0-litre turbo four with 257 horsepower and 295 lb-ft, but it's likely to be a lower volume seller in AWD-obsessed Canada. The V6 is a smooth operator that puts out a bit of a gruff aural note, slightly reminiscent of the rock-solid 3800 V6 of decades gone by. Merging and passing power are always on tap with a great midrange and top-end, and the lower 2,800RPM torque peak means that forward thrust also builds up sooner rather than later. A nine-speed automatic transmission is standard issue across the board, and makes the most of the V6, with crisp shifts and minimal hunting.
With all the extra gear ratios and the latest in direct fuel injection technology, the 2018 Traverse was impressively frugal at the pumps, despite its 2,180 kilogram (4,807 pound) curb weight. Although it's rated at 13.7L/100KM in the city and 9.4L/100KM on the highway, some sections of lightly loaded highway driving saw significantly better numbers – somewhere between 8.0 and 8.5L/100KM. At the end of a cottage road trip weekend with mostly higher speed driving, observed economy was 10.2L/100KM. Regular fuel is perfectly acceptable, and tank capacity is 82 litres.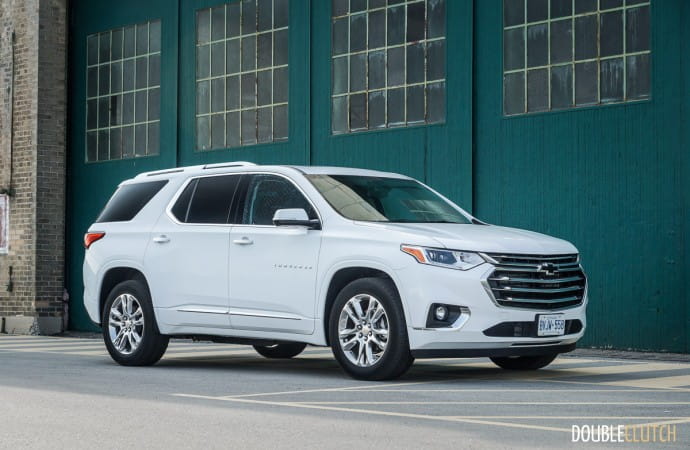 On the road, getting behind the wheel of the Traverse High Country is a refined experience, with excellent highway manners and a whisper-quiet cabin that's devoid of any wind noise. Front seat passengers will wish they had a little more thigh support, but the miles still pass by quickly with good ride quality and an environment that doesn't fatigue you. Handling is surprisingly good, and the backroads on the way into the aforementioned cottage road trip felt way more car-like than a vehicle of this size and stature should be capable of.
Like the smaller Equinox, the Traverse has a switchable all-wheel drive system that can save fuel when turned off – which will during most driving conditions for most drivers. When turned on, the High Country gets a further enhanced system with torque vectoring. Chevrolet's Twin-Clutch AWD is able to transfer 100% of torque between the front rear axle, and on top of that, it can send 100% of the rear axle's torque to a single rear wheel by way of an electronically-controlled differential. While most slip-and-grip passive all-wheel drive systems on today's crossovers help mostly only in straight-line situations, the High Country's Twin Clutch setup should help in more dynamic situations as well.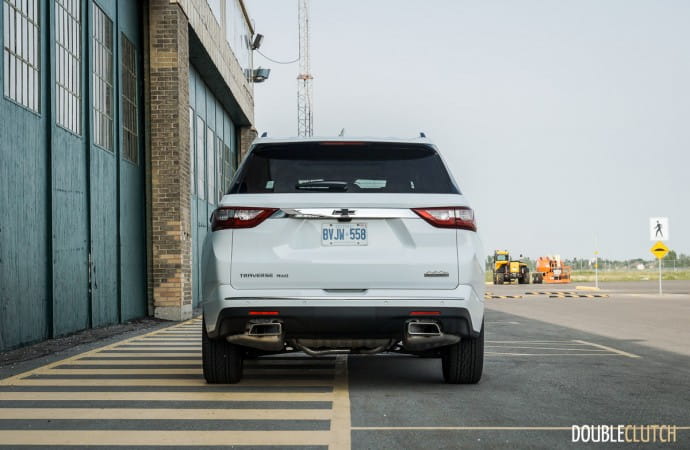 Overall, the 2018 Chevrolet Traverse High Country AWD is a big crossover SUV that drives a bit smaller than it actually is. It's situated in a very competitive class, with the slightly smaller Toyota Highlander, Honda Pilot, and Ford Explorer being main contenders. The High Country itself is a solid premium option in a model range that starts as low as $35,400, and doesn't lose the picture as it climbs up in trim level. It starts to kiss the likes of Acura MDX, Infiniti QX60, and Buick Enclave, and should be considered as a better value if brand panache is less important. While the exterior styling is pretty vanilla, the Traverse High Country AWD rests its case with an above average interior, good fuel economy, and delightful driving dynamics.
See Also:
2018 Chevrolet Equinox 1.5T Premier