The three-row, seven seat crossover market has been one of the fastest growing segments in the industry in the past few years, with new models sprouting every year. The reason is simple; the ability to haul seven people without needing to drive a minivan is a big enough draw for most parents, and the perceived enhanced winter driving capability of a SUV seals the deal for most.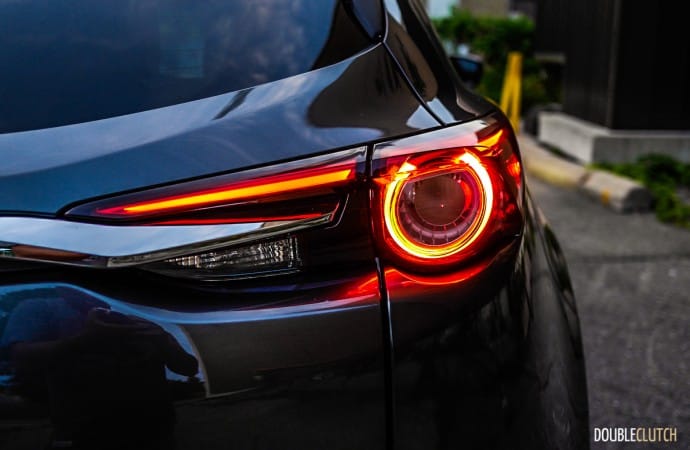 With all these new entrants to the market, it is easy to forget some older players even though they may just be two years old. The Mazda CX-9 is a good example; it was redesigned in 2016 and we thought it to be a good replacement for the previous generation and a real contender in its segment for its driving dynamics and rich features. We recently spent a week in a 2018 Mazda CX-9 Signature to see whether it has remained competitive against its archrivals such as the Honda Pilot (reviewed here) and the Toyota Highlander.
The Signature is the highest trim in the CX-9 lineup. Compared to some of its boxier peers, this is one of the sharper looking options on the market. The beautifully designed LED headlamps give it a menacing look next to the large illuminated front grille, along with the sculpted front bumper and LED fog lights. The side profile of the car follows the similar curvy design language with a nice flow to the rear hatch, cleverly concealing its size. From a distance, the car looks like its youthful CX-5 sibling and this is a compliment to the way Mazda's designers have made the car look agile and nimble.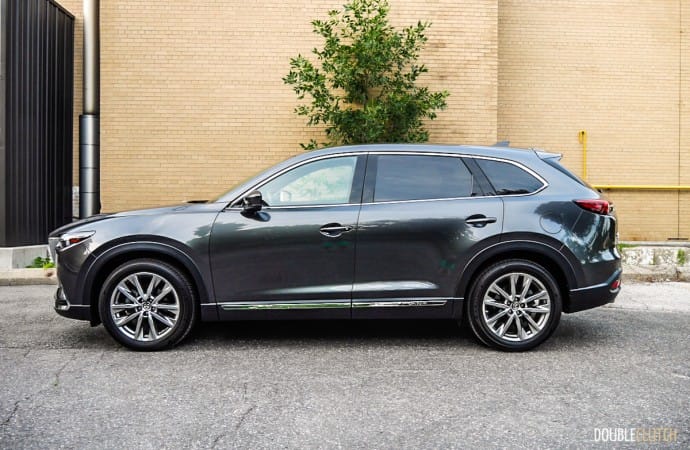 All Mazda CX-9s come with a SKYACTIV-G 2.5 litre four-cylinder engine, turbocharged using Dynamic Pressure Turbo (DPT) technology. DPT has the ability to restrict the exhaust flow to accelerate the exhaust gas at low RPMs to help spool up the turbo faster, thus effectively reducing turbo lag. Mazda likens it to holding your thumb over a garden hose and increasing the water pressure coming out. The CX-9 develops 250 horsepower at 5,000RPM if you fuel it with premium grade fuel, but also allows budget minded owners to fuel with regular gas and the car will produce 227 horsepower at 5,000RPM.
The CX-9 produces 310 lb-ft. of torque at a very useable 2,000RPM with either grade gas. Driving in the city, the CX-9 feels very capable of getting up to speed, thanks to the DPT technology effectively providing plenty of low-end torque without much turbo lag. While the CX-9 happily hustles along at low and mid-range, it starts to run out of breath above 4,000RPM. The CX-9 has a towing capacity of 3,500 lbs (1,588 kg), which is considered below average when compared to its peers.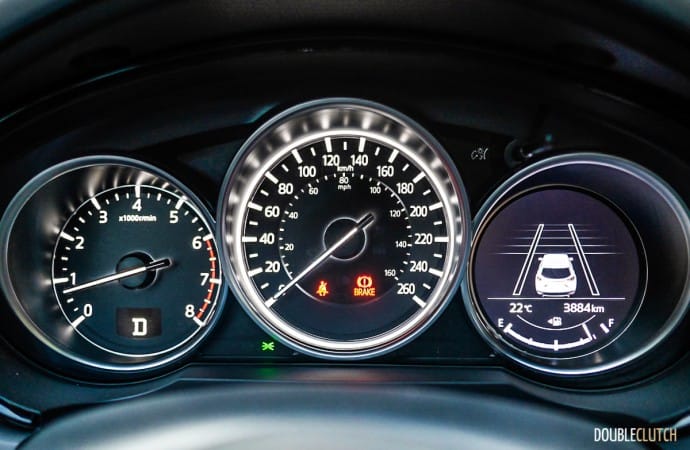 An i-ACTIV all-wheel drive (AWD)  is standard on all models except for the base GS (GS models are front wheel drive with available AWD). Power is delivered to the wheels using a six-speed automatic transmission with manual-shift mode. Shifts are smooth and the car is always in the right gear to hustle along. Next to the gear lever is a sport mode selector that is better left untouched, as it does not change the car's driving dynamics other than holding its gears a little longer than necessary, and slightly sharpening throttle response.
Mazda has always prided itself in the handling department, and this CX-9 is no exception. Steering feel is nicely weighted and turning is precise, though I would prefer if the leather-wrapped heated steering wheel were a little thicker. Suspension is on the firmer side when compared to others in the segment, trading in a bit of comfort to allow turns without too much lateral roll. Overall the CX-9 looks and drives smaller than its 1,981 kg (AWD model) weight and its 5+ metre (5,065mm) length would suggest.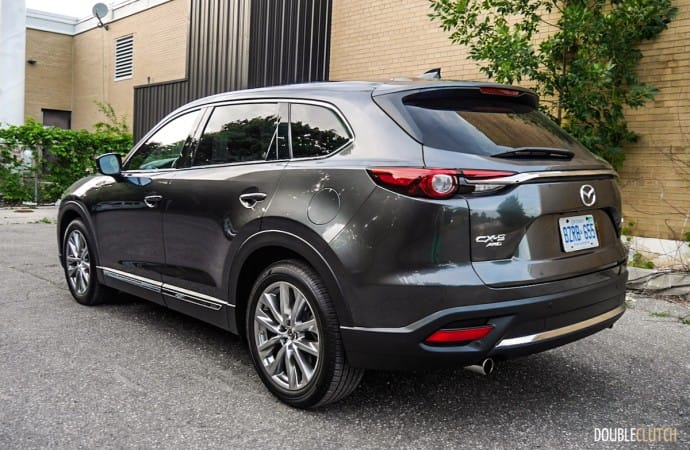 Mazda claims the AWD CX-9 Signature can achieve 11.5L/100km in the city and 8.9L/100km on the highway with its frugal SKYACTIV-G engine. During my week of testing, consisting of half city and half highway commute, I achieved 12L/100km. I attribute the additional fuel used to a weeklong heat wave in Toronto requiring to keep the air conditioning on its maximum setting. The CX-9 achieved an impressive 8.5L/100km over a longer weekend road trip. Premium is not required, as long as you accept the lower power output, and the CX-9 Signature will hold 74L of whichever grade gas you choose.
The interior of the CX-9 is a pleasant place to be. Mazda does not have a luxury sub-brand, so they spared no expense when it came to stuffing their most expensive model with all the lavish materials in the parts bin. The Signature's interior layout is elegantly designed, with leather nearly everywhere. The dash is beautifully accented by brushed aluminum and the Signature trim exclusive open pore rosewood trims. The power-adjustable red Nappa leather front seats are comfortable on long drives, and the 12-speaker premium Bose® sound system amongst the best sound systems in its class. Mazda has recently announced that it will be equipping its fleet with Android Auto and Apple CarPlay in the near future.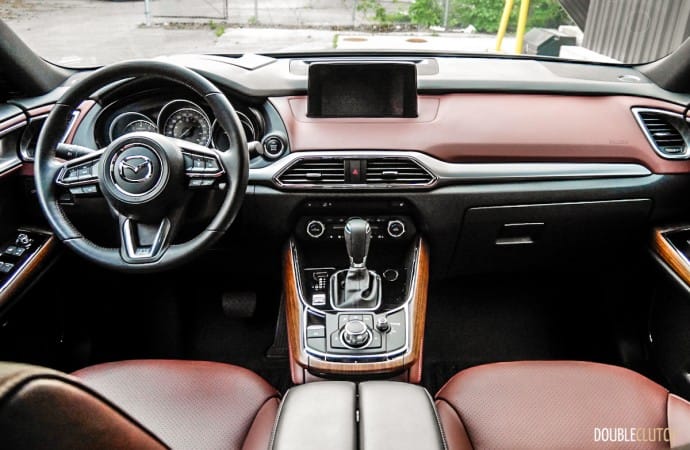 An i-ACTIVSENSE package is an option to the base GS and GS-L trims, and comes standard with the GT and as-tested Signature trims. This comes with a full suite of safety features, including radar cruise control with stop and go function, pedestrian detection, forward collision warning, lane departure warning, and lane keep assist systems. A windshield-projected colour Active Driving Display (head-up display) system is on board that projects useful information so drivers can stay focused. It displays information such as speed, GPS information, safety warnings, and reminds the driver of stop signs ahead using its traffic sign recognition system. It is worth mentioning that the 2018 CX-9 has received the Insurance Institute for Highway Safety (IIHS) Top Safety Pick award.
Pricing for the CX-9 GS starts at $36,400 and the CX-9 Signature starts at $50,300. Our tester was painted in Machine Grey Metallic color, a $300 option, bringing the as-tested price to $50,600. It competes mainly against the Honda Pilot Touring, which starts from $51,990, and the Toyota Highlander Limited V6 AWD, at $50,945. The CX-9 is an interesting alternative to its two main competitors, for those who do not mind its four-cylinder engine. The brand new 2019 Subaru Ascent Premier, starting at $49,995, has recently entered this highly competitive segment and we look forward to testing it later this summer.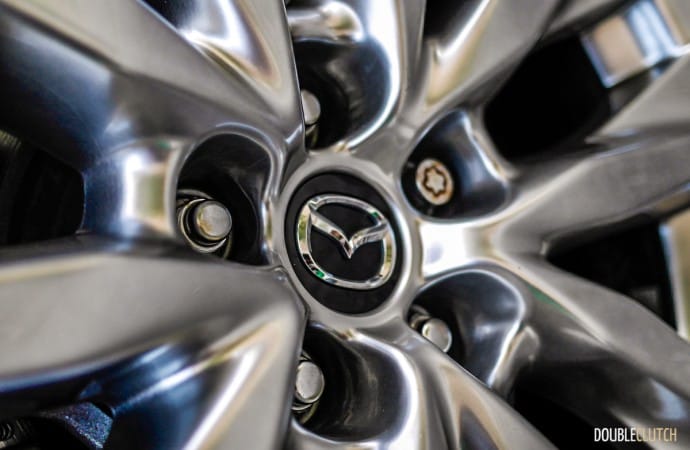 The explosive growth of the segment in the past few years is phenomenal, and crossovers have effectively rendered the once-ubiquitous minivans and station wagons obsolete. Those in search for a handsome family hauler should give the 2018 Mazda CX-9 Signature serious consideration, particularly the safety conscious parents who want a little bit of style in their daily ride.
See Also: