The Honda Civic Type R was hands down the most anticipated car in 2017, and it lived up to the hype easily. All of us at DoubleClutch.ca made no secret that we love this car, so much so that we named it last year's Car of the Year. One year later, with competition such as the Volkswagen Golf R, the Subaru WRX STI, and the Ford Focus RS, is this still the king of the hot hatches? Does this car still draw the amount of attention it did last year? I spent a week in the British made 2018 Honda Civic Type R to find out.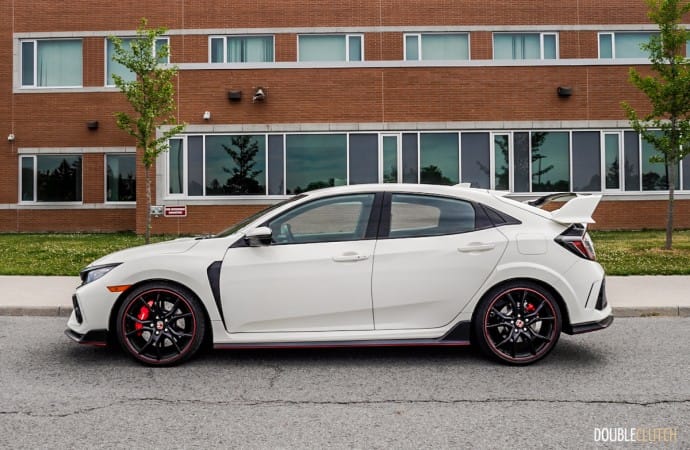 The Honda Civic Type R is painted in Honda's classic Championship White (which looks creamy under the sun or when parked next to other white cars). Along with blacked-out vents, red accents, a functional scoop on its aluminum hood feeding air into its engine bay, vortex generator on the trailing edge of the roof, and the huge rear wing that sits atop the rear hatch, this car is surely an attention grabber on the streets. I have experienced few cars that attracts as much attention and conversations as the Civic Type R.

Throughout a week of testing, people who wanted to tell me their Honda stories constantly approached me. One gentleman came up and told me stories of how he had admired his friend's Acura Integra Type R when he was in high school, and a soccer dad who told me about his Integra GSR and how excited he is to be picking up his own Civic Type R later the same day we met. I drove by a festival on a Friday night, and the looks from the teenage crowd were not dissimilar to the attention I used to give to the Acura Integra Type R when I was in high school.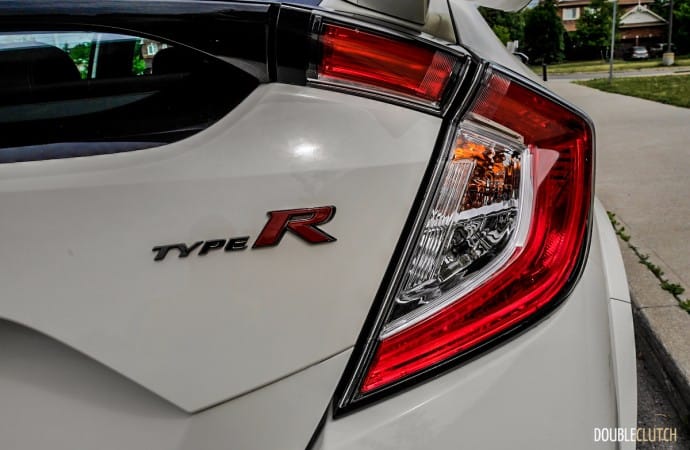 The interior of the Civic Type R is far less polarizing. Upon entry, you are greeted by a pair of bright red sport seats with Type R logos. The seats are comfortable, with big side bolsters holding you in check for when you need to get somewhere in a hurry. To get in and out of these sports seats gracefully will take a bit of practice and the few who drive this car year-round will wish the seats had heat, but all in all the interior is a fantastic place to be.
All Civic Type R models come fully loaded, with impressive features such as Qi wireless charging, full Apple CarPlay and Android Auto integration, a navigation system with bilingual voice recognition, and Honda's LaneWatch™ blind spot display. The infotainment is easy to use with vivid graphics, although the response was a little delayed and the volume button is dearly missed.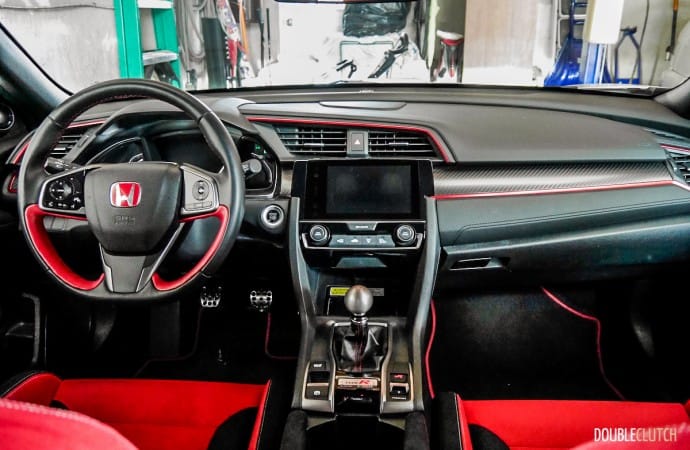 The Civic Type R is a spacious car, with plenty of head and legroom. Those who plan to use the Civic Type R as a family car will not be disappointed. I was able to fit two car seats in the rear and a full size stroller in the trunk with room to spare on my weekend trips to the mall. The trunk will fit over 727L of cargo with the rear seats up, and over 1,300L after you fold the rear seats down. It is worth noting that this is a four-seater only, and the rear seats can be folded 60/40.
A 2.0L, 16-valve, turbocharged inline-four engine (codenamed K20C1) is the only choice of engine powering the soul of this car. Diehard Honda fans will be glad to learn that this car still employs its signature VTEC (Variable Value Timing and Lift Electronic Control) technology, and Honda packed a single-scroll turbo forcing up to 23psi of air into the engine. Maximum power is rated at 306 horsepower at 6,500RPM, with max torque rated at 295 lb-ft. of torque coming on at 2,500 to 4,500 RPM, pulling the car forward all the way to a 7,000 RPM redline.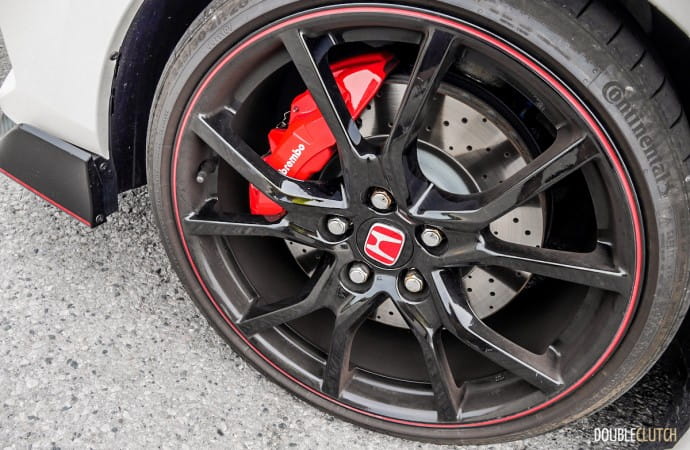 The torque figure is much appreciated in the city, with little turbo lag to be felt. Armchair experts have criticized this car being front-wheel-drive, but in reality Honda has done a magical job minimizing any drawback using a helical limited slip differential. Driving this car under hard acceleration and out of corners, torque steer is kept to a minimal and the car feels laser-sharp. For those not convinced about its capability, check the world record lap times for a FWD production car at the Nurburgring, Magny-Cours GP, and most recently, Spa Francorchamps.
In keeping with its purist focus, the Civic Type R is only available with a six-speed, short throwing, manual transmission. Honda remains one of the best in making a precise manual gearbox. This car felt particularly easy to drive with automatic rev-matched downshifts and brake-hold feature that helps you avoid slamming the functional rear diffuser into the trailing car when you need get moving on an incline. The auto rev-match feature is lightning quick in the '+R' setting, allowing drivers to focus on the roads ahead, and those who prefer to heel-and-toe themselves can turn this feature off in the menus.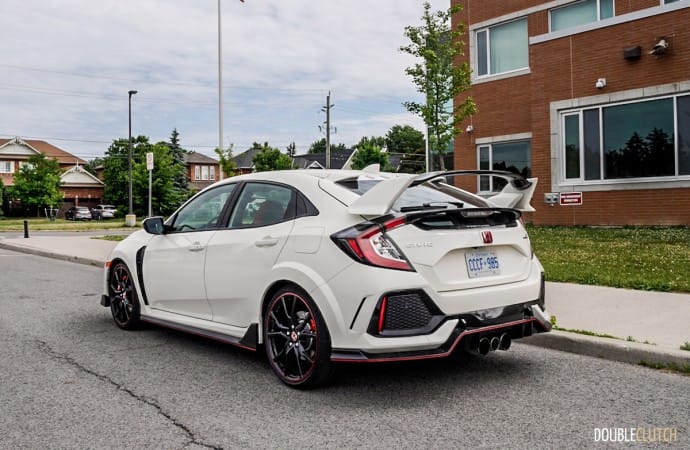 Although the Civic Type R's power is impressive, chassis tuning and handling is where this car truly excels. Drivers can choose from one of three drive modes, 'Comfort', 'Sport, and '+R' modes, all of which adjust the damper firmness, steering, and throttle response. The Type R is surprisingly compliant in the city, with its dampers absorbing most bumps without breaking jaws. One would not expect this level of street drivability with those gorgeous 20" gloss black wheels and razor thin 245/30/R20 Continental ContiSportContact 6 tires. Honda has done a great job isolating noises in the cabin, even though shoppers in this segment might prefer to hear a bit more burble from the triple outlet exhaust.
From the outside, the Civic Type R looks rather large compare to other hot hatches, however once you get the car moving, it feels a lot nimbler and smaller than its dimensions and 1,415 kilograms (3,120 pounds) curb weight suggest. Turning radius is respectable, requiring not more than 3 points in most U-turns. The electronic steering rack provided solid road feel, I personally preferred driving in 'Sport' mode for the best combination of steering weight and throttle response. Braking feel is confidence inspiring with Brembo® 4-piston aluminum calipers mounted on the front wheels to stop the car on a dime.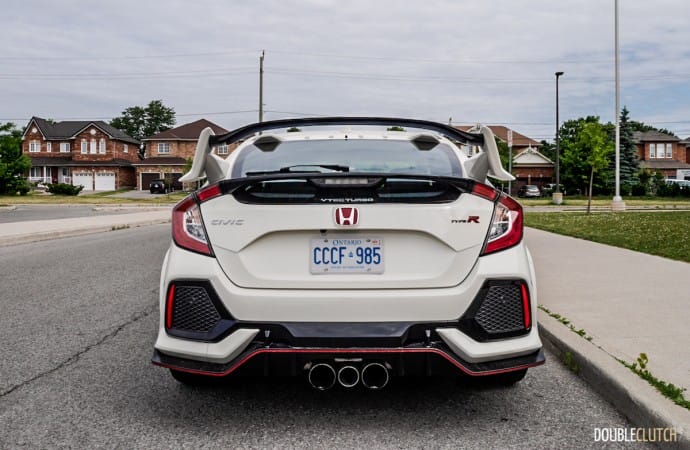 Fuel economy is rated at 10.6L/100km in the city, 8.3L/100km on the highways, and 9.6L/100km combined by the manufacturer. During a test consisting of mostly city drives, bumper to bumper traffic, and occasional VTEC engagement when traffic finally opens up, I observed 11.7L/100km. This is average for its class but I assume it will be better if your commute to and from work is not as bad as mine. The Civic Type R requires premium 91-octane fuel, and its fuel tank capacity is just under 47L, requiring more frequent trips to the gas station.
Pricing for the 2018 Honda Civic Type R is $42,872, for 2018 Honda has added a no-charge Rallye Red colour option to the original Championship White and Crystal Black Pearl choices. There is only one trim level, and those who prefer to have more red accent in the interior can get the Illumination Package (Ambient Lighting Red, Illuminated Door Sill Trim, and red Illuminated Console) for an extra $816.16.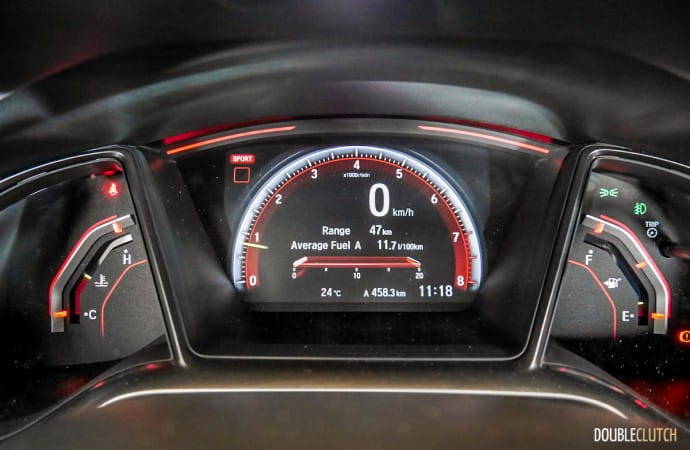 The Civic Type R fits right into an increasingly competitive segment, with the Subaru WRX STI starting at $39,495 and the Volkswagen Golf R starting at $42,065. The STI is a better four-season performer with an outdated powertrain, and the Golf R has similar daily driving comfort with a much more understated look, but the Civic Type R beats both these cars in terms of sheer driving dynamics, especially if you plan to hit the race track on the weekends with your daily driver.
The up and coming 2019 Hyundai Veloster N figures to be competitive in both pricing and performance and it is genuinely exciting to see more and more players in the rejuvenated hot hatch battle. For now, the 2018 Honda Civic Type R remains the car to have for those who can handle its extrovert personality and the attention it draws. There are few badges in the car industry that elicit as many memories and emotions as the Type R.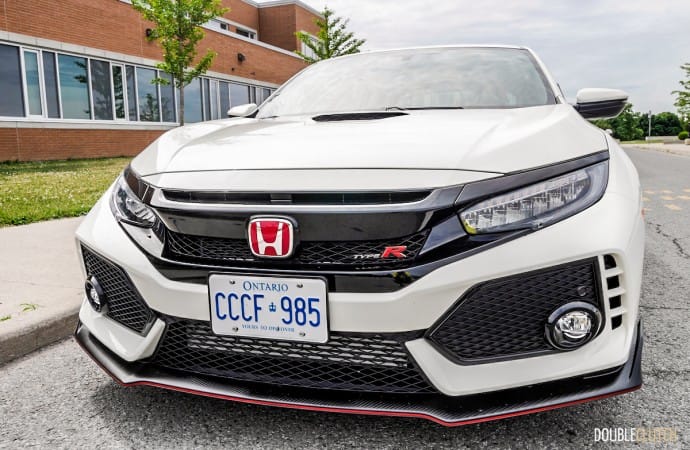 It is great to see today's youth admiring this special badge once again as they learn about the wonderful world of motoring. Who knows, some of them might end up buying the Civic Type R in 10 – 15 years time instead of the auto-piloted flying car to fulfill a childhood dream, much like how a certain 1997 Acura Integra Type R ended up in my own garage 18 years after its debut.
See Also: