Sometimes an automotive manufacturer can become a representative for a particular technology. For example, when you think of all wheel drive, Audi or Subaru would come to mind, or when you think of small-block V8s, one would associate that with Chevrolet. When it comes to hybrid family vehicles powered by both gas engine and electric motors, the Toyota Prius (reviewed here), one of the earliest entrants to this segment, is the car that usually comes to mind for many mileage-conscious shoppers.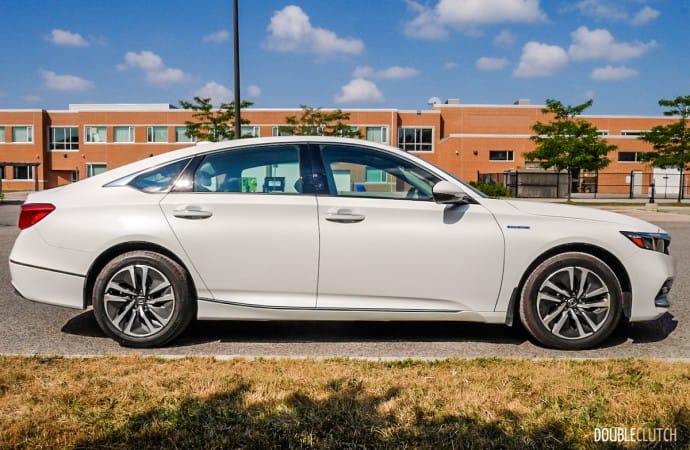 What many might not know is that Honda is also one of the early-adopters of this technology, with its Insight model having been launched in 1999. With 20 years of research and development into hybrid technology, Honda is double downing with two new models, leading with the 2018 Honda Accord Hybrid, followed by the new Insight Hybrid.
We recently spent a week with the 2018 Honda Accord Hybrid Touring. Its main rivals are the Toyota Camry XLE Hybrid (reviewed here) and the Hyundai Sonata Hybrid (reviewed here). The 10th-generation Honda Accord has been well liked by auto media and the general public since it was unveiled last year. The Hybrid's powertrain joins the current lineup of 1.5 and 2.0-litre turbocharged four-cylinder engines to complete the Accord family.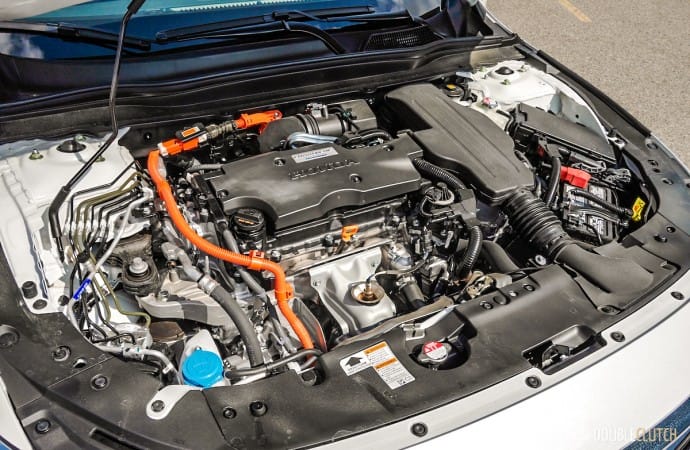 The new Accord Hybrid is powered by a 2.0-litre i-VTEC four-cylinder engine producing 143 horsepower at 6,200RPM. The gas engine is paired with an electric motor that produces 181 horsepower at 5,000 to 6,000RPM. When working together, the duo combines to produce 212 horsepower at 6,200RPM. The torque figure is rated at 129 lb-ft at 3,500RPM for the gas engine, and 232 lb-ft right from idle to 2,000RPM for the electric motor. Power is delivered to the front wheels using an Electric-Continuously Variable Transmission (E-CVT).
Driving in the city the car feels very capable in keeping up with the traffic, with the electric motor providing instant max torque and the engine seamlessly picking up the workload, allowing the lithium-ion battery to recharge. Brake feel is usually a weak point in cars equipped with regenerative braking, but Honda has done well with providing some natural, firm braking feel. It is one of the best regenerative braking systems in the market today.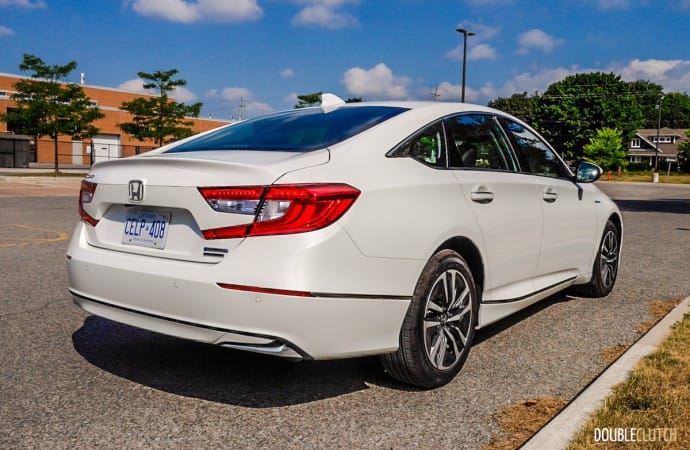 The new Honda E-CVT is very quiet and smooth, picking up speed without any hesitation. The Honda Accord comes with "steering wheel-mounted deceleration paddle selectors", similar to paddle shifters in cars with a traditional gearbox, and they are better off being left alone. The transmission does such a good job on its own that it's almost completely redundant to override its behaviour.
Honda products have traditionally been good handling cars, and the Accord Hybrid Touring is no exception. Weighing in at 3,424 pounds (1,553 kilograms), it is actually nearly 20 pounds (9 kilograms) lighter than Accord Touring (reviewed here) with the 2.0L turbocharged engine. Driving dynamics favour sports over comfort, but certainly does not feel punishing on bumpy roads. The Accord Hybrid Touring has a Sport drive mode which firms up the steering feel and that was our preferred mode of driving this week.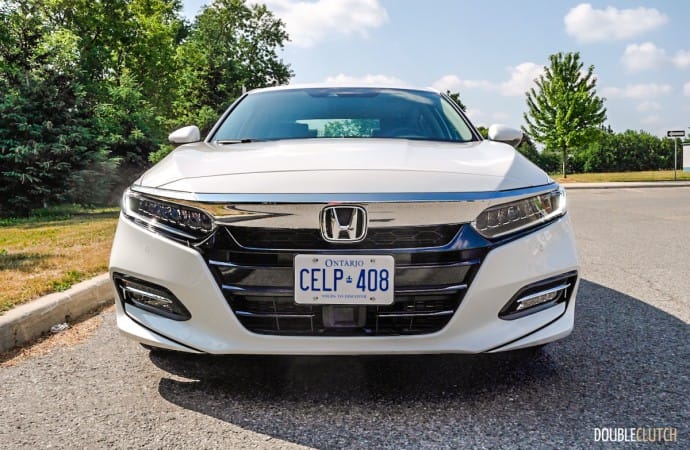 Honda rates the Accord Hybrid's fuel economy at 5.0L/100KM in the city, 5.1L/100KM on the highway, and 5.1L/100KM combined. My week of testing consisted of about 400km of pure city driving, and I achieved 5.6L/100KM. The Hybrid's fuel economy was slightly better than what we observed in the 2018 Toyota Camry XLE Hybrid we road tested earlier this year. The Accord will accept 48.5 litres of regular fuel, which is less than the conventional gasoline models, but still provides acceptable range.
The Touring trim is the highest trim level in the Accord lineup, and it comes fully loaded with features that would allow the Accord Hybrid to challenge a class above against some entry-level luxury cars. Its interior leans toward simplicity with most of its buttons easily within reach. The heated leather steering wheel is a joy to hold and I had no issues finding a comfortable seating position with the 12-way power adjustable driver's seat.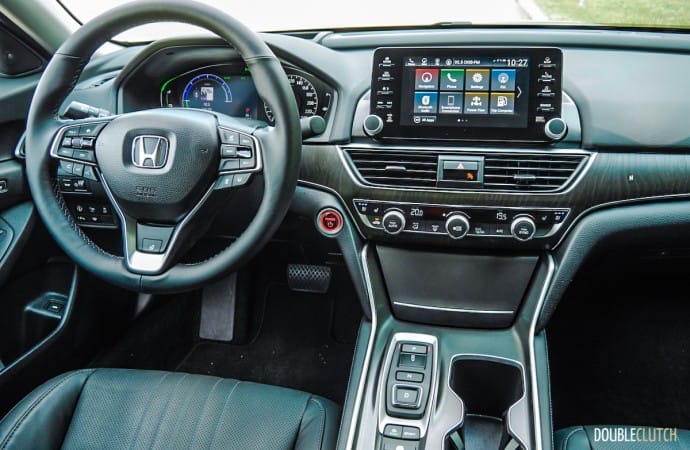 The front and rear seats are heated on the Touring model, and the front seats are ventilated as well. Rear legroom is particularly impressive for a mid-size sedan with excellent headroom. Honda has cleverly stored the lithium-ion battery underneath the rear seats instead of storing it in the trunk, allowing the Accord Hybrid's cargo space to be identical to the gasoline-powered sibling at 473 litres.
Infotainment is provided by a seven-inch colour TFT display mounted on top of the center console. Its interface is one of the easier ones we have used, and the return of the volume and tuning knobs are welcomed. The system supports both Android Auto and Apple CarPlay, allowing drivers to perform simple tasks such as listening and verbally replying to text messages, and switching between Spotify playlists.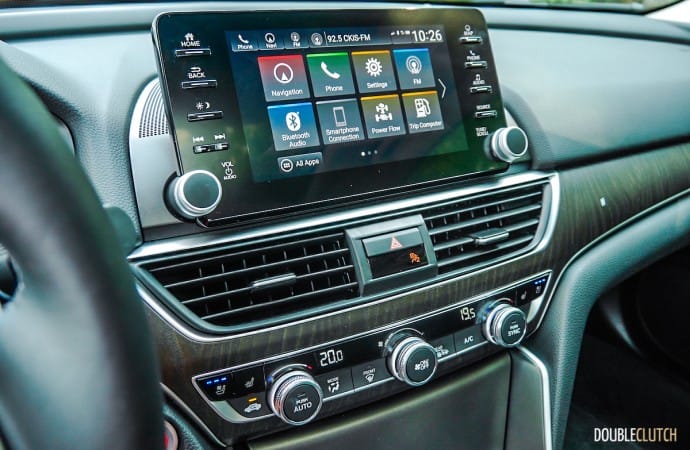 This Accord comes with the full suite of Honda Sensing™ safety features such as Adaptive Cruise Control with Low-Speed Follow, Lane Keeping Assist system, Honda LaneWatch™ blind spot display, Rear Cross Traffic Monitoring, and forward collision warning systems. It all works seamlessly and Honda Sensing remains one of the better active safety sets available today.
The 2018 Honda Accord Hybrid Touring is one of the better options in the market for people who want to save on fuel but are not ready to fully commit to a full electric vehicle or a plug-in hybrid. It is also suitable for those who want to help the environment without making a bold statement, as this car blends right in amongst its gas-powered peers in the industry. Best of all, it has a driving experience that will not make you feel you are making a compromise to save on gas and money.
See Also: