We hold the Mazda brand close to our hearts, and it's not simply because of amazing little cars like the Mazda MX-5. They've branded themselves the zoom-zoom brand, and in practice, pretty much all of their products have emphasized driving enjoyment. The big priority for Mazda nowadays is fuel efficiency, while still balancing their current, "Driving Matters" philosophy. We were sent over the mid-size 2018 Mazda CX-5 GT AWD, painted in Titanium Flash Mica.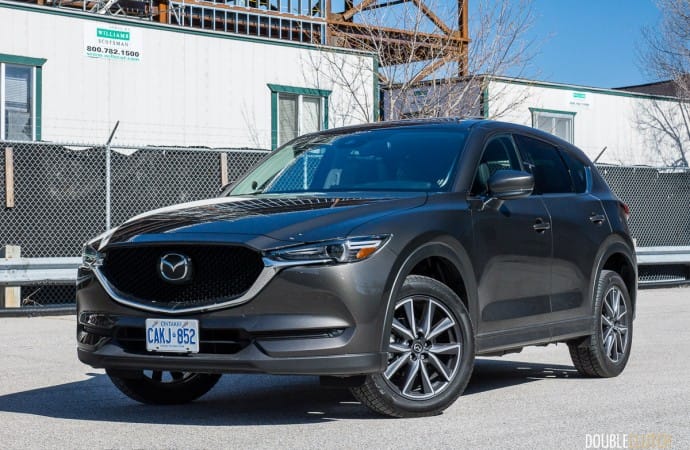 We've come to like the first-generation Mazda CX-5 quite a lot thanks to its excellent steering, overall driver's interface, and impressive near-luxury feature set. The second-generation CX-5 serves as a refinement of that successful formula, and addresses a lot of the quirks with the initial variant. With this sort of refinement in mind, the CX-5 retains the general KODO design language, but a nip and tuck here and there, as well as a new front and rear fascia. To these eyes, new design trickery means the CX-5 looks a little smaller, and a little sleeker, even though it grows in most dimensions. The GT rides on 19″ wheels, and it's worth noting that every model comes with standard full-LED headlights. In fully-loaded guise, the CX-5 remains a sharp-looking choice among its peers – it's definitely more distinctive than the Toyota RAV4 and the Honda CR-V (reviewed here).
What makes the Mazda CX-5 slightly unique is how the brand is positioned. Unlike most other Japanese brands that sell in North America, Mazda doesn't have a luxury division to push customers upmarket to. As a result, Mazda is free to build the best interior it can, at this price point. Mazda's interiors have been especially good lately – as evidenced by the clean design and good mixture of straight lines and flowing curves. While there is still a bit too much glossy piano black plastic around the gear selector and power window switches, the ash-coloured imitation wood trim is convincing. A fixed seven-inch screen lives at the top of the centre stack, and it integrates entertainment and navigation, but Mazda has fallen behind with smartphone connectivity – Android Auto and Apple CarPlay are still not available.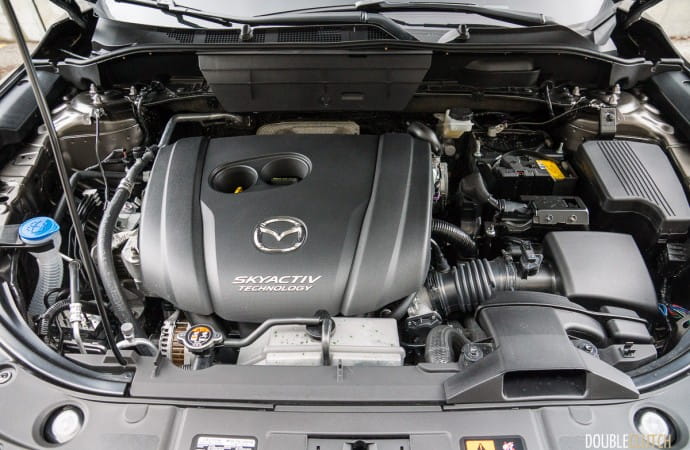 Under the hood, Mazda carries on with their SKYACTIV-G engine. It displaces 2.5L, and by that metric alone, it sounds similar to the engine in the first-generation CX-5. It receives some important updates that aren't immediately apparent. Cylinder deactivation isn't a new technology, but it's new in the mainstream crossover arena, and here, it's also the only four-cylinder engine equipped with it in North America. Mazda's implementation disables the two outer cylinders under low loads, which reduces pumping losses and friction, helping reduce fuel consumption up to a claimed 20% at medium-urban speeds (around 40km/h). What's most impressive is how it operates so seamlessly. Some systems exhibit an audible change in tone as cylinders are enabled and disabled. You can't even hear or feel Mazda's implementation, to the point where you wished you had an indicator lamp that shows what the engine is doing.
The 2.5L engine option is the only one available in the CX-5 GT, and it produces 187 horsepower at 6,000RPM and 186 lb-ft. of torque at 4,000RPM. There is no additional engine option, so 187 horsepower is the most you can get. Thanks to direct gasoline injection and a 4-2-1 exhaust manifold (just like on a race car), this engine breathes well and loves to rev, while still producing practical torque at the lower-end of the rev range. Power is sent through a six-speed automatic transmission and to all four wheels through Mazda's i-ACTIV all-wheel drive system.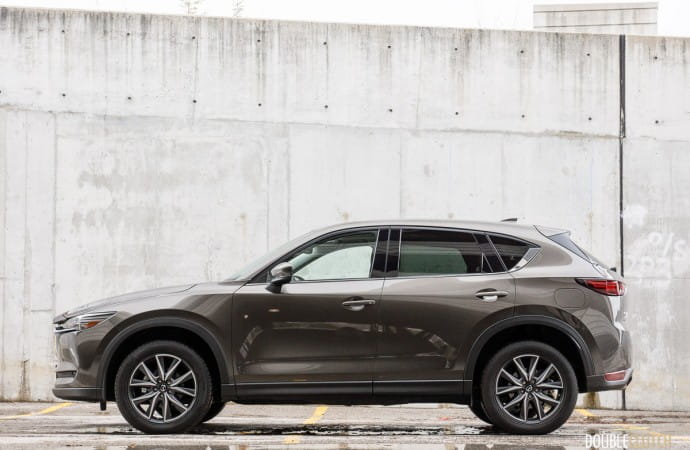 When you put it all together, the CX-5 delivers adequate power to the driver, with excellent transmission calibration, thanks in-part to an aggressive torque converter lock-up strategy. A manual transmission is available on the base CX-5 GX, but only in front-drive form with the smaller 2.0L engine – we suspect most will be ordered with all-wheel drive. Steering feel remains excellent (for a crossover), and wheel/body control is on the slightly firm side, which means the CX-5 remains one of the better handling compact crossovers you can get today. Mazda includes their G-Vectoring Control (GVC) which cleverly and subtly tweaks engine timing to adjust power output, which influences weight transfer in turns, assuming you've got the throttle applied.
Mazda's i-ACTIVSENSE active safety suite comes with features such as adaptive radar cruise control, blind spot monitoring, lane departure warning system, Mazda's Smart City Brake Support, and pedestrian detection. It matches up well with Honda Sensing, Toyota's Safety Suite, and Nissan's ProPilot Assist system. Where it differs in practice somewhat is how the blind spot monitoring and warning system works – I find Mazda's implementation too conservatively tuned. In other words: the CX-5 thinks there is a vehicle in your blind spot area, even though you are far ahead enough to safely clear and complete the lane change.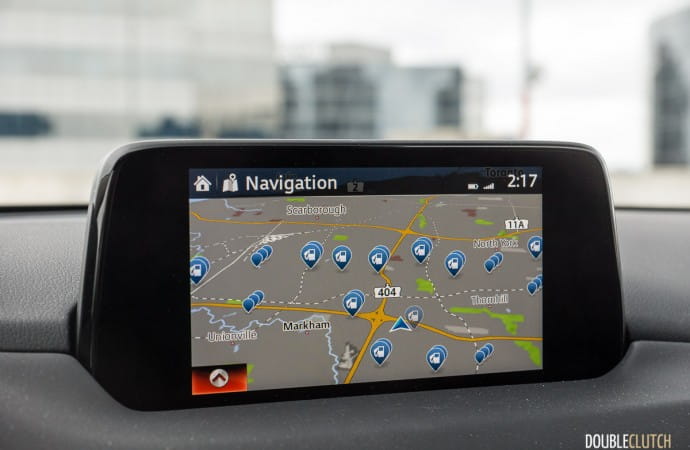 When you're not carving corners, the CX-5 settles down in a way that is much improved over its predecessor. The previous-generation CX-5 suffered from excessive road and wind noise, partly due to a lack of sound insulation, noisy tires, and wind noise around those large wing mirrors. For this second-generation CX-5, Mazda went back to the drawing board, adding insulation in strategic areas, and surprisingly, opting for double-paned window glass for the front occupants. Doubling the thickness of the glass and how it seals into the door is a great way to keep unwanted noise out. The improvement in noise alone is significant and definitely welcome, and worth the slight increase in overall curb weight.
Mazda rates the CX-5 with the 2.5L engine, with cylinder deactivation, and all-wheel drive at 9.8L/100km in the city, and 7.9L/100km on the highway. Throughout my week of mostly city and some highway driving, I ended up with an indicated average of 9.3L/100km. The fuel tank will hold up to 58L of regular 87 octane fuel.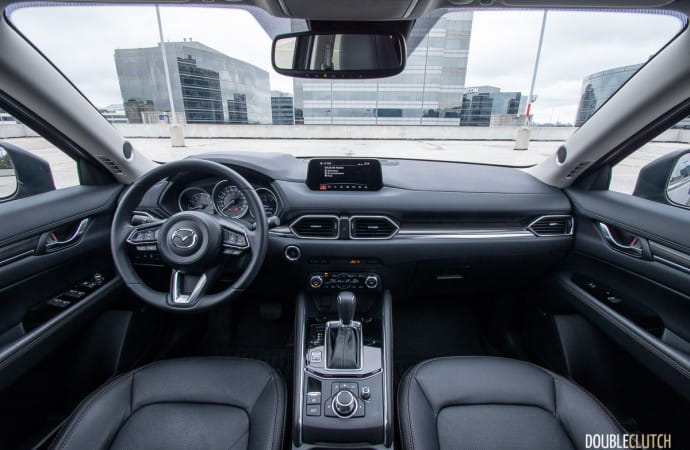 The base Mazda CX-5 GX starts at a MSRP of $25,800. Adding all-wheel drive immediately adds $2,000 to that price, though it's possible to add Mazda's i-ACTIVSENSE safety suite for $900, though you need all-wheel drive selected, also. Jumping up to the mid-range GS trim mainly gets you the larger 2.5L engine and automatic transmission, with the GS AWD model going for $31,400. The fully-loaded GT adds items such as leather seating surfaces, heated seats for all outboard seats, Bose premium audio, satellite navigation, and adaptive front-lighting, among others – for $35,100. There's still the Technology Package for $1,600 that adds the i-ACTIVSENSE suite as well as a SiriusXM receiver function, which our tester was equipped with. This brings the as-tested price to $36,700, before taxes and additional fees.
The Mazda CX-5 GT with the Technology Package slightly undercuts the really big players in the class: the Honda CR-V and Toyota RAV4, but differs from both of these competitors in fairly significant ways. The Honda CR-V boasts better rated fuel efficiency numbers and comes with a more functional and utilitarian interior, and Toyota's RAV4 is available with a hybrid powertrain, if you're looking to really reduce your fuel consumption costs. Volkswagen's new Tiguan brings size to the battle, with an available third-row seat if you really need it. It comes down to what you're looking for in your family-friendly compact crossover. If you value the driving experience, and a focus on the driver's interface, the CX-5 should definitely be on your list.
See Also:
2018 Chevrolet Equinox 1.5T Premier