Travel is one of those things: when it's possible for you to change up the scenery, even if just for a weekend, you end up being better for it. Taking in fresh air, different sights, unique sounds, and simply just stepping out of your usual routine is well worth it. I admit to the dangerous practice of subscribing to airline deal feeds – when a half-price deal came up to fly round-trip and direct to Vancouver, I jumped on it. This would be a "real" vacation, but being me, cars would somehow be involved. Mazda graciously offered up a fully-loaded Soul Red Metallic 2018 Mazda3 Sport GT for the weekend so we could get around and make the most of our two and a half-days.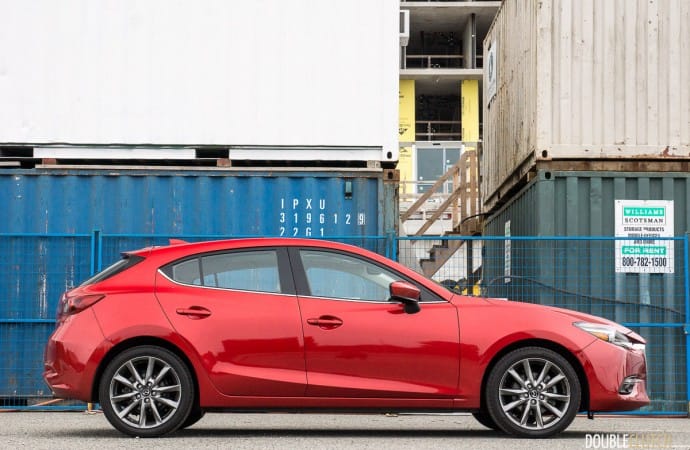 We spent most of our time in downtown Vancouver, but we did spend some time, out of the city. Upon leaving the airport, we set our destination in the satellite navigation to Whistler. The drive up to Whistler on Highway 99, also known as the Sea to Sky Highway, is renowned for its mountain views, but also for the twists and turns as it makes its way through the mountains outside of Vancouver. Hustling the winding mountain roads with the locals proved to be a good amount of fun.
This particular Mazda3 hatchback was equipped with a naturally-aspirated 2.5L four-cylinder gasoline engine, paired up to a six-speed automatic transmission. Sipping regular fuel, this SKYACTIV-G engine utilizes a sky-high compression ratio (13.0:1) and direct injection to produce 184 horsepower at 5,700RPM. Torque is rated at a nice and round 185 lb.-ft. at 3,250RPM. Even with the advent of turbocharged competitors, we're still big fans of the powertrains in the Mazda3. The manual transmission is a sweetheart, and the automatic tested here, feels great whether you're carving through the mountains, or stuck in low-speed Vancouver traffic.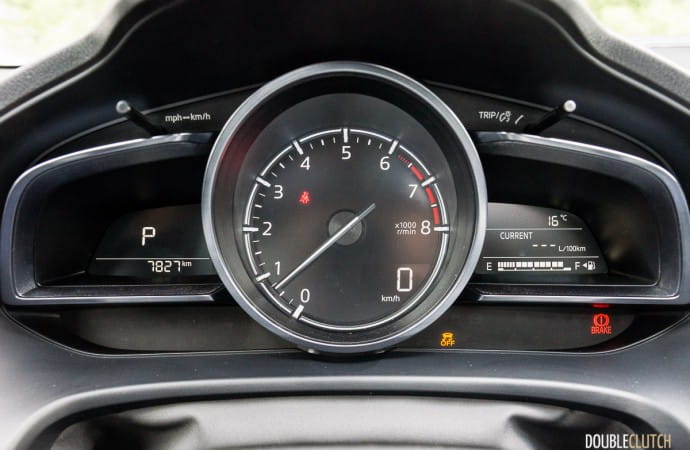 The hatchback design is great at swallowing up our weekend bags, with a ton of space (350L in total) to spare, and the leather seats provide enough adjustments for you to get comfortable on a road trip. One thing that still sticks out is how loud the Mazda3 is. They've gone through a lot of effort to bring the overall noise level down, but the Mazda3 still allows a bit too much road noise in, at highway speeds. They've added more insulation and even added double-pane glass in some models (see the CX-5, reviewed here), but I suspect the tires are the worst offenders here. Dunlop's SP Sport 5000 has never been a highly-regarded all-season tire under any metric, and while they get the job done, their high-speed manners could definitely be improved. When it comes to higher lateral loads, the tires again let the otherwise excellent chassis down.
Regardless of the rubber on the road, a big part of why I love Vancouver is the food. Thanks to a diverse demographic, foodies have a ton of selection, just about everywhere you turn. From stopping in at simple, yet incredible Japanese ramen at Marutama Ramen, to supremely comfortable street food from Japadogs. The following dinner on the waterfront at Miku Restaurant would do a good job balancing out the weekend with complex flavours and some of the highest quality sushi you can get, short of going to Japan. If you're noticing a recurring theme here: I am a big fan of Japanese food. If you find yourself eating just a little too much during your adventures in Vancouver, just walk it off. The downtown core is extremely walkable, great for people-watching, and Stanley Park is a short jump away.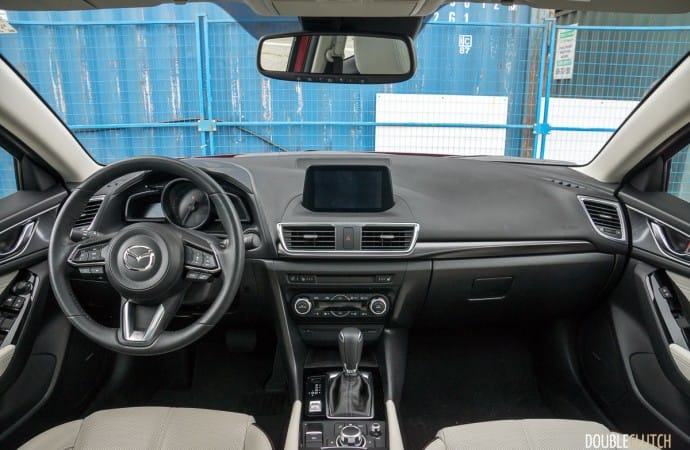 After exploring numerous suspension bridges and hiking in some local North Vancouver parks, we made our way to visit the local autoslalom club. Hosted at a small regional airport in Pitt Meadows, spectating allowed us to quietly take in the sights and sounds, all while absorbing that great Vancouver sunshine. The Mazda3 Sport didn't actually seem out of place – a quick tire change to something stickier would have made it a great competitor, had we entered.
Mazda Canada rates the Mazda3 Sport GT with the 2.5L engine at 9.0L/100km in the city, and 6.7L/100km on the highway. At the end of the weekend, we finished up with an indicated average of 7.5L/100km over about 450km of mixed city and driving. The fuel tank will hold up to 50L of regular 87-octane fuel.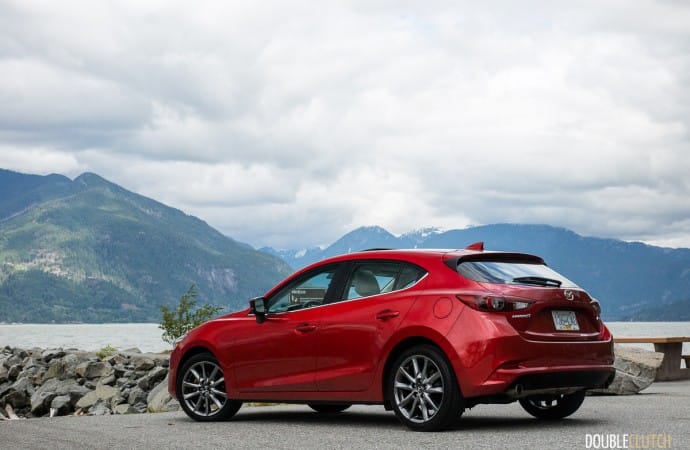 This particular Mazda3 Sport GT was fully loaded, with the Premium Package ($2,900) which added items such as leather seating surfaces, 9-speaker Bose audio, integrated satellite navigation (but still no Android Auto or Apple CarPlay), comfort access, and Mazda's full active safety suite (adaptive radar cruise control, smart brake support, lane departure warning, and the list goes on. The Technology Package ($1,350) was also fitted, adding Sirius XM radio, adaptive front lighting system, and Mazda's proprietary i-ELOOP regenerative braking system. This last feature is so very transparent in its operation, and the theory behind it makes sense: kinetic energy harvesting is used to power certain electronics in the car. This brings the as-tested price to $29,650, before taxes and additional fees.
The Mazda3 continues to be one of our favourites in the DoubleClutch.ca office. Thanks to an attractive and practical design, combined with competitive handling feel, the Mazda3 proves it isn't just an economical appliance that gets you from point A to point B. The steering feel, transmission calibration, and even the bottom-hinged accelerator pedal are all top-notch – even for a "non-sporty" model in the lineup. The Mazda3 remains the enthusiast's choice, and it fully embraces the "Driving Matters" philosophy with open arms.
See Also:
2017 Honda Civic Sport Touring
2017 Subaru Impreza Sport Hatchback