First introduced in 1997, the Dodge Durango has changed quite a bit over the course of its lifetime. As Dodge has been introducing some high horsepower options in their vehicles in recent years, it's only fitting that the Durango get the SRT (Street and Racing Technology) treatment to round things out.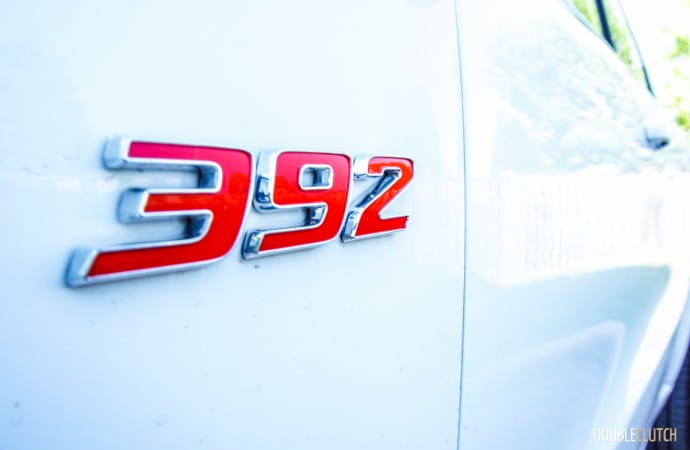 With a substantial 115 more horsepower than the R/T model, the 2018 Dodge Durango SRT churns out a whopping 475 Horsepower and 470 lb-ft. of torque; a true abundance of power that's sure to turn heads while hauling the kids to their little league game. The new "4" badge on the rear of all 2018 model year Dodge models indicates the presence of all-wheel-drive – in the case of the Durango this means a Quadra-Trac active-on-demand 4×4 system, which comes standard on all Durango models. Comfort, quality and power all come together to create an optimal combination that feels so good, and sounds so much better.
The Durango competes with the likes of the Ford Explorer, Chevrolet Traverse, and Honda Pilot to name a few, but the SRT model is standalone in this segment. All of this horsepower, of course, has some strings attached. Requiring 91-octane fuel, it's already expensive at the pumps with its 93L tank. On the plus side here, the 6.4L HEMI V8 has fuel saver MDS (multi-displacement system) technology which essentially shuts down four of the eight cylinders when cruising at steady highway speeds.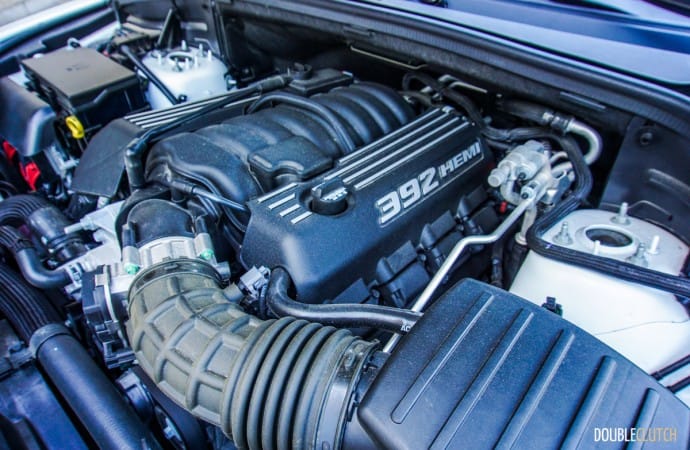 With a combined rating of 15.6L/100km (18.3 L/100km city and 12.2L/100km highway), we were able to pull off a combined 13.9L/100km over the course of this test. This took some restraint and a good bit of highway driving. With 475 ponies under the hood just begging to be unleashed, it's incredibly easy to get this monster right up to its city economy claim. As mentioned, the SRT model requires 91-octane or higher fuel, whereas the "lesser" R/T with the smaller 5.7L HEMI can accept 87-octane.
Four-wheel independent suspension and unibody construction mean the Durango SRT performs better in the corners than other SUVs, especially those that are body-on-frame. It certainly handles corners much better than expected, along with smooth ride comfort and minimal road noise in the cabin. A great touch is dual-pane windows that do wonders for acoustics and making sure the interior is quiet. Ride comfort is plentiful, with the 20" Pirelli Scorpion Verde tires that grip the road well in both wet and dry conditions. Unique to the SRT are Bilstein adaptive shocks, thicker anti-roll bars and thicker springs, all of which make for one crisp-feeling SUV.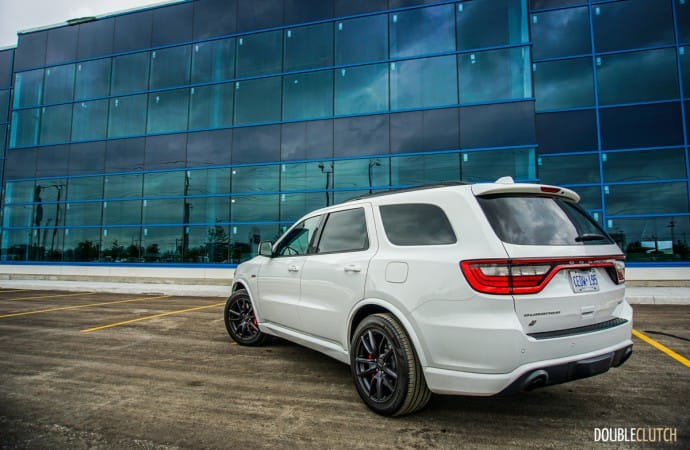 I feel that is really is important to dwell on the engine in the SRT. It's powerful, assertive and makes its presence known. The exhaust only adds to the overall appeal, with a very grumbly and angry note that isn't too loud. If you're lucky enough to time your shifts just right with the wheel-mounted paddles, you'll hear a distinct crackle and pop. For a performance SUV of this size, the Durango SRT is just so unnecessarily obnoxious that it's simply intoxicating.
This Durango SRT is far more than a one-trick high horsepower pony. Seating for six is on board here, in a two/two/two configuration between the three rows. Unlike other crossovers in this class, there is no availability of a seventh or eighth seat. Second row seating is spacious and is also heated, and third row seating is quite comfortable, with adequate head room; more so than the penalty box placement in vehicles like the Mazda CX-9 (reviewed here). The seats are very plush and comfortable, with heated and ventilated seats in the front.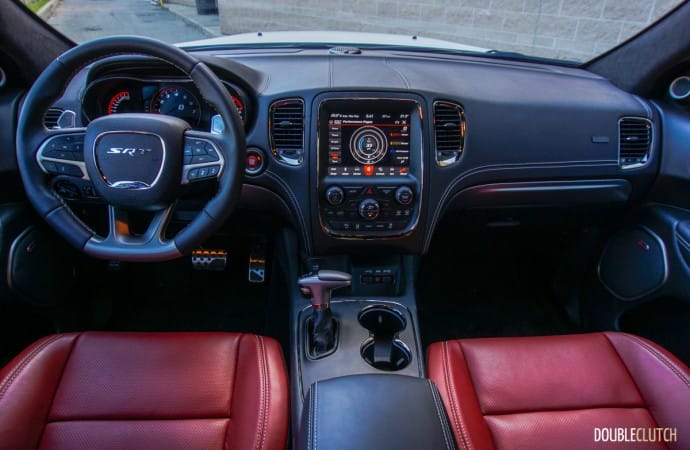 Fit and finish is pleasant to the eye and touch in most areas of the interior. With attention to detail in all the right places, the Durango SRT really gives off a luxurious feel that you'd come to expect with its price tag. Sound quality is fairly good with the Beats audio premium sound system This system exhibits decent clarity regardless of volume level, and as with other Beats applications, the bass is plentiful, tight, and complements the SRT's personality perfectly.
One disappointment is the lack of a sunroof as standard equipment on the SRT model. It's an option that is available, but considering all of the other equipment standard, this comes in as a shortfall. Ironically enough, the little diagram of the Durango in the instrument cluster LCD actually shows the visual of the car having a sunroof.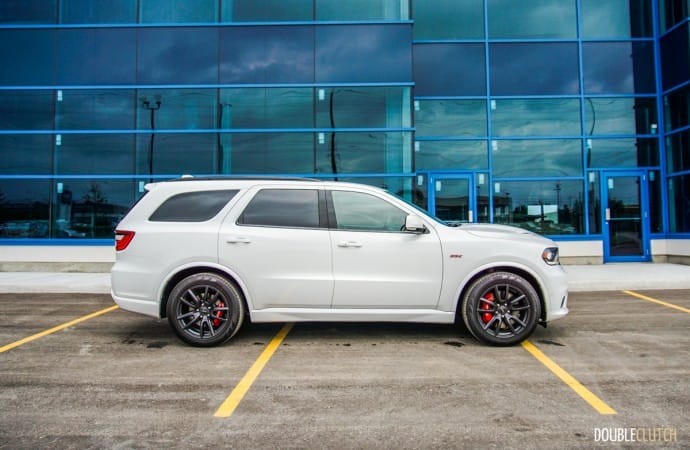 Some safety features worth mentioning are Rain Brake Support, Ready Alert braking, four-wheel traction control, four-wheel antilock Brembo brakes, lane departure warning with lane keep assist, forward collision warning with active braking, adaptive cruise control with stop and go, blind sport monitoring with rear cross-traffic alert, and ParkSense front and rear park assist.
Pricing for the 2018 Dodge Durango SRT may initially seem steep, but when comparing to other beasts that offer similar levels of power, it starts to all make sense. Coming in at $85,072 as tested, this isn't necessarily cheap, but the SRT model adds a frivolous and passionate edge to a practical crossover. The only performance competitors other than the Jeep Grand Cherokee SRT (reviewed here) include the Mercedes-AMG GLS 63, the BMW X5 M and Porsche Cayenne Turbo. All of these are in the six-figure range, which make the Durango seem like an absolute bargain.
See Also:
2018 BMW X5 M Black Fire Edition