But when you look deeper into the truly meaningful moments in life, is it the first that's most important or the best? In today's day in age, we've seemingly forgotten that life tends to savour best for last. Dry aged steak, vintage wine, aged cheese – all of these have been willingly forked over for time to skillfully craft together the chemistry of what we define as excellence and luxurious items.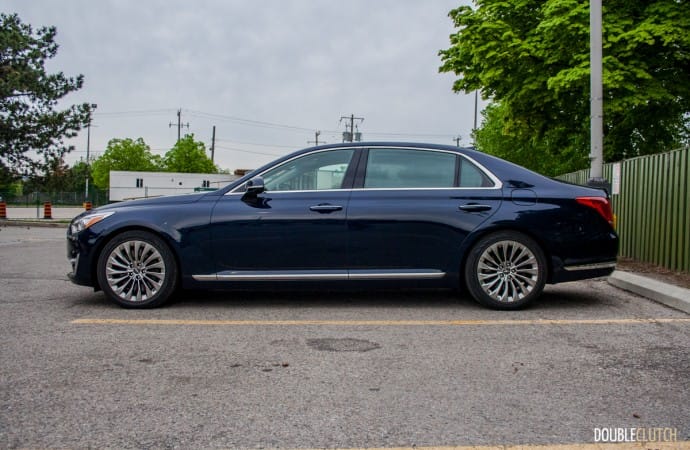 There is an art as to how one employs experience and time to craft such a product. It isn't so much the fact that something must be old to be good but rather the goodness was extracted out of time. It's what time has developed that one must study, and study they have.
The brainchild behind Korean luxury that is the brand Genesis, has been a keen student of every single lesson that other automakers have had to learn in launching a high-end brand. All the fumbles, the high points, all the essences one expects when one wants to be lavished upon when one goes about acquiring the flagship of luxury and prestige in vehicular form. The 2018 Genesis G90 5.0 Ultimate is the epitome of their study.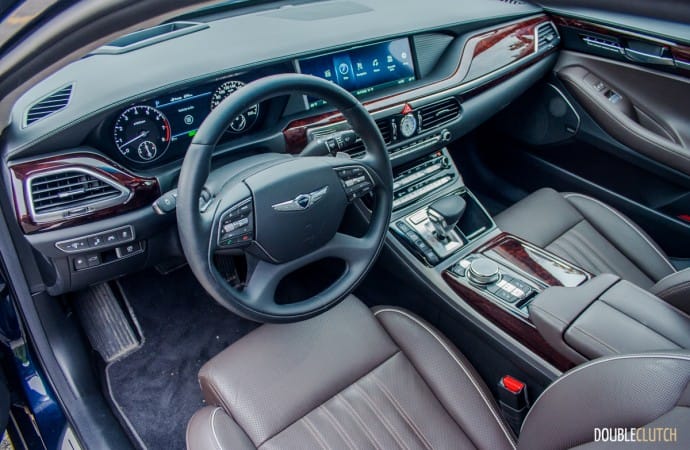 As a vehicle that has no qualms about its mission, the G90 stands as a monolith of sculpted metal and glass on four wheels. Its long, finely stretched out body is mounted on classically spoked 19″ wheels. Its front face with a gaping maw of a grill and slanted headlights, gives the appearance of an seething warrior that could easily flip between peace and all-out brutality. Unifying the left and right sides at the rear, is a taught rear end that acts as yin to the front's yang: subtle and quiet. There are signs of excellence from all vehicles in this class that have come before it; either German or Japanese.
Should you opt to drive this vehicle yourself, the driver's seat is adorned with premium Nappa leather and is both heated and ventilated with 22-way power adjustments for you to find the ultimate seating position. Even with this, no shortcuts were taken to provide an excellent view of your surroundings thanks to impeccable placement of the A and B-pillars. Every angle of the front windshield has been utilized to ensure that you, the driver, have an unobstructed view from this flagship.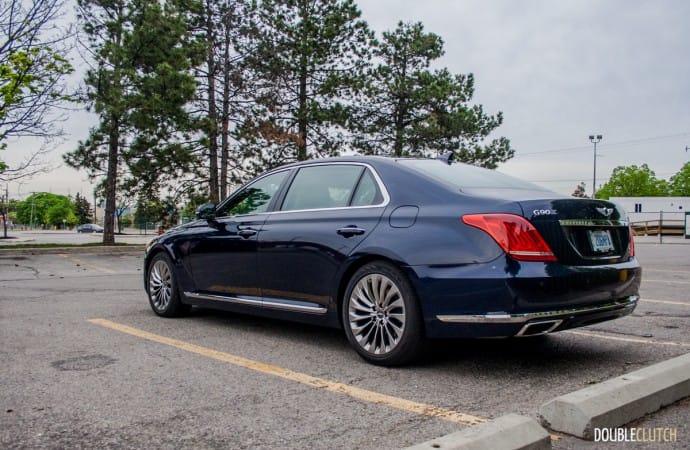 Should you still require additional information, Genesis has deployed active safety systems such as Active Blind Spot Detection (ABSD) with Rear Cross-Traffic Alert (RCTA) as well as Lane Change Assist (LCA). In short, you will have an abundance of information to ensure you and your passengers navigate through traffic with the least concerns.
The dashboard on the G90 is a lesson in simplicity and purity – it continues the trend that there is an identity crisis to be found here. Two dials: tachometer to the left and the speedometer to the right, are both clearly illuminated and easy to read. Adorned in the middle, is a LCD screen which can be flipped between several pre-programmed modes to show navigation directions, instantaneous fuel economy and audio media information to name a few. Outdoor temperature, driving mode and mileage is shown and that's about as simple as it gets. This direct elegance also extends to the center console where HVAC controls are simple knobs for temperature and buttons for fan speed. It is a clean and uncluttered look.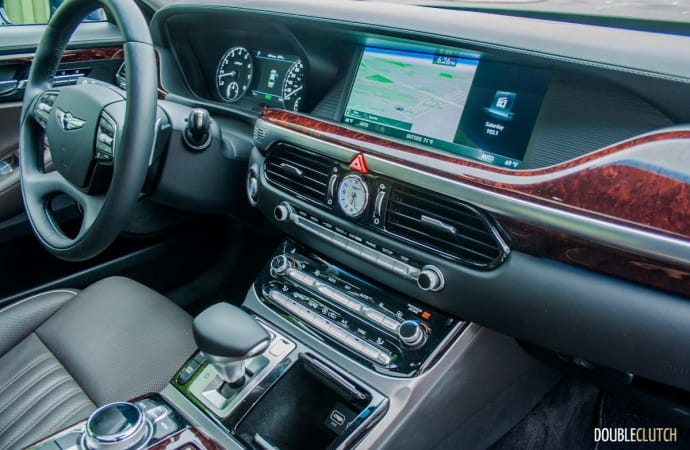 Cocooning all of the interior door walls are continuations of the wonderfully stitched leather surfaces from the seats. Everything you touch reeks of craftsmanship and elegance but in simplicity.  The window buttons are just that – no fancy levers or retro style tabs. Door opening levers fall to hand easily and comfortably for you to make an elegant exit. There are no gimmicks or sleight of hand required when you're this confident in your delivery. Soft touch surfaces adorn everything one would typically rest upon. Even though you're not expected to touch it, the headliner is lined with a suede-like material which undoubtedly adds an insulation layer.
As the person being driven in this vehicle in the rear, you are bestowed upon with 14-way power adjustable seats. Should you deem that you require more legroom, you can even move the front passenger seat from the rear establishing your dominance over your fiefdom of luxury. While seemingly unnecessary, this easily allows for the tallest passengers to sit in the back and not feel cramped. Tucked between the two rear seats is an optional third seat as part of the bench should a fifth person be truly required. There is a console that folds out from the between the two rear seats that allows for full control of the media and HVAC controls directly from the rear.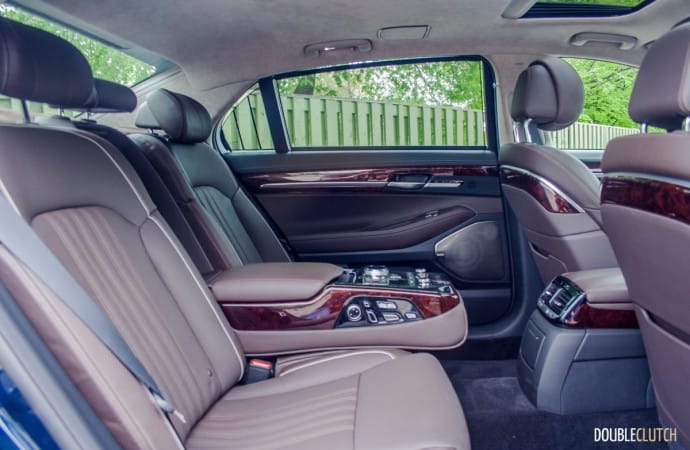 With a faint but slightly audible rumble of the V8 engine firing to life, the G90 politely reminds you it is there but like any good maître d', is unobtrusive and unseen until called upon. 420 horses can be called upon at what is a seemingly high 6,000RPM but aside from a barely audible roar from the exhaust, passengers may not even realize they've pulled from 0-100km/h within 5.2 seconds. Thanks in part to a velvety smooth, quick shifting eight-speed automatic transmission, the G90 competently gets all 383 lb-ft. of torque through all four wheels as part of the HTrac all-wheel-drive system. Stopping is equally competent as the G90's beefy brakes are more than adequate to smoothly haul all of its 4,972 pounds of mass down to a standstill without spilling your beverage.
The vehicle continues to display its mastery of design in the way potholes and uneven pavement are handled: damped so that the passengers feel almost nothing. The vehicle seemingly glides over the roads with nary a disturbance. From a driving perspective, the G90 handles curves like one would expect a sub-5,000lb. tank would. While its no G80 Sport (reviewed here), it clearly knows what it meant for: luxury travel. There are no pretences of sportiness here. As such, the vehicle competently leans to one side, allowing the AWD system to direct power to pull itself out of a turn and back onto the straights.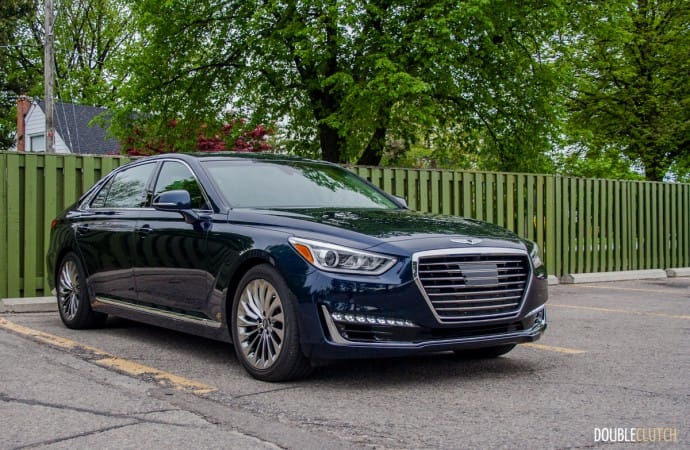 The complete isolation from the outside world through acoustically laminated glass, thick, heavy, sumptuously soft-closing doors, and superb ride is topped off with a wonderfully sounding Lexicon audio system. With a combination of what appears to be active noise cancellation and physical insulation barriers, the G90 can easily be a soundstage for most audiophiles. On the flip side, one can easily have a business conversation over the phone and easily be mistaken for being in the office or turn up the tunes and immerse yourself into your favourite aural bath.
Fueling the G90 is also surprisingly well tamed – throughout the week of mostly city driving, it still managed to yield just under 13L/100km, which falls right under the published values of 15.2L/100km city, 10.2L/100km highway and 13.0L/100km combined. Everything about this vehicle is competent and exact. There are precisely no surprises once you understand what this vehicle is delivering to you.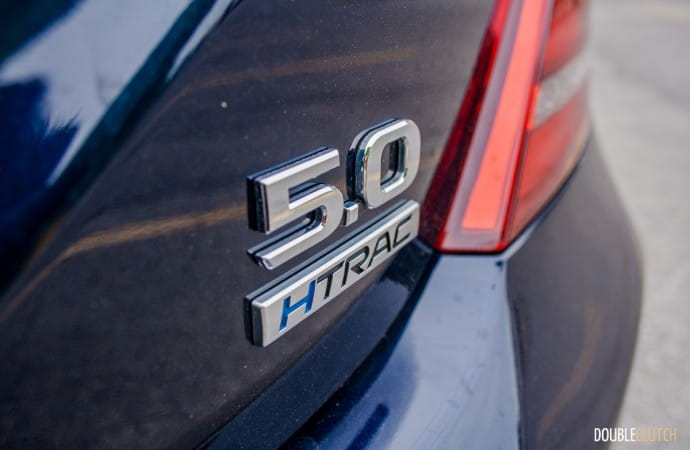 The latter of which is exactly that – as part of the Genesis experience they will come to you. At a MSRP of $87,000, this G90 easily makes the established players like the Lexus LS 500 ($102,700), BMW 7-series ($116,500) and the Mercedes S-Class ($106,400) blush in realization of what they seemingly lack: full service right up to your door. The Koreans have entered this market with a careful study of what this market really needs and based on history and taste, delivered us some of their finest soju to go right up against the best of Bavarian bier, Japanese sake and Italian vino. The real question you need to ask yourself is: do you care about your first drink or your best drink?
See Also: