ATLANTA, GEORGIA – The Blazer was always a more rugged SUV, before the crossover utility vehicle (CUV) took over the marketplace. As such, it came with a full body-on-frame chassis, and often was equipped with low-range transfer cases and live rear axles for the utmost in off-road durability. Our very own Zack Zeraldo is a Blazer/Jimmy/S-10 enthusiast, and he would be thrilled to have all those goodies come back to a 2019 model. Chevrolet was cheeky in how it first teased photos – they released some photos of a dapper gentleman wearing a light teal coloured blazer sport coat. With that in mind, we were invited to an exclusive launch event in Atlanta, Georgia, to take a first peek at the new 2019 Chevrolet Blazer.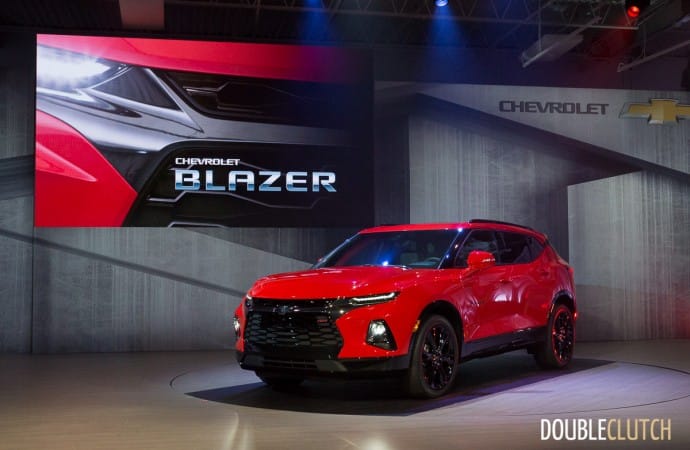 There's going to be an elephant in the room, and I feel it's important to keep context in mind with products like the Blazer. An off-road focused product generates a lot of headlines, a lot of buzz in the enthusiast community, and does a good job serving as a halo for the brand. Products like the Chevy Colorado ZR2 with its magical suspension hardware allows for the truck to do some pretty amazing things, including going up against the Ford Raptor. Right away, one needs to understand that this new Blazer isn't anything like the Blazer of the past. General Motors has opted to build the new Blazer on a unibody platform that is shared with midsize CUVs such as the Cadillac XT5 and Chevrolet Traverse. To that end, it's a little bigger than the mid-size Equinox, and actually closer to the larger Acadia.
The new Chevy Blazer will fit into the GM lineup by being a more style-focused midsized crossover. Chevy has opted to use the word "Bold" more than a few times in the public press release, and this truck has a lot to live up to, simply by being bestowed the Blazer name. At the unveil, it was pretty easy to see a bit of Camaro in the front end, and an overall "sleeker" profile. The Blazer starts off with an 18-inch wheel, with a 21-inch optional wheel on the RS and Premier trims. What's interesting is that GM opted to equip the Blazer with six-bolt hubs. Overall, it feels that the Blazer leans towards the more "stylish" end of the CUV spectrum, with something like the Equinox and Traverse firmly on the practical side of things.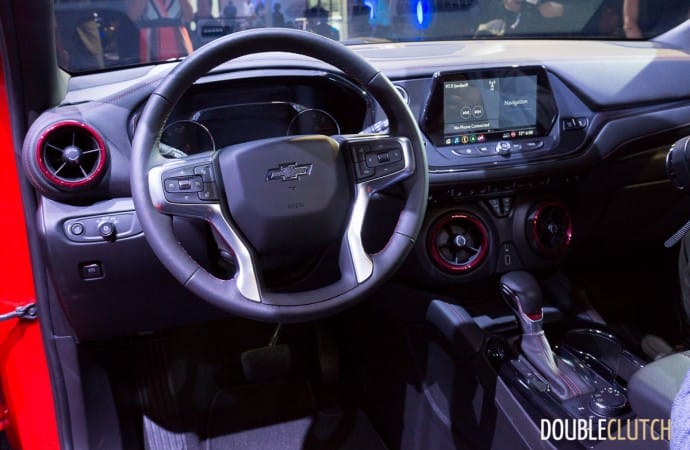 The Chevy Blazer will seat up to five, and comes with GM's excellent connectivity suites, standard. There's the usual Android Auto and Apple CarPlay smartphone integration, and GM's useful 4G LTE WiFi hotspot included (on a trial basis) as well. The cargo area should prove to be pretty practical – you get a 1,818L (64.2 cubic foot) cargo space (with the rear seats folded down), and there's a handy rail system and metal "fence" to help you better segment the space. We've seen similar implementations dating back to the previous-generation Cadillac SRX, and the option was nice to have.
Being based on a unibody crossover platform, it doesn't surprise me to see the engines offered, both of which are of the transversely-mounted variety, complete with direct gasoline injection. The Blazer starts off with a 2.5L four-cylinder engine, good for 193 horsepower and 188lb-ft of torque. The optional engine is GM's workhorse 3.6L "High Feature" gasoline, producing 305 horsepower and 269lb-ft. of torque. Both engines feature an idle start-stop function, and are mated to a nine-speed automatic transmission, and all-wheel drive will be available to those who want it.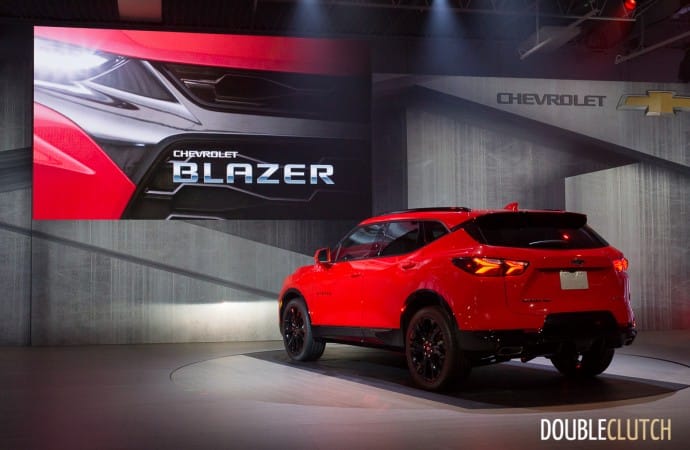 Like we've seen on many other GM products, AWD-equipped models allow the driver to operate in front-drive as desired, by electronically disconnecting the rear axle from the driveline. This reduces drag and friction, which will help reduce fuel consumption when road conditions are good. Furthermore, Blazers equipped with the V6 engine will be able to tow up to 2041kg (4500lbs.), which isn't half bad.
We don't have pricing available to us just yet, nor do we have driving impressions, as this is simply a global unveil. We have the feeling that the Blazer may end up competing with "sporty" two-row crossovers, such as the Ford Edge and Nissan Murano. Ford has literally gone "all-in" with their crossover and truck strategy, and when we look specifically at the Edge, there's an Edge Sport and Edge ST, both of which have some legitimate sporting chops (mostly added horsepower). We'll see how the Blazer compares with its more modest horsepower output, but chances are, the typical buyer may not really care to light up the drag strip with their style-focused two-row crossovers. The Chevy Blazer is a product for a segment that people are really spending money in, these days. It should prove to be popular, and continue the money-printing machine that General Motors continues to tweak.