The 2018 Mercedes-AMG E 63 S Wagon is an astonishingly capable, highly desirable, yet downright silly machine. It's the sort of vehicle that nobody really needs, and yet for many true motoring enthusiasts, when imagining the quandary of having only one car for the rest of our lives, this one makes a hell of a good case for itself.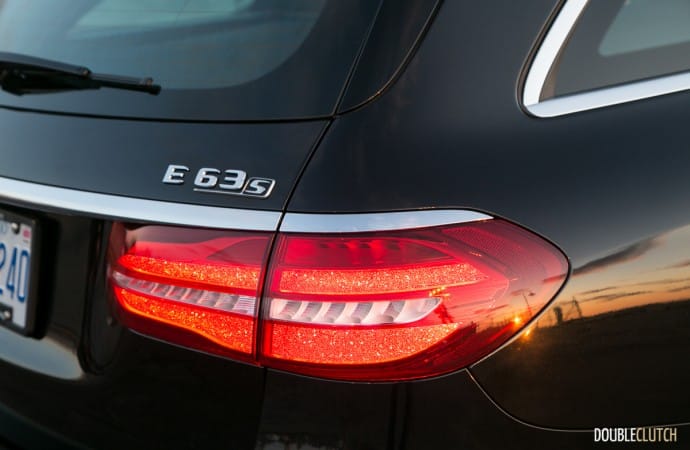 This here is a machine that'll carry a driving fanatic plus four friends, and haul over 1,800 litres' worth of cargo. With all-wheel drive, it'll do it all year long too, as long as the proper tires are fitted in the winter. It'll haul some serious ass, too.
The Mercedes-AMG E 63 S wagon can drive the kids to school and clients to fancy lunches all week long. Then, on the weekend, it can be loaded up with a full set of track tires, jack and tools, and run laps at speeds that'll shame most super cars. It slices, it dices, it juliennes veggies! Unless you need a machine that'll tow a big trailer and go rock crawling, this station wagon could be the one, do-everything machine all of us really want.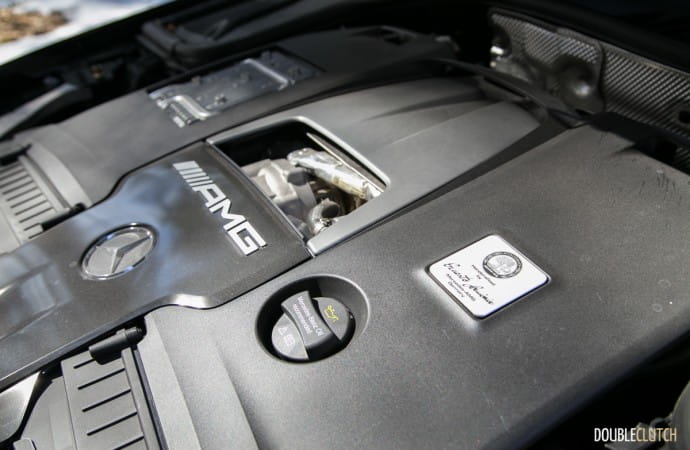 As it has always been with AMG's creations, the heart of the beast is a wickedly powerful, hand-built engine. The E 63 has enjoyed the benefits of turbocharging for a few years now and continues to do so, and it's still a V8, of course, but this new model has an engine that has been reduced in displacement from 5.5L to only 4.0L.
Common sense would suggest that shrinkage to this degree would result in a reduction of potency, but nothing could be further from the truth. With 603 horsepower and 627 lb-ft. of torque, this is the most ferocious E-Class ever. Mercedes claims a 0-100 km/h time of only 3.5 seconds. We've seen published results that peg the 0-60 mph time at 3-seconds flat. It's also claimed to top out at 302 km/h which makes it the world's fastest station wagon, unless you consider Porsche's new Panamera Sport Turismo Turbo a wagon (which Stuttgart claims will do 304 km/h).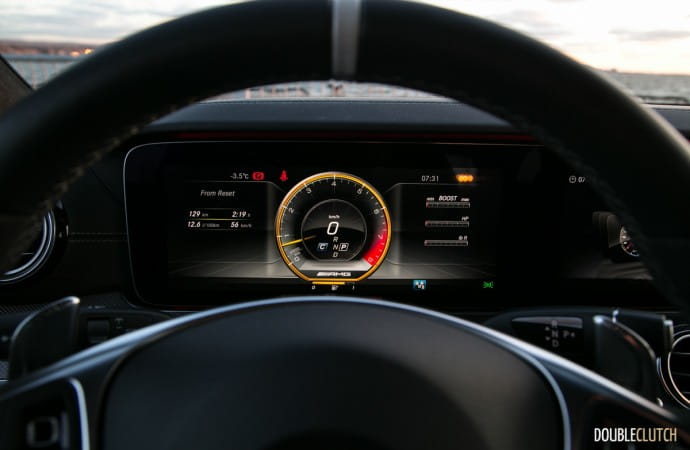 If that's not enough (and really, you should seek professional help if it isn't), RennSport will tune your E 63 to 840 hp and 780 lb-ft of torque. Those are all just numbers on a page, though. In the real world and out on the street, they are quickly forgotten because the driver's attention needs to be keenly focused on the task at hand: driving. It's a surreal experience, accelerating with such intensity. There's launch control, naturally, but even just ripping around in "Sport +" mode, there's an endless well of thrust that forces the body deep into the AMG sport seats.
AMG's 4Matic+ all-wheel-drive system means that despite the power, it's surprisingly manageable, that is, until the driver completely loses his or her mind and directs all the power to the rear wheels only in Drift Mode. This setting also kills the traction control and vaporizes tires with shocking immediacy. We took pity on the Pirelli winter tires fitted to our test car and spared their lives.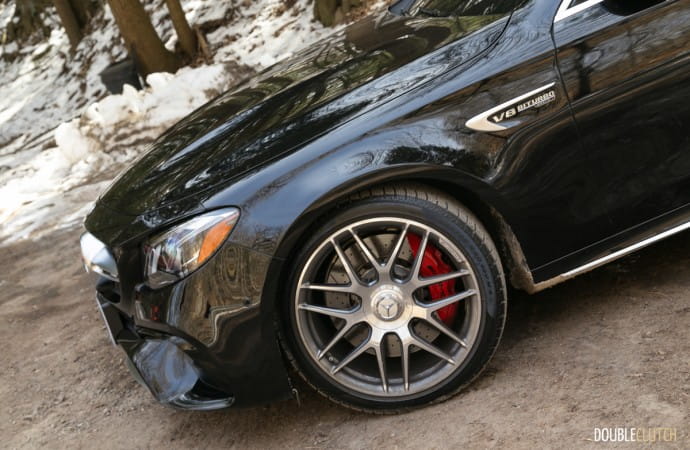 As the revs climb, the soundtrack is maniacal. We never tired of the ridiculousness of having the AMG Sport Exhaust set turned up to 11, creating a cacophony that would make on-lookers' jaws drop when they realized it was coming from a station wagon. The new nine-speed automatic shifts with unbelievable speed, and is surprisingly engaging in Manual mode (operated via the paddle shifters). But in Comfort mode, shifts are smooth and seamless, just as they ought to be in a six-figure luxury machine. Downshifts are blessed with wild crackles from the tailpipes.
Not that it matters in any way to the typical buyer, but the E 63 Wagon is rated at 15.2L/100km city and 11.0L/100km highway, for a combined rating of 13.3L/100km on 91-octane fuel. Cargo capacity is 640L, and grows to 1,820L when the rear seats are folded flat.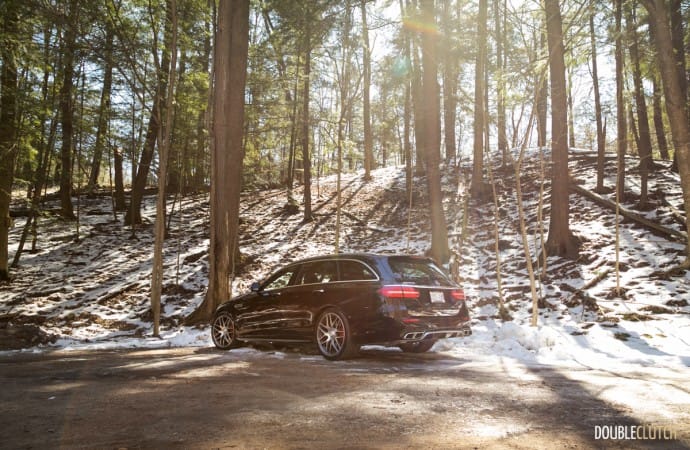 When it comes time to stop the beast-wagon, red, six-piston calipers clamp down on 390 mm front rotors, and it feels like the earth has suddenly stopped rotating. For those who really do want to use their E 63 Wagons on the track, AMG Carbon Ceramic brakes are also available, but they'll add an eye-watering $13,750 to the bill – not all that significant on a car that starts at $118,500. Our tester is also equipped with the AMG Driver's Package and Premium Package, which bring the as-tested price to $128,500.
For what's a fairly large and heavy machine, the AMG E 63 Wagon handles impressively. That said, it cannot repeal the laws of physics, and on a very tight and twisty course, its bulk is fairly obvious. There's a commonly-held belief that if you've got a car with the performance of this car, you need to exercise it on a race track. The reality is, simply having a racetrack for a car with this kind of capability, still may not do it justice. Cars like this need a BIG track with long straights to really show off their capabilities. Your own personal Nürburgring would do nicely.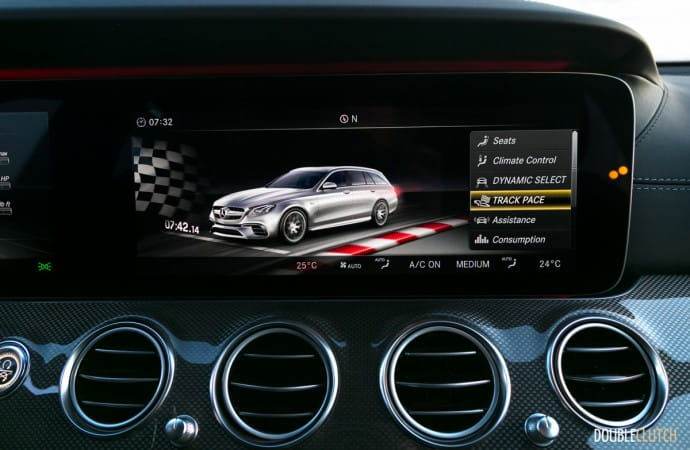 North American E-Class wagons are sufficiently posh even in their most basic format. This AMG starts at $118,000 CAD and has a great infotainment system, massaging seats and some truly decadent finishes (like the stunning carbon fibre trim). It's also a driver-first car, and that means that some of the accoutrements found on cars costing a fraction of this one, are absent here. There's no adaptive cruise control, and even more tragic, there's no heated steering wheel. Shocking, right?
Nevertheless, these tragic oversights notwithstanding, we'd still happily park a new 2018 Mercedes-AMG E 63 S Wagon in our garage, even if it was the last car we could ever have.
See Also:
2018 Mercedes-AMG E 63 S 4MATIC+
2017 Mercedes-Benz E 300 4MATIC