SPLIT, CROATIA – Most who know me well, even those who know me mostly as an acquaintance, know I've never been a big Harley guy. I've often considered myself nearly the complete opposite of such, and admittedly have been one to pass judgement based on some of the stereotypes the brand has faced over the last few decades. That said, I still couldn't help but smile when Harley-Davidson invited me to Croatia to spend three days riding on a handful of models as part of their "Ride, Ride, Slide" event.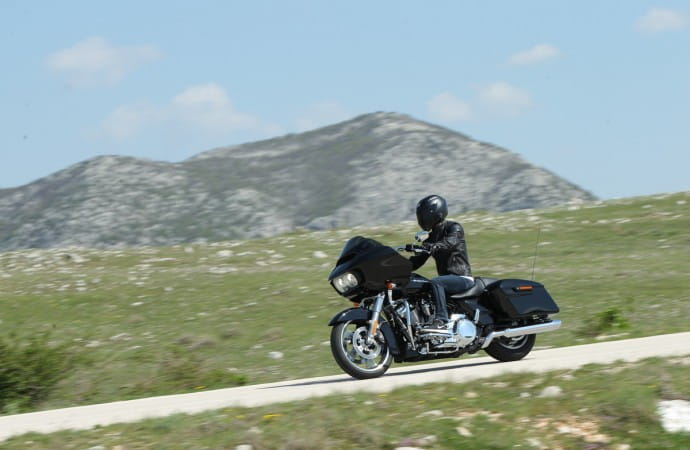 The event was dubbed as such on account of it spanning three days, the first two consisting of regular old riding on the Sport Glide, Road Glide, and the two latest additions to the Sportster family: the Iron 1200 and 48 Special, followed by a day of flat tracking a lineup of modified Street Rod 750s. Not a terrible way to be properly introduced to the brand for the first time, and it was full of surprises.
Day one saw us setting out on a 300km trip around the Dalmatian coastline on the touring bikes, heading out of the city, inland into the mountains, before heading west and back down the coast to our accommodations in Split. Despite some very technical looking roads on day two's route, and having zero flat-tracking experience in the past, I was most nervous about day one. The thought of having to toss a 795-pound Street Glide, or an 820-pound Road Glide, through the narrow, crowded streets of any European city had me genuinely nervous.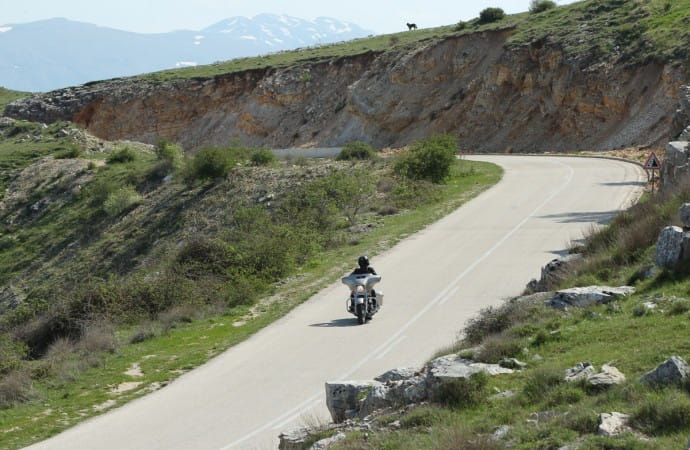 I mean, just looking at those bikes made my legs feel like toothpicks (even moreso than they look). I tossed my leg over a Street Glide, paired my phone up with the bike's Bluetooth system, and took a deep breath as I started up the Milwaukee 107 engine. It belted out a throaty growl, with enough decibels to turn a few heads on the other side of the marina the row of bikes was perched upon, but not so many that I wasn't able to forgive myself for forgetting my earplugs. Kickstands up, first gear, clutch out: we hit the road and I considered praying we didn't find ourselves on any slick, crowded cobblestone streets.
During the few minutes it took me to adjust and get familiar with the weight distribution of the bike, I lucked out and avoided any major low-speed maneuvers, and was pleasantly surprised how compliant the 795-pound beast was once you had it up to 8-10km/h. The weight all but disappeared as we made our way out of the city and onto a nearby highway. This is when the Street Glide's touring capabilities really began to shine.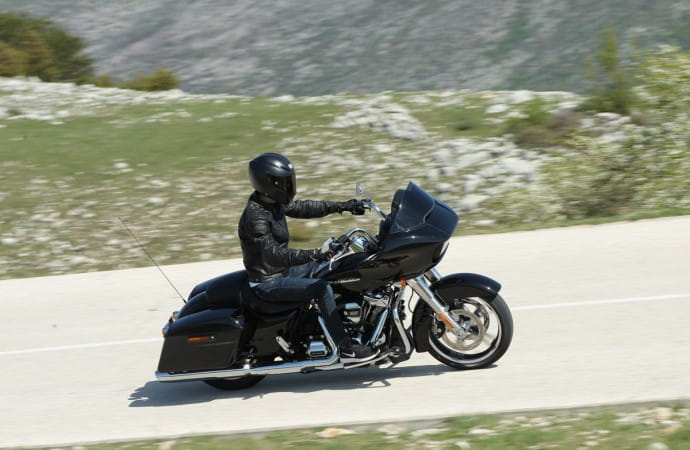 With a fairing as large as the "Batwing" style one affixed to the front end of the Street Glide, you'd anticipate quite a bit of wind protection, and you wouldn't be wrong at all. But it is worth mentioning just how well the fairing redirects the air around you and engulfs you in your own aerodynamic bubble. On warmer rides, there's also a handy little vent which you can easily open just below the windshield to give your face a little bit of extra airflow. The Road Glide takes this a step further by adding an additional two vents on either side of the gauge clusters to cool your body as well.
It's also worth mentioning that the stereos on these two bikes are exceptional – even at high speeds the audio quality doesn't suffer, which is certainly in part to the aerodynamics, but also due to some great speakers. Throughout the ride I found both bikes incredibly comfortable, but I did find myself partial to the Street Glide due to both the more traditional bar position, as well as just a little bit less weight to sling around. I did find myself struggling when it came to maneuvering the bikes during parking, or some of the three-point turns we had to repeat during a few photoshoot stops. This is just the reality of trying to sling around a heavy bike you're anything other than an Olympic weight lifter.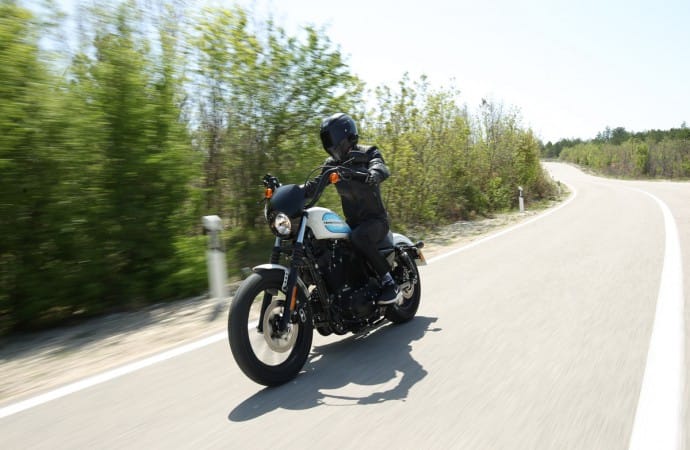 While the weight of the bikes is easily forgivable, there were a couple gripes I had to pick with the configuration of the controls. The shifter is a touch high, and requires some significant foot movement to upshift – thankfully both bikes were equipped with the "rear shifter" which allows you upshift using solely your heel (pun unavoidable). The signals also took some getting used to, given that left and right are separated and banished to their respective bar ends. I know this is very much a Harley thing, but I found frustration in having to ease my grip on the throttle to activate or cancel the right turn signal. Lastly, while the infotainment system is really simple to use both with the touchscreen, and the bar controls, there isn't any quick way for you to pause your music without taking your hands off the bars.
Day two found us being the first to experience two additions to the Sportster lineup: the brand new Iron 1200 and Forty-Eight Special. Both bikes are relatively the same at their core, sporting the same engine, suspension, and frame geometry. However, their seating positions are noticeably different, with the Iron tossing your hands up a bit higher on mini-ape handlebars, and mid-control pegs, while the Forty-Eight pushes both your hands and feet forward with a set of "fists-in-the-wind" handlebars and forward controls. When it comes to the seating position, I preferred the Iron for its comfort, but the Forty-Eight just felt much more satisfying to toss into a corner for some reason.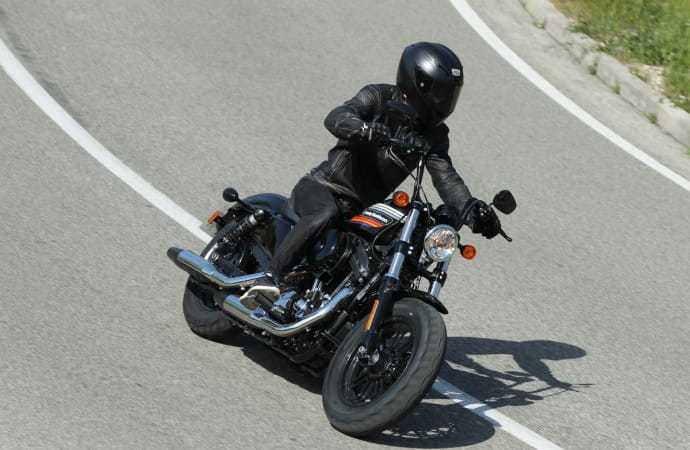 Setting out on our ride, again I was surprised by how much less obnoxious the exhaust notes were than expected. Maybe it was just a result of riding massive touring bikes for hours the previous day, but each Sportster felt like you could really toss it around, even at low speeds. In another contrast to the Street/Road Glides, the Sportsters felt completely stripped back, with only one small gauge which was predominantly used as a speedometer, the same gauge features a small screen on it which can cycle through displaying your gear/RPM, trip counter, and odometer. The ride on the Sportsters felt fresh, airy, and much less imposing. The bikes clearly aren't made for bells and whistles, which is exactly what you should expect with one look at them from the other side of the street.
Once underway, the engine pulls much harder than I'd thought as well. It isn't going to set any 0-100 records, but it's satisfying and it's enough for most riders.  As you near the top-end the engine can get a bit peaky, which gets fun on corner exits. Gearing does seem a bit short, which the lower RPM redline certainly contributes to. I was surprised to find out the bikes only have five gears – Harley is quick to point out that these are modern machines, and I think a sixth gear should accompany that. If not for a higher top speed, then at least for some extra fuel economy (something you'll want to keep a close eye on with a tank that's only 12.5 litres).
As we wound south along the coastline then eastward towards the Bosnian border, we began to climb upwards into the first proper set of unimpeded twisties we would encounter throughout the day, and this is when I really felt myself compressing my helmet's cheek-pads with one helluva smile. At the second right-hand hairpin, I tossed the bike in hard and felt the peg on the Iron grab the ground, producing a satisfying screech of metal on asphalt. I can only describe that moment as one of pure joy. Mountains around me, coastline behind me, and (what I hoped were) sparks below me, I chuckled to myself and pulled hard on the throttle as I exited the corner.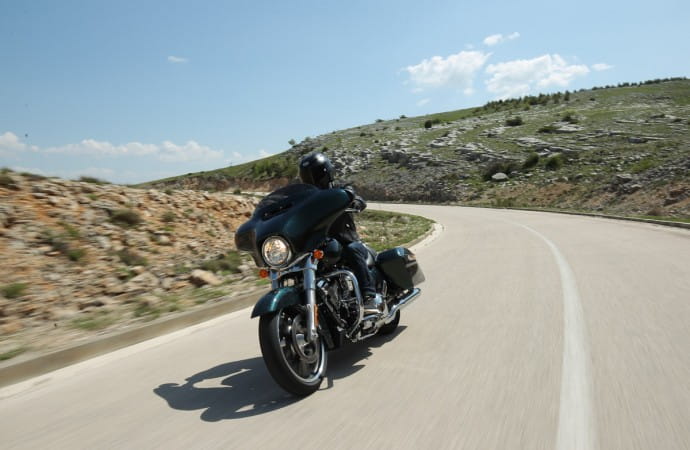 After a couple more hours of burning fuel and grinding pegs, we were on our way back to our hotel.Both of the Sportsters have some wonderfully cushioned seats, and neither have a riding position that's going to cause you any significant back pain after a day of riding. The only real bone I had to pick with the seating position is with the belt covers. If you're inclined to hug the tank with your knees, the belt cover gets in the way, and could actually bang your right knee up quite a bit if you're a taller rider. At 5'10" I didn't find this a major issue, but it did require me to slightly shift the position of my right foot in order to maintain clearance. That said, with what Harley had in store for us the following day, I was doing everything I could to preserve my body's integrity. Flat-tracking was up next.
We would be tossing our gear and our bodies onto a bus to head over the nearby mountain range and inland to a small homestead where Harley had arranged to have a flat track made for us to test out a fleet of modified Street Rod 750's. Despite the fact that we were to receive instruction and guidance from both Grant Martin, the current European Hooligan series leader, and Ruben Xaus, ex-MotoGP and World Superbike rider, I was genuinely nervous for this experience. This was a first for me, and to my knowledge, a first for any media event.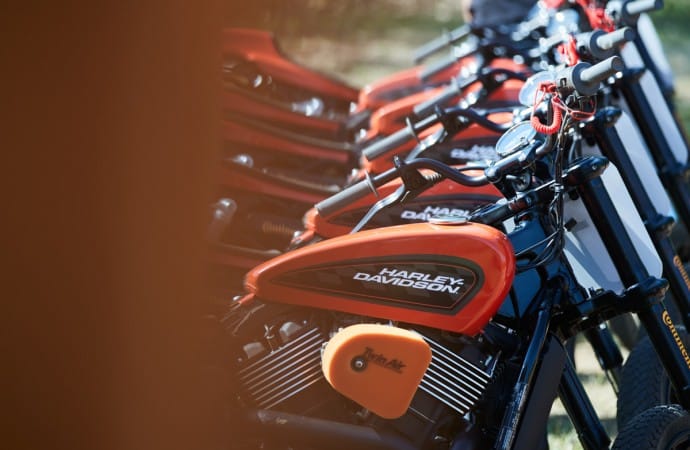 The folks at Harley had actually managed to somehow find a location for the track, convince the owners of the property to rip up an entire field on said property, and have the track built all within a couple of weeks. This was all accomplished despite a language barrier, and the relative remoteness of the property, which is quite impressive. All things considered, it's a nice subtle nod to Harley's grass roots, and to see what they managed to put together in such a short amount of time is a testament to both their dedication to the event, and the hospitality of the Croatian people.
Stepping off the bus we were greeted by a lineup of the 750s which sat peacefully, looking on as Grant and Ruben slid around the track, throwing dust in every direction as they completed a few laps before riding over to greet us. We were given a short briefing about what we could expect throughout the day before gearing up.
Flat-track riding was completely new territory to me, and I don't have a ton of riding experience off-road either, so I was certainly a bit nervous as I started the engine of the 750 and followed Grant onto the track for a couple of introduction laps. Adding to the nervous was a rather ominous label on the triple clamp of each bike, which proudly stated "NO FRONT BRAKE". It's something I was well aware of long ago, but it put me on edge as I let the clutch out and headed towards my first corner. We took it slowly, but with enough momentum to make use of the metal plate attached to the bottom of my left boot with a couple of zip ties.
As we had learned in the briefing, a large part of this sport is being able to use your left leg as a "third wheel" as Ruben explained it. This allows you to fully pivot the bike and achieve a complete opposite lock with the handlebars by the time you're exiting the corner – that is, if you know what you're doing, which I really didn't. It's a completely foreign sensation to those who have little to no motocross experience, and as a street rider, it felt even odder. But, after a few practice sessions, I found myself getting more into the swing of things (sometimes too literally… I had a couple of close calls with an overly-ambitious throttle hand).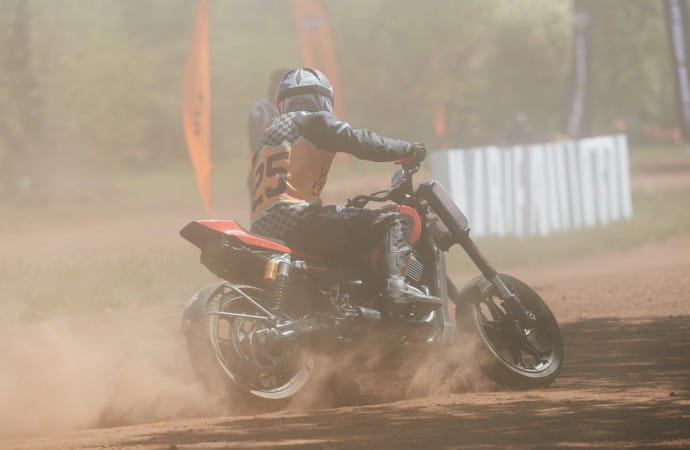 While the 750s we were using certainly were some very capable machines, they probably aren't going to be the bike you choose to learn this sport on. While they were set up splendidly, the weight and power both are constantly threatening to topple you, either through exhaustion or sheer force. That said, there wasn't exactly a smaller Harley out there for us to use.
I took off hard from the line and headed towards the first corner, which is where the fun began. As I leaned in to take the inside line I went low and punched the throttle admittedly much harder than I should have – as the rear wheel slid out I felt myself about to low-side and over-corrected. It caught traction and flicked the bike back upright, nearing a high-side, tossing my left leg up off the ground. I slowed myself down, regained my balance and pushed on, losing any lead I might have had.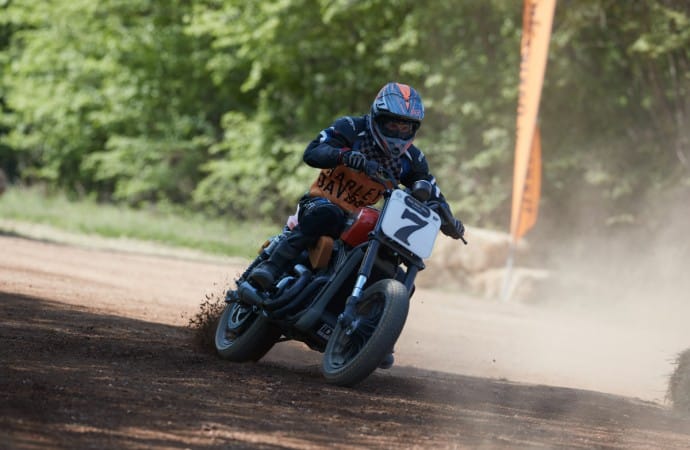 A few laps later I had closed the gap between us, and we spent the last couple laps neck-and-neck… until the final corner. Nerves got to me, and as I took the inside line again, I pressed hard on the back brake and totally nerfed myself. Mid corner, I stalled. Before I realized what I'd done it was too late – I fired up the bike again and headed to the finish line, shaking my head at myself. I'd have one more chance to redeem myself in the next race but by that point I was completely exhausted, and up against certainly the most talented rider in our group, Bertrand Gahel.
I won't even bother describing that race to you – I looked so slow next to him that I may well have been on a tricycle. Exhausted or not, I'd wager the result wouldn't have been much different. My career as a flat track racer was a short and fleeting one, but I damn-well enjoyed it while it lasted. At the end of the day, I'd done a pretty good job of achieving exactly what I'd set out to do…which was not to die, or kill anyone else.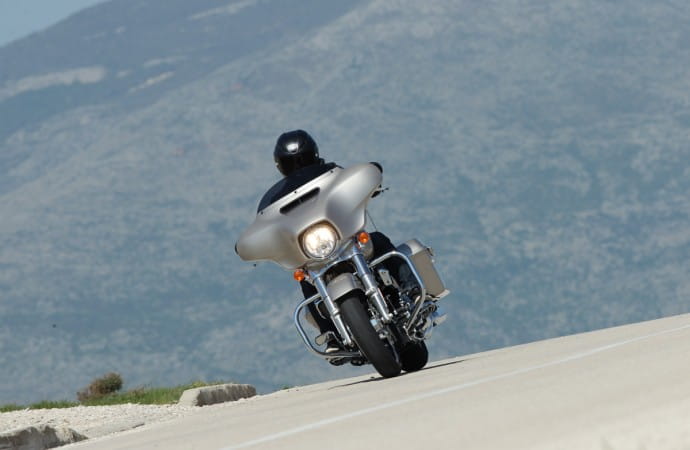 Riding a Harley isn't about being the fastest, or wearing the badge on every piece of clothing you own. The charm of their bikes is something that you can't fully understand and appreciate simply by looking on from anything other than the saddle of one. While not many will be as lucky to have their first true Harley-Davidson experience to be along the beauty of the Dalmatian coastline, I'd encourage each and every rider out there to give them a genuine chance. I get it now, and I think you may too.