As the bread and butter of General Motors' full-size SUVs, the 2018 GMC Yukon XL Denali represents one of the more high-end models in the food chain. This particular body style has been around since the 2015 model year, with small incremental updates along the way. This year, all flagship Denali models receive an updated transmission – now with ten(!) forward gears instead of eight. The sport utility vehicle market has been growing significantly during this time, and while Yukon XL's K2XX platform has always been an industry leader, new challengers are appearing that aim to dethrone the GM kings from the top. Namely, a new Ford Expedition (reviewed here) and Lincoln Navigator (reviewed here) are coming into the mix, and based on our recent test drives, the competition is as strong as ever.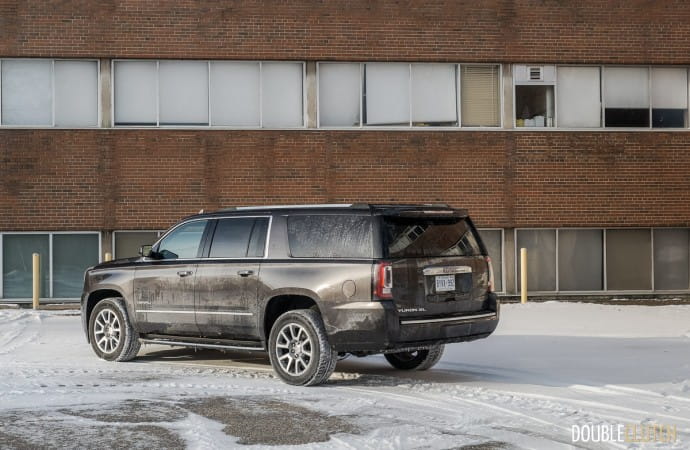 Interestingly enough, the new ten-speed automatic was jointly developed between Ford Motor Company and General Motors – yes, the archrivals Expedition and Navigator get this gearbox as well. It also appears in longitudinally-mounted applications such as the Chevrolet Camaro, Corvette, and Ford F-150. While the abundance of gear ratios may seem unnecessary, they do offer a massive ratio spread between first and top gears, and allow for more versatility when accelerating or during city driving.

The new transmission is paired to a 3.23 final drive ratio, which is a bit taller than the previous eight-speed's 3.42. As a result, both first and tenth gear end up being slightly taller than the old first and eighth gears, respectively. Simply put, the Denali will theoretically be ever so slightly lazier on takeoff, while also having slightly lower RPMs when cruising on the highway. In practice, drivers will not notice this difference, and have much more to gain with the increased number of gear ratios in between.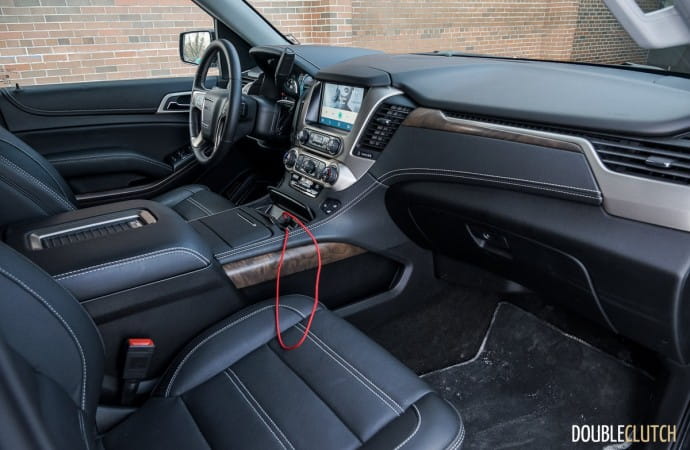 To the Yukon XL Denali's benefit, shifts are quick and smooth, and because there is such a small change in each ratio, and therefore RPM per shift, the revs don't have to drop very far to get to the next gear. Despite being a ten-speed, which brings all sorts of questions regarding complexity and durability, one might assume that the clutches and transmission innards are less stressed because there's a lot less being asked of each shift. This is not much more than conjecture, however, so expect father time to be the judge, jury, and executioner here.
Coupled to the ten-speed automatic is a 6.2-litre pushrod "L86" V8 engine that's been carried over from previous years. Based on the latest generation of all-aluminum small block V8s seen in the Camaro and Corvette, peak horsepower on the L86 is 420 at 5,600RPM, and peak torque is a sexy 460 lb-ft at 4,100RPM. While the naturally aspirated setup doesn't have as much low-end grunt as the 3.5-litre turbocharged V6 in the Expedition and Navigation, it does have sharper throttle response and a much more smooth and visceral feel that's quickly disappearing as automakers embrace turbocharging. Add to that an intoxicating V8 exhaust note, and you're left with a recipe for a gold-standard engine for both performance and utility alike. For those who like to tow, all this power is good for a 3,538 kilogram (7,800 pound) towing capacity, and there's four-wheel drive (including an automatic mode) for all sorts of Canadian weather conditions.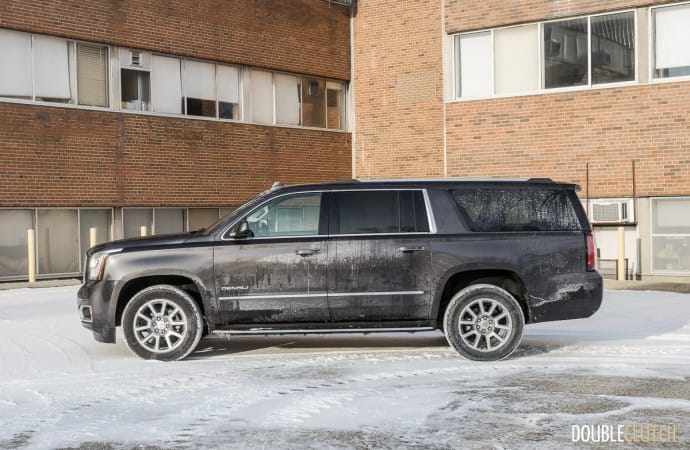 Nominal fuel economy ratings for the Yukon XL Denali are listed as 17.1L/100KM in the city, and 11.3L/100KM on the highway. Curiously, the city figure is worse than last year's eight-speed, which was good for 16.3L/100KM, but the new highway rating is better at 11.3L/100KM. It appears that General Motors may have gone with a more performance-oriented improvement with the new transmission when it comes to acceleration, while still offering better fuel economy when on the open road. Observed economy after a week of testing netted 12.0L/100KM after an abundance of cold-weather highway driving. Premium octane fuel is recommended, and tank capacity is a range-busting 117 litres.
As with all of GM's current lineup of body-on-frame SUVs, the GMC Yukon XL Denali does great things when behind the wheel. Ride quality with Magnetic Ride Control is excellent, and road isolation is as good as it gets. Wind noise is kept to a minimum, and the Denali truly feels premium in every aspect. Seat comfort in all positions is top notch, as evidenced by the chipper mood of passengers in all three rows during a long road trip. The gauge cluster and centre stack are easy to read and have been designed ergonomically, with major functions available with either a push of a button or a twist of a knob. For those looking to stay connected, full Android Auto and Apple CarPlay functionality are support, and there's GM's 4GLTE Wi-Fi hotspot capability.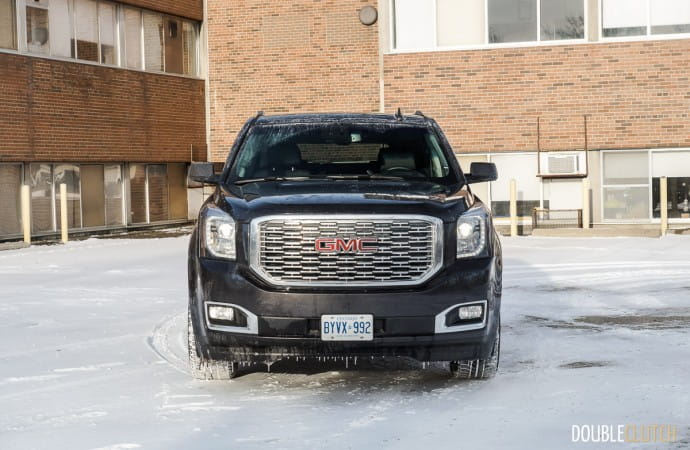 With a base price of $82,525, the XL Denali comes pretty well loaded with an eight-inch central touch screen, full safety suite (including forward collision alert, lane departure warning/keep assist, auto high beam, vibrating safety alert seat, blind spot monitoring), power-folding second and third-row seats, head-up display, high-intensity discharge headlamps, 20-inch alloy wheels, rain sensing wipers, Bose audio, heated steering wheel, and wireless charging. Options on the test vehicle included adaptive cruise control with forward automatic braking for $1,095, and the Iridium Metallic paint was $495 extra.
With an as-tested price of $84,115, the top-dog Denali still deserves to be on any shopping list for anyone looking for a premium three-row family transporter that can also accommodate cargo and/or a trailer in tow. Since new Chevrolet Silverado and GMC Sierra pickup trucks debuted recently on a new-generation platform, expect the Yukon XL to follow suit within the next year or two. While the Ford Expedition and Lincoln Navigator both drive a hard bargain, the 2018 GMC Yukon XL Denali 4WD is still very competitive and will be the preferred choice for many in this segment.
See Also:
Road Trip: 2017 Cadillac Escalade ESV Platinum
2017 Chevrolet Tahoe LTZ Premier