There is something to be said about a crossover utility vehicle that has the ability to demolish many legitimate sports cars in straight-line acceleration. This year marks the introduction of Jeep's 707-horsepower Grand Cherokee Trackhawk, sharing a powertrain with the Hellcat. BMW was one of the original players in this segment, offering a variant of their popular X5 with added muscle. There is now a special edition in the mix, too, and we were offered a week with the 2018 BMW X5 M Black Fire Edition.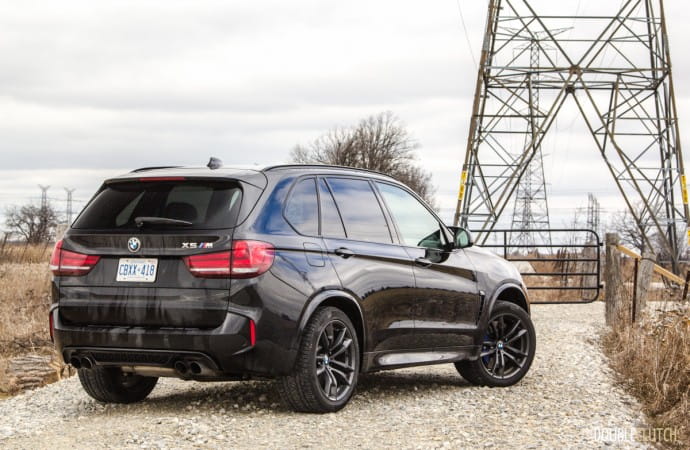 The X5 itself is one of my perennial favourites within the luxury utility vehicle segment. It saw its most current redesign for the 2014 model year and has aged quite gracefully since. There are a few aspects of the interior that have become a bit dated, but subtle updates have kept it fresh. The styling is still leaps and bounds above much of the competition, being trumped by only the latest Porsche Cayenne. The X5's chassis is also very refined and the powertrain choices are great.
In the current lineup, there really is an X5 for everybody. The typical buyer will opt for the likes of the xDrive35i with its turbo six-cylinder, but there is also an xDrive35d with diesel power, the twin-turbocharged xDrive50i, and the unique xDrive40e that operates as a plug-in hybrid. Of course, sitting right at the top of the group is this X5 M, which offers more power and raw BMW passion than any of the others, and also reflects this with a starting price well into the six figures, at $112,400.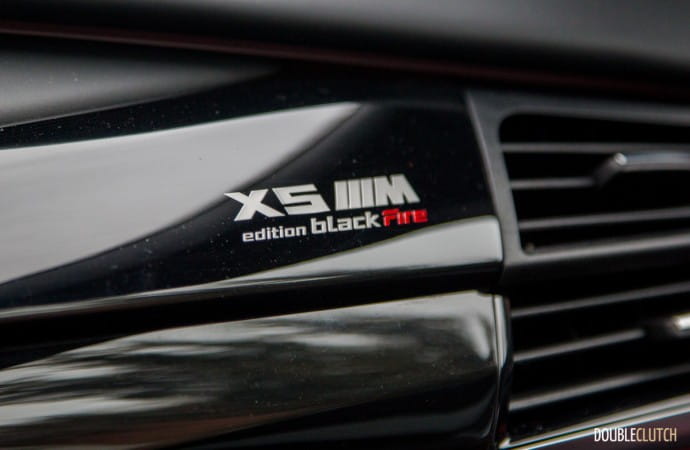 Under the sculpted hood of the X5 M is a nutty version of the 4.4L TwinPower Turbo V8 engine, good for 575 horsepower at 6,000RPM and 553 lb-ft. of torque at just 2,200RPM. The combination here can storm this massive missile to 100km/h in just 4.2 seconds, a seriously impressive number for a large SUV. Power is sent to all four wheels via an eight-speed Steptronic automatic transmission, sourced from ZF. This is the best conventional automatic transmission in the world, but it's just not a dual-clutch, which is where one of the biggest issues with this vehicle lies.
BMW has implemented a rather good electronic gear selector on their automatic vehicles. Dual-clutch models, typically of the M variety (though there have been some exceptions in the past, such as the 335is), get a unique selector as equipped on this X5 M. It's a little bit confusing because there is no marked position for "Park", and frankly, it's unnecessary in this application. The eight-speed puts the power down just fine, and can deliver neck-snapping shifts in its sharper settings, and there really is no need to pretend that it's a DCT.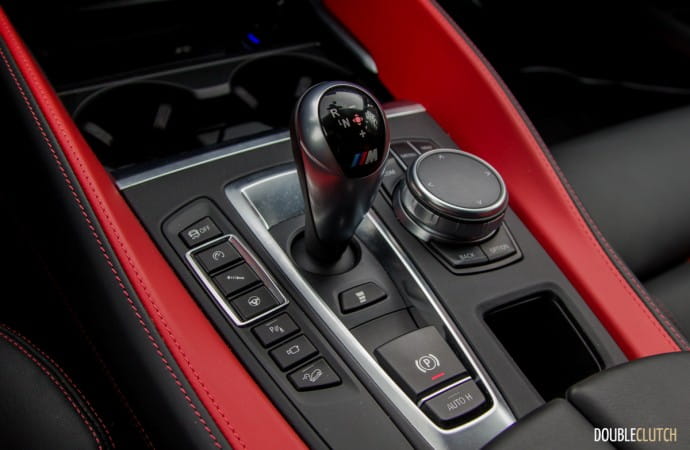 Moving on from that though, the X5 M is a stellar performer. It's seriously quick, and the xDrive all-wheel-drive system is biased to the rear wheels, helping the big guy maintain as much precision as possible. Power delivery is also sharp, and when the "M" settings are configured correctly, there is minimal turbo lag. There is some synthetic noise pushed through the speakers, but overall, the exhaust sounds fairly good and gives the X5 M that monstrous image that it stands for.
Handling is fairly predictable, and BMW levels of sharp. There is a bit of a dead zone on-center, which is common for modern BMWs with electronic power steering. Even still, the steering heft can be configured and remains quite heavy and responsive in its sportier settings. BMW deserves a genuine thank you for allowing the ability to fully defeat stability control, which allows experienced drivers to explore the limits when the conditions (read: track only) permit.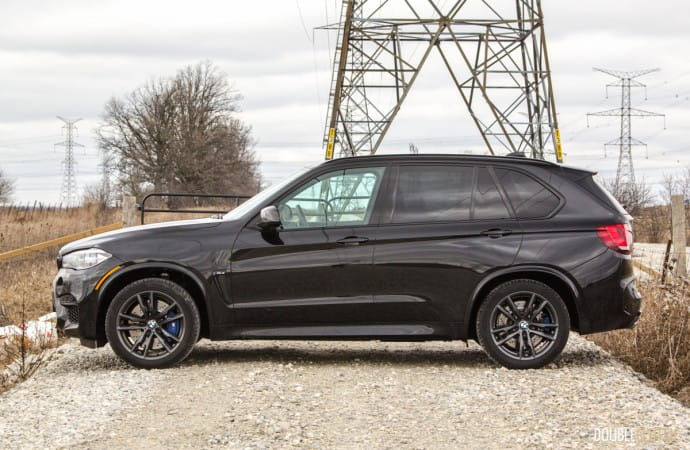 Unique to the Black Fire Edition, which comes at an added cost of $5,300, are appearance goodies such as carbon fibre mirror caps, high-gloss black BMW kidney grilles on the front, Black and Mugello Red Merino Leather, and special Black Fire etching on the dashboard. Power is up eight horses, from 567 in the standard version to 575 in this one, but that's not really noticeable. The special edition is certainly interesting and does a good deal to freshen up the line, but save for having something a little bit different, doesn't offer quite as much value over the standard X5 M, which is already brilliant in itself.
The package we would strongly recommend is the Premium Package, which adds $8,900 to the purchase price. It adds a series of luxuries including M Multifunction Seats with ventilation, a WiFi hotspot, Apple CarPlay integration, blind spot detection, surround-view camera, satellite radio, wireless charging, side window sunshades, and an Alcantara headliner, among many other toys. The Bang & Olufsen sound system sounds insanely good, and is decent value at $4,900, but those who really just want to listen to the V8's soundtrack, the standard Harman/Kardon setup may be the way to go.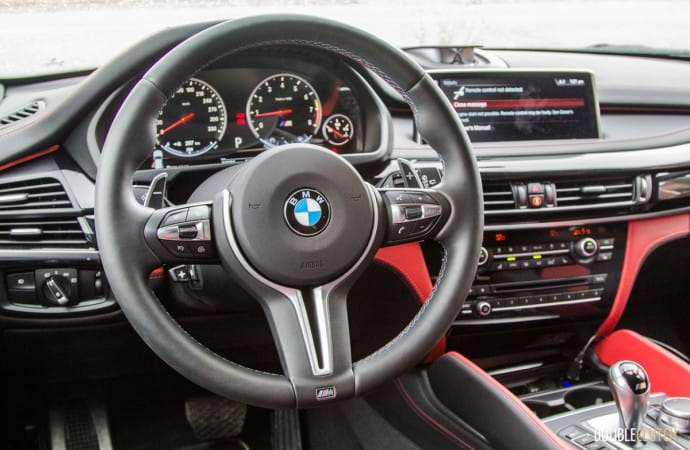 Within the confines of the X5's interior is where certain more aged aspects of the vehicle come to light. Newer BMW models have changed the climate control display to a more modern, white light rather than the orange that has been a Bavarian staple since the 1990s. The X5 is one of the only models to carry forth the older style, and we expect this to be updated in the next full redesign. It also lacks some gizmos, such as BMW's Gesture Controls and ambient air scents, which are highly unnecessary but would be a conversation piece for their flagship utility vehicle. All of these things are offered on the smaller X3, which is brand new for 2018.
Qualms aside, the X5 M's cabin is still an exquisite place to let the kilometers pass you by, with top shelf materials and impeccable fit and finish – exactly what we expect from the Germans. The product is undeniably polished and displays the perfect combination between luxury and sport – you will not forget that this is the performance model. The seats are comfortable and both front and rear occupants will find plenty of head, shoulder, and legroom on board. The iDrive system is easy to use and user friendly; noteworthy is an update that now supports Apple CarPlay wirelessly.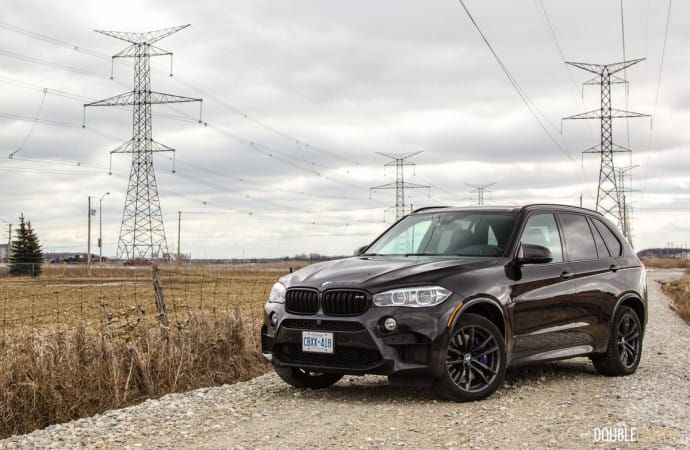 Efficiency is certainly not a priority on any V8-powered BMW M product, and this is not a new thing nor is it unexpected. Remember the mid-2000s when the M5 and M6 both packed fire-breathing V10 motors? Anyhow, the X5 M is rated at 16.6L/100km in the city and 12.1L/100km highway, for a combined rating of 14.6L/100km. Over a healthy mix of the two, with Canadian winter weather and some spirited driving, we couldn't fare much better than 15.5L/100km on 91-octane premium fuel (required, while 93 or 94-octane is recommended). The massive 85L fuel tank will cost well over $100 to refuel, but if doing longer highway trips, will last an adequate amount of time.
Competition is tough within this tight-knit segment, including enticing choices like the Porsche Cayenne Turbo and the Jeep Grand Cherokee SRT (reviewed here). Honorary mention goes to the Mercedes-AMG GLS 63 and the Range Rover Sport SVR, both of which have excellent brands backing them. At the end of the day, long-term ownership of the X5 M will include some expensive repair bills should you choose to keep it outside of its warranty period, but we do know quite a few people with X5s of varying trim grades and ages, and they all seem to be very happy with them regardless of cost.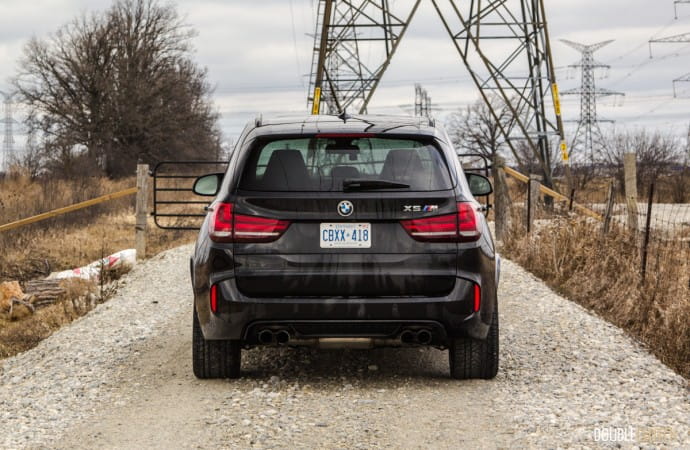 It's no secret that the 2018 BMW X5 M Black Fire Edition is not a crossover for everybody. The vast majority of X5 buyers will gaze longingly at it in the showroom before walking by and picking out an X5 xDrive35i in existing inventory. This is a niche product for the few that want a special edition of the performance-oriented version of a popular luxury crossover. The mission it seeks to accomplish is to stand out even further from its regular X5 M sibling, and it does a fine job of this.
See Also: