The 2018 Cadillac XTS V-Sport Platinum AWD lives up to Cadillac's reputation. It's a couch on wheels, propelled by a twin turbo 3.6L V6 making 410 horsepower; a tremendous combination that's smooth and comfortable, making any type of driving a pleasure. Updated for 2018, the XTS has graceful styling that alludes to sportiness without making any bold statements. The XTS is based on the Chevrolet Impala platform, but is far more advanced than the car it starts off as. It's properly large, coming in at 202-inches long and sitting on stylish 20" aluminum V-Sport wheels.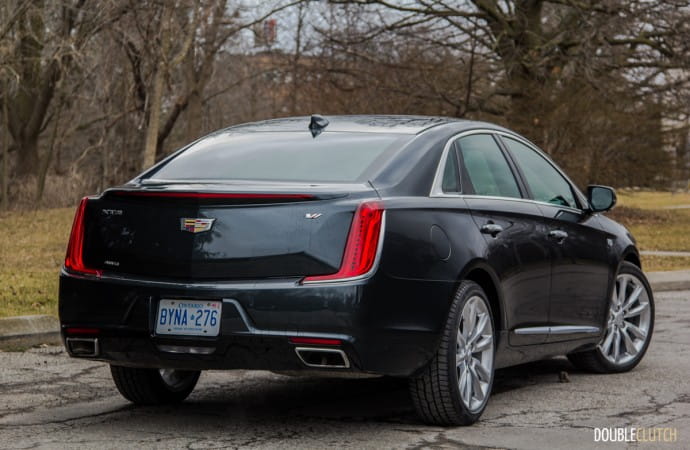 Newly designed for 2018 are the full LED headlamps, which include daytime running lights, high and low beams. With a tasteful Cadillac logo built into the headlights, it's obvious that there is no shortage of detail in the 2018 XTS. Also on the exterior is the concierge lighting that illuminates LED strips on the door handles and mirrors automatically when the doors are unlocked, providing warm lighting in low-light situations. Featuring a 14-speaker Bose Studio surround sound system with speakers built into the seats, sound quality is beyond expectations. With perfect sound clarity at any volume level you're able to immerse yourself in the XTS, adding to your driving experience.
The cabin is whisper quiet and the interior materials are authentic comprised of real wood trim and Semi-Aniline leather with perforation. The seats are plush and comfortable, both heated and ventilated up front, and heated seats in the rear. The rear quarters are particularly roomy boasting 40" of legroom; space is ample even for full-sized adults. The front seats also feature 22-way adjustability, and a built-in massage function. With two types of massages in the driver's seat, and two for the passenger, comfort is second to none in the segment.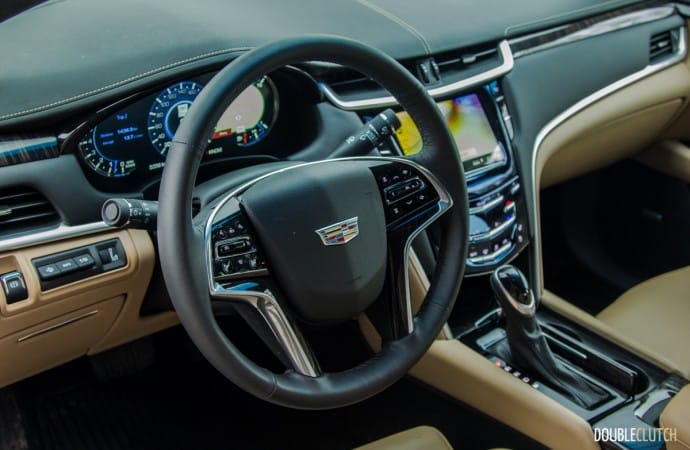 Other interior features include but are not limited to an adjustable colour head-up display, heated steering wheel, microfiber suede headliner, power rear window shade and manual rear side window shades, illuminated front and rear door sills, automatic tri-zone climate control, rear 110 volt AC power outlet, driver and passenger memory seats, and a wireless cellphone charger that's discretely hidden behind the climate control cluster.
The car itself feels very solid and build quality is an obvious focal point; the doors have a solid feel, and have a firm thud when closed. The ride itself is comfortable as you'd expect with any vehicle carrying the Cadillac name. Featuring Magnetic Ride Control with adjustable dampers, the XTS reacts to the road up to 1000 times per second, making for a far smoother ride than traditional dampers. Power delivery is a surge of power with a bit of lag. Once past that point, the 3.6L twin-turbo V6 pushes you back into your seat, pulls hard, consistent and linear throughout the full RPM range.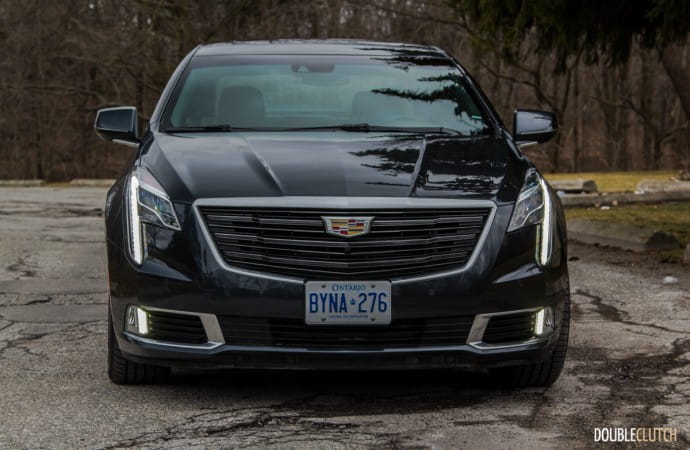 Traction is never an issue thanks to the all-wheel drive system featuring an electronic limited-slip differential. You are able to turn off traction control, but aren't completely out of the woods as stability control always remains on. Braking is very good thanks to the aluminum Brembo front calipers and ventilated front and rear rotors; you're rendered with smooth and responsive braking with brake fade resistance, so spirited braking conditions won't sacrifice safety.
Rated combined fuel consumption for the XTS with the 3.6L engine is 12.8L/100km in combined driving. During my time with the XTS, I observed an average of 13.5L/100km, which is a bit worse than the manufacturer's suggested number. This is in part due to very cold conditions and winter tires. Additionally, the six-speed automatic is dated and begs to be replaced with the eight-speed elsewhere in the Cadillac lineup for added efficiency. Premium 91-octane fuel is required.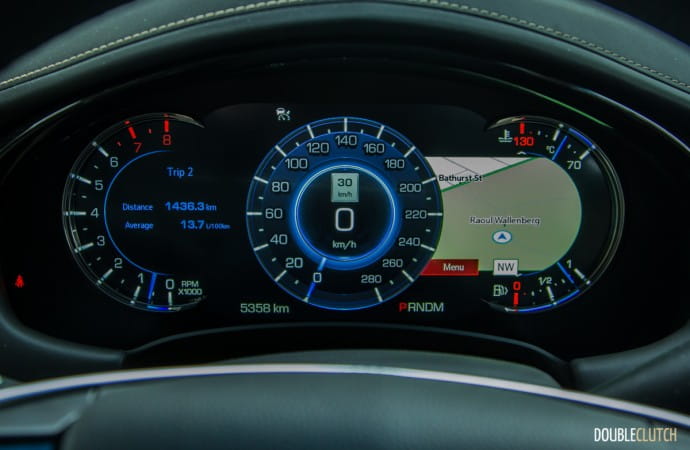 Something that could have used a little more attention from the engineers at Cadillac is the cupholder setup. They hold cups just fine, but the cover that flips up to expose the cup holders seems to be at the perfect height to catch under the lid of a medium Tim Horton's cup of coffee. If you aren't careful when placing your coffee in the cup holder, you could find yourself inadvertently popping lid of your coffee off, potentially spilling coffee in your beautiful interior. Furthermore, if you find yourself unlucky enough to have spilled coffee in your cup holders, the base of the cup holders isn't removable for ease of cleaning.
The fully digital and customizable instrument cluster can be toggled to display whichever information you'd like. Fuel range, trip info, fuel consumption average, compass, navigation, boost kpa gauge, song info, oil life, and one of my personal favourites; you can have the speed limit of the road you're currently driving on displayed on the instrument panel. Surround vision cameras create a birds-eye view of your vehicle as well as a rear-view camera that's standard equipment. Other safety features include automatic pre-collision braking, lane keep assist, lane change alert with blind spot monitoring, forward collision alert, and radar guided cruise control.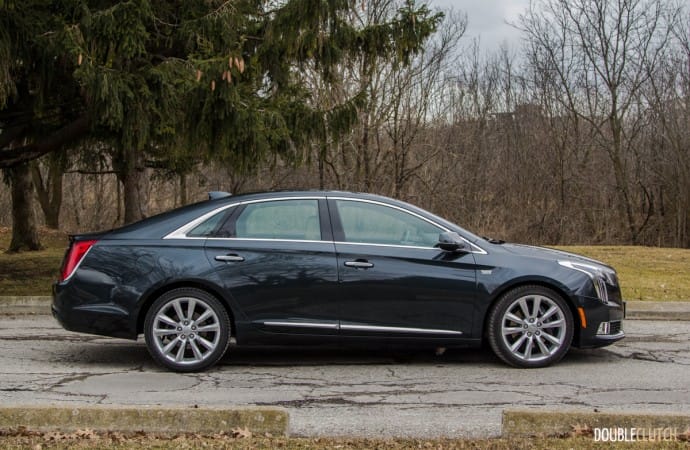 The Cadillac User Experience features an 8" touch screen that features haptic feedback. After a ton of media and customer criticism towards CUE, the entire system has been significantly updated and is a much better setup than the original. Now far easier to use than it used to be, CUE also features Apple Carplay and Android Auto, along with a Wifi hotspot with 4G-LTE connectivity
As tested, our rather loaded Cadillac XTS came in at $80,410 as tested, up from a base price of $50,935 ($68,105 for the V-Sport). It has its limitations, such as its front-drive platform, and is somewhat forgotten in the lineup between the popular CTS and the new CT6 (reviewed here) flagship sedan. In a segment that's populated heavily with the likes of the Volvo S90, the new Genesis G90, and the Lincoln Continental, the XTS isn't the most appealing choice. The facelift for 2018 gives it a few subtle styling tweaks that spruce it up nicely, but this is a model that's in need of a redesign.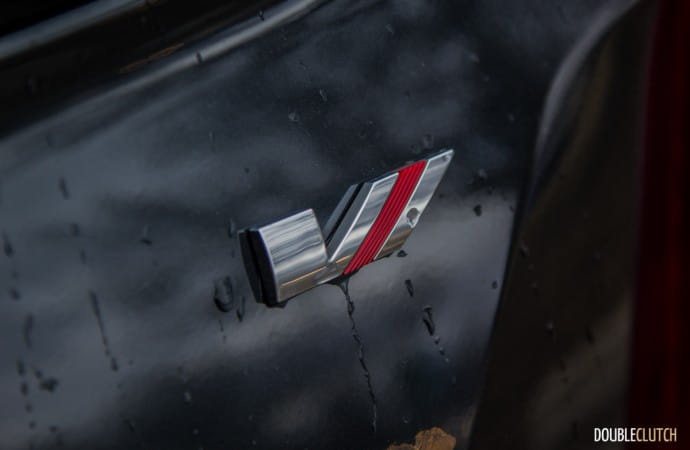 As it sits, the 2018 Cadillac XTS V-Sport Platinum is an adequate vehicle, but has found itself more desirable for livery use. Those who want a large luxury sedan with over 400 horsepower are finding it difficult to opt for this when the CT6 is within arm's reach from a price point, and the CTS (reviewed here) is a far better chassis. This is all also considering the fact that crossovers like the XT5 (reviewed here) are what today's consumer really wants, so the large sedan is slowly becoming less and less desirable. Even still, the V-Sport trim offers a peppy engine and a comfortable ride with surprising agility that makes for a truly enjoyable driving experience.
See Also:
2017 Cadillac CT6 3.0TT Luxury