SAN FRANCISCO, CALIFORNIA – When it comes to German mid-sized luxury sedans, the line between comfort and a genuinely dynamic personality has become all but invisible. Cars like the Mercedes-AMG E 43 (reviewed here) and the Audi S6 take the impeccable smoothness of their smaller-displacement counterparts and add a degree of passion. When we tested the BMW 540i earlier this year, we came away a bit disappointed with its athletics (or lack thereof), arriving at the conclusion that it's too soft and luxurious, missing what has always been a stand-out perk to the 5-series.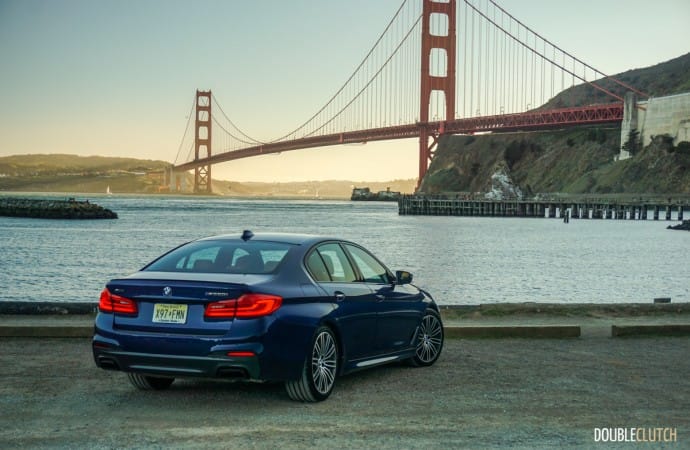 Our editor Jerry Vo chose the 2018 BMW M550i xDrive as his personal favourite vehicle tested last year, and after we just spent a long weekend exploring the Bay Area with a Mediterranean Blue example, we can't find a single fault with his logic. The difference between the 540i and the M550i is about as big as the gap between standard models and full-on M models from BMW. This isn't just a luxo-cruiser; the M550i is a legitimate sports sedan offering every bit of comfort and quality we have come to expect from the Bavarians.
At first glance, the M550i looks sharp, with its stylish 20" wheels, aggressive lines and contemporary styling cues. It's not the most polarizing design, and the current generation 5-series looks like little more than a natural evolution from its predecessor. It's not a car that stands out significantly from its competition, as the current E-Class also packs a conservative look. It's also a lot larger than the iconic E39 5-series of the late 1990s, but it's no secret cars of this century have grown. Still, with this wheel setup and paint scheme, the M550i is a looker that nobody will refer to as unattractive.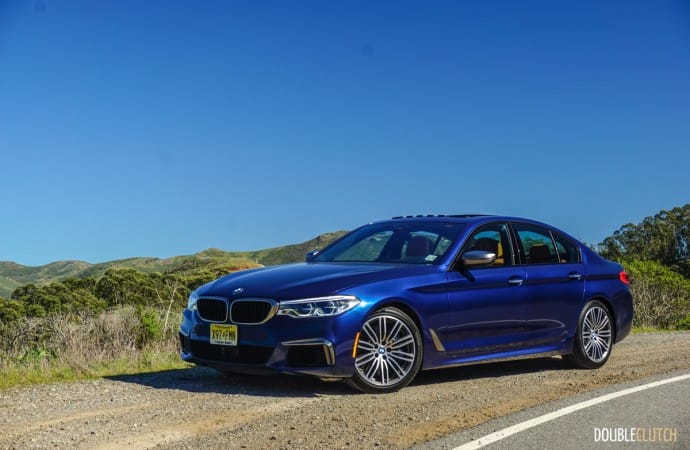 The way this car drives is where most enthusiasts will find their euphoria. The M550i isn't the insane powerhouse that the new M5 is, but the twin-turbocharged 4.4L V8 (codenamed N63) is just such a creamy powertrain it's hard not to love it. It's good for 456 horsepower from 5,500 to 6,000RPM, and 480 lb-ft. of torque from 1,800 to 4,750RPM. The 0-100km/h time of just 4.0 seconds is actually faster than the outgoing (F10) M5, which makes the M550i xDrive a serious missile out on the interstates of the San Francisco area.
Power is sent to all four wheels (xDrive is standard on Canadian M550i models) via the ZF 8HP eight-speed automatic transmission, which is my absolute favourite automatic on the market right now. It complements the N63 V8's personality so well that shifts are absolutely imperceptible in Comfort mode and aggressively firm in Sport and Sport Plus. The rather dull and soft personality of the 540i (reviewed here) is forgotten very quickly after a couple of highway on-ramp accelerations in the M550i. This car just effortlessly gobbles up anything thrown at it with sophistication.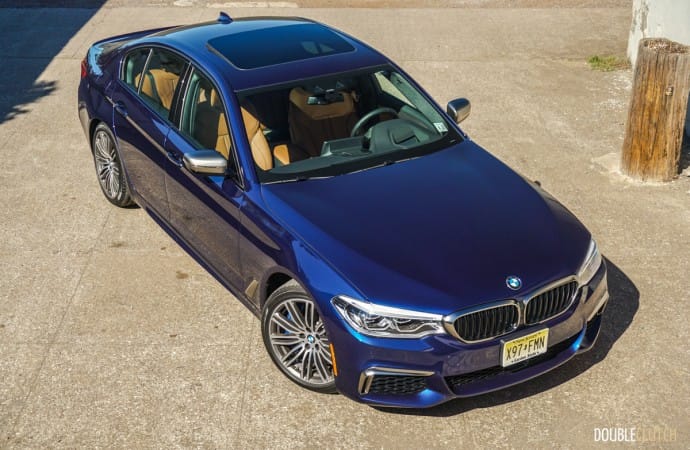 Ride quality is extremely well sorted, with the Adaptive M Suspension doing an excellent job at keeping the car poised regardless of the environment. This system also has active roll stabilization, which will ensure minimal lean, and a rear steering setup makes handling sharp. Steering response is actually remarkably good, bringing back that passion that many purists are accusing BMW of having lost over the past decade or so. Make no mistake – the M550i doesn't have the scalpel-like precision of the M2 (reviewed here) or even the M3, but the 4,500-pound sedan will hustle with urgency on command.
With regard to fuel economy, the V8-powered 5-series is no hybrid, but our testing revealed that this car is a testament to how efficient today's high-displacement engines have become. Our test consisted of about 800km of interstate driving, with a heavy mix of downtown San Francisco rush hour bumper-to-bumper traffic as well. The test's average returned 12.3L/100km, using zero effort to keep consumption down. The M550i requires at least 89-octane midgrade, but our test took place on 91-octane premium, which ensures optimal performance and efficiency.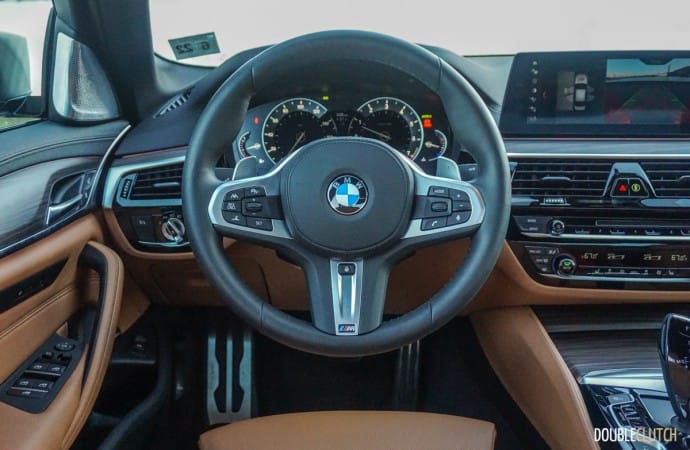 The interior of the M550i is a scrumptious place to spend time, though the focus here is on luxury rather than athletics. Even still, the full leather seats have adjustable side bolsters and automatic thigh support, and hug the driver and passenger's bodies perfectly. The level of support is essentially perfect and requires no adjustment when transitioning from storming down the interstate to the twisty hills of the Marin Headlands. Controls are clearly marked and major controls have physical buttons that are easy to use.
BMW's iDrive infotainment system pioneered the in-car tech revolution as we know it today, and until recently was regarded as a benchmark. I will go out on a limb and say that the latest iteration, which is the only implementation of wireless Apple CarPlay in the auto industry right now, is actually less intuitive and lacks the simplicity of its predecessors. It's still a very good interface, but rivals such as Audi's Virtual Cockpit (reviewed here) have caught up very quickly. Honorary mention goes to the optional Bowers & Wilkins sound system in our test vehicle, which is simply marvellous.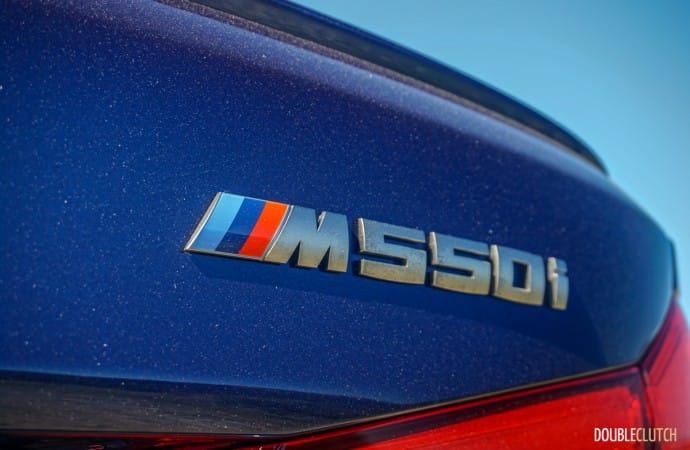 Pricing for the 5-series altogether starts at a reasonable $62,400 for the base 530i, with the M550i starting at $82,000. The gorgeous Cognac Dakota leather is included in this price, along with the metallic paint. A $6,500 Premium Package adds massaging and ventilated front seats, rear sunshades, parking assist, soft close doors, and ConnectedDrive. A $1,500 Advanced Driver Assistant Package adds lane keep assist, evasion assist, adaptive cruise control, and cross traffic alert. Factor in things like $750 for Smartphone Connectivity and $3,500 for Adaptive M Suspension, and $2,500 for Night Vision, and the as-tested sticker sits right at the $99,000 mark.
Two of my favourite sedans out there right now are this 2018 BMW M550i xDrive and the current Volvo S90 (reviewed here). They may bat in the same segment, but these two sedans could not be more different. One's a twin-charged four-cylinder and focused entirely on luxury, while the other is an athlete in a finely tailored business suit. The M550i is positioned uniquely, but where it sits offers consumers a choice that really is like no other. The Bavarians are on top here, and that is a very good thing.
See Also:
2018 Mercedes-AMG E 63 S 4MATIC+