In the subcompact luxury sport utility vehicle segment, just about every premium automaker is vying for entry-level consumers, and many of whom are spending it big for the very first time. BMW seem to have created a niche and series for everything between 1 and 8, and the 2018 BMW X1 xDrive28i represents their extra-small crossover offering. It's supposed to do battle against the likes of the Audi Q3, Mercedes-Benz GLA, and now, the Volvo XC40.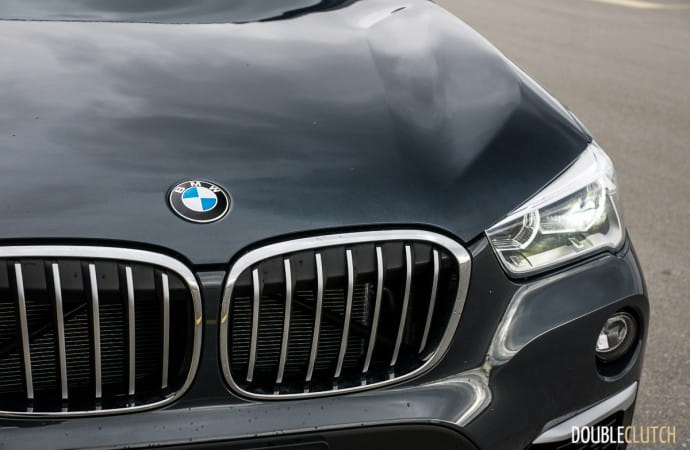 Sharing a platform with the MINI Countryman (reviewed here), the X1 xDrive 28i comes in at a base price of $40,300, which is right in the thick of it against its peers. Options on the BMW Canada test car included the $5,750 Premium Package Enhanced, which adds a heated steering wheel, automatic hatch, panoramic sunroof, auto-dimming mirrors, sport leather seats, head-up display, and navigation, among other options. The Sport Performance Package was $950 and included automatic transmission paddle shifters, variable sport steering, and 19-inch alloy wheels with runflat tires. Unfortunately, the snazzy wheels weren't included on the test vehicle itself, as it wound up being shod with 18-inch alloys with winter tires.
Ticking off the $750 Smartphone Connectivity Package gets you Apple CarPlay integration (no Android Auto!), wireless charging, and a WiFi hotspot. $1,750 equips the X1 with the Driver Assistance Package, which is today's modern safety suite – including lane departure warning, forward collision warning, automatic high beam, speed limit displayed on the navigation and head-up display, as well as the Park Assistant. With a few other colour options, the as-tested price came out to $52,240, which is on the higher end of the subcompact class.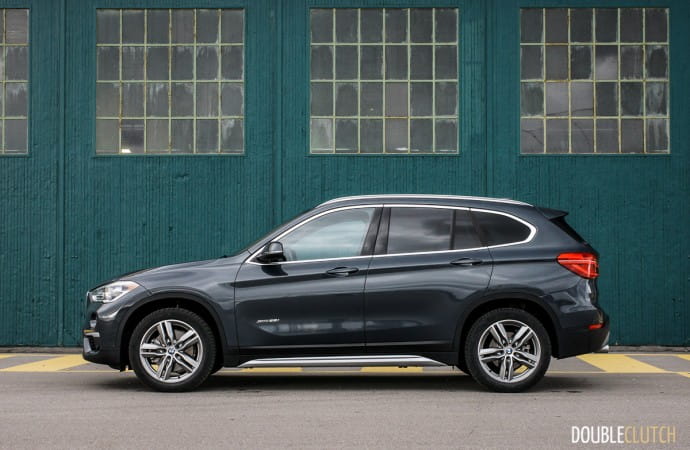 Powering all variants of the X1 xDrive28i is a transversely mounted 2.0-litre, turbocharged four cylinder engine making 228 horsepower at 5,000RPM and 258 lb-ft of torque at 1,250RPM. While it's a similar "B48" unit to the longitudinally mounted 330i (reviewed here), it makes a bit less power while pumping out the same peak torque. Overall, it's a very sweet and delicious engine that's eager to please. While BMW dubs the twin-scroll turbocharger technology as TwinPower, there's only one turbocharger to be found, but in any case, there's practically no lag. Throttle response rivals that of many naturally aspirated engines, and is backed by a healthy low-rpm torque curve that makes things fun when booting around town. Noise, vibration, and harshness are well-controlled, and the soundtrack from idle to redline is inoffensive, if not a bit boring.
Coupled to the baby BMW's turbo engine is an eight-speed automatic transmission and an all-wheel-drive system that once again, isn't entirely the same as the 3-series. Even so, it shifts crisply and quickly, eager to upshift and make use of the available low-RPM torque to get up to speed. Manual control is available by both the shifter and by paddle shifter. With so many ratios to choose from, fuel economy does reasonably well given the power levels: city consumption is pegged at 10.7L/100KM, and 7.4L/100KM on the highway. Tank capacity is 60 litres, and premium fuel is recommended, with midgrade 89 octane as the minimum.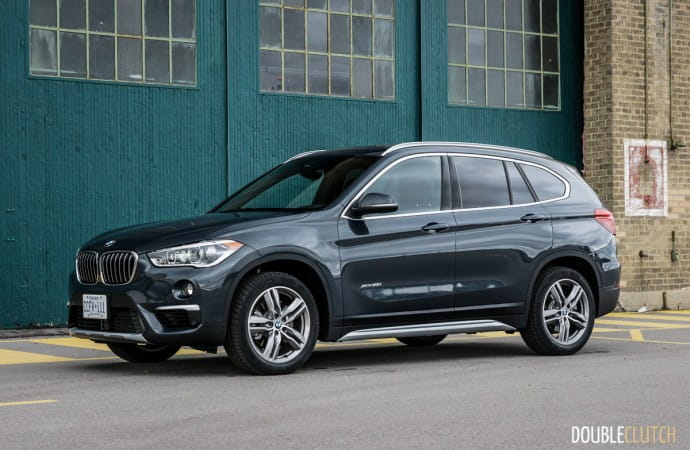 Since it bears the whirling helicopter blades of the BMW badge, one might expect the X1 to be the Ultimate Driving Machine. While it doesn't exactly exude the confidence and visceral performance of some of the wilder offerings, it does turn a bit better than one might expect out of a small sport utility vehicle. Steering inputs are well-weighted and feel precise with the optional variable rack, but still offers very little feedback in terms of what the tires are doing.
Perhaps owing to its MINI chassis lineage, ride quality is stiff, and just about every road imperfection gets sent through to the passengers. It was initially thought that the firm ride could have been due to typically noisy and hard runflat tires, but the equipped Continental winter tires were of the normal, go-flat variety. When cruising on smooth blacktop on an open highway, it's quite nice, but gets rudely interrupted once in a while going over expansion joints or broken pavement. It may be best to avoid the 19-inch wheels on the Sport Performance Package in order to prevent things from becoming spine-shattering.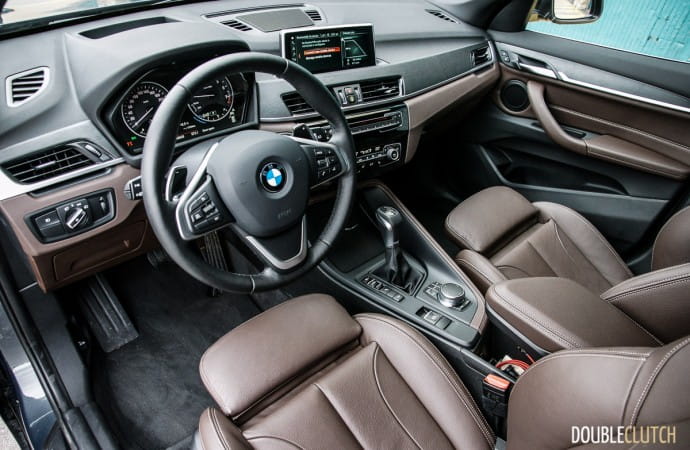 On the inside, the X1 gets the typical design language and treatment that are seen in the current BMW lineup. Material quality and fit and finish do reflect the lower price point, but are still well done. With the Mocha Dakota Perforated Leather (a $950 option), the test car looked the part, without the maintenance and cleaning nightmare of some of the white leathers that are available. Legroom and headroom are reasonable, but big and tall drivers should first double check to see how well they fit – the X1 isn't a particularly big car, after all.
In the infotainment department, the BMW X1 gets the well-executed corporate iDrive system. With a clickable wheel surrounded by buttons for major functions, getting through the menus is relatively easy and can be done with more eyes on the road compared to a full touch screen interface. Text box commands, such as navigation addresses or phonebook contacts, can be handwritten on the top surface of the control wheel, with the car picking up your input letter by letter.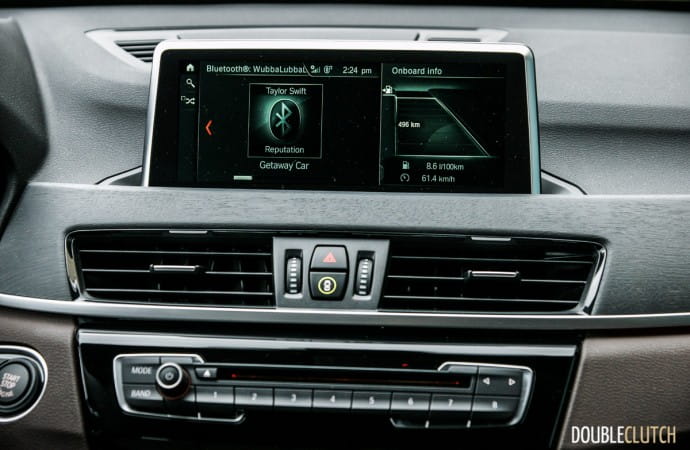 All things considered, as easy as the menus are to scroll through, there are many of them, and some functions (hopefully ones that you'll set and forget) are buried very deeply. As mentioned, the industry gold-standard Apple CarPlay is included in the $750 Smartphone Connectivity Package, which is a bit odd considering cars costing half as much now get it as standard equipment. No Android Auto support is available, and BMW has no current plans for it to be added.
As the sum of its parts, the 2018 BMW X1 xDrive 28i is a good choice if your shopping list insists on a product from the Bavarian Motor Works. It does well most categories, particularly in the powertrain area. It's a decent bang for your buck as a subcompact luxury SUV, and handily trumps the Mercedes-Benz GLA and Audi Q3. It does face an uphill battle with the new Volvo XC40 however, which is a bit bigger, is very competitively priced, and offers a bit more cargo space and refinement. The X1's excessively stiff ride lets it down a bit, and it isn't totally the traditional Ultimate Driving Machine. It does answer the beck and call of the urban Canadian commuter pretty well though, and those looking to have more fun in their drive may consider a 3 Series Touring (wagon) instead.
See Also:
First Drive: 2019 Volvo XC40 T5 AWD