Recently, I went for a massage. It was a decent one, and it included a warming pad service. I also was able to choose which music I wanted to listen to. I chose Vivaldi and to my surprise, it was played out with startling clarity on a Bowers and Wilkins sound system. As I marinated in the soothing warmth of strings and Shiatsu, I was offered some mood-setting scents to fully complete the relaxation process. I decided on 'Dusk of Shimmering Desert,' as I thought it paired nicely with the stark slowness and doze of Vivaldi's "Four Seasons" as it crescendoed into the fourth movement.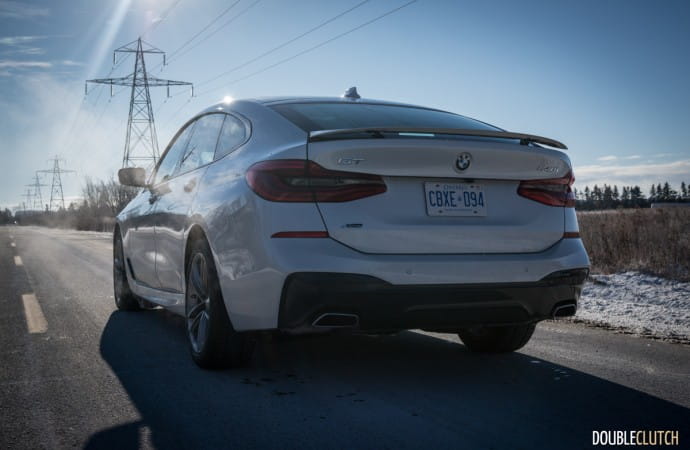 If you haven't yet become wise to my rouse, I was in a massage parlour. No, I was in the brand new 2018 BMW 640i Gran Turismo xDrive. Now I know what you are thinking. "A 6-series grand tourer. I bet it's beautiful." Well, not really. See, this new 640i GT is not unlike the outgoing 5-series Gran Turismo. This is because the 6-series as far as I understand it, is slated to become the new 8-series, so this 6-series replaces the 5-series (reviewed here) which still exists. Follow?  So, no sleek lines or only two seats here. That said, this is an excellent vehicle.
To be fair, compared to the old Gran Turismo, the body lines on this 640i are much more appealing. Handsome, in fact. The rear end, while not beautiful is quite acceptable in my opinion, and it has an active rear spoiler. That's pretty cool stuff. The advantage to the slightly-unsightly rear end is that there is a massive amount of luggage space. You could easily use this for a weekend away for four. And while we are on the topic of comfortable travelling, that's where the 640i Gran Turismo excels.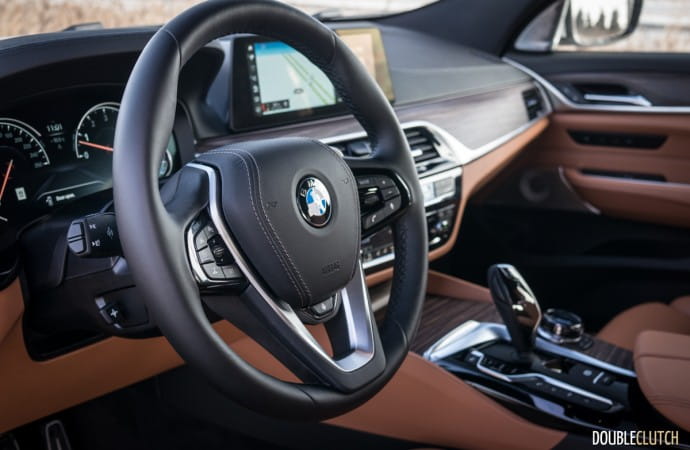 The Premium Package ($6,500) is what gets you the comfort goodies. Cooled, massaging seats, soft close doors, sunshades, and a few other treats. The seats are supremely comfortable, and very adjustable. I don't usually talk too much about the small details, but this one got me. As you bring your hand down to the controls for the seat, a visual of the seat pops up on your screen. As you touch each section of the seat adjuster (but don't press it) it highlights that part of the seat on the screen individually and tells you all the ways it can be moved. If you feel so inclined, you can also add the Remote Parking Package with the BMW Display key ($1,500). This only succeeds in running out of batteries all the time, while simultaneously allowing you to park your car from the outside and feel like James Bond.  
The Premium Package also gets you Parking Assistant Plus with surround view, which borders on voodoo. The graphics are top notch, and as far as I could tell, there were four small German men following me around with cameras to show me what my car looked like from the outside as I was trying to park it.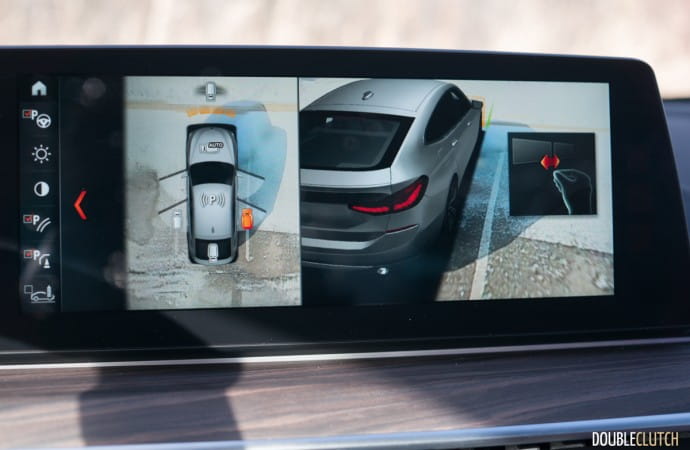 The rest of the interior is completely excellent. The driving position is perfect, yet your vantage point feels high. The materials are impressive, and visually the design feels special. Some might say it's a bit much, but I looked forward to spending time in it. The ambient lighting is a nice touch as well. with everything from a soothing white, to a Star Trek purple and blue. I never found myself frustrated or stressed in this car. And BMW's iDrive is easy to navigate through, and visually pleasing. When you select sport mode, the digital gauge cluster flicks over to a red design, with a highly visible speedometer and tachometer. 
Performance is completely acceptable if not memorable. The 640i gets a 3.0 litre six-cylinder Twin Scroll turbocharged motor with direct injection, Double-Vanos variable valve timing, and an eight-speed transmission. This amounts to 335 horsepower and 332 lb-ft. of torque, which lets you whip to 100km/h in 5.1 seconds. This is in fact, quite fast, but for some reason, I never found it fun. I suppose the typical buyer of the 640i GT isn't your usual, ultimate-driving-machine-track-driving-junkie, so the experience of driving the 640i reflects that. I never found it engaging, but it certainly never failed to whisk me to the speeds I needed at a moments notice, with absolute buttery smoothness and no turbo lag I might add. The transmission shifted exactly when it was supposed to, and never jarred myself or my passengers.
High levels of sophistication are present in the chassis design as well. The 640i offers rear air suspension as standard but the Dynamic Handling Package in my tester ($4,900) allows for Active Roll Stabilization which actively fights body roll in fast cornering, and can soften bumps on independent sides of the car. The air suspension can also automatically self-level a heavy, uneven load, and allows the driver to select a ride height for different types of terrain. There is no doubt that BMW has worked their magic with the 640i. I found the ride incredibly comfortable and controlled, while the chassis itself was predictable over slippery terrain.
In Adaptive mode, the 640i will use the car's GPS to predict upcoming road features and will adjust the cars comfort systems. That's something Rolls-Royce was proud of a few years ago. The chassis is very, very good, but it certainly wasn't exciting. Again though, this is coming from a guy who will knowingly delete power steering on his own cars so it feels a bit more engaging at the track. Speaking of steering, it's clear that BMW is inching closer to bringing road feel back into these new electric racks. The steering stiffened up accordingly in different modes, and the 640i had an accurate front end and felt light on its toes in certain modes.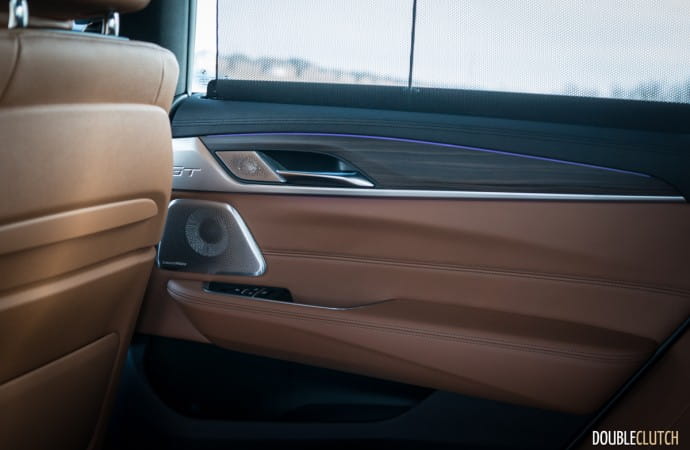 With a base price of $76,700, you do get a lot for your money. But start to add on these tempting options and you will inch closer to $100,000. And unfortunately, after you have had one listen to the optional 1,400W Bowers and Wilkins Diamond Surround System you will be $4,900 poorer. This is a no-brainer option if you are an audio junkie. I'm almost not kidding when I say that this stereo brought a tear to my eye. My tester also had the Advanced Driver Assistance Package ($1500) which obviously worked very well. The driving assistance isn't quite on par with Volvo's "Pilot Assist", but I will always recommend active cruise control. It literally makes me a generally more pleasant person when I get to my destination through Toronto traffic.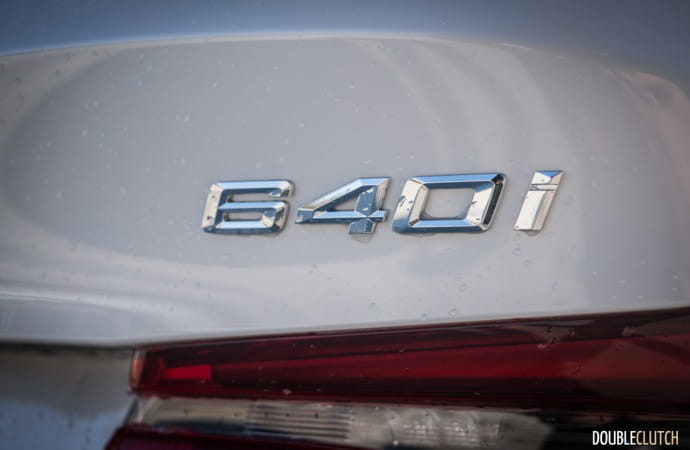 So while the new 2018 BMW 640i Gran Turismo xDrive is maybe not a highly engaging Ultimate Driving Machine, I don't think it was ever intended to be. It most certainly is a wonderfully luxurious, pampering commuter that I would be completely happy to drive across the country. If you can get over the not-so-sexy looks, I think you will find an excellent travel companion in the 640i GT.
See Also:
First Drive: 2018 Kia Stinger GT