I spent a good portion of my childhood confused. I thought Beanie Babies were a stellar investment; I wondered why Jack didn't climb out of the icy water onto the big door, and I was sure Subaru was an Australian company. This is probably due to the weird marketing that included Paul Hogan as Crocodile Dundee. Back then, the Subaru Outback was a slightly jacked up Legacy wagon, and it did indeed look like one. Now however, the 2018 Subaru Outback 3.6R Premier has inflated into a mid-size crossover. But the question is, does it continue to be a rugged, dependable adventure vehicle that would satisfy the likes of Dundee, and take on the ruthless Aussie Outback? Or has it become a family moving softie?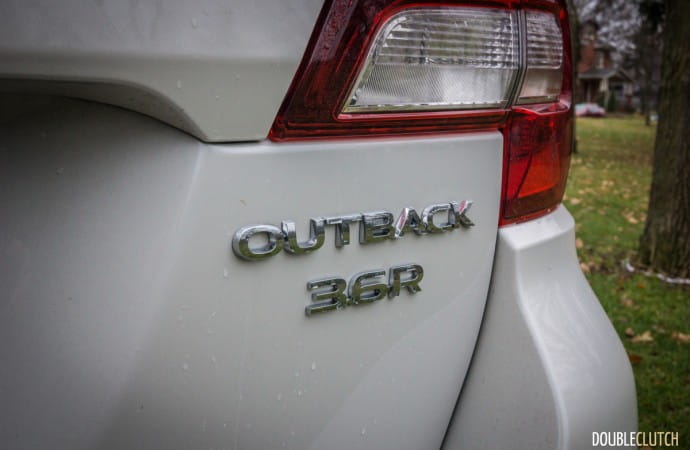 I am a genuine Subaru fan. I like their history, I like their all-wheel-drive, and I like their drivetrains. But sadly it's true that several modern Subarus feel a bit behind the times. The drivetrain in the newest STI (reviewed here) for example, falls fairly flat compared to its competitors, and the boxer four-cylinder in even the newest Impreza, feels slow and unrefined. That said, a lot of what Subaru is doing right now works very well. The newest Forester XT, with the same engine as the WRX, goes like a rocket and is comfortable and practical. And the flat six-cylinder in this Outback is a really excellent engine. 
The Outback used to be a wagon, and as it slowly grew in size it became a crossover. The point is, that it now feels closer to a crossover than a traditional wagon. Is it practical? Yes; my tester had an automatic liftgate, folding rear seats, and lots of interior space. New for 2018 is an improved steering wheel, some revised exterior and interior styling, more sound insulation, and Apple CarPlay/Android Auto connectivity is now standard on all trim levels. There is now more interior room, and if you select higher trim levels, you can get an 8″ screen and some really nice interior stitching. In fact, the interior of the Outback is excellent. The brown leather on the doors and seats is high quality, the steering wheel looks good, and the dash design is simple and pleasing.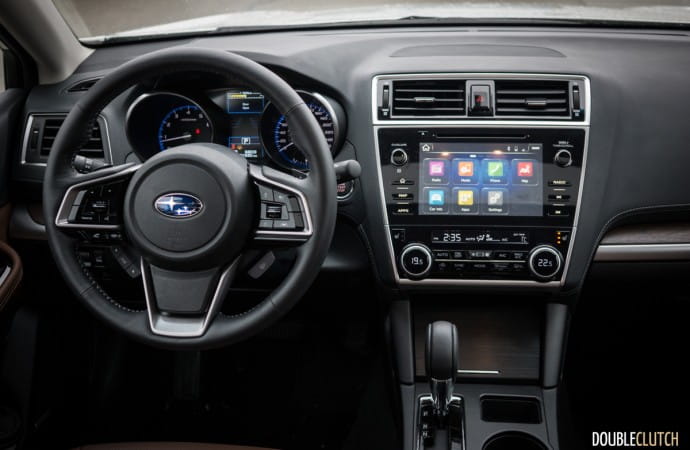 Sadly, comfort and usability wise, it's a bit of a different story. The seats still dont support the underside of your legs, and I managed to get a sore back after only an hour in the car. On top of that, the heated seats were barely able to even take the edge off the cold leather on a mildly chilly day. Thankfully, the infotainment is far superior to the previous generation and is actually easy to use, and the climate control system is much better as well. So with a few issues aside, the Outback is quite a good vehicle from the cockpit.
The Premier trim level of my tester had the Subaru EyeSight system. As always, it's a welcome addition for the commuter. I occasionally found the lane departure warning to be a bit intrusive, but radar-guided cruise control is just about my favourite thing in the world while commuting in Toronto traffic.  This system isn't a must-have in my books, but if you find yourself to be a distracted driver, it certainly isn't a bad idea.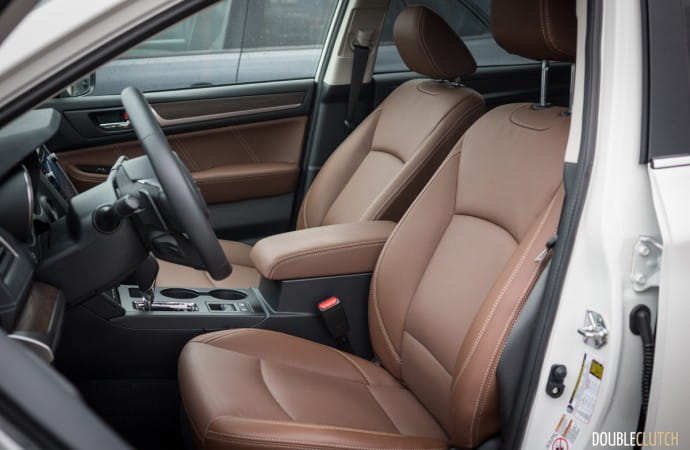 You can get the boxer four-cylinder in the Outback, but it only sports 175 horsepower. My tester had the 3.6L flat-six, with 256 horsepower and 247 lb-ft. of torque. You do have to fork out over $42,000 for the 3.6L at this trim level, but performance wise, it's worth it. I actually really liked this engine. It's very responsive, and delivers power quickly and smoothly. It makes a good sound too. Some might find the throttle to be very touchy and difficult to modulate off the line, but I suppose that is something that you could get used to.
The manual transmission option is now gone on the Outback models so instead you are stuck with the Lineartronic CVT. This isn't really an issue, as Subaru's CVTs are done well. It never gets in your way, and it avoids any jerky transitions. It does simulate gear ratios if you rev it out, but I found them to be inconsistent, and not realistic. The paddles mounted to the steering wheel don't seem to allow that much control over the transmission. You are better leaving it in auto and allowing it to sort everything out for you.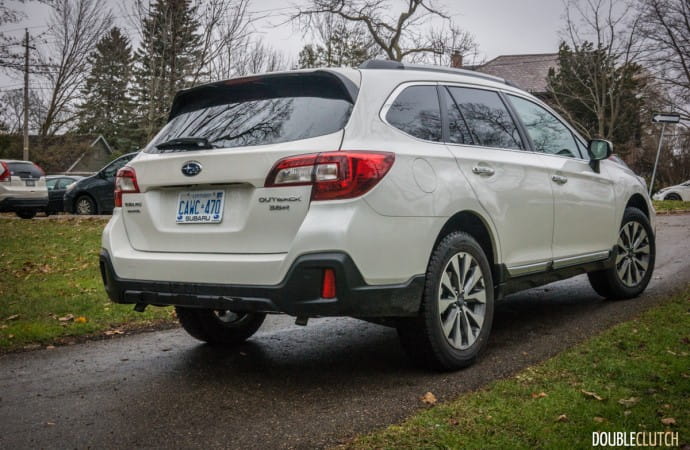 I didn't get a chance to really test the all-wheel-drive system as the weather didn't allow it, but I have faith that Subaru will deliver; they always do in this department. Usually fuel economy suffers because of AWD but I did alright for the week of mostly city commuting. 11.0L/100km is acceptable for a large vehicle with a six-cylinder engine. Better numbers can be achieved with more highway driving.
Speaking of it being large, sadly this is something you can really feel. The Outback seems to have a bit of a hard time handling its mass, and the front end felt very soft to me, no doubt exacerbated by sloppy-sidewall winter tires. The previous generation vehicle was worse, but the steering still feels very numb. This is frustrating because I know that Subaru can do better.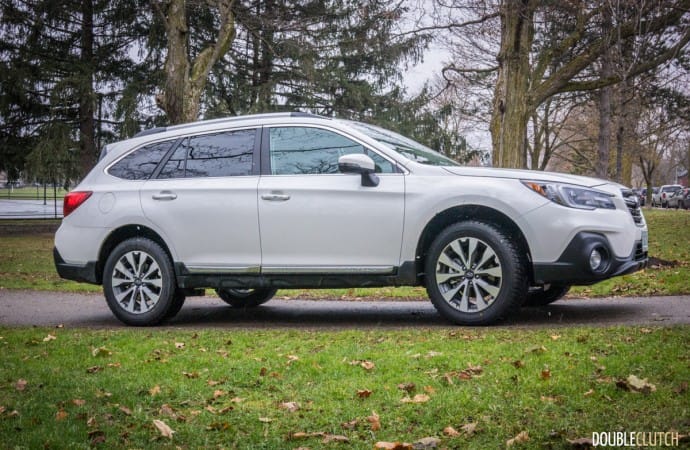 Regardless, the 2018 Subaru Outback 3.6R Premier remains a sturdy competitor in this segment. I think I would like to see a turbo four-cylinder however, and perhaps a bit more connected road feel. The Forester XT would be my choice out of Subaru's lineup, but as a family travel vehicle, the Outback is still a solid option. I just can't help wishing that it was a little less SUV like, and more of a "Sport Utility Wagon". I'm hard on the Outback, because I want it to be good. It should be the dependable wagon we all deserve. With a few issues ironed out, I think the Outback could still be one of the best options in the segment, and might continue to be worthy of a getaway vehicle for good ol' Crocodile Dundee in the rough Australian Outback.
See Also:
2018 Subaru Forester XT Limited
2018 Volkswagen Tiguan Highline