While the premium sedan market is dwindling universally throughout North America as consumers shift to crossover sport utility vehicles, there are still a good amount of options out there for those who like their three-box configuration. The 2018 Genesis G80 5.0 Ultimate – the vehicle formerly known as the Hyundai Genesis Sedan – represents one of the current Korean contenders in the Canadian luxury car market. In being launched as Hyundai's luxury arm, they're doing things differently with a completely different business model compared to the traditional norm. Gone is the dealer network and bricks-and-mortar store, replaced by a full mobile concierge service from top to bottom.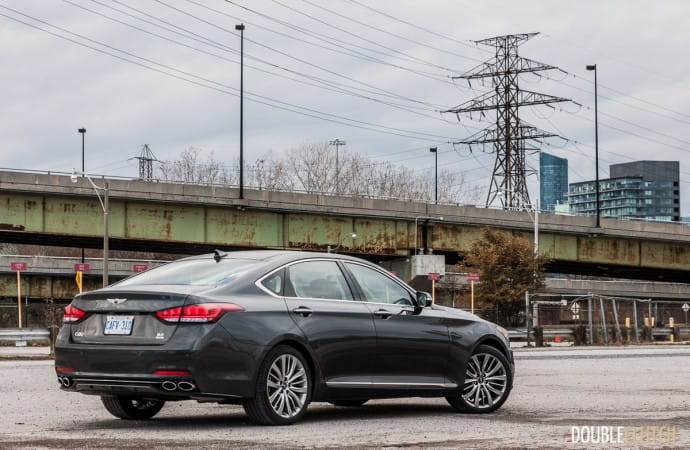 The Genesis At Home program brings sales and service directly to the customer, with product demonstrations at a home or office, as well as pick-up and drop-offs whenever service is required. It also includes a full warranty and all scheduled maintenance (excluding wear and tear) for five years or 100,000KM, whichever comes first. During service, a courtesy vehicle is left with the customer, and there are annual navigation updates offered free of charge.
The top-spec 2018 G80 5.0 Ultimate that was tested came in at a no-haggle $65,000 as-tested. Options and equipment are organized by trim level, and beyond interior and exterior colour choices, there are no further options to be had with the Ultimate: it's loaded to begin with. The press tester vehicle was finished in Himalayan Grey on the outside, and outfitted with a sexy Brown Nappa Leather Walnut interior. Also included are adaptive LED headlights that swivel with steering input, 19-inch alloy wheels with 245 and 275-section width front and rear tires, respectively, a micro-suede headliner, and a power rear sunshade.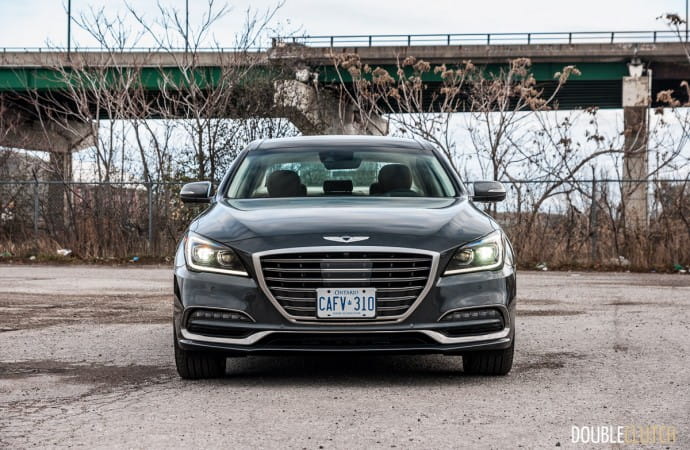 On the safety front, today's modern safety suite is all on board the G80, including forward collision warning with autonomous braking, a blind spot warning system, lane keeping assist, rear cross traffic alert, and adaptive cruise control with stop and go capability. The American Insurance Institute for Highway Safety (IIHS) has given any G80 equipped with the LED headlights a Top Safety Pick+ rating, which takes all the safety features into account in addition to their laboratory crash tests.
When first approaching the Genesis G80, the stunning build quality jumps out right away. While the DoubleClutch.ca Magazine editorial team gave the Genesis G90 3.3T (reviewed here) the Best Luxury Car award for 2017, the G80 isn't far behind, if at all, and is built to the same exacting standards. Panel gaps are extremely tight and there isn't a squeak or rattle to be found in the cabin. The doors open and close with a very satisfying thunk, and all touch interfaces (switches, handles, latches, etc.) have a nice heft and premium fuel to them. When Toyota decided to launch the Lexus brand in 1989 with bank-vault LS400, this level of build was what got them plenty of attention. The Genesis G80 draws parallels to this.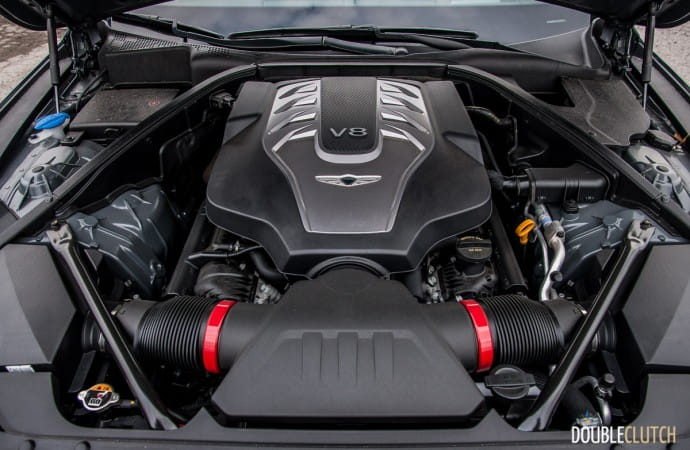 Powering the G80 5.0 Ultimate is a 5.0-litre V8 engine making 420 horsepower at 6,000RPM and 383 lb-ft of torque at 5,000RPM. Unlike other automakers, Genesis delivers as promised when it comes to displacement and cylinder count. There's no equivalent displacement with a turbo four substituting for a 5.0 here – it's the real deal. With direct fuel injection and all that displacement, throttle response is excellent, and handily beats out today's turbocharged powertrains that need a split second for the engine to come onto boil. While that would have been normal ten to fifteen years ago, in 2018, instant response is a thing of luxury. The V8 also has a great soundtrack as it pulls through the rev range, and midrange punch is as delicious as it is addictive.
Coupled to the big V8 is an in-house designed eight-speed automatic transmission and "H-Trac" all-wheel drive. Even though much of the industry uses an Aisin or ZF-sourced gearbox for longitudinal applications, this Korean unit manages to be a complete surprise – it's one of the most poised transmissions for moving around town, and shifts fantastically when pushed hard. With the torque converter locking up very early on in acceleration, shifts are immediate and direct. While the ZF transmission specifically used in BMWs is the king for full bore performance driving, Genesis' effort is wonderful in a luxurious driving scenario.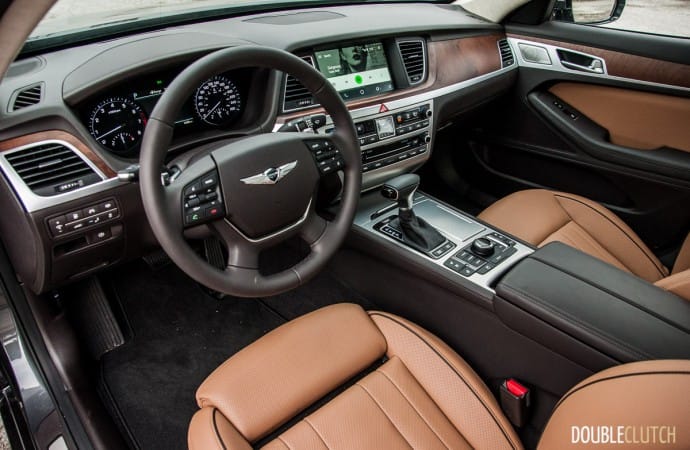 Given the large engine, fuel economy does take a hit, but for a luxury buyer, this could be more than worth it given how good the V8 feels. City economy is rated at 17.3L/100KM, and highway consumption is pegged at 10.5L/100km. Despite testing in colder winter weather, observed fuel economy over a week on test was 11.2L/100KM with a slant towards highway driving. Fuel capacity is about 77 litres, and premium octane is required.
In the twisties, the Genesis G80 holds its own for a cushy luxury car. Ride quality is supple and well-damped, and it feels as a luxury car should. The G80 settles right down at highway speeds, which makes long distance driving one of its strongest suits. At its $65,000 price tag, it still easily rivals cars that approach the six figure mark. Both myself and editor-in-chief Adi Desai are Lexus LS owners (a 2009 460 and 1999 400, respectively), and it speaks volumes when the Genesis can be talked about in the same sentence.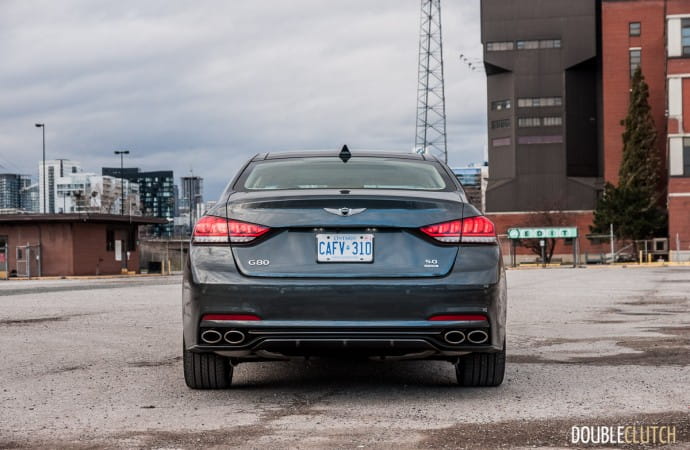 With plenty of steel and noise isolation, the G80 tips the scales at a curb weight of 2,139 kilograms (4,716 pounds). Although it's certainly a porker (and the fuel economy scores seem to agree), most will be fooled into thinking it's a much lighter car than it actually is. Traversing the highway ramps in and around Toronto demonstrated the effort that Genesis put into their suspension. With a multi-link configuration all around, the front actually resembles something more like the double wishbone setups usually reserved for performance cars. The difference here is the inclusion of two upper ball joints (thereby making it a multi-link) for even better suspension geometry in all conditions.
In terms of inputs, steering is light and transmits little to no feedback for handling, but it's precise enough and the G80 maneuvers well in any sort of space. The brake pedal is firm and easy to modulate, allowing for confident stops from any speed. The all-wheel drive system is seamless and still allows for plenty of rear-drive feel. Put the hammer down in a straight line, however, and the Genny gets going very quickly, regardless of wet, dry, or wintery weather.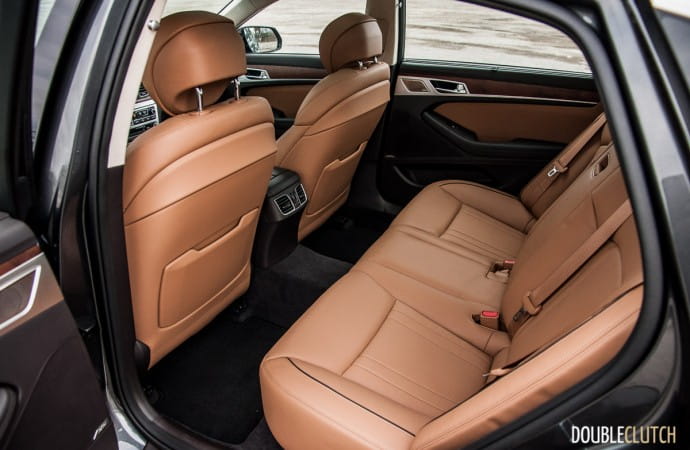 Inside the Genesis G80 Ultimate, the build quality is as impeccable as is it is on the outside. The Brown Nappa Leather Walnut interior is the shade to have – the open pore wood feels very posh, and the satin aluminum finish around the centre stack and on the door panels contrasts the brown leather to make it all pleasing to the eye. While this trim does look good, one main gripe concerns the textured silver trim around the shifter and cup holder area. It's a bit chintzy here, and feels out of place. Adding more smooth satin aluminum should help here. With regards to seating, occupants will find themselves getting comfortable fairly easily, and the driver has an added perk with an adjustable thigh cushion. The gauge cluster is bright and easy to read, with various information and configuration options controlled on right side steering wheel buttons.
For smartphone connectivity and multimedia, the Genesis also garners good marks, with Android Auto and Apple CarPlay compatibility. The menus and interface systems are well laid out in general, and major kudos go to having duplicated controls for common functions like navigation. Both the touch screen and centre console dials and buttons can be used – the touch screen is easier to use when stationary, and when moving, the dials and buttons allow drivers to keep their eyes on the road. Unfortunately, the four dials for the dual zone climate control, volume control, and radio tuning are all the same size, making it very easy to accidentally grab and turn the wrong dial. That said, the Lexicon audio system is impressively good, immersing drivers and passengers with awesome clarity and detail.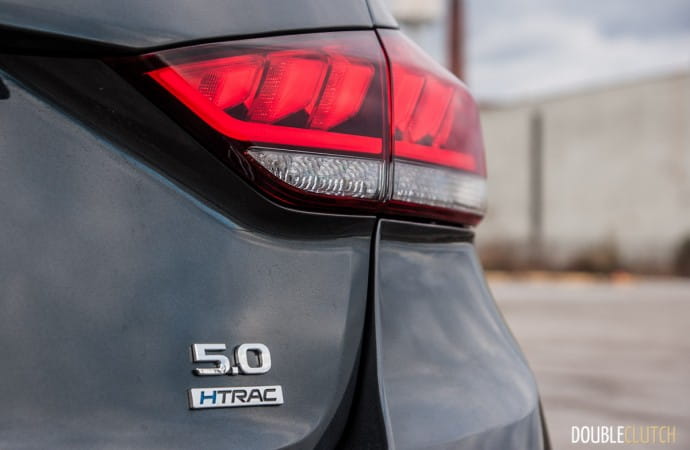 Amongst its peers, the G80 is an amazing value and handily beats out cars like the Infiniti Q50 Red Sport 400, Acura TLX, and BMW 330i xDrive. In addition, it also gives a great run for the money when compared to the considerably more expensive and lower-powered Lexus GS350, Mercedes-Benz E300, Audi A6, and BMW 530i. To save a little bit of coin, the Genesis G80 Sport with a 3.3-litre turbocharged V6 is also a great (and more fuel efficient) option at $62,000. Its big brother G90 won our "Best Luxury Car" honours recently, which was pretty unexpected given that it's often a German or Japanese sedan that takes this crown.
Suffice to say, the 2018 Genesis G80 5.0 Ultimate has been one of the most pleasant surprises in recent memory. It'll be interesting to see how the Genesis At Home style of car buying will do, and fortunately, Genesis have good products that they can stand behind. Even though the G80 has been around since the 2015 model year as the Hyundai Genesis), it more than holds its own in its price point in the present day. With every automaker chasing turbochargers and lower cylinder counts, the G80 is one of the last remaining ways to get a sweet-singing V8 engine. The Koreans have hit it out of the park with this one!
See Also: