I don't like big vehicles. This is a well-known fact among our team. Large vehicles have their place obviously, and are mandatory for many, but I don't like the idea of owning a large SUV or truck for commuting. They are unnecessary; poor on fuel, difficult to park, annoying to manoeuvre, and make the roads a bit less safe for people who decide to commute in tiny compacts. That said, the time of reckoning was upon me, as the 2018 Volkswagen Atlas Exceline V6 was in my driveway for two snowy weeks.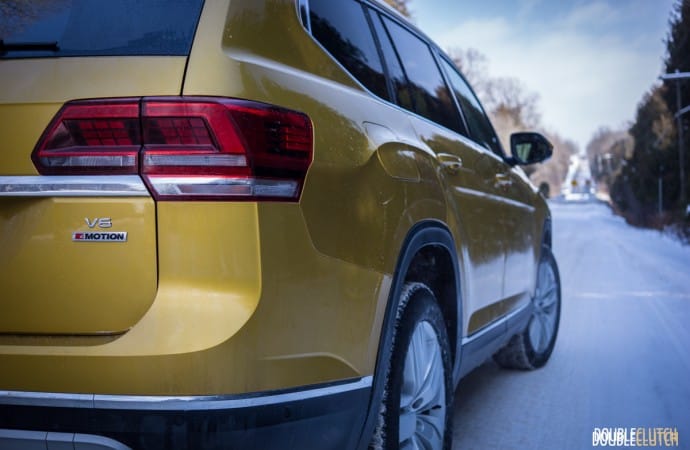 There are nicer SUVs out there, like the Land Rover Discovery (reviewed here), but that off-roader pushed $100,000. This Atlas starts at $35,690 for the front-drive 2.0L turbo model, and $39,790 for the 4MOTION six-cylinder. This represents staggering value for a vehicle with seven seats, an incredibly comfortable interior, and generous storage space. My tester was in Exceline trim and came in at $52,540 – this is still good value. After spending hours arguing about how no one needs a big vehicle, I spent about ten minutes driving the Atlas, poured myself a glass of milk, got out a knife and fork, and began reluctantly eating my words.
First and foremost, the thing that caught my attention was the space. The Atlas' cabin is a cavern. Huge amounts of headroom, knee room, and shoulder room mean that taller folks can easily and comfortably fit. In fact, I grabbed my father, who is 6'7 himself, and even with the large panoramic sunroof, he still had ample headroom and more than enough space for his limbs.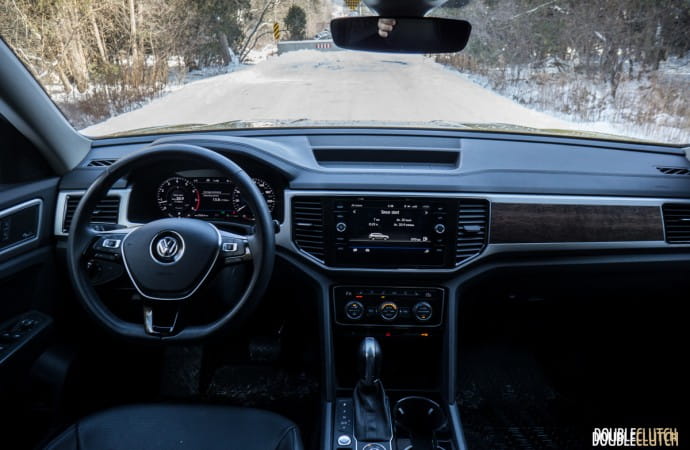 The seats are wide, and heated and cooled on this trim level. Not once during my two-week stint did I ever get a sore back or wish for the journey to be over. I actually felt rather small inside the Atlas. This translated to a feeling of safety. Being big, sitting high and having lots of crumple zones will help sell to those who aim to make themselves feel secure when carting around their respective families.
If you choose the upper range model, you get the 3.6L VR6, which pumps out a healthy 276 horsepower and 266 lb-ft. of torque. This is more than enough for scooting around town and merging into traffic. The Atlas accelerates briskly with a nice VR6 exhaust note, and I never wished for more torque when I was just putting around town. It doesn't present much more power or torque than the 2.0T available on lower trim levels, but the bigger six cylinder engine also gets a higher towing capacity; up to 5,000lb. versus 2000 for the 2.0T. If you plan on towing the family boat, you will need the bigger engine.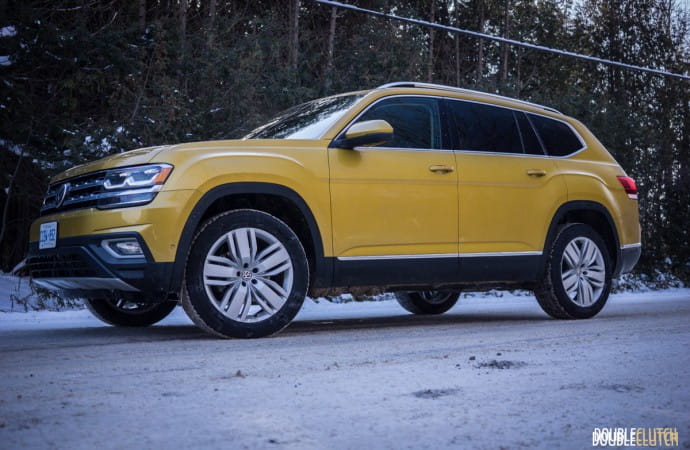 In the Exceline trim with the six-cylinder engine, power is delivered to the wheels through Volkswagen's 4MOTION all wheel drive system. I found it to be very capable of moving the Atlas around, but it seemed occasionally reluctant to allow more torque to go to the rear wheels. I never got stuck, or ever felt the scary understeer that you sometimes get in front-drive vehicles even in the worst of the snowfalls. In fact, the Atlas was happy to tractor on through some pretty deep white stuff.
The interior is appointed nicely if not memorably; typically German. It's clearly laid out, no fancy flourishes, and nothing over the top. The materials are decent, fit and finish is typically excellent, and there is lots of space for storage. The Atlas fulfils its duty as a practical family vehicle. The steering wheel is a good size and wrapped in lovely Nappa leather, and the gauge cluster in the Exceline trim is a nice digital display.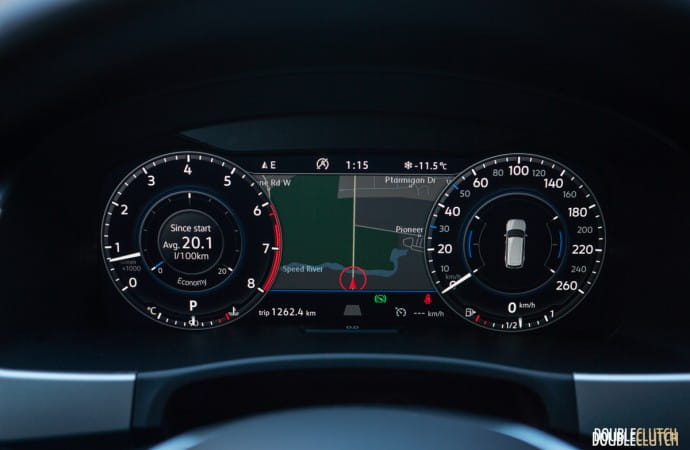 This gauge cluster is fully customizable (if not all that easy to customize), and capable of displaying any and all pertinent vehicle information in one place. You can even pull up the navigation map in between the speedometer and tachometer. The catch is that you can't get this display on the lower trim levels. This is fine, because the regular analogue gauges aren't exactly hard to look at.
Cargo space on the Atlas is a very strong point. The second and third row seats fold flat easily allowing for a very large amount of space if needed. Even with all of the rear seats in the upright position, thankfully, there is still a fair amount of room in the rear hatch making it still useful for hauling things if you stuffed some children in the third row. This is something that more premium offerings like the Land Rover Discovery don't offer.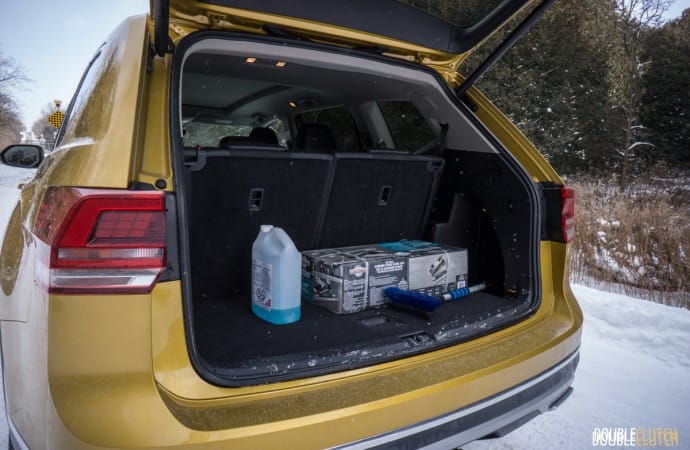 Piloting the Atlas is simple, as  VW did a good job of making the SUV feel manoeuvrable. The steering is light and the body is well controlled even in faster corners. There is some feedback that comes through the steering wheel; and I always felt in control of the vehicle. The Atlas comes with several driving modes including a "Snow" mode and an "Off-Road" mode. These modes alter parameters in the Haldex all-wheel-drive system and how the drivetrain reacts to inputs.
The Atlas seemed competent enough in "Normal" mode in the snow that I didn't bother using the various settings. You can also choose between "Sport", "Eco", and "Custom", the last of which allows the driver to set various parameters to toggle the vehicle's behaviour. Each of the modes does what you would expect, but my favourite part was said "Custom" mode, in which I set the Atlas' steering to "Sport" and everything else to "Normal". This added some much-needed weight to the helm in my everyday driving situations.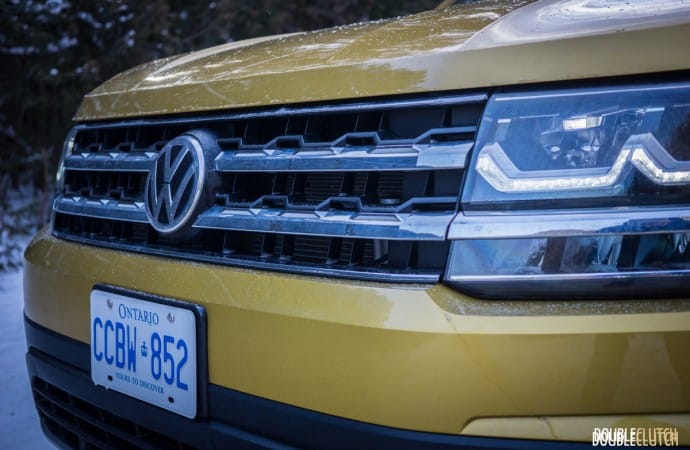 Fuel economy was acceptable, but not fantastic. I averaged around 12L/100km when putting around the city and the country, but got just around 10L/100km when the highway was involved. The point is that barring a few very minor issues, I loved driving the 2018 Volkswagen Atlas Execline V6. In fact, I looked forward to driving it. It was large, comfortable, safe, predictable, and helpful. Now that I think of it, it was kind of like a large teddy bear. Yes; that's what it was, a big ol' teddy bear for a very reasonable price.
See Also:
2018 Jeep Grand Cherokee Summit