In the compact luxury segment, the sporty offerings from Germany have been sitting atop a pedestal for quite some time now. The Lexus IS has been updated in the last little bit, but the Volvo S60 and Acura TLX are all but forgotten choices. For 2016, the Brits launched their spiritual successor to the equally forgotten X-Type, and we came away liking it quite a bit. Charming and efficient, we decided to sample the 2018 Jaguar XE 20d AWD for a holiday getaway to our nation's capital.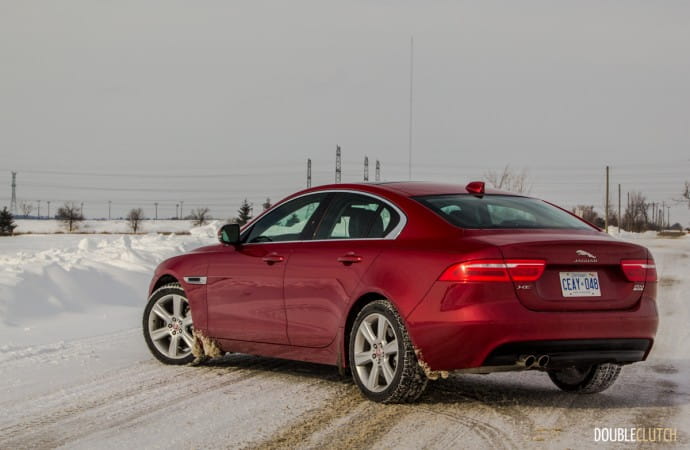 What seriously differentiates the XE from nearly everything in its segment is the powertrain. Only for 2018 has a conventional gasoline engine shown up on the entry-level model; prior to this the less-expensive XE made do with this delicious 2.0L turbocharged diesel offering. Now that Mercedes-Benz has announced the end of diesel in the North American lineup, and Audi's is nowhere to be seen post-dieselgate scandal, the sole other automaker that offers this option is BMW.
Albeit slightly lazy when compared to the supercharged V6 in the XE R-Sport (reviewed here), the XE 20d's engine is refined and confident, sending 180 horsepower at 4,00RPM and a generous 318 lb-ft. of torque between 1,750 and 2,500RPM. This diesel is part of Jaguar Land Rover's "Ingenium" family, and allows the XE to sprint to 100 km/h in 7.9 seconds. Granted, this isn't particularly quick, but after spending about 1,200km behind the wheel, it becomes evident that this is definitely the motor to opt for.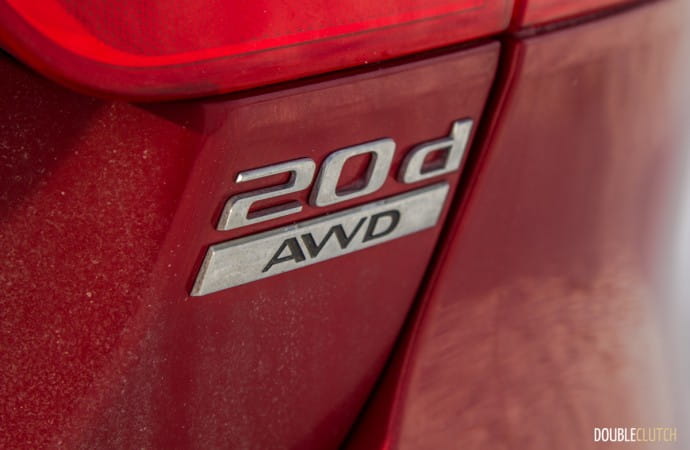 Torque delivery comes on early and strong, and power is effortless. The ZF-built eight-speed automatic never needs to hunt for gears, always knowing exactly where to be. Refinement is definitely up to par with the other players in the segment, making note that the BMW 330i (reviewed here) is almost just as noisy from outside, if not moreso, thanks to its direct injection "clatter" commonly exhibited in modern four-cylinders. The XE is insulated well, meaning not much of this noise makes its way to the cabin, but when cruising along at highway speeds, a faint but present rumble is heard from the engine bay.
All Canadian XE models come standard with all-wheel-drive, which also has a brake-based torque vectoring system. In typical driving, 90% of power is sent to the rear, but Jaguar's system is able to send up to 90% of available torque to the front wheels as well, should the need arise. Our test vehicle was also equipped with winter tires, and we had the chance to experience some deep snow conditions, which it handled without issue. Jaguar also claims that the XE has close to 50/50 weight distribution, which makes for a very potent chassis, and this becomes evident when putting the XE through corners.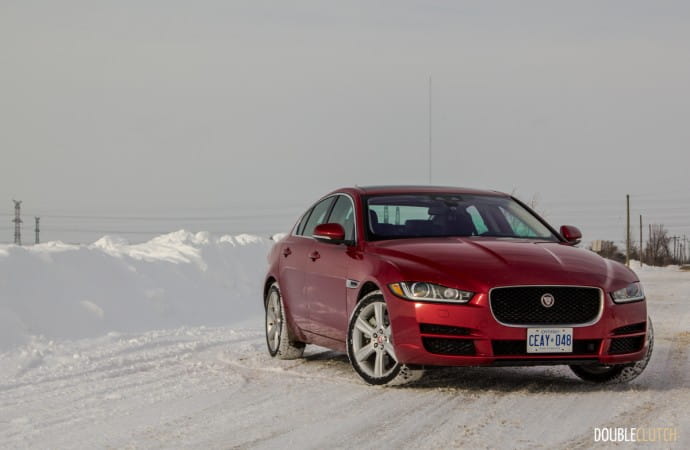 Steering is well weighted and has great on-center feel, but give it a challenge and the car responds immediately. It may not exhibit as much analog feel as hydraulic racks from the past, but the XE is definitely up there with the best with regards to handling within its segment. Even in this relatively-base trim test vehicle, a drive mode selector allows you to set the car's personality from a variety of presets, including "Dynamic", "Eco", and a dedicated poor weather setting.
As with any diesel vehicle, the biggest advantage here is the overall fuel savings. The last supercharged XE I tested returned an average of 10.2L/100km in conservative driving. This one is rated for 7.8L/100km city and 5.8L/100km highway. A road trip to Ottawa resulted in 6.0L/100km in very cold temperatures, and after some shuffling around the city for another few days, the XE humbly sipped 6.5L/100km. The relatively small 53L tank isn't really an issue when real-world range is over 800km.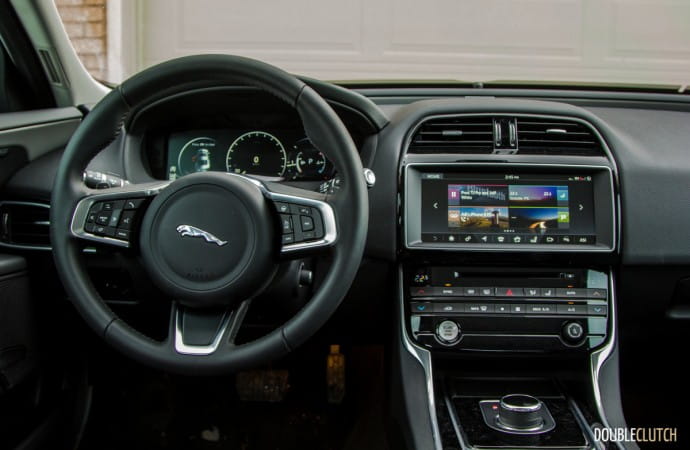 There are some challenges with the XE's interior, however, and they tend to exaggerate themselves during the colder months. The cabin is visually very nice to look at and all of the materials also feel upscale and appropriate for a luxury sedan. The InControl Touch Pro system with its 10.2" screen is vastly improved over previous examples. It's not quite as crisp as the latest Pro Duo version in the Range Rover Velar (reviewed here), but it's only a matter of time unitl it gets there. The Meridian system is excellent, even the 380W entry-level system in this car has plenty of clarity. Those wanting a bit extra can opt for a 17-speaker variant in higher trim levels.
The problem lies in the fact that it takes one or two extra steps to get into frequently used commands, such as the heated seats. In order to turn them on, you must press a button shaped like a seat, which then summons a menu on the touchscreen that you then must touch to turn on the heaters on the desired setting. Of course, the system lags in frigid weather as any system would, so it takes longer than you'd like. Compound this with the fact that the touchscreen won't respond to your finger if you're wearing gloves, so now your hands will be cold while you fiddle with it. A dedicated button for either seat would solve this very easily. On the plus side, the heated steering wheel is one of the warmest we have ever experienced.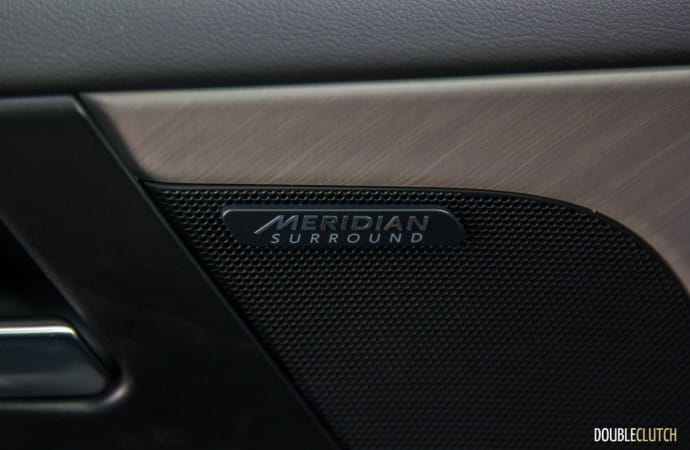 At its entry-level price point, the Jaguar XE starts at $43,900, and an upgrade to the diesel begins at $45,900. Our XE Prestige came standard with upgraded Taurus leather seats, navigation, and a bit more, starting at $50,200. A Vision Pack (Xenon headlights, autonomous emergency braking, lane departure warning) adds $2,610, and a Tech Pack (12.3" digital instrument cluster, Meridian surround sound, Navigation Pro, WiFi hotspot) adds $3,170. Factor in a $410 heated windshield, and the total comes to just over $56,000 before taxes and fees.
The way I see it; the 2018 Jaguar XE 20d AWD is a solid contender against one true opponent, the BMW 328d xDrive. With regards to dynamics, the XE is more planted and feels better overall. The one challenge that we can foresee is the typical Jaguar electrical issues that may plague overall long-term reliability. Time will tell whether or not the current, albeit beautiful crop of Jaguars will prove better than their predecessors. For now, the XE is one cool cat, and certainly a viable choice worthy of the Queen's crown.
See Also:
2017 Jaguar XE 35t R-Sport AWD