There comes a time in every car enthusiast's life when you just need to escape from the sporty cars, and drive something that gets you where you want in the most comfortable manner possible. You want something low-key, but uncompromisingly refined and elegant. The good news is, there are plenty of cars to choose from that fit this description; but if you've got a little extra cash to spend, and don't want to be the fourth Mercedes-Benz or BMW sedan at every intersection in the city, then the 2018 Volvo S90 T6 Inscription might be just what you've ordered. Volvo has been on a roll lately and has become of the more interesting brands simply by sticking to their own style and direction.
The S90 (reviewed here) is Volvo's flagship sedan and it definitely looks the part from any angle. Long, low, swooping lines, perfect proportions and impeccable exterior fit and finish make the S90 a really impressive car to look at. In true Volvo fashion though, its beauty is subtle and refined. The test car is a top of the line Inscription model so it comes with some subtle skirting and a touch of chrome trim; this particular car is optioned with the bigger and beautiful 20" wheels over the standard Inscription 19s and finished in Crystal White Metallic.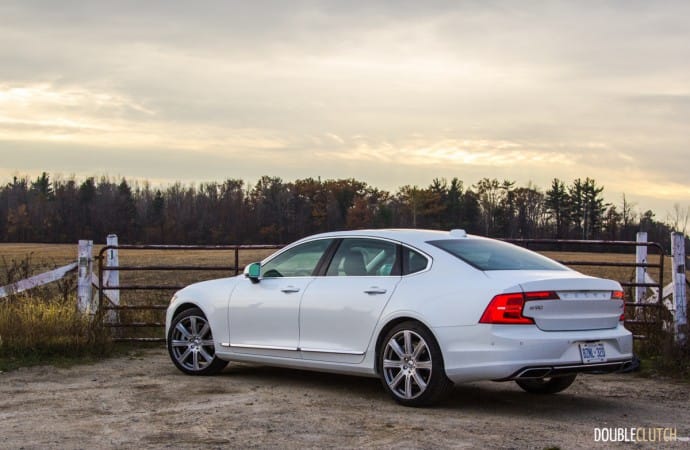 That same attention to detail and refinement is carried into the interior of the new S90, which is a really nice place to spend a long commute. As expected, the perforated leather seats are extremely comfortable; the low slung driving position helps prevent fatigue, and quite literally every control button, switch or knob that you touch feels great, right down to the window switches or the aluminium twist knobs on the individual dash vents to control airflow. Materials just about everywhere inside the S90 are top-notch, from the leather wrapped dashboard and door panels, to the open pore Flame Birch wood inlays and precision machined aluminum accenting, it's all gorgeous.
The one letdown from a material standpoint is the headliner, which still uses the same low-rent tan fabric that you can find in almost any mid-range sedan today. For $250 you can upgrade it to a charcoal color, which will minimize its impact, or opting for the $3,500 Luxury package swaps it for a Nubuck Leather unit which would be much more appropriate.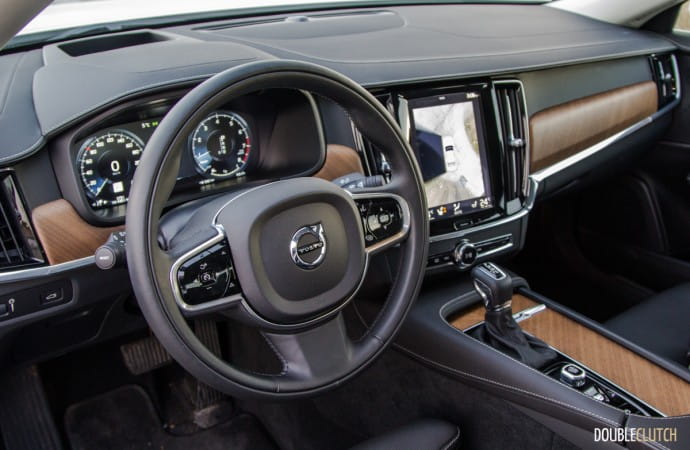 Despite being gorgeous, the S90's interior is not all form over function as it is actually one of the better laid-out and practical interiors of the segment. Thanks to the new car's longer wheelbase, rear leg room is jokingly large and three adults could comfortably spread out on the rear bench. Up front there is plenty of storage for daily items, and the cup holder area hidden beneath a wood slider in the centre console is very well designed to hold cups and just about anything else you might have with you.
Volvo's Sensus infotainment system looks and works similarly to a built in iPad, with crisp graphics and minimal lag-time between screens. It's much more intuitive than similar systems from competitors, say Cadillac's CUE or the Ford SYNC system. That said, it's not perfect with its biggest fault being slow load times upon initial start-up; better hope you like the song playing when you start the car, because it'll be a minute or two before you can change it via the touchscreen.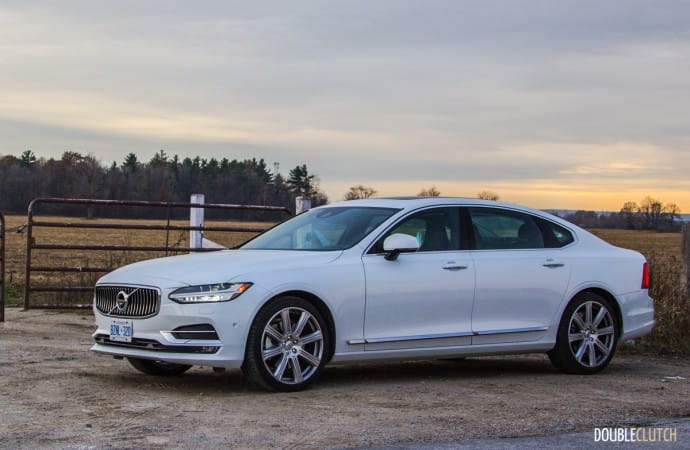 Being a flagship luxury sedan, the S90 can be had with just about every luxury feature you can imagine. Fortunately though, it can be optioned without all the excess for an aggressive starting price of $54,950 for a Momentum trim car. Stepping up to the Inscription like the test car starts at $64,550, and as-tested our car came to $72,250 with Vision, Climate and Convenience packages all ticked off. Curiously, the only package not optioned on the test car is the $3,500 Luxury package which would've gotten the nice leather headliner, massaging front seats and ventilated rear seats.
The S90 also offers a few nice little touches that actually make the car feel just a bit more special when you use them. The trunk lid has a common auto close button, but also an auto close and lock button, so when the trunk closes it also locks the full car, so convenient when your arms are full of stuff. The windshield washers are built into the wiper arms so they don't spray the windshield, rather just wet it immediately ahead of the blades, a perfectly clean windshield with no messy spray. The passenger side rear seat also has the ability to control all the windows in the car, the power sunshades and the position of the front passenger seat – great if you're driving around a political dictator, less great if your kids are back there.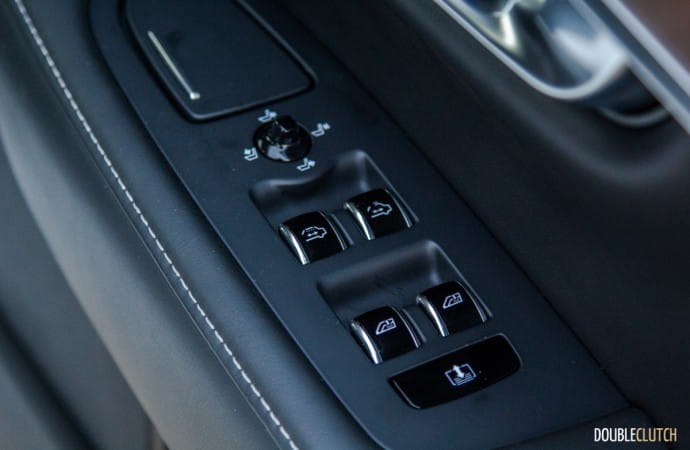 It looks and feels great inside and out, but the kicker with the Volvo S90 is that it actually does drive as well as it looks. Our test car came with the T6 AWD driveline option, meaning it gets the turbocharged and supercharged 2.0 four-cylinder pumping out 316 horsepower at 5,700RPM and 295lb-ft. of torque at a low 2,200RPM. That down low torque doesn't let up either, keeping the little 2.0L pulling like a freight train right up to highway speeds. Merging is a blast, high speed passing a breeze, and most amazing of all is that the engine does it all without so much as an audible whimper or groan once warm. As a die-hard fan of lazy, smooth big displacement engines, this engine is an epiphany in the S90; delivering the smoothness and power that a car of this caliber commands.
Even better news, all the effort is worth it because the car gets phenomenal fuel economy, with numbers near 7.5L/100km on the highway and an average of 10.1L/100kms after a full week of rush hour commuting in winter temperatures. That is a great number for a full-size AWD sedan, and significantly better than the V6-powered competitors can pull. It does however, require premium fuel, but if that's an issue you're shopping the wrong segment.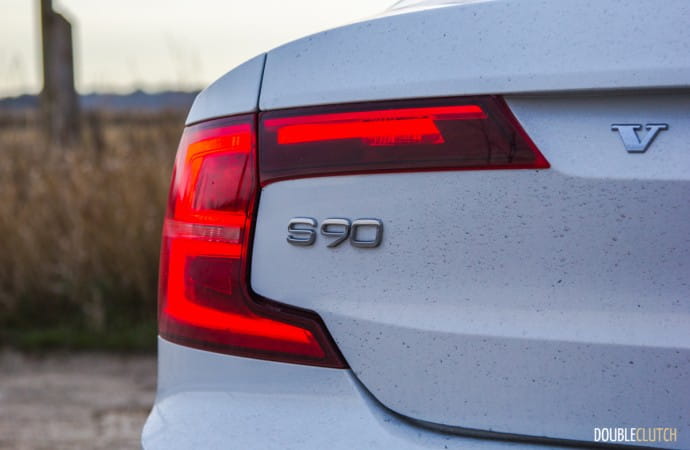 Not surprisingly at this point, the ride and handling in the S90 is bang-on too; it's a luxury car first and foremost, just as it should be, so there is no harshness for the sake of being sporty. The ride is refined and always perfectly composed, but definitely not too soft either. The S90 feels like it can at least hang with the likes of BMW and Audi on some spirited corners, even though the steering in the Volvo is lighter and lacks the feedback that you would want if performance driving was the intent.
The 2018 Volvo S90 T6 Inscription offers a level of luxury and refinement that is extremely hard to find within this price bracket. Close competitors like the Cadillac CT6 (reviewed here) or the Lincoln Continental will need to step-up their game to go head-to-head with the S90. Best of all though, the S90 is true to its intent, it is flagship luxury, and it lets you know and feel that with every trip.
See Also:
First Drive: 2018 Volvo S90 T8