Kia has thrown the gauntlet down on refined simplicity.
I seem to have a wonderful trend going on with blue subcompact hatchbacks. I own one, recently tested the 2018 Toyota Yaris (reviewed here) and now here I am with the 2018 Kia Rio LX+ 5-door, with an old fashioned manual transmission! From your daily to commute to work, the usual grocery haul, transporting furniture or going on a camping trip, there's nothing out of the norm that a hatchback can't accomplish. With today's wide selection of hatches such as the aforementioned Yaris ($18,510), the Honda Fit ($20,313) and the Ford Fiesta ($17,988), my 2018 Kia Rio LX+ 5-door ($16,595) has a lot of competition to fend off.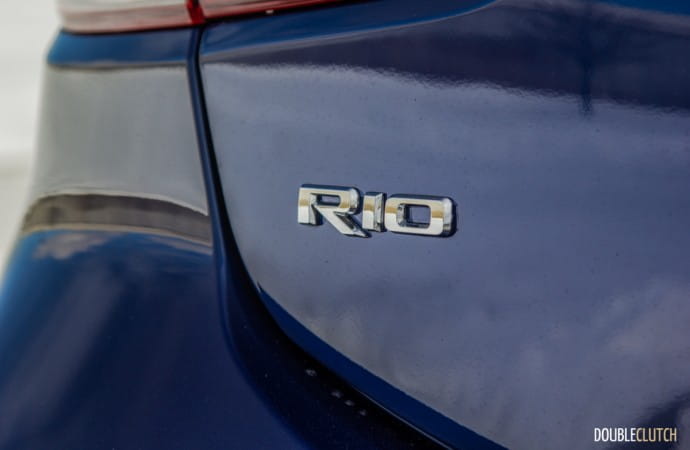 Kia's game plan with the Rio is keep it simple, keep it useful and discard anything else you don't really need or wouldn't miss on a daily basis. From the outside, the Rio is effectively the same in size as its competition. Looks wise, it's a tight little package with front grille and bumper assembly that's common across the Kia family lineup. Nothing outlandish, and in fact, somewhat conservative given that it doesn't have the crazy angles or sharp edges that the others use to give it an aggressive look but without becoming round and bubbly. The front flows quite nicely into the back and the whole car looks quite good – a lovechild between German design and Japanese flair.
When I first went to pick up the car, I had to do it fairly late at night and it was starting to get quite cold with the onset of winter. To my surprise, as I just rolled into the parking lot whilst pressing the lock button the Rio's key fob, it chirped at me from almost 200 meters away. Those of you who have as much trouble as I do with massive mall lots will certainly appreciate this range on the key fob. Upon getting in, you will be greeted with a classic dash layout. Like most cars, it has a sliver of a LCD screen nestled between the dials to display the trip computer and fuel economy. All the basics and nothing more, cleanly within your sight.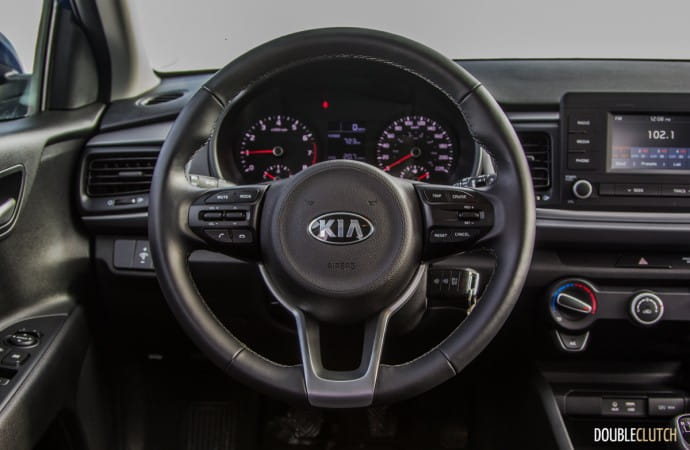 The seats are quite comfortable with little to no side bolstering, but thanks to way the seat wedges you between the door sill and the armrest to your right, it really isn't missed. Standard manual seat adjustments are here: slide, tilt and lift, and combine this with a tilt capable steering wheel (alas it does not telescope), should allow for almost anyone to find an acceptable seating position. To your right is a rather monolithic infotainment unit with a 5″ touchscreen flanked by a variety of commonly used buttons, along with knobs for volume and tuning. A reverse camera is standard, which is an excellent addition. Satellite radio is available on top of the standard AM/FM, Bluetooth and USB media sources, but on board navigation and Apple CarPlay/Android Auto are only available in the EX trim or higher.
The HVAC control knobs are nice, chunky and widely spaced out so that even when equipped with mitts, most hands should be able to easily adjust the settings . Compounding this wonderfully thought out functionality for colder climates, are the heated seats which have three settings and come on very strongly. That mundane steering wheel I talked about earlier? It comes with heat. Standard. Kia's engineers may have carved out what you could do without but in return traded some back in goods you will appreciate.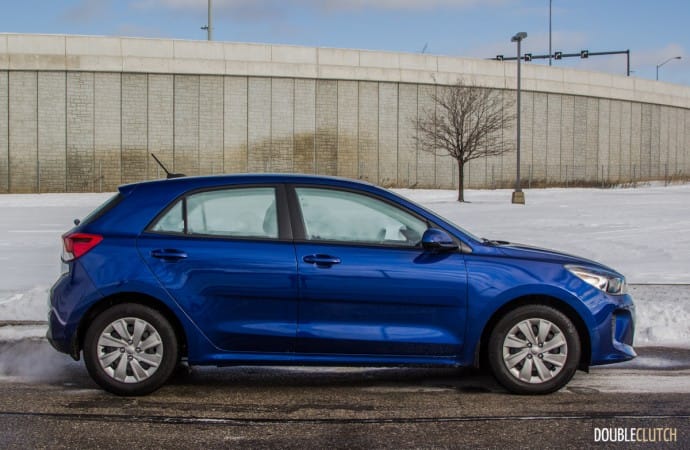 Heating up  the streak of brilliant engineering is the 1.6 liter inline four-cylinder engine. Putting out a healthy 130 horsepower at 6,300RPM with 119 lb-ft. of torque at 4,850RPM, it might seem to make the Rio a bit of revvy car. Thanks to the adeptly-ratioed gearing in this manual transmission tester, the car gets up to its useful powerband very quickly and in a linear, smooth fashion. With most of my seat time being in the city but my mileage mostly on the highway, I managed to throw a decent mix of driving at the car. Even with this, my combined fuel economy for the week came in at a whopping 5.6L/100km which completely smashes the published numbers at 8.3L and 6.4L/100km (city and highway respectively).
The six-speed gear shifter falls to hand quite easily but the shape of knob does take some getting used to. Fifth and sixth gear feel particularly vague for some reason and there were a few moments where I had to make sure I was in the correct aisle. These are minor nitpicks in what is otherwise a pretty decent gearbox. Clutch uptake is very light, but yet the feel is still there and should allow for students of the third pedal to learn quite easily. Try to launch the car in hurry, and what appears to be a clutch delay valve will prevent you from doing so and likely cause a lurch. But with the amazing fuel economy to be had, why would you be doing this anyway?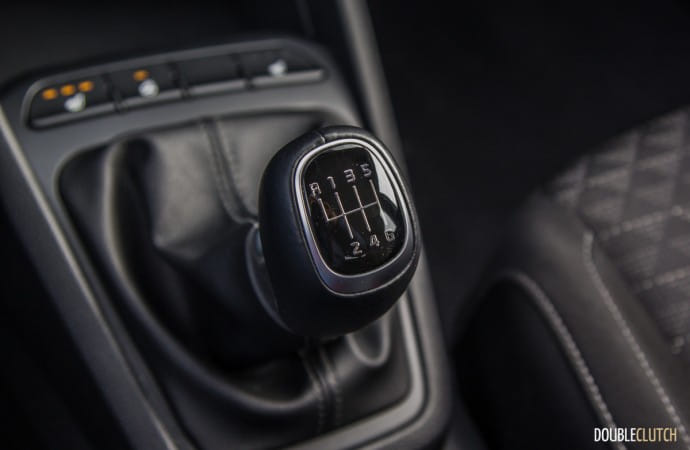 The greatest advantage of having such a small wheelbase and light weight (just over 2,800 lb.) often comes in the form of agility and the Rio plays this to good effect. With a supremely tight turning circle of roughly 33.5 feet, the Rio makes three-point turns and switchbacks a breeze. Throw in a suspension that is adequately damped yet mature enough to soak up bumps in the city, the Rio's ride is quite comfortable for a cruise yet inherently capable of tackling some of the best twists and turns without hassle. One might even glean a few grins along the way on highway on ramps or that back road. Sure, it's no Kia Stinger (reviewed here) but this is still a very fun and capable vehicle that is very affordable. Best of all, the ride is quiet and smooth, making a strong case that subcompacts don't necessarily have to be harsh and loud.
With a cavernous 493L of storage space behind the rear seats, the Rio will also be your best friend when it comes to carrying around the daily necessities. A smaller stroller will fit quite readily should you choose to expand the family. The 60/40 split folding rear seats will drop down to a nearly flat position to expand this storage room significantly. On the downside, in order to trade in for this space, no spare tire is offered in this vehicle but rather a tire repair kit so be warned.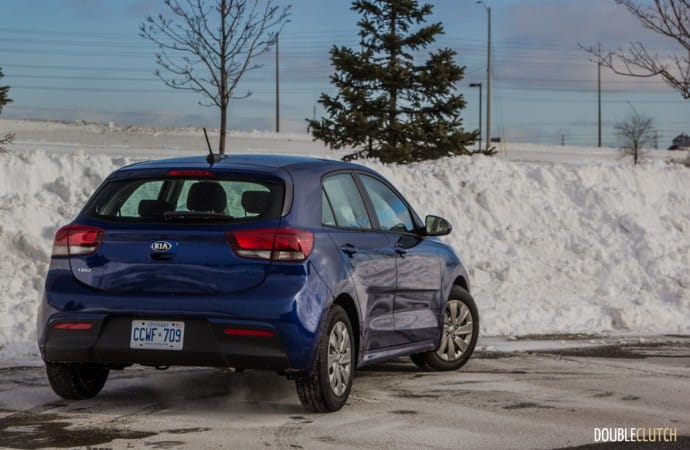 Whilst its competition offers active safety systems, this 2018 Kia Rio Rio LX+ 5-door offers comfort amenities instead and so far, my best-in-class real world fuel economy. For the frugal amongst us, these are tangible differences that make the difference year-round and rewards good driving manners. The Rio LX+ managed to surprise me on every turn, and as I dropped it back off at Kia, I found myself reminiscing how well it performed with such a light price tag. For those of you who have yet to give this diminutive yet delightful Korean Songpyeon (rice cake) a chance, I highly suggest it. You're missing out on what I would say is one of the best, if not the best, vehicles on the market for your dollar. Kia has thrown the gauntlet down on refined simplicity.
See Also: