The E-Pace is one of the quietest riding options in the segment, if not the quietest.
It's obvious that the compact SUV segment is absolutely on fire right now. This is where buyers are shopping, and competition continues to heat up. With the success of the larger F-Pace SUV, Jaguar has proven that they are serious about the crossover market too. Considering how disappointed I was by other players in the subcompact luxury crossover segment, my expectations for the 2018 Jaguar E-Pace P300 R-Dynamic were not high. In this case I am pleased to admit that I was wrong.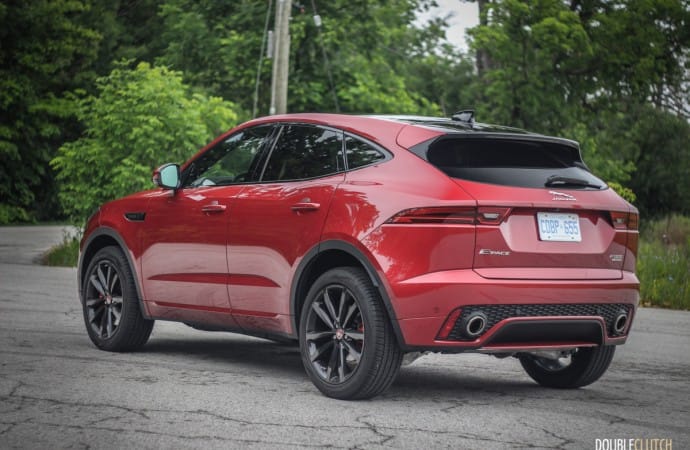 The E-Pace is generally in line with Jaguar's current design language, but rather than taking the key styling cues and dwarfing them, the designers have worked hard to get the proportions just right on this baby Jag. Swooping lines, a slightly bulged hood and a pair of large and real exhaust tips give the little crossover a muscular look. Our higher performance R-Dynamic HSE model tester also got a unique and more aggressive looking front fascia, and nice 20" black wheels.
The tester also featured the Black Exterior Package ($260). When the blackout package is paired with the Firenze Red metallic paint ($670) and red painted brake calipers ($510), the little SUV develops a really cohesive look that pairs well with its performance nature and adds to the overall premium feel.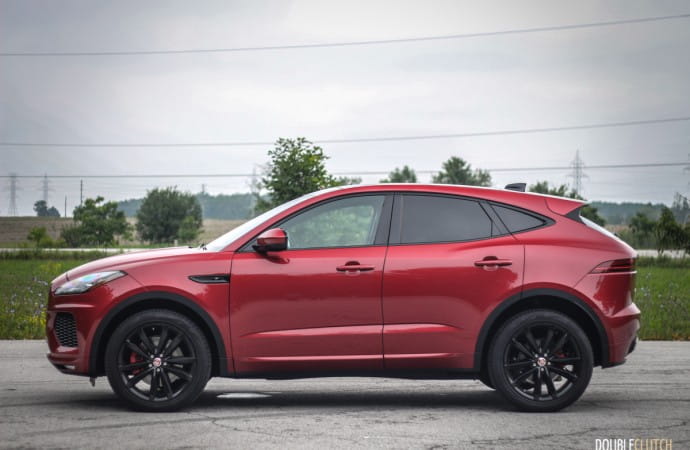 The interior is where the E-Pace really started to surprise though; with a starting price from $42,700 for a base model unit my expectation was that the E-Pace would have been built to hit that relatively aggressive price. Fit and finish inside the E-Pace is excellent, and Jaguar has made the extra efforts to make the space look and feel upscale enough to justify the brand. Admittedly, our tester was not a base model, but materials the door panels, center console and upper dashboard would be consistent throughout the line, and these are very respectable for the segment.
Things get even better when you start to add some options to make the interior really special; our tester came with upgraded Windsor leather seats available in Mars Red. The soft leather, bright red seats and accenting on the dash and door panels go a long way towards making the E-Pace feel like a proper Jaguar. There is also plenty of thick polished aluminum trim through the interior, extremely well done and not something I would have expected in the segment.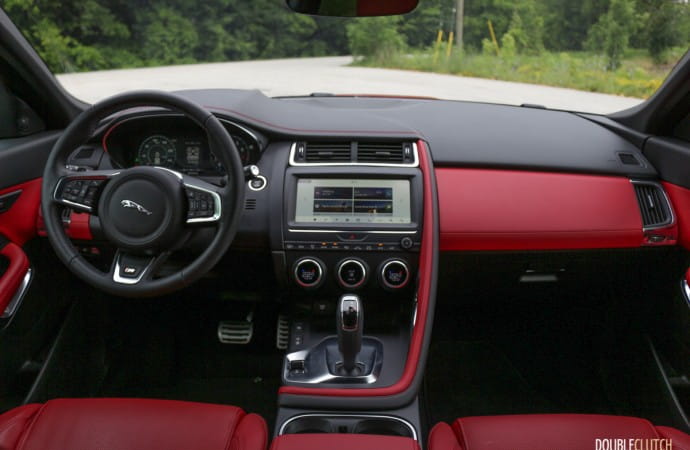 Interestingly, if you keep checking option boxes you can make the interior even nicer with a faux suede headliner ($1,020), a windshield projection heads-up display ($1,020) or ventilated seats ($1,330). What is just a bit odd though is that heated seats and steering wheel are actually optional in the E-Pace, unlike almost everything else in the segment where these are standard fare.
Aside from being very pleasant to look at, the interior is actually a very functional space, something that is particularly important in a segment frequently shopped by young families. The E-Pace boasts the largest cargo area in the segment, and with the rear seats upright it will easily handle a week's worth of groceries. Fold the split rear seats flat and the E-Pace reveals a versatile loading floor, handy enough for most household chores, including hauling home some antique furniture I happened to pick-up during my road test.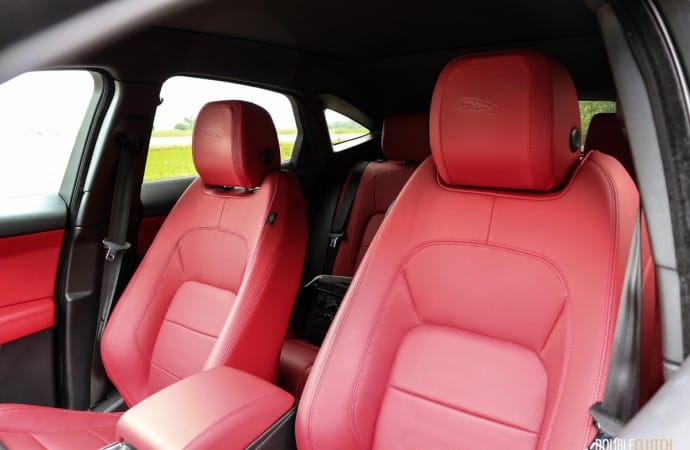 The rear seats will easily handle a baby seat, and offer plenty of leg and headroom, even for adults. Up front, the seats are plenty comfortable for longer trips, and a wide center console features two big side-by-side cup holders, a handy storage bin near the front and good sized storage under the center ar rest. Front doors have deep storage pockets as well, and the glove box is wide enough for an iPad. Our tester came with the optional ($1180) fixed glass panoramic roof. It has a motorized shade, a nice novelty, but without being able to open it for airflow, I preferred to keep the shade closed and the sun out.
More good news from inside, the ergonomics have been improved over the F-Pace (reviewed here). The infotainment system, called InControl Pro Touch and displayed on a 10" screen, is lag-free and gets the job done. It does not support Apple CarPlay or Android Auto, which is a miss in the E-Pace that targets a younger and more tech savvy demographic. The rest of the controls have been improved as well, such as the climate control knobs also doubling as the heated seat controls. It's all still a bit quirky, but once you're used to it, it's no longer a distraction like earlier iterations have been.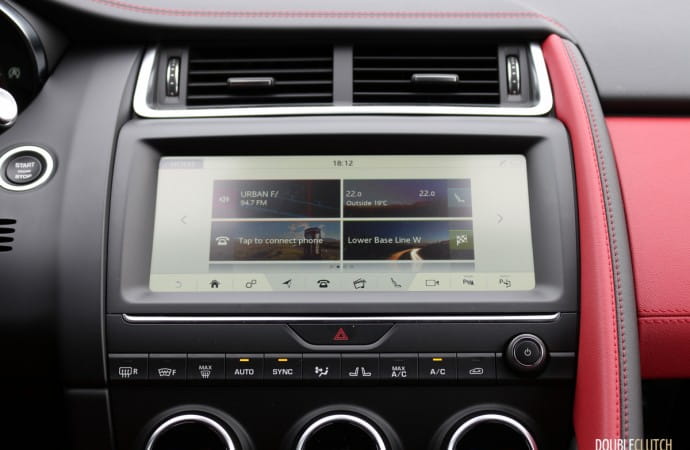 The E-Pace continues to impress from behind the wheel as well. The base engine for the E-Pace is a 2.0L turbocharged four-cylinder rated at 246 horsepower and 269 lb-ft. of torque at a shockingly low 1,200RPM. That sounds pretty good, until you hear that the R-Dynamic like our tester comes with a different 2.0L turbo rated at 296 horsepower and 295 lb-ft. of torque at 1,500RPM. With a rated 0-100km/h time of 6.4 seconds, this makes the R-Dynamic the performance choice in the segment. Turbo lag is well managed, and while it does exist, you need to pay close attention to notice it in the smallest Jaguar.
Power is driven to all four wheels through the P300 model's AWD system and comes on strong when asked to, making light work of highway passing or quick city maneuvers. The E-Pace uses the ZF nine-speed transmission that hasn't earned many fans in recent years. It has been dramatically improved in the Jag from how I remember it, but it does still lag and can get confused in stop and go traffic making for some jerkiness. If anything, the transmission is the E-Pace's greatest weak spot.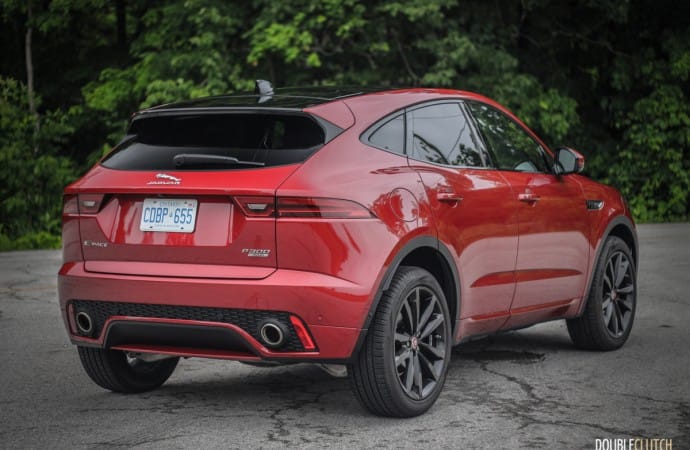 The E-Pace is one of the quietest riding options in the segment, if not the quietest. On most road surfaces it rides great; comfy and soft with just enough firmness to know that you're in control. It does get stiff, but only on the worst of potholed city streets, otherwise it's a great vehicle to melt away miles in comfort. Steering isn't exactly inspiring, but for a small crossover it is more engaging than most, and tipping the Jag into Sport mode does seem to tighten up response a bit.
The E-Pace is also surprisingly tidy through the corners with minimal body roll. On the right roads it can actually be fun to toss around, especially with nearly 300 lb-ft. of torque to pull through those corners with. I took the E-Pace for a trip out of town on a wet Friday night and despite the curvy backroads, darkness and rain, the AWD system held its own, even when pushed, never missing a beat or getting even a bit squirrelly on the slick roads.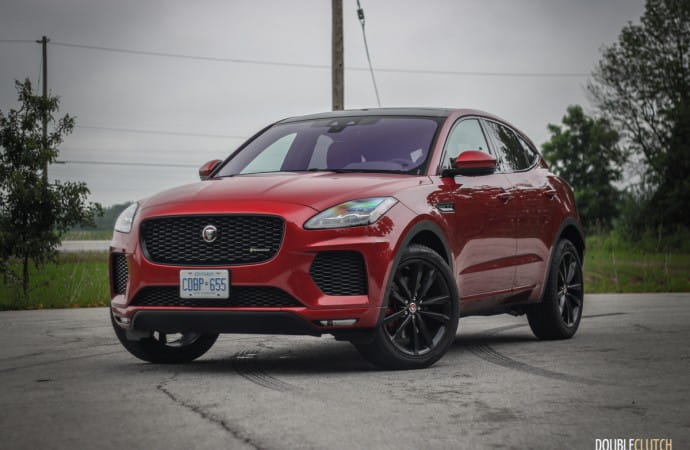 Thanks to the nine-speed, the E-Pace's cruising engine speed is kept low enough that despite its powerful little mill, it's possible to return some favorable fuel economy numbers. After a week's worth of rush hour commuting I observed 10.4L/100km. All things considered it's a solid number, but if fuel economy is your sole reason for shopping this segment, you'll likely find thriftier options – however nothing nearly this good to drive.
As mentioned, the E-Pace boasts a fairly aggressive starting price at $42,700 for a base model, or $51,000 for the hotter R-Dynamic. Both models come in three different trim levels, each with an increasing number of features and unique cosmetics. From there, you can choose from a host of stand-alone options and that's where it becomes really easy to rack up a significant tab. For example, our R-Dynamic HSE, the top trim, has a starting price of $57,300. Not bad for a top-trim, right?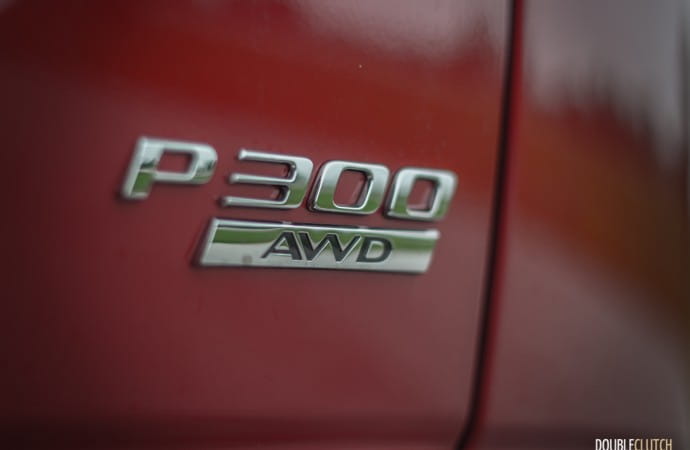 Well, our tester then has an additional $4,320 worth of stand-alone options, bringing the total to $61,620. That's a long way from the tempting $42,700 base price and it gets into well-established mid and full-size SUV territory. That said; if you're willing to live without some of the pricier options, there is value to be found here.
The 2018 Jaguar E-Pace P300 R-Dynamic proves that the compact crossover segment can be not only fun, but deliver something that is upscale feeling without the bulk and cost of a larger vehicle. If you're seeking something a bit different and engaging to drive, while retaining all the utility of a compact, then the E-Pace is the new entry that you must check out. I'd say it's a class leader, and one of the biggest surprises of the year.
See Also:
2018 Mercedes-Benz GLA 250 4MATIC