A practical commuter that can do double duty as a small family hauler or weekend getaway car
The Hyundai Elantra has been creating a lot of waves in the compact car segment, leading with solid build quality, high content, and low prices. The latest news from Hyundai is that they made an addition to the family in the form of this 2018 Elantra GT, an all-new five door hatchback with plenty of European flare and practicality. In fact, the Elantra GT was designed in Europe and its revised suspension has been tuned on the Nürburgring race circuit, so it has some actual Euro-credit. Tested here, this 2018 Hyundai Elantra GT GLS is squarely aimed at taking on the new Civic Hatchback (reviewed here) and Mazda3 Sport, so we commuted with it for a week to see how it would stack up.
The new Elantra GT doesn't necessarily look like the hatchback that many were expecting. In fact it more closely resembles a modern crossover, but with less ground clearance; which is fair because in many respects, that's exactly what the Elantra GT is. The look does work well and while not necessarily attention grabbing, the Elantra GT did garner a few positive comments. Proportions are all dead-on, the lines have a nice flow, and the Fiery Red paint on the test car was nicely complemented by a black roof panel and sporty 17" alloy wheels. The new cascading grill up front, flanked by LED daytime running lights and functional air curtains built into the fascia to direct air around the car give it a slightly aggressive look without being too over the top. Overall, it's a very agreeable looking little car.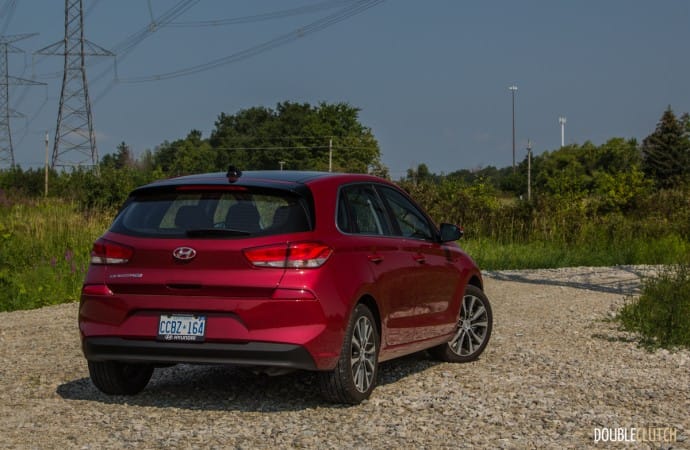 The interior of the Elantra GT is standard Hyundai fare – comfortable and highly functional, but the drab black and grey plastics does leave room for improvement. The cloth seats in the GLS trim level pictured are exceptionally comfortable, and there is plenty of storage up front, which can be a rare find in a compact car. The standard 8" touchscreen, complete with Android Auto and Apple CarPlay dominates the dash and does function quite well with menus that are both visually pleasing and easy to navigate. The screen is positioned so that driver and passenger can use it, but this does mean that the driver will need to stretch a bit to reach the extreme right side of the screen or the radio tuner knob.
The rear seating and cargo area is definitely more akin to a typical small crossover vehicle than a compact hatchback, with loads of head and leg room for adults, and an impressively large cargo area. Better yet, the 60/40 split rear bench folds flat for a huge loading area through the conveniently wide rear hatch. The Elantra GT had no problems carrying a couple of wheels, a convertible top frame and a big set of tools for a restoration project. Thanks to its lower ride height, loading and unloading is an absolute breeze.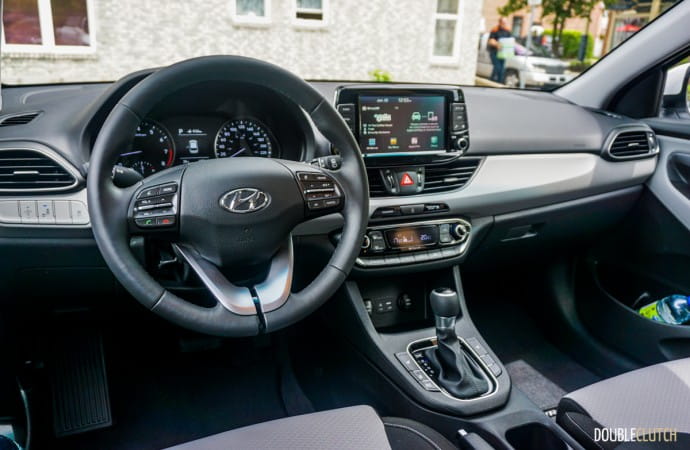 The Elantra GT can be had in a few different trim packages; with a rock-bottom starting price of $20,449 the GL comes extremely well equipped with heated front seats and steering wheel, the standard 8" touchscreen, blind spot monitoring, rear view camera and much more. The only downer is that it'll cost you an extra $1,250 to get the popular six-speed automatic instead of the standard six-speed manual. This test car in GLS trim represents the next step up, and likely where the volume is going to be. It starts at $22,849 for the manual and $24,099 for the automatic, making that our as-tested price. The GLS gets a large panoramic sunroof, 17" wheels, proximity key and dual-zone climate control.

If you're looking for something sportier, the Sport and Sport Ultimate are also available and range from $26,999 to $30,499 depending on how many luxuries you want to add. The Sport models come with the hot little 1.6L four cylinder turbo pushing a very healthy 201 horsepower and 195 lb-ft. of torque, while the GL and GLS get the more pedestrian but still very adequate naturally aspirated 2.0L four cylinder and its 162 horsepower and 150 lb-ft. of torque. The only issue with that is that if you want more creature comforts, like leather, ventilated seats, adaptive cruise control, LED lighting, etc., you're forced to opt for the turbocharged powerplant. A fully loaded version, but with the slower yet more efficient and refined 2.0L is likely an option many buyers would opt for if it were available.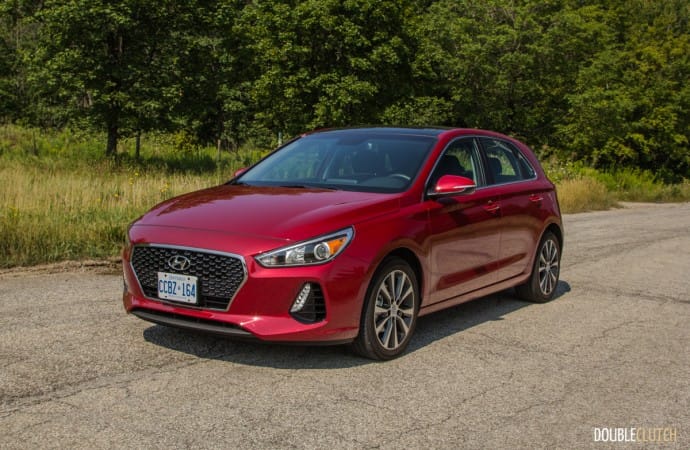 Newfound interior space aside, out on the road is where the biggest improvements have been made over previous Elantra GT models. Firstly, ride quality has been dramatically improved, as has steering response and feel. Gone are the not too distant days of Elantras with totally uninspiring steering; the new GT feels much better through the corners and thanks to the revised suspension sticks better and remains more composed both on the highway and through the twisties. The 2.0L and six-speed combination in the test car feels more than adequate to move the car around with a bit of a spring in its step, and while not quick, highway passing and brisk acceleration doesn't feel nearly as laboured as it does in some other hatchbacks, like the Subaru Impreza (reviewed here).
Under normal driving conditions the four-cylinder is surprisingly quiet and refined, with nice linear power delivery. Highway cruising is also fairly pleasant with a nice on-centre steering feel and a cushy ride. Even the road noise levels, which have traditionally been an issue in the Elantra are significantly reduced in the GT, making it a very competent long distance cruiser.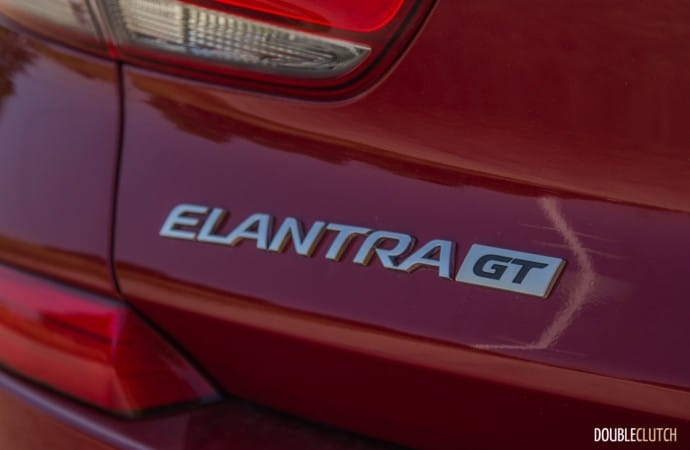 If you are travelling long distances the Elantra GT does boast impressive fuel economy as well with a rated 9.8L/100km in the city and 7.3L/100km on the highway. In our week's worth of rush hour commuting the number came in right at 7.8L/100km, exactly where it should be. That said, it's fair to expect a slightly better number out of a similar VW Golf or Honda Civic, both of which are running smaller displacement motors with similar power outputs. As with other rivals, the Elantra GT only requires regular 87-octane fuel.
As a practical commuter that can do double duty as a small family hauler or weekend getaway car, the 2018 Hyundai Elantra GT GLS ticks all the right boxes. It offers much of the same utility as you'd expect to find in a compact CUV, like Hyundai's own Tucson (reviewed here), but with the efficiency and driving dynamics of a compact hatchback, at a very affordable price that undercuts the competition while offering more standard features. In GLS trim it's not particularly exciting, but it's also very easy to live with on the daily grind and for a good majority of buyers, that's the ticket.
See Also: