The return of the Audi TT RS is grounds for serious applause.
The standard TT and TTS have now been around in their current generation for about two years, but the real conversation piece in the lineup is this Catalunya Red hornet. The 2018 Audi TT RS quattro still shares its MQB underpinnings with many other vehicles in the VAG family, but its heart tells a far different story.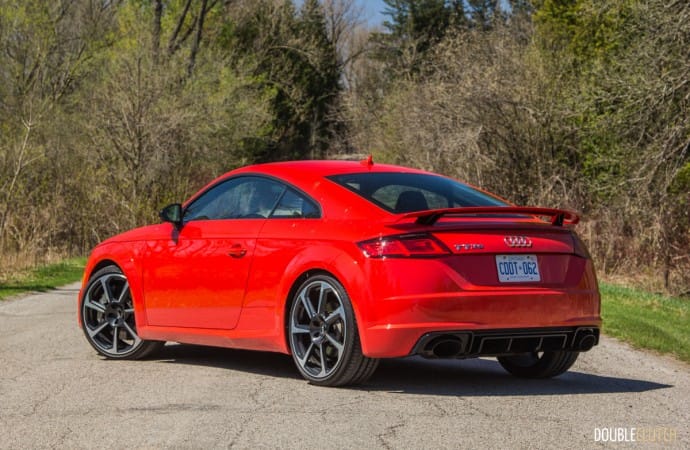 Much like its predecessor, the new TT RS is powered by a turbocharged five-cylinder motor that is effectively half of the Audi R8's V10 (reviewed here). Yes, there's a lot more to it than that, but fundamentally, the 2.5L turbocharged and intercooled inline five-cylinder is the result of a V10 block chopped in two. This powerplant is good for a healthy 400 horsepower (up from 360) at a screaming 7,000RPM and 354 lb-ft. of torque, coming in at a very low 1,700RPM. Acceleration? Yes. Speed? Yes. Sound? Oh heck yes. We would be very surprised if a sprint to 100km/h took a whole four seconds.
We recently tested the Mercedes-AMG GT C Roadster (reviewed here), and came away thinking it had one of the best V8 exhaust notes around. Considering there aren't many five-cylinder applications around anymore, the TT RS is in a league of its own, and is therefore a winner by default. Even still, the crackles and pops from its active exhaust (operated by a button next to the shifter) sound passionate and yet Teutonic at the same time. This little missile is capable of quick dashes, but will also make itself heard as it does so.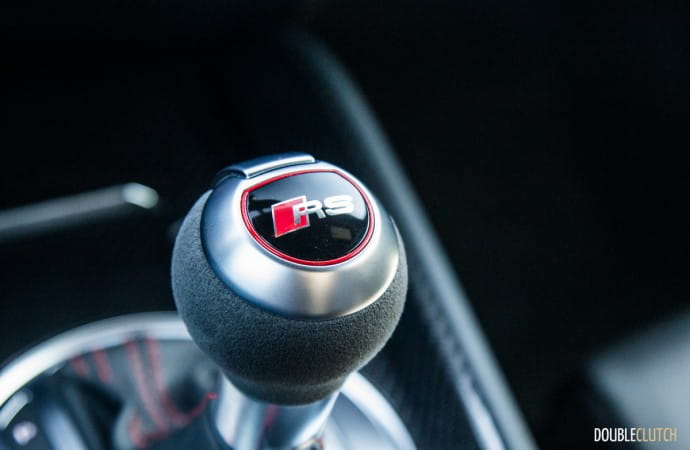 Unlike the last TT RS, which disappeared after the 2013 model year, this one gets a seven-speed S-Tronic dual-clutch gearbox. MQB vehicles such as the Golf R (reviewed here) and Audi's S3 get an extra gear this year, going from six to seven. The manual shift mode is definitely an added plus, snapping off shifts with a rewarding sound both going upward and downward. The added gear means highway efficiency is improved slightly, and that's an added bonus for the TT. There is a launch control mode on the TT RS, which will set the car off at 3,500RPM and with immense levels of grip.
Make no mistake – this is not a straight-line car by any means. The Pirelli P-Zero tires and all-wheel-drive system help the TT RS corner like it's on rails. I still remember the first time I sampled both the Golf R and the Audi S3 (reviewed here), and immediately observing just how hard these vehicles grip on hard cornering. This tester arrived to us with the optional front carbon-ceramic brakes, which are noticeably grabby. This configuration is welcomed in a track or performance driving category but is a little bit too aggressive for the street – the ceramics are also prone to squealing at low-speed braking in chilly weather.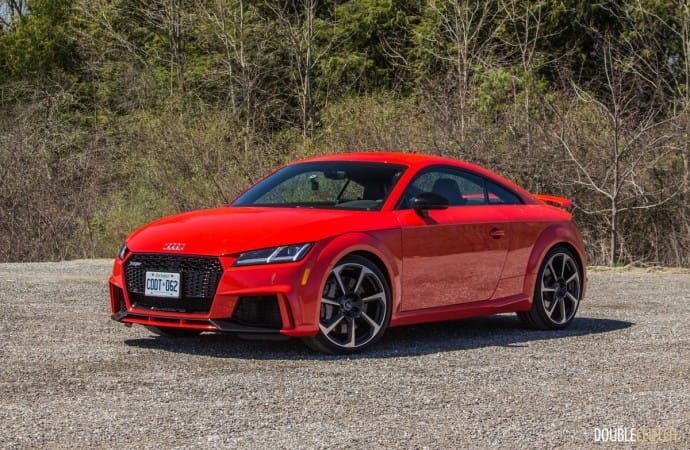 As it relates to ride quality, the TT RS has passive damping that means the suspension cannot be adjusted using the Audi Drive Select. The car exhibits almost no body roll in corners and hugs the ground aggressively. The catch is a ride that is borderline too firm for Toronto's terrible road surfaces. A few quick jaunts through the downtown core proved to be more jarring than expected. The quattro all-wheel-drive system and stability aids mean this car is absolutely usable in the winter, provided the buyer invests in a meaty set of winter tires.
The biggest surprise in our eyes is just how efficient the turbo-five can be when driven conservatively. Audi Canada rates the TT RS at 12.3L/100km in the city and 8.2L/100km on the highway. Most drivers will see city efficiency a bit worse than this, as the temptation to hear the exhaust and shift at higher RPMs is very real. We observed highway mileage that surpassed the ratings, at 7.6L/100km over one longer run. The TT RS is rated on 91-octane premium fuel and requires it.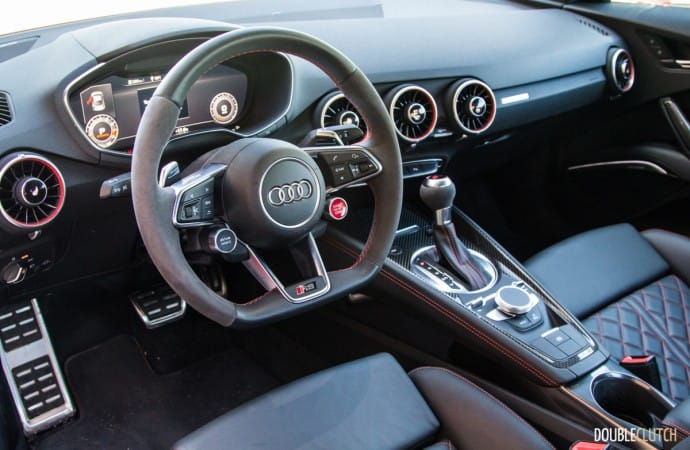 Audi starts the TT RS at $72,900 heavily equipped. Our fully jammed test vehicle was equipped with the $5,800 carbon-ceramic brakes, $1,750 Audi Sport package, $1,450 Technology package, $900 premium 20" wheels, and a few other gizmos and gadgets. The total sticker came to $88,685, and just over $90,000 once freight and PDI are considered. Yes, this is quite an expensive car, but you're paying for the entire package as it relates to a performance car that can truly be used daily.
The TT RS has one big challenge, and that's competition. At its as-tested price of $88,000, it goes to battle with some serious machinery. The BMW M2 can be had for nearly $25,000 cheaper, and the Porsche 718 Cayman (reviewed here) is also similar money with basic options on it. On the American side of things, the Corvette Grand Sport starts at less money, as well, but again, it's unfair to the TT RS to use a fully loaded price when a well-equipped example can be had for far less. The fact that all of these "rivals" are rear-drive only can be either an advantage or a disadvantage, depending on how much the buyer really values the quattro all-wheel-drive setup.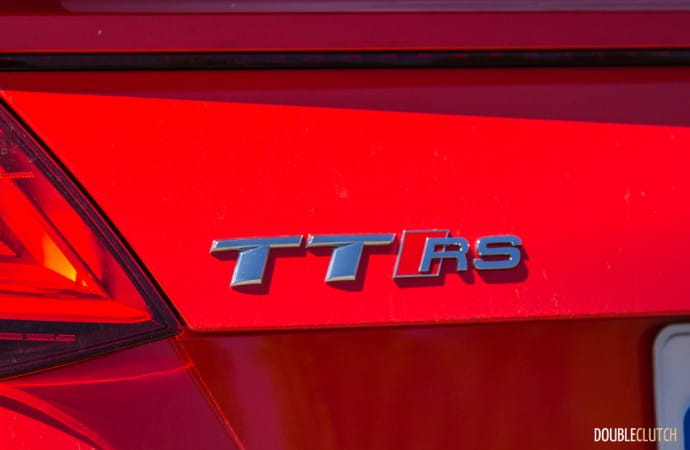 Differentiated heavily from its competitors in this regard, the TT's interior is driver-centric and very ahead of its time. The lack of a center-mounted screen is extremely rare, and means everything down to music selection is at the driver's fingertips. The Virtual Cockpit can now handle Apple CarPlay, which can be a little bit complicated to use without a physical touchscreen, but I became used to it very quickly. The driving position is excellent and the front seats are very, very supportive. There are rear seats, but the backrest is almost at a 90-degree angle and should be reserved for emergency use only.
The 2018 Audi TT RS is, simply put, a thoroughly excellent car. It offers a powertrain that stands out heavily in a crowd, and the more understated styling is a welcomed improvement over the first-generation TT's Beetle-like stance. This is a sports coupé through and through, but will find itself in a segment where every single choice is a very good one. The TT RS has one main advantage over every competitor that dares look its way – this one can without hesitation be used year-round, and that's a bragging right that few others have in this class.
See Also: