A recent announcement made me a very happy man. Polestar became the standalone performance brand for Volvo. For unknown reasons, I've always been a huge fan of robust, boxy, clunks of Swedish steel.  Actually, my first thought when I think of Volvo isn't performance, but instead, safety, reliability, and comfort; as is most people's view, truth be told. So when someone tells you that there is now a performance brand for Volvo called Polestar that will be making an electric 600-horsepower version of the S90 called the "Polestar One" with 737 lb-ft of torque, I think we all need to redefine what a Volvo can become. But Polestar didn't always represent a stand alone brand. In fact for years, Polestar has been what M is to BMW or AMG is to Mercedes. This week, I had the pleasure of ripping around in the 2018 Volvo S60 Polestar, the last of the Polestar performance cars with a Volvo badge.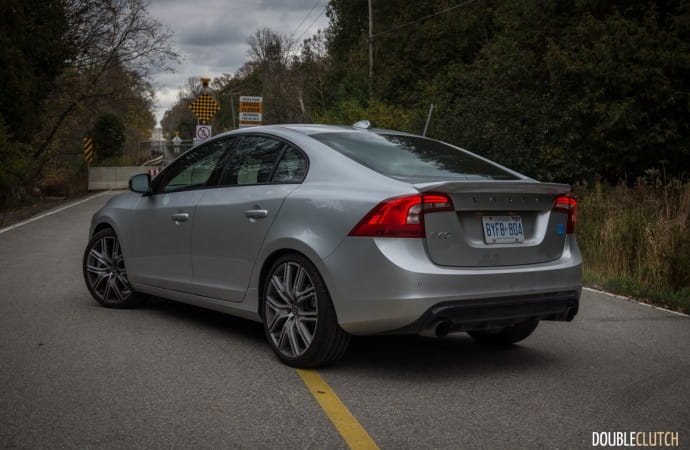 In order to get into one of these, you will need to fork out over $60,000. Thats a good chunk of money for a car that at first glance, seems like a normal S60 (reviewed here) with a few blue squares glued to the body. The exterior of the S60 Polestar, while nicely designed, is a bit artificially aggressive. It looks as though they stuck on a few aero bits as a bit of an afterthought, and it reminds me of the body kit that was slapped onto the sides of the second generation Mazda MX-5; "Tupperware" as it was affectionately called.
My tester was finished in silver instead of the insane typical Polestar "Rebel Blue", which while much more understated was a bit of a disappointment. When you buy a Volvo that has such athletic capabilities, I feel like you want to overstate it a bit, to remind people that you aren't a dentist, or that you aren't making your way to the local crafts show.  Either way, the looks of the S60 Polestar grew on me over the week, and it got lots of compliments from onlookers.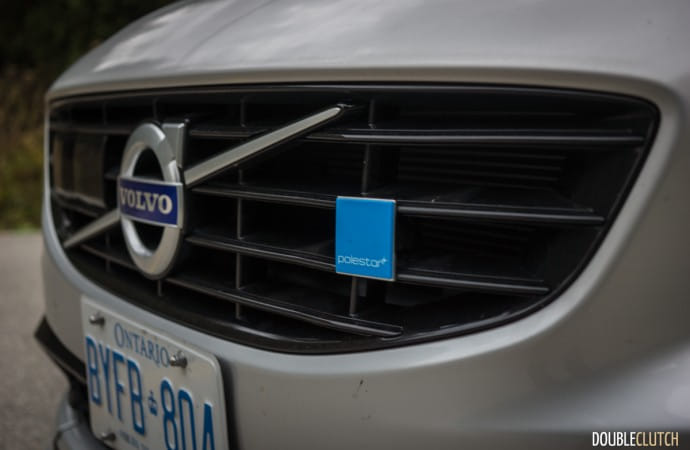 Here's a fun fact: For a good chunk of time, the Volvo S60 Polestar held the four-door lap record at the Nurburgring with a 7:51, beating the BMW M5 and E 63 AMG S, but was bested by the likes of the Alfa Romeo Giulia Quadrifoglio (reviewed here). That makes it: One. Fast. Volvo.  And you know what? After driving it, I don't doubt that time for a second. The S60 has a frantic-enough engine you almost live in fear of it. The 2.0L inline four is supercharged and turbocharged and hustles out 362 horsepower. It's broadly the same engine you will find in a good chunk of Volvo's lineup, but it's been tuned with some better boost, a better exhaust, some more aggressive internals, and no doubt some software mapping.
The transmission of choice is an eight-speed auto that does a great job of delivering downshifts with even a slight whisper of the throttle. The paddle shifters on the steering wheel allow you to control the transmission, and they are satisfying to use, if not the best I've come across. Power is delivered to the ground through a Haldex all-wheel-drive system that biases power to the rear. There is even launch control, which when activated, will rip you to 100km/h in 4.4 seconds.  The impressive thing is, I barely noticed a difference in the way it took off, whether the tarmac was dry, wet, or covered in leaves. The Polestar doesn't have any issues getting the power to the ground, and I suspect this car would be oodles of fun in the snow.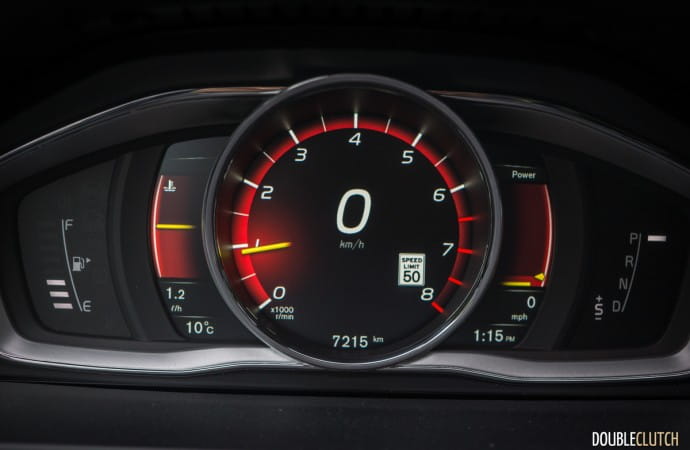 The Sport mode will hold onto lower gears for longer and will downshift aggressively with a slight touch of throttle. If you are really interested in some spirited driving and want the true "Sport" mode, you have to turn off the traction control. Interestingly the only way to do this is to go in through several menus on the infotainment screen. Annoyingly, this will only partially disable the electronic nannies. However in this mode, it does shunt more power to the rear wheels, which honestly is unnoticeable on the street.
In any mode, the Polestar has excellent drivetrain response. With a miniscule amount of lag and little protest, the engine will happily deliver to you its 347 lb-ft of torque. In fact, it always seems eager to. If only the sound produced from the engine was able to match the power it seems to deliver. The previous generation Polestar had two more cylinders and a much more aggressive tone, but this four-pot version, didn't quite do it for me.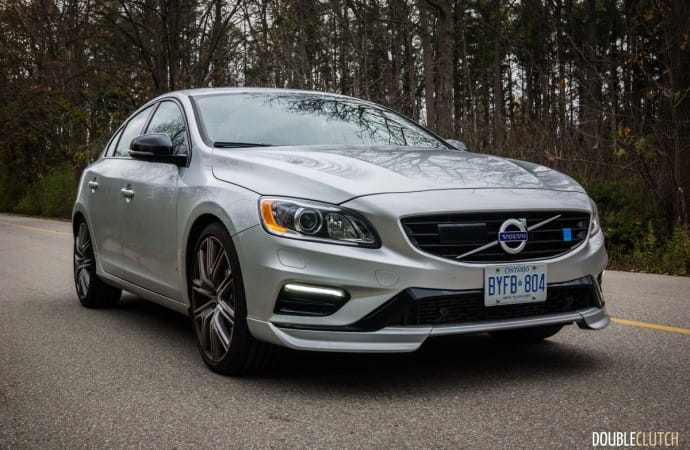 I found that the Polestar reigns supreme if you stay within its limits; Turn hard into a corner, or slowly build speed in a long sweeper, and the Polestar will very quickly 'take a set' into the bend. It stays very flat and composed, and minor bumps mid- corner won't unsettle it in the slightest. A  better-than-expected amount of feedback comes through to the steering wheel, and there is a lot of steering weight mid corner to let you know the front wheels are properly loaded.  This is no doubt, due largely to the fact that Polestar decided that they weren't interested in messing around with proprietary shocks, or lesser aftermarket options, but instead opted to slap a set of adjustable Ohlins shocks on the S60.
If you hang around the car-modding crowd, or the racing crowd, you probably just said "wow, really?!" Indeed, the Polestar has a very good suspension setup. The catch is that it seems very tuned for the street, and has a very 'safe' alignment and damping level. As I pushed a little harder, I could feel that the front end always gave up first. The chassis seems a bit lifeless if you really lean on it. This was corroborated by my colleague Jerry Vo, who tested this car (reviewed here) on the track earlier in the year.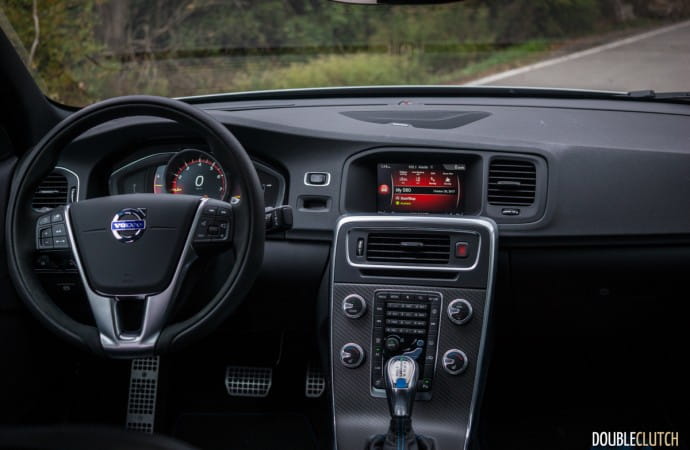 For a car with very track oriented suspension, the ride is still decently supple. Ohlins dampers do a good job of taking the edge off a harsh ride, while still retaining body control. But since Polestar has stripped some weight out of the S60, a fair amount of noise comes through, especially in the front end. That being said, The interior is still very comfortable. The large bucket seats hug you and keep you in place with sections of Alcantara trimmed in blue stitching. The steering wheel is a nice shape, and the digital gauge cluster was easy to read.
You have three options of gauge themes within the instrument cluster. Two of which, look similar and are quite boring, and one is "Sport" which turns everything red, gives you a large center speedo and tach, and just generally looks awesome. For some reason you have to change to this using the steering wheel controls, and it would have been much better if the Sport display popped up when you flick the gear selector over to the left, and selected, you know, 'Sport' mode.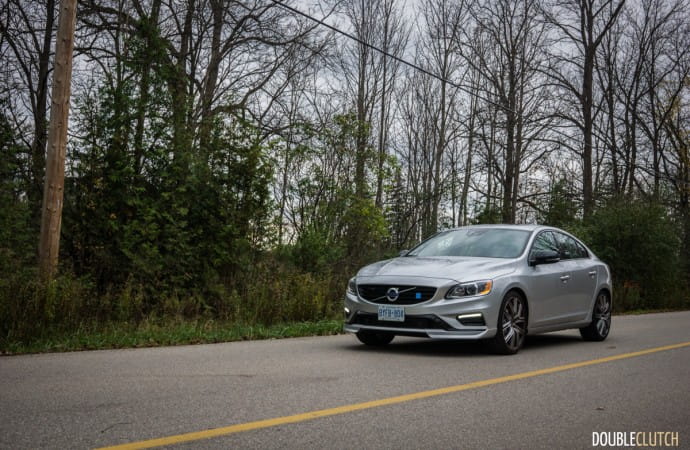 The rest of the interior, to be fair, is right out of 2010. The small screen and cluttered buttons are not representative of what Volvo can do with an interior right now. Polestar gives it a nice touch, with some Alcantara trim, blue stitching, carbon fibre console, rear bucket seats, and a great looking glass-like shift lever, trimmed with a small Polestar logo. It's not a bad place to sit. The car is easy to use everyday, and I enjoyed commuting in it greatly.
You get the sense that Volvo, while wanting you to go very fast, also still wants you to be safe. It's difficult to turn the traction control off, the chassis tuning is very conservative, and the brakes are shockingly powerful. Since the Ohlins dampers are adjustable, and the power credentials are there, I think that with a few minor tweaks, you would turn this into a very formidable track machine. Being a Volvo though, it probably is more at home in the snow.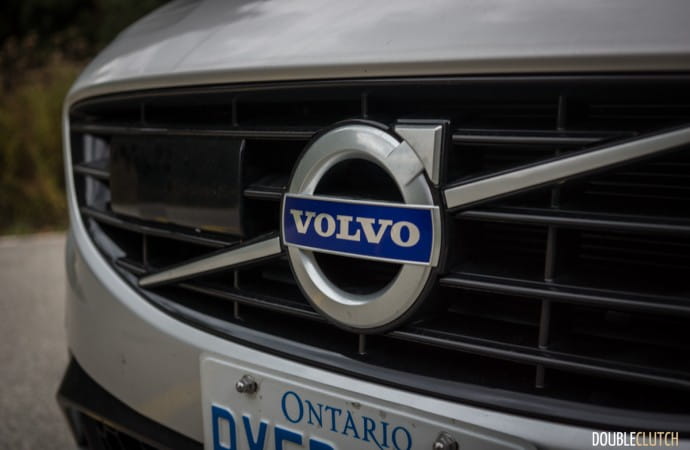 We didn't get a chance to test it in the white stuff, but after seeing how the AWD dealt with different surfaces and how confident you feel at the helm of this thing, I think it would be an absolute riot on a snowy back road. So while there are a few areas that the 2018 Volvo S60 Polestar is lacking, it's a very impressive overall package. I even got decent fuel economy overall (10.9L/100km). What this all means to me is that if this car is any indication of what Polestar is capable of when given a Volvo to tinker with, I am very eager to have a go in the new stand-alone Polestar performance cars.  They should should be something very, very special.  
See Also:
2018 BMW M3 Competition Package