As purveyors of the Ultimate Driving Machine over the years, BMW have shown themselves to be capable of making the most surgically precise automotive instruments, bringing with them all the best inputs and feel-good sensations when it comes to motoring. More recently, they've undergone a serious nomenclature split-up, with various different products and configurations occupying separate model ranges. In 2013, what used to be the 3-series coupe branched off into the 4-Series, and recently, the mid-cycle updated 2018 BMW 440i xDrive Coupe spent a week on test. With a revised fascia, suspension, and multimedia, it's the German automaker's latest effort to keep their two-door sports coupe relevant.
While it starts at a base price of $57,550, as expected for a European car, options can drive up the price quickly, though that does mean that buyers can order their 440i exactly how they want it. For $6,000 the Premium Package Enhanced includes Comfort Access (proximity keyless entry), parking sensors for front and rear, a 360-degree camera system, Harman Kardon audio, and a digital gauge cluster. $1,500 adds the Driver Assistance Package for lane departure, pedestrian, and forward collision warning systems, as well as a blind spot monitoring system. Adaptive cruise is $1,000, and Android Auto, wireless charging, and a WiFi Hotspot is $750 with the SmartPhone Connectivity Package. Adaptive LED headlights add $1,500, and after the $2,900 M Performance II Package, the as-tested price is rounded out to $73,190.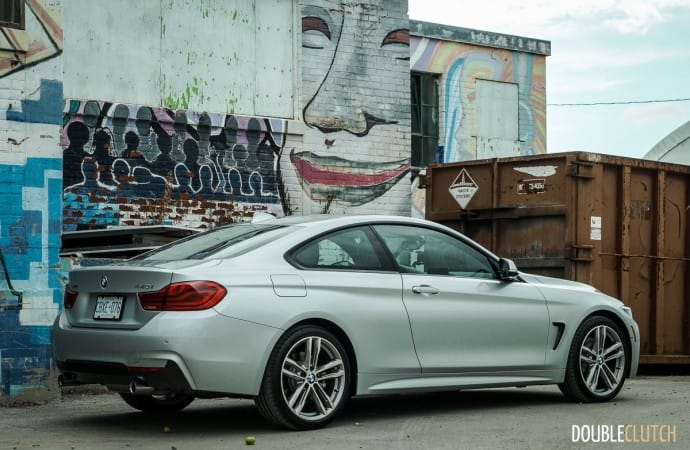 Additional options not equipped included a stiffer M Sport suspension package, but the Performance II Package does include a performance exhaust. With the base suspension, the 440i xDrive Coupe still manages to tackle corners pretty well, thanks in part to a stiffer suspension across the board that's new for the 2018 model year. Available variable sport steering wasn't equipped on the test car, and the on-centre feel was seriously lacking, which was most noticeable rolling down the highway. There is plenty of steering input required to keep the 440i going in a straight line under normal conditions, which is not characteristic of what BMWs have been. Fortunately, after turning in at speed, the steering loads up and is well weighted, making the 440i feel surefooted when pushed.
Brake feel out of the fixed four-piston front calipers was excellent, and pedal modulation is one of the nicer points on the two-door BMW. There's gobs of traction out of the xDrive all-wheel drive system, and the run-flat Bridgestone Potenza S001 tires on 19-inch wheels do their job well. Noise and ride quality could stand to improve slightly without the run-flat portion, with regular tires also expanding tire choices in terms of optimizing performance. For those who look to enjoy spirited driving, opting for the M Sport is a must, as it comes with the variable sport steering.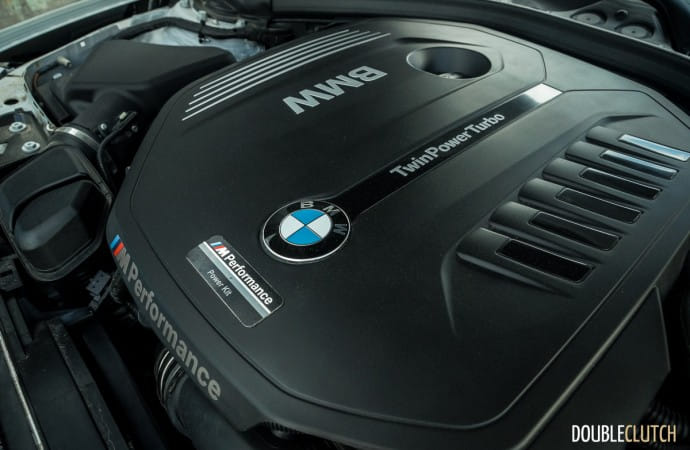 Powering all variants of the 440i xDrive is a 3.0-litre inline six with BMW's TwinPower Turbo setup. This is not to be confused with a set of twin turbochargers, but is instead BMW-speak for a twin-scroll single turbocharger. With two different styles of inlet paths to the turbo, both low-RPM response and high-RPM power are optimized. The end result is a A in the torque curve – turbo lag is also a non-issue. Peak power output is 320 horsepower at 5,500RPM, with 330 lb-ft. of peak torque coming between 1,380 and 5,000RPM. With power being sent to all four wheels, BMW says that the 440i xDrive will do the 0-100KM/H spring in 4.9 seconds.
Paired with the boosted straight six is an eight-speed automatic transmission. It's the same ZF 8HP50 transmission used a wide range of longitudinally mounted powertrains today, including many Chrysler, Audi, and Jaguar Land Rover products, just to name a few. It's popular for very good reason, and the shift quality and refinement out of ZF's engineering makes it the pinnacle of today's torque converter-based automatic transmissions. BMW's calibration is also particularly great, with amazingly fast shifts that could almost rival those of a dual clutch (DCT) design. There's no gear hunting, and low-speed refinement trumps just about any DCT on the market.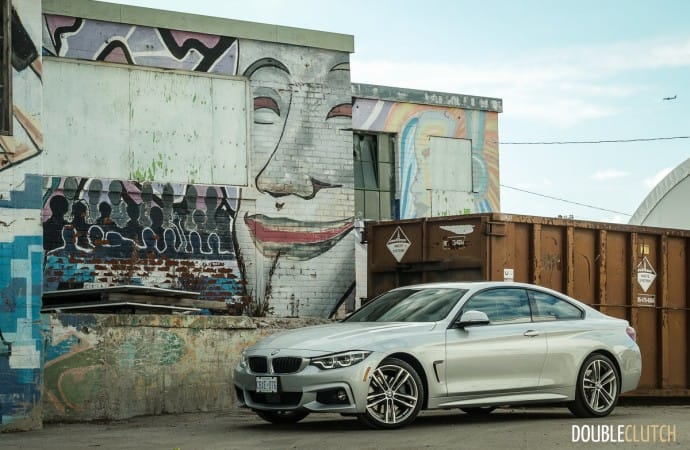 With advancements in engine, turbocharger, and transmission technology, the 440i xDrive manages to return decent fuel economy. It's rated for 11.2L/100KM in the city, and 7.6 L/100KM on the highway. Observed economy over a week of testing netted 9.5L/100KM with a slight bias toward highway driving. Fuel capacity is 60 litres, and as another ode to advanced tech, midgrade fuel (89 octane) is the minimum requirement, although premium (91 octane or higher) is recommended.
Inside, the 440i xDrive gets a few updates for 2018, including a new iDrive infotainment system. With more advanced voice control, automatic over-the-air navigation updates, and a new menu design, it's as good as a system as ever to use. There is some complexity in the menu system, with many of the functions pretty well buried, but after spending a little bit of time with the system, it becomes a bit more intuitive when it comes to figuring out where BMW has put everything. The Harman Kardon sound system hits hard and is one of the clearest systems on the market today.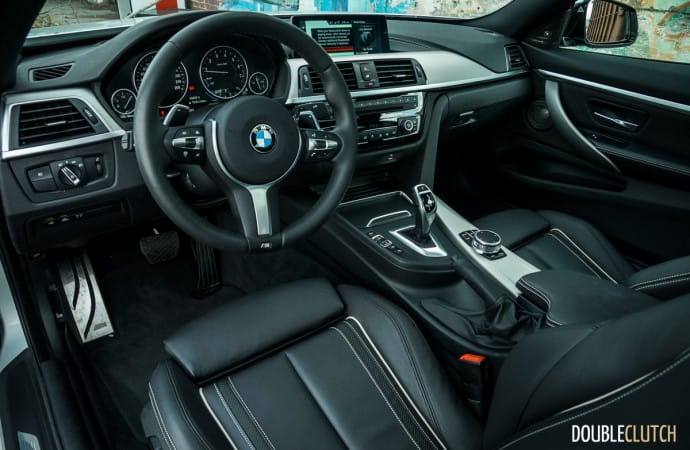 The interior design itself isn't wildly different compared to the 2017 model, with good seat comfort and plenty of power adjustability for front seat passengers. The dual zone climate control has a useful maximum fan speed setting, but lacks a "SYNC" button that forces both left and right zones to be set at the same temperature. This is a basic feature that has adorned just about any dual zone climate control system on the market for the last twenty or more years, and yet it's been left out on the 2018 4 Series. Older 3 and 4 Series sedans and coupes are able to do it, and the uplevel 5 Series gets this feature – it's a very odd decision on BMW's part to force occupants to twist two dials to set one desired temperature.
Quirky climate control aside, the Bavarian 4 Series is a reasonably good option in the luxury two-door market. It comes on strong with a charming engine and transmission, as well as an interior that's smartly designed with a solid infotainment system. With a base price under $60,000 and the as-tested price coming in just over $70,000, it positions itself well against the likes of the Audi A5, Mercedes C-Class Coupe, Lexus RC 350, Cadillac ATS, and Infiniti Q60 (reviewed here).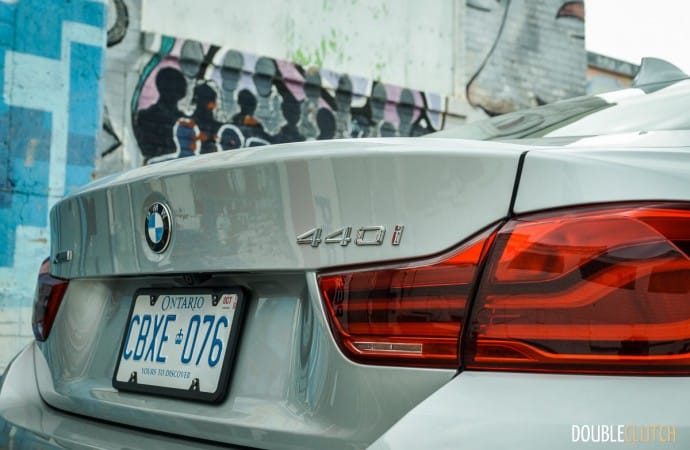 Of this group, the 2018 BMW 440i xDrive Coupe still offers one of the more engaging drives and performs very well, though handling feel isn't the best under sedate driving conditions. The Cadillac ATS sedan and coupe feature better driving dynamics, but the BMW wins for powertrain and interior. If you're yearning for an old 1990s E36 or 2000s E46 3 Series type of connection to the road, you won't get it in the 440i, but this is about as good as you're going to get anywhere today in this part of the market.
See Also:
2017 Infiniti Q60 Red Sport 400
2017 Mercedes-Benz C 300 Coupe