Buying a car – any car – can be a decision that is either driven by the brain, or a decision driven purely by the heart. One side of you may want the super-practical station wagon or crossover, but the other side may want the flashy sports car that lets you better express yourself through conspicuous consumption. Sometimes, you may suddenly come upon a large sum of money; what should you spend money on? When it comes to the aforementioned conspicuous consumption, style and passion usually are high on the list of priorities.
One of the best arbiters of style these days is Jaguar. Deep into a reinvention of their whole lineup, the F-TYPE serves as the style-focused flagship for the brand. It has undergone a series of updates, both major (the introduction of the Coupe and high-SVR) and minor (all-wheel drive, among others). One of those updates is this 2018 Jaguar F-TYPE 400 Sport AWD. We were sent over a Santorini Black example, equipped with all-wheel drive for a weeklong dose of style, flair and personality.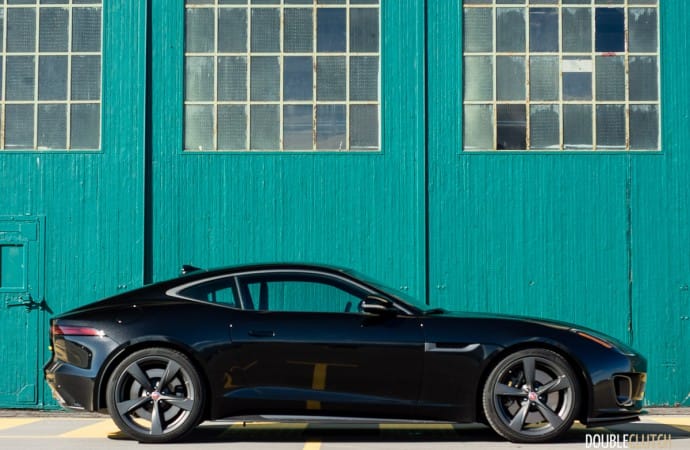 Ian Callum's magic touch has produced home run after home run, from cars like the full-size XJ (reviewed here), the versatile (and very important) F-PACE, and this F-TYPE. Very loosely based on the discontinued Jaguar XK coupe, it is said that the F-TYPE is a spiritual successor to the legendary E-Type coupe and roadster. Generally accepted to be one of the most beautiful cars ever designed, the E-Type sets that bar where it'll be difficult to reach, but if it's one design director that can do it, it's Callum.
The F-TYPE first debuted as a soft-top convertible for model year 2014. Immediately touted as one of the best-looking cars available today, the coupe is arguably even better looking, thanks to the sumptuous lines and contours created by the fastback-style roof. Wide haunches over the rear 20" wheels accentuate the wide track (lateral distance between both rear wheels), and short overhangs all bring together to a feeling of agility. One doesn't have to say much more about the F-TYPE – all you really need to is take a look for yourself. It's not complicated like the Lexus LC 500 (reviewed here), but it leans towards the "cleaner" side of design, nowadays. The Jaguar F-TYPE is also a car that manages to attract attention from both genders – rather than being a strong dude magnet (see the Honda Civic Type R).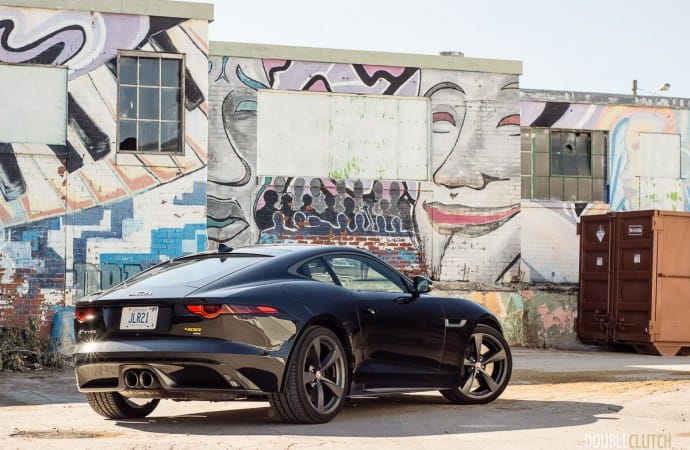 The special-edition (available worldwide for one-year) F-TYPE 400 adds special yellow "400" badging, more aggressive aerodynamic splitters all around, contrasting yellow stitching, unique paint codes (Santorini Black being one of them), and of course the uprated 400hp supercharged V6 to go with all the "400" badging. After pulling on the electric pop-out door handles, and settling into the bolstered driver's seat, the interior is similar to other versions of the F-TYPE, including the motorized HVAC vents atop the centre stack. Jaguar's improved InControl Touch Pro infotainment interface is now standard across the board, and it is generally more responsive compared to outgoing variants, but connectivity options such as Apple CarPlay and Android Auto still don't make an appearance. It's a decent place to spend time, and the coupe even boasts reasonable cargo carrying capacity underneath the power-operated hatch.
What really matters is how the F-TYPE makes you feel, and a big part of that is the drama and personality built into all the different engines available. New for 2018 is a turbocharged 2.0L four-cylinder engine, now serving as the base engine. Even still, it manages to produce an impressive 296hp and 295lb-ft of torque. The next step up is a 3.0L supercharged V6, good for 340hp or 380hp, depending on the trim level chosen. The 400 Sport Coupe bumps this to a round 400hp at 6500rpm, and 339lb-ft of torque at 3500-5000RPM. It's a unique engine, as supercharging provides instant torque and a linear power band, but is somewhat less efficient (in theory), as the engine itself has to power the supercharger. What makes the engine even more unique is its design – it is a V6 with a 90-degree bank angle, derived by lopping off two cylinders off their 5.0L V8 (though the bore and stroke of each cylinder shrinks in the V6). The wide bank angle allows for more space for Jaguar-Land Rover to install a supercharger and intercooler between the two banks of cylinders.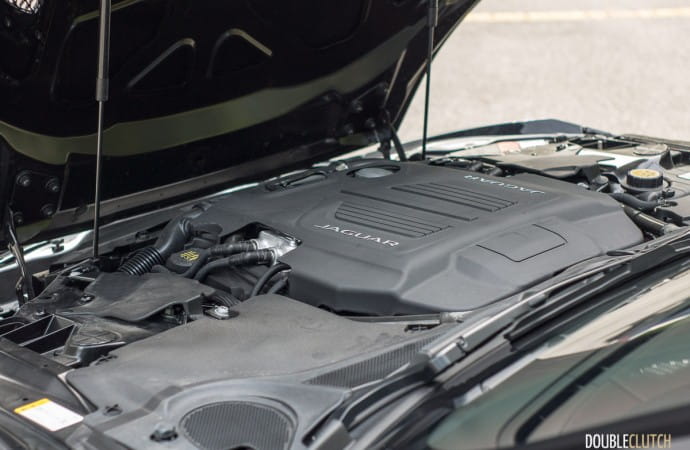 The sound of the supercharged 90-degree V6, combined with Jaguar's masterful exhaust tuning means that pretty much all variants of the F-TYPE produce wonderful sounds. If you hit the exhaust button located just aft of the gear selector, an active valve opens up in the exhaust, letting more of that mechanical music permeate into the cabin. Cold starts in the morning are especially pronounced – the bark generated once the engine turns over may be loud enough to wake your neighbours. I don't always like the way V6 engines sound, but Jaguar does a particularly good job, thanks to the 90-degree bank angle, and aggressive exhaust. Power is sent to all four wheels through ZF's excellent eight-speed automatic transmission. The F-TYPE 400 Sport is also available in rear-drive format, but no manual transmission is offered on this trim. Those who crave more horsepower can opt for a supercharged V8 – the top-level F-TYPE SVR (reviewed here) maxes out at 575hp and a 320km/h top speed!
Jaguar's aluminum-intensive design, eight-speed automatic transmissions, and idle start-stop technologies all allow for the F-TYPE to return decently impressive numbers for fuel efficiency, considering the power output. Jaguar-Land Rover Canada doesn't actually make fuel efficiency estimates on their website (listed as "TBD" as of this writing), but Natural Resources Canada suggests The Jaguar F-TYPE S Coupe with the V6 engine and all-wheel drive should get 13.0L/100km in the city, 9.2L/100km on the highway, and 11.3L/100km in a combined cycle. During my week of mixed city and highway driving, I ended up with an indicated average of 11.4L/100km, which is almost exactly what the estimates suggest. The F-TYPE will hold 70L of premium 91-octane fuel.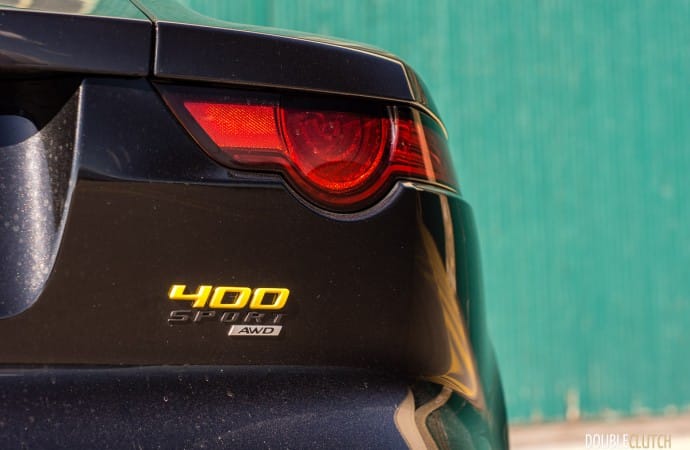 The Jaguar F-TYPE is another one of those vehicles that occupies a very large price spread of the market, from the base four-cylinder model, to the insane SVR. The base four-cylinder F-TYPE starts at $68,500, and only comes in a rear-drive format. Adding all-wheel drive (which also gets you the 340hp V6) immediately bumps the price to $77,000, though you get your choice of a six-speed manual (reviewed here) or automatic transmission. The F-TYPE 400 Sport represents the top-of-the-range with the V6 engine, with this all-wheel drive variant starting at $101,000. Our particular tester was also equipped with a few options: fixed panoramic roof (one large glass panel, $1,230), active assist on the LED headlights ($260), Climate Package 2 (heated windshield circuit, heated/ventilated seats, heated steering wheel, dual-zone climate control, $1,590), auto dimming and power folding exterior mirrors ($210), powered tailgate ($510), and Meridian surround sound system (12 speakers and subwoofer, $1,020). This brings the total MSRP of this Jaguar F-TYPE 400 Sport AWD to $105,820, before taxes and additional fees.
There are a lot of legitimate sports cars playing in this "around $100,000" range: BMW's M4, Mercedes-AMG C 63 S Coupe (both of which have four seats), Porsche's 718 Cayman GTS (with options), and even the larger Porsche 911 (with zero options). It all depends on what you're looking for from your $100,000 coupe: track day credentials, grand touring performance, or look-at-me styling. If straight driving dynamics are what you're after, the Porsche 718 Cayman (reviewed here) isn't a bad choice by any means.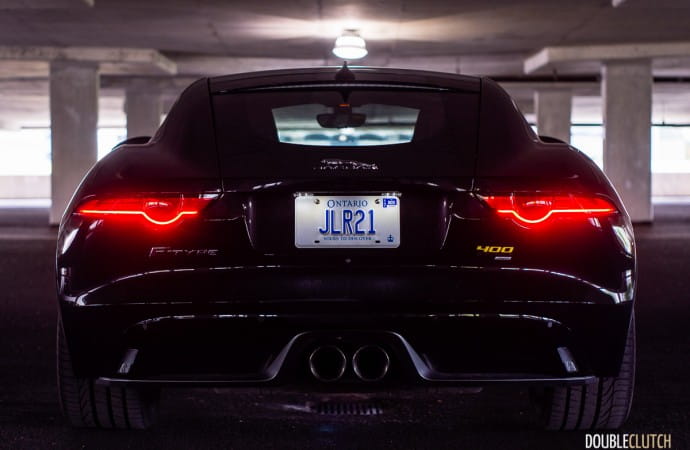 Ultimately, the 2018 Jaguar F-TYPE 400 Sport is very much a vehicle you buy with your heart. It is one of the best-looking vehicles available now, and is yet another smash hit from the magical hands of Ian Callum. What's special about the F-TYPE is that it isn't just all-show, and no-go. Even the base four-cylinder F-TYPE will get up and go at a decent rate with nearly 300hp; it just won't be an exhibit for the aural showcase that the V8 variants are. The F-TYPE SVR is more than successful at being the brand's rocketship, so as the Canadian band Sloan puts it, "if it feels good do it".
See Also: