This year marks a fresh start for the Mazda CX-5. Entering its second generation, this new CX-5 pushes the boundaries of what a non-luxury crossover can be. The new angular exterior design, matched with a modern interior, is sure to attract new buyers looking for a compact SUV. Just like everything else in this segment, it's not exactly a thrill to drive as it's not a performance machine but the 2018 Mazda CX-5 GS AWD proves to handle its own when zipping to work and back. When everything is added up, this little crossover had me taking a double take on what I initially thought would be just an average family-hauling machine.
Firstly, the new CX-5 is offered in three trim levels. Starting from the base GX, GS, and top-trim GT (reviewed here). This road test consists of the mid-range model, the GS with all-wheel-drive and some optional packages. While it lacks some desirable options like the GT's larger wheels and LED daytime running lights, the GS comes with a handful of standard equipment that really doesn't disappoint.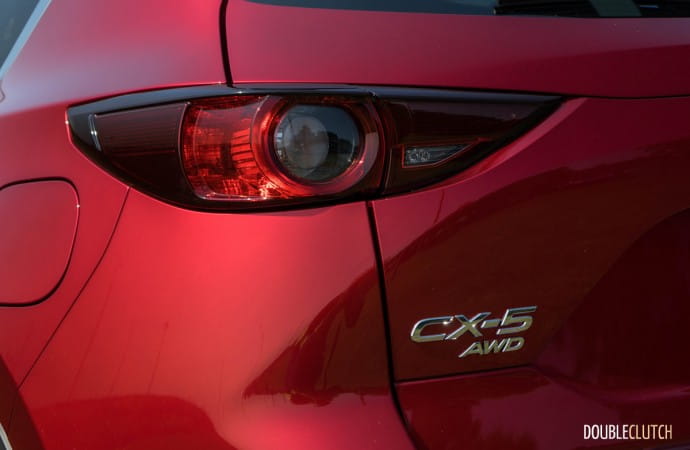 For instance, while the GT come with standard leather seats, the GS is equipped with leatherette-trimmed upholstery with Grand Lux Suede inserts. Said seats come with a three-stage heating option, as well as a three-stage heated steering wheel (standard), perfect for the winters we must endure here in Canada. The sound system is nothing to scoff at either, with a two-speaker upgrade from the GX, totalling six speakers all around and USB/Bluetooth connectivity.
Packages can be optioned that take the CX-5 GS even further, including the Comfort Package ($1,500) and the I-ACTIVSENSE Package ($900). The Comfort Package adds a power sunroof, dual-zone climate control, rear passenger vents and keyless entry. The I-ACTIVESENSE goes beyond that and adds active safety features like radar cruise control, Smart brake Support, distance recognition, forward collision warning, lane departure warning, lane-keep assist, a high beam control system, and a colour multi-information display within the gauge cluster.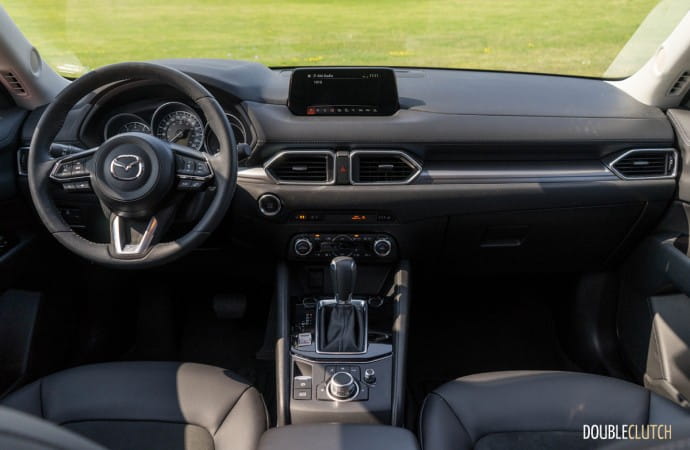 Both packages come at an extra cost, a hefty one at that, but we can genuinely confirm they add a nice sense of luxury and comfort to your otherwise-mundane family crossover. Of course, the I-ACTIVESENSE technology makes driving a little safer, and is right up there with Honda's CR-V with Honda Sensing (reviewed here) and the Toyota RAV4 with the new Toyota SafetySense system. Long story short, active safety suites are trickling down very quickly from the luxury segment right into the mainstream class.
Colour options are what stand out for most Mazda products, and the new CX-5 looks right at home in Soul Red Crystal Metallic, a beautiful choice. Wheel options are also plentiful, with a variety of different sets varying in size from 17 to 19. They all look good, and the setup on the GS looks a bit small when contrasted with the stunning red paint. Additionally, unless buyers step up to the GT, black is the only colour option for the interior.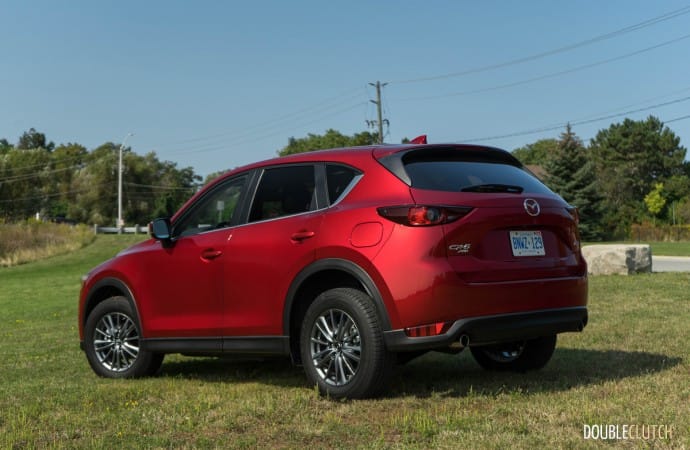 Getting comfortable in the CX-5 really wasn't all that difficult. Sometimes it's tricky finding a decent driving position in Mazda vehicles (namely the CX-3), though getting set in the CX-5 came with ease. All the buttons are exactly where you'd expect them to be, making it easy to manipulate all major controls. What I like most about the interior is the amount of legroom provided to front seat passengers. The dashboard doesn't intrude on knee space like the Ford Escape (reviewed here), allowing for front-seat occupants sit further forward, making for better ergonomics and creating more comfort for rear seat passengers as well.
Drive-wise, the CX-5 seems more in-tune with itself than some entry-level sports cars. Steering is weighted nicely, making engagement when going around corners nice and firm. Acceleration on the other hand, is not much to boast about. The naturally aspirated 2.5L four-cylinder engine produces 187 horsepower at 6,000 RPM and 185 lb-ft. of torque at 3,250 RPM. The GS trim is available in front-drive, or the optional I-ACTI all-wheel-drive system equipped here for an additional $2,000.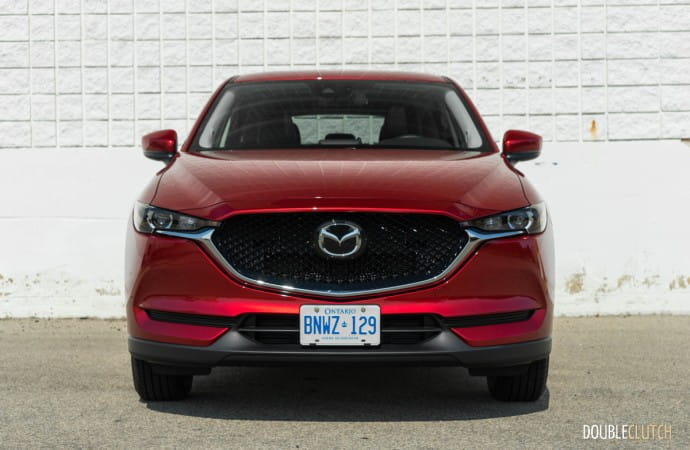 Taking into consideration that this is for all intents and purposes not a speed-machine, power delivery is rather smooth through the six-speed automatic transmission, which includes a Sport mode that keeps RPMs higher for more urgent acceleration. Realistically, I don't see Sport mode being used very often, as it really counteracts the purpose of having a fuel-efficient compact SUV. It also doesn't do all that much more like adjust steering weight or significantly alter throttle response – it just holds gears longer.
Competition like the Ford Escape, Kia Sportage (reviewed here) and Subaru Forester all offer more powerful turbocharged variants, but the CX-5 is easily the most engaging of its segment to drive. It's a shame that a more powerful motor isn't available, though a diesel is on its way later this year, boasting more torque and fuel economy at the same time. Mazda rates the CX-5 at 10.2L/100km city and 8.3L/100km highway. These numbers seem rather fair as our test managed a combined average, with a bias towards city driving, of 10.1L/100km. Regular fuel will do just fine when filling up the tank.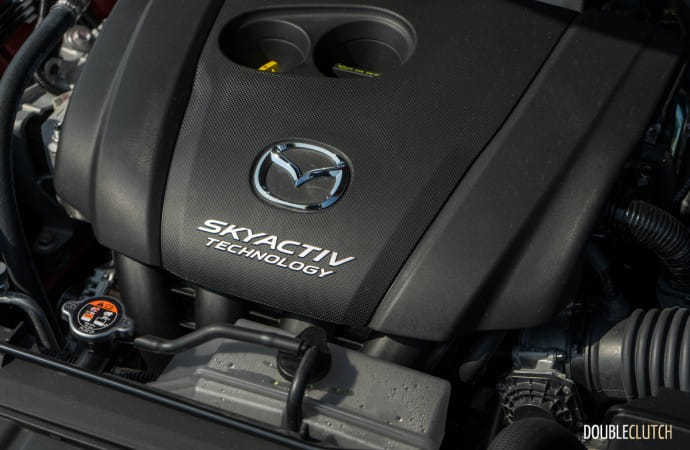 The CX-5 shares a similar pricing structure as that of the new Honda CR-V, Nissan Rogue (reviewed here), and Toyota RAV4. Out of this bunch, the CX-5 certainly feels the most balanced, though subjectively, it's not as attractive as the new CR-V. On-road feel is good, but the compromise for lighter weight is noise. The new CX-5 is quieter than the model it replaces, but outside noise still creeps into the cabin. However, this new CX-5 seems to have taken huge steps in this regard, as things like double pane windows keep wind noise to a minimum, making the cabin much more tolerable at highway speeds.
The GS AWD is the model that most Canadians will buy, and equipped the way it is, will leave buyers satisfied. Navigation is not included, though for $425, you can purchase the navigation software on an SD card and add it in five seconds flat. The realistic cost on this to Mazda is minimal at best, so with the omission of CarPlay, it would be a welcomed addition. Rivals such as the Honda CR-V and Chevrolet Equinox (reviewed here) offer CarPlay and Android Auto, which bring smartphone navigation to vehicles equipped without factory nav.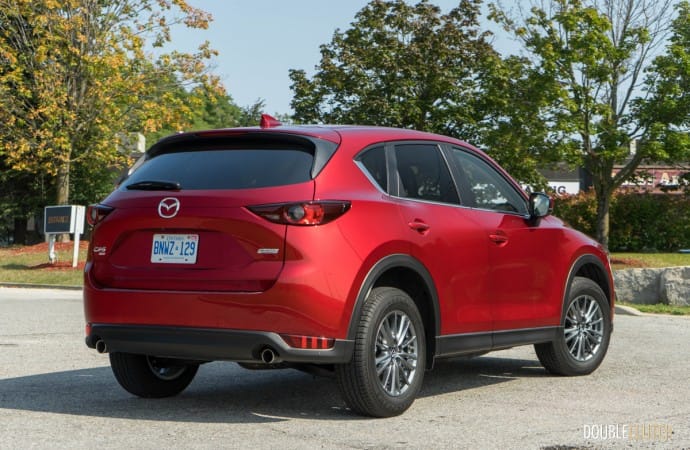 Minor setbacks aside, the 2017 Mazda CX-5 GS AWD caught me off-guard in a very pleasant way. The seats were comfortable, the cabin was quiet, and boy, does it ever look good. The base model GX starts at a price of $26,930 with a manual transmission, with an optional automatic. Upgrading to the GS increases the price tag to $31,130. The as tested price of the CX-5 GS I drove comes to a total of $33,130 with the added options. Is this new crossover worth the price? I think so, but is it the best in its segment? It's certainly up there, and the last CX-5 was a class-leader, but the competition has caught up very quickly in the last year or two, and there are many viable players worth considering.
See Also: