The age of the turbocharger is here, with forced induction casting a shadow over naturally aspirated engines. While the new era promises better fuel economy, increased power outputs and generally better performance, the sheer pleasure of eight cylinders firing in quick succession is hard to beat. Last year, the Dodge Charger SRT 392 won my Editor's Choice award. The raw power combined with the obnoxious yet intoxicating sound stole my heart and earned my praise. It's a ton of car for the price. This road test involves giving the 2017 Charger Daytona 392 a proper test run over a week's time, involving a long road trip up north for a camping trip. Would I enjoy it as much as I did the year before?
Well first and foremost, the power in this car comes as a shock to most. Passing power is a non-issue and starting up the 6.4L motor is sure to thoroughly annoy the neighbours at 6:30 in the morning. The V8 dishes out 485 horsepower at 6,100RPM and 475 lb-ft. of torque at 4,100RPM. This translates to a 0-100km/h time of roughly 4.6 seconds. While it can be used as a regular daily driver, the Charger Daytona doubles as a serial killer in Sport mode with a louder-than-loud exhaust, paying homage to the days where the bigger, louder car was king.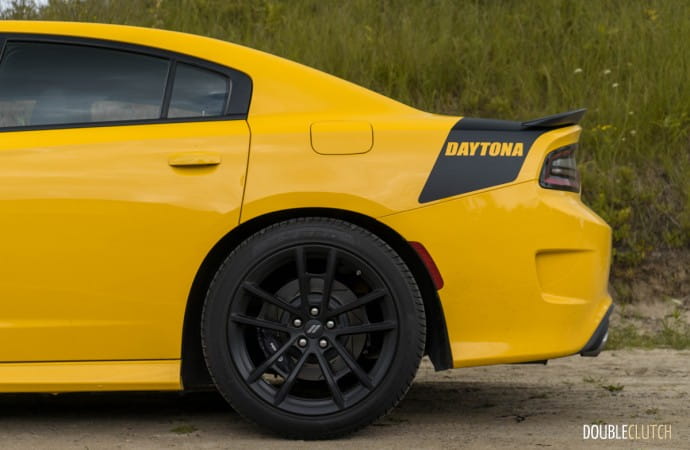 The updated Uconnect system offers a cleaner, more organized layout, making it easier to access the SRT screens, vehicle settings, and thoroughly enjoyable launch control system. The digital prompt makes it simple for the driver to engage the system, and allows the driver to select what RPM the car will hold when the time comes.
As expected, the Charger Daytona is only available in rear-wheel-drive, and while that's the absolute right system for this car, it limits the car's ability to perform in the colder months. Winter tires would indeed help, though this much power in a rear-wheel-drive car will prove to be a challenge after an inch of snow falls from the sky, making it more of a summer toy. And while I praise the massive 392 cubic-inch engine, it does come with one vital downfall; fuel economy. Fair warning, if you plan on buying based off fuel economy, this is not the car for you.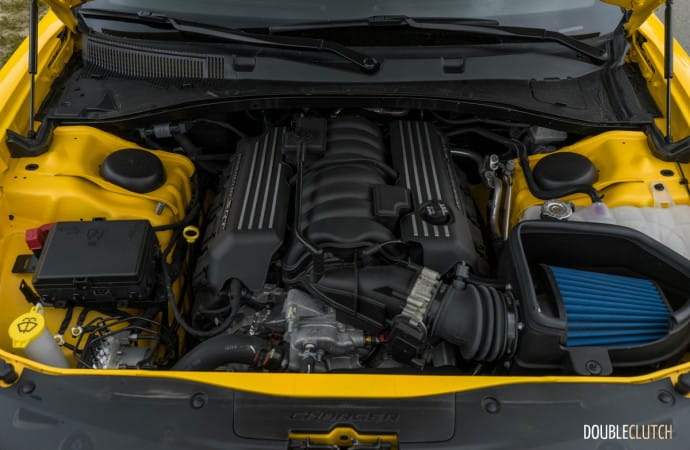 Manufacturer fuel ratings range from 15.7L/100km city and 9.5L/100km highway, and while those figures are indeed possible, I bid you good luck reproducing them. During my regular commute, my fuel ratings hovered right around the 15.7 number, because it's just so much fun enjoying the addictive acceleration and exhaust sound. Driving up north however, my fuel ratings dropped significantly, delivering closer to 12L/100km, proving that if you drive sensibly, the manufacturer figures are more than feasible.
Compared to the regular SRT 392 (reviewed here), this iteration comes with a special touch. The Daytona Pack adds a flare of old school nostalgia with Daytona insignias placed tastefully around the car, inside and out. It also sports a satin black roof, a matching one-piece satin black trunk spoiler, with a black vinyl stretching from the rear-left quarter panel, and across the trunk, outlining the word "Daytona" exposed in the paint. In addition, the hood features another bit of vinyl with the word "HEMI", just in case you forgot what was lying beneath.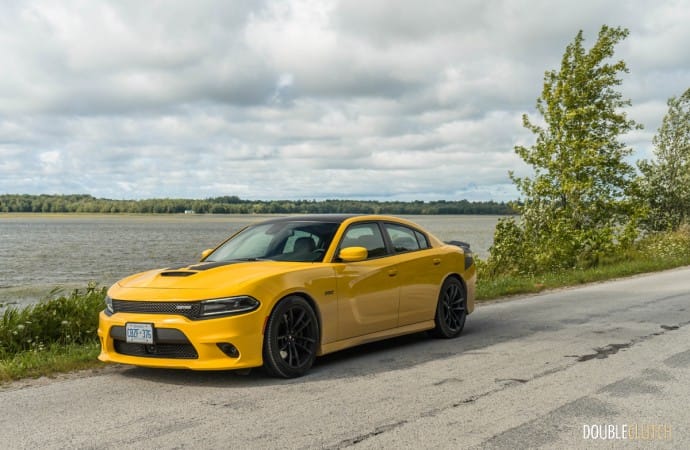 Just as per the regular 392 Charger, 392 badges are found on the front fenders, though this time they are comprised of vinyl instead of a plastic lettering. All these little accents really pop with the Yellow Jacket paintjob found on this tester, a real eye catcher. Aside from the visual upgrades, the Daytona 392 also receives a handful of performance upgrades, with wider 20×9.5" black forged aluminum wheels, a high-performance suspension, and six-piston front and four-piston rear Brembo Brakes.
The cabin of the Charger is where things become a little less polarizing. While the seats look large and plush, they're actually rather stiff. It was quite difficult to find a seating position that felt right. The overall refinement of the cabin was lacking the fine touch one would hope for in a performance sedan. Some of the materials were questionable at best. For instance, the trim piece on the center stack was made of some type of engineered plastic finished in dark grey with a black pattern on it that just looked permanently dirty.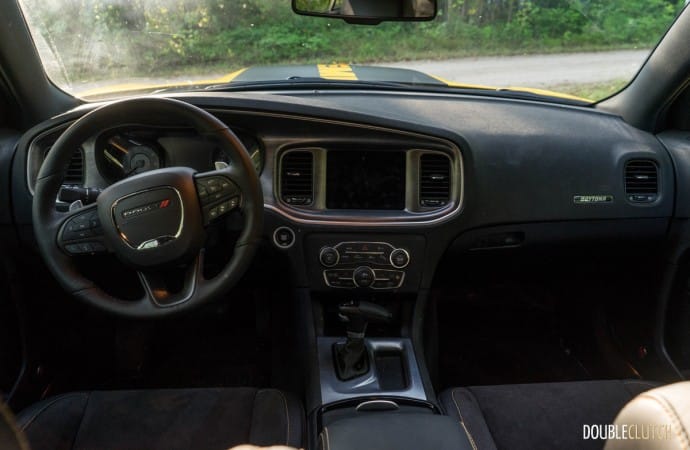 The Beats audio system, a $995 upgrade, has a lot of bass, but when listening to lighter genres of music, the settings were difficult to get just right. Realistically, does this come as a surprise or even matter? In short, no. This is an American muscle car, known for its performance and not refinement or quality appointments. Their sole purpose is to wreak havoc on drag strips. If the sound system isn't all that great, it can just be shut off and replaced with the symphony of the all-American V8.
The Charger Daytona drives exactly how you'd expect, with a squirrely rear end and a heavy demeanour. Throttle response is very nice and the electric power steering steering is weighted nicely. Opting for the manual mode via the paddle shifters is surprisingly very satisfying, with responsive shift times that make a nice loud bark through the exhaust.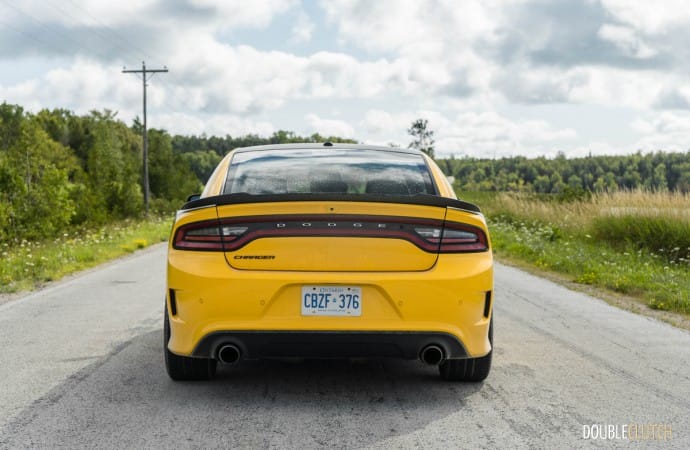 A base Charger Daytona 392 comes with a starting price of $57,195, and after adding a few options as tested here, this vehicle comes to an as tested price of $61,080. The 2018 Dodge Charger Daytona 302 is a genuinely fun toy with plenty of room for the family, though it lacks the everyday comfort and practicality of a daily commuter. An exceptional car, this, and if muscle cars ever truly go extinct, this Charger will be sorely missed.
See Also: