Few things beat summer cruising with the top down. Going on long drives to nowhere can be as relaxing as sitting in a hammock by the lake. Many of the convertibles out there right now are comprised of a soft-top roof that folds away. Those interested in a hardtop should expect higher prices on more exclusive vehicles as obviously, hardtops are much more complex and expensive to manufacture. The 2018 BMW 440i xDrive Cabriolet happens to be one of the least-expensive hardtop convertibles money can buy right now. It is, however, still quite expensive.
The most apparent highlight of this car is the pictured colour scheme. The paint job resembles that of Long Beach Blue found on the M2 (reviewed here), though our 2018 440i Cabriolet earned a new colour called Snapper Rocks Blue Metallic ($895), part of the Individual colour options offered by BMW. Paired with the Opal White Extended Merino leather ($1,990), also a BMW Individual option, and the Ash Grain Black Trim with Metal Inlay Chrome Highlight, this particular 440i gives off strong poster car vibe. Something suited for the Pacific Coast Highway, and perfect if you're someone who enjoys the attention.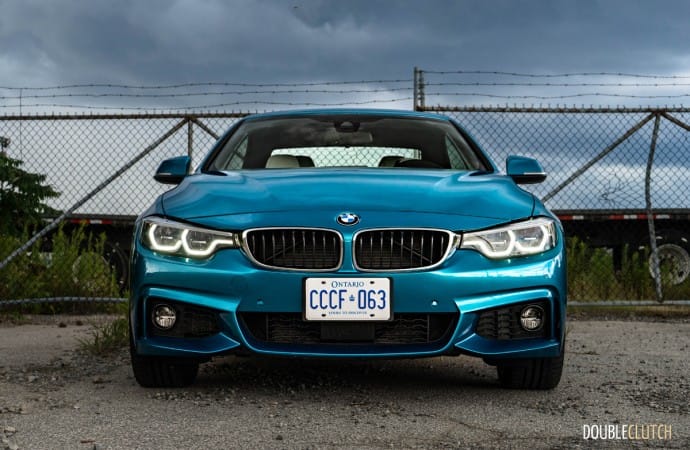 Spirited colours tend to be accompanied by spirited performance, which brings me to my next highlight. BMW offers factory performance upgrades offered as M Performance packs in two stages. The first stage offers a mix of styling and performance upgrades for $1,900. Included are large M Double Spoke Bicolour wheels featuring a staggered setup, 19×8.0, 22/40 R19 at the front and 19×8.5, 255/35 R19 at the rear. It also adds M Sport brakes, Adaptive M Suspension, and Variable Sport Steering.
Stage II focuses solely on performance, with a 30-horsepower boost thanks to an M Power Kit, and an M Performance Exhaust that border-lines on being comparable to gunfire when activated. Seriously, opening the exhaust valves in Dynamic Sport driving mode turns this car from a luxury commuter to obnoxiously loud sports car. The throaty roar can't help but crackle, pop, and bang with every lift and downshift; it's hilariously good. If extra character is what you want from your 440i, these packages are worth consideration. Note that one must order the first package in order to option the second.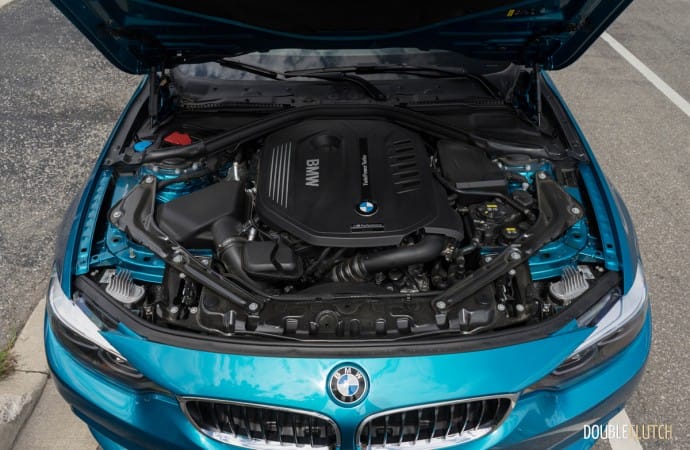 Performance figures on the 2018 440i Cabriolet are nothing short of satisfying. All the gasoline engines in the new 4-series hail from the latest modular BMW EfficientDynamics family and are equipped with BMW TwinPower turbo technology. The 430i offers 248 horsepower, while this 440i produces 320 horsepower out of the 3.0L inline six-cylinder motor. With the M Power Kit, that figure jumps to 350 horsepower. Torque figures go unchanged with the power kit, leveling off at 330 lb-ft. of torque between 1,380 and 5,000 RPM.
The 440i Coupé offers both a manual six-speed transmission and the eight-speed Steptronic Sport Automatic Transmission, but the Convertible is only offered in the latter. While a manual may appeal to some buyers, this ZF-sourced automatic can keep up with the immediate input of the driver's selective paddle shifting. BMW rates the 440i Cabriolet at 11.3L/100km city and 6.7L/100km highway. After a week of driving my typical inner-city commute, our test resulted in an average of 9.6L/100k – not the least bit disappointing.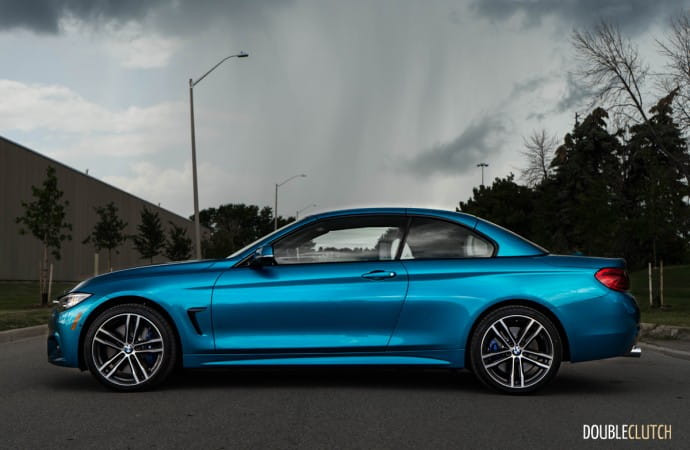 This is one of the few cars where toggling between Comfort and Sport modes shows noticeable differences, and the Variable Sport Steering is a prime example of just that. While putting around in Comfort mode, the car feels light and easy to control with minimum effort. Moving into Sport mode drastically increases the weight of the steering wheel, allowing for a more engagement driving experience.
Power delivery is smooth and braking is instantaneous thanks to the M Sport brakes. Most convertibles come with unbearable wind and road noise, as expected from a traditional fabric roof. Thanks to the reinforced hardtop, exterior noises are muffled to a minimal level, similar to what you would expect out of the fixed-roof 440i. This makes for ideal driving conditions year-round. The Harman/Kardon sound system does a fantastic job at keeping music crisp and clear even when cruising at highway speeds with the top down. As part of the Smartphone Connectivity Package ($750), Apple CarPlay is included.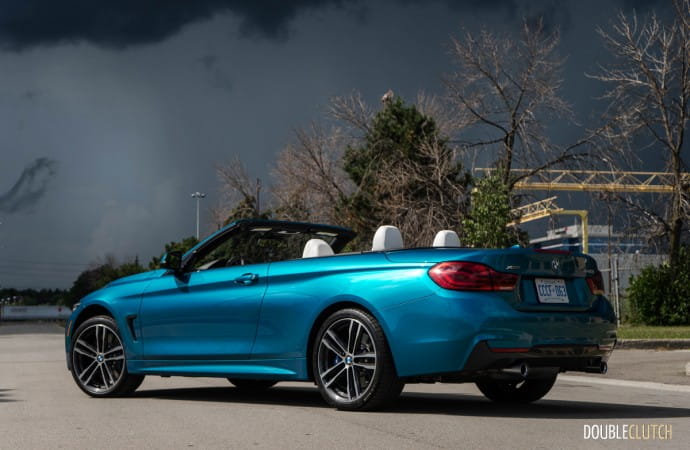 When putting the roof away, the folding mechanism is actually quite fascinating. The three sections of the roof come together, piling on top of one another. All of this weight is supported by two rather slim metal arms that then carefully guide the roof into the trunk. The downside of this is that cargo space is dramatically reduced when going topless. Don't expect to toss your golf bag in the trunk with the roof tucked away.
The bright colours and loud exhaust steal most of the spotlight on this particular tester, but there is some new tech at play behind the scenes. After making its debut in the new 5-series (reviewed here), the latest version of iDrive is standard in the 4-series lineup. iDrive 6.0 features a new menu structure with configurable tiles featuring live content. It doesn't take long to understand how the operating system works, though understanding it still means navigating a plethora of menus to achieve a simple task. BMW might want to consider taking of page of Audi's MMI playbook to help with ease of use.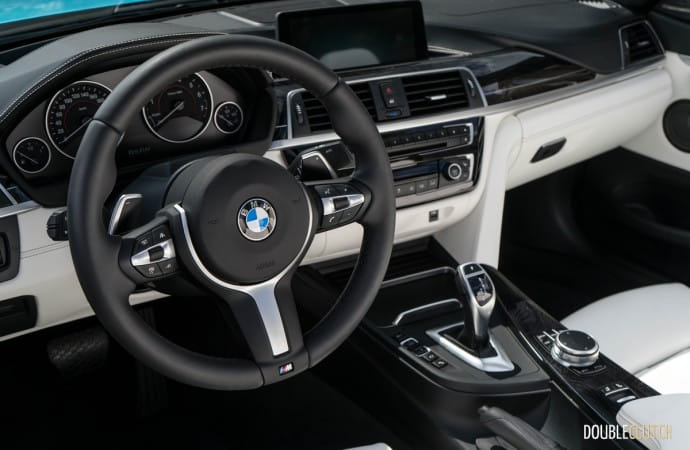 The 440i goes up against the Audi S5 Convertible, and both of these cars come as serious threats to each other as new introductions to this segment. The Audi is proving to be quite the threat with cars flying out of showrooms, thanks to the successful full redesign that also debuts this year. What it doesn't offer is a retractable hardtop, which plays in BMW's favour.
The 2018 BMW 440i xDrive Cabriolet starts at $71,050, a premium price for a premium trim. After adding many performance bits and technology packages, we come to an as-tested $89,485. This is as far as money can get you before entering M3 and M4 (reviewed here) territory. The M4 is a completely different character of car, and at the end of the day, the presence of xDrive all-wheel-drive on the 440i makes it a more compelling purchase for the typical Canadian buyer.
See Also:
2017 BMW M3 Competition Package