Introduced in 2013, the Honda CBR500R is aimed towards being a more cost-effective alternative to larger 600cc bikes, which have dominated the super sport industry in terms of majority for so many years. With a price tag that's basically half of what the CBR600RR costs, you really start to question your wants versus your needs in a bike, and whether or not your ego is going to get in the way. The 2017 Honda CBR500R remains unchanged from last year's updated version (reviewed here).
A 471cc liquid-cooled parallel twin with a six-speed transmission, and a super light clutch that's easy on the wrist all day long – just the recipe. The seating position is super low too; sitting at 30.9" you're able to keep both feet comfortably flat on the ground with a good amount of bend in your knees. The CBR500R is also very light with a wet weight of 428 pounds; it leans and stands back up with ease making corners effortless. Braking is adequate thanks to its light weight, and with the optional ABS I was able to ride comfortably and confidently in the heavy rain that I was unfortunate enough to find myself caught in.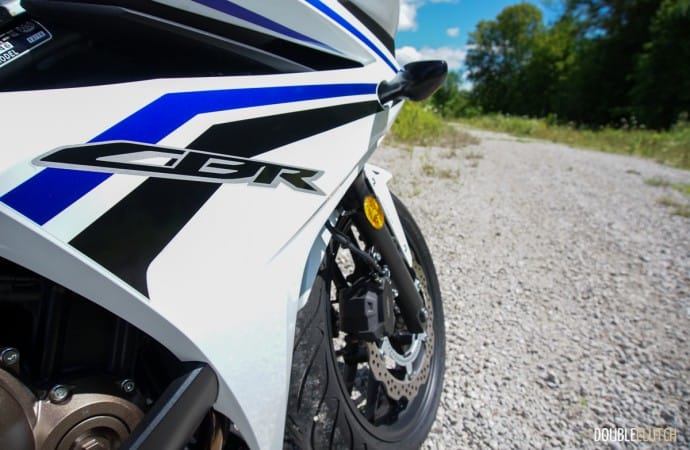 One interesting thing I would like to mention is the variety of colour options. Our neighbours south of us are restricted to only two colour options, which are Black/Candy Orange and Millennium Red also known as Honda Red. Here in the Great White North, we're given a third colour option, which is a really sharp and appropriate white with subtle blue accents.
After little time spent on the 2017 CBR500R I was quick to realize that it is really the ideal bike for people getting into motorcycling. It's small, compact, and confidence inspiring which is huge for new riders. More importantly, this bike is very predictable. Smooth power delivery that doesn't surge, and smooth braking that isn't harsh. Combine all of this with a comfortable seating position that makes you feel in control, and the CBR500R is really a good little package that doesn't break the bank.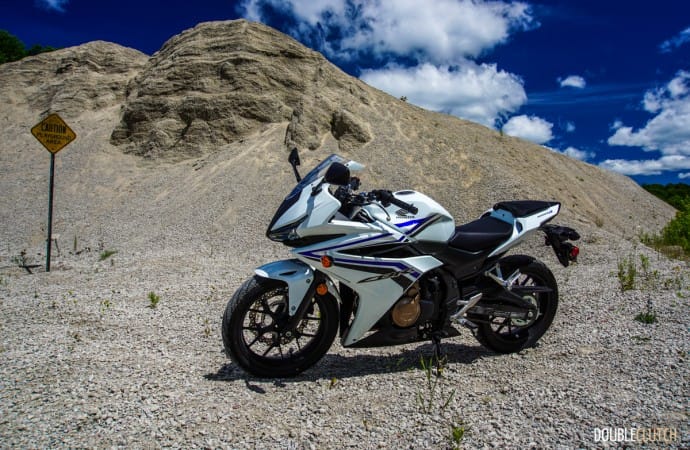 One thing that got annoying quickly was when the engine was around 4500-5000RPM, there was a high-pitched vibration noise coming from the wind screen. It almost sounds like a kazoo. I think it's important to mention without getting into great detail that even though the CBR500R is obviously only 100cc smaller than the CBR600RR, it's not quite a relative comparison. The CBR500R packs this parallel twin engine while the 600 is an inline four-cylinder. long story short the 500 isn't keeping up with the 600s in a straight line; it's not even close.
All that extra power on the CBR600RR comes with a price, which is why, as previously mentioned, ego may come into play for some when it comes to deciding between the two motorcycles. The CBR500R packs honestly enough power all types of riding that you'll experience on our Canadian highways. You just have to ask yourself if leaving most cars in your rear-view is what you want, or if comfortably going with the flow is enough for you. It has plenty of pep for zipping around cars in the city streets, and it fares well on highway passing.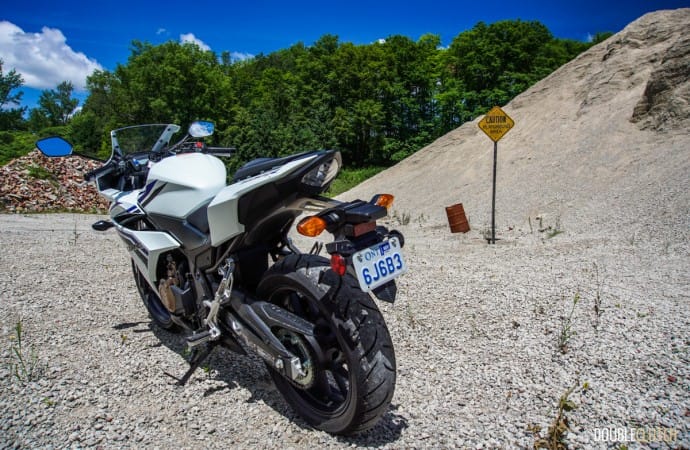 At the end of the day, the 2017 Honda CBR500R is a comfortable bike, that's plenty nimble if you set your ego aside. This is definitely a great bike for the entry-level rider looking to avoid outgrowing their bike once they get the fundamentals down. If you're looking at getting into motorcycling, I'd definitely consider the CBR500R over its siblings. All of this can be yours for $7,199.