Some people don't like fire-breathing muscle cars, or singing Italian sports coupes. Some find two-seat, lightweight sports cars to be impractical and unnecessary. Many just want a comfortable commuter sedan with safety features, a smooth ride, and a quiet interior. These are sometimes the types of people to whom you ask, "is it front-wheel-drive or rear-wheel-drive?" and they respond with "Yea, I think so." Not surprisingly, the intricacies of differentials, compression ratios and driveline setup are often irrelevant to the non- enthusiast.
Most people (I'll call them normal people) don't like to spend their time trying to justify the purchase of a third un-reliable sports car to their spouse. However, they may be looking for a vehicle that can comfortably, safely, and luxuriously, get them to their destination for a very reasonable price, and that's where the 2017 Kia Cadenza Limited comes in.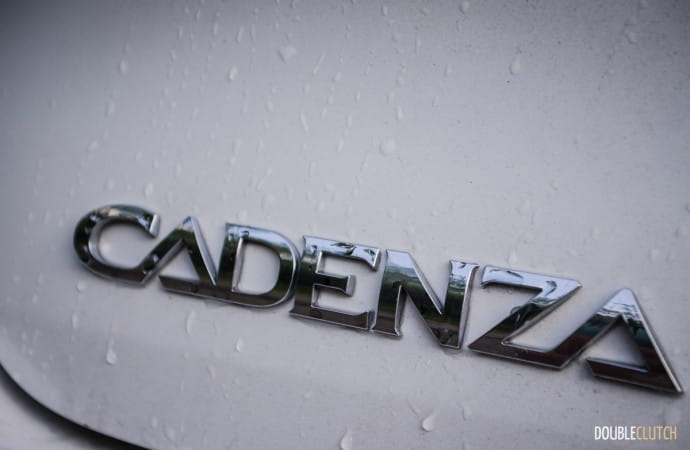 No, this is not a car that will stir the heart and soul of driving enthusiasts. It's front-wheel-drive, and doesn't pretend to be fun to operate. What it does do though, is make you a very happy commuter. There is ample space for the driver, and even more for passengers behind you. Drivers and passengers over six feet will fit comfortably. Immediately upon sitting down in the Cadenza you get 'executive' vibes. Our tester in 'Limited' trim comes in at $45,795, and on the outset, this sounds like a lot.
When you consider that you get features like, ventilated, quilted Nappa leather seats, 360-degree camera, autonomous emergency braking, a Harman/Kardon sound system, power adjustable steering wheel, 12-way power adjustable front seats with lumbar control, 19-inch chrome satin wheels, and many more goodies, it doesn't seem all that expensive. If you include the fact that you also get a smooth 3.3L 290HP V6 tossed in there for good measure, it begins to look like good value.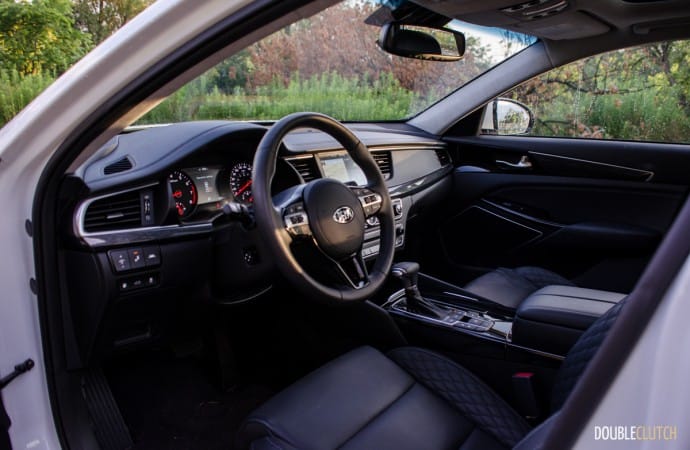 Power delivery is fairly linear, if not quite German in its refinement levels, and the Sport mode works well to hold the higher gears so you have access to torque. However the Cadenza does seem to get lost in its own eight-speed automatic transmission, often hunting for gears, and occasionally selecting the wrong one. The shifter clicks over to the left so you can shift manually but you likely won't bother; this car isn't about running out the gears. I left it in Eco mode and it glided around quietly for the majority of the week. The eight-speed contributes to fuel economy, and while Kia slates 11.5L/100 km in the city, and as good as 8.5L/100km on the highway, I managed 9.6L/100km in a mix of both – right on the money. This is a fairly impressive number for such a large comfortable sedan.
I found the Cadenza quite relaxing to drive, if not enjoyable. It does feel quite large, and since it is front-drive and the V6 is north of the front axle, it really does tend to drag itself wide in tight corners. Let's just say I wouldn't use the word 'zippy' to describe the way it changes direction. 'Sport' mode adds some weight to the steering, but it still lacks feel, actually making it a bit difficult to point it perfectly in faster corners.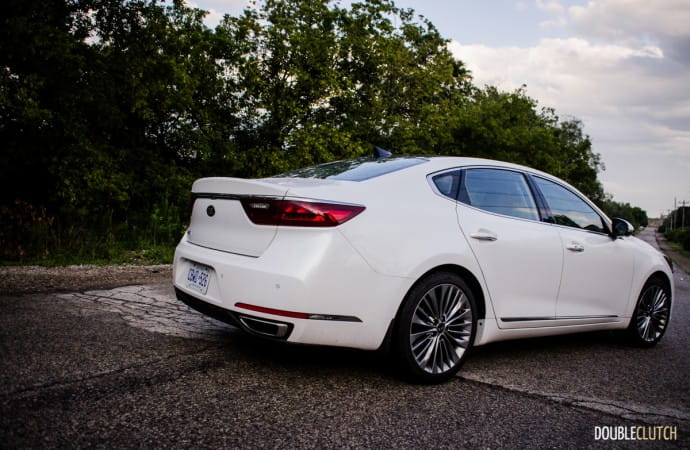 While the ride feels very smooth and the body is well controlled over road imperfections, the Cadenza would occasionally have a slight feeling of 'hop' in fast sweeping corners. But, arguably this car isn't for fast corners. However, an AWD version, if there were one, would likely add some confidence in the twisty stuff, and would make it feel more secure in the winter.
The exterior of the car is very well proportioned, and I think it looks fantastic. The Z-shaped daytime running lights add a very premium look, and the vertical slats on the front grill are sharp and well designed. These are broken up by a square sensor right in the middle of the grille that probably could have been hidden better. The car looks very good, but for me personally, I can't help but think it's trying a bit too hard to be premium. Let me explain.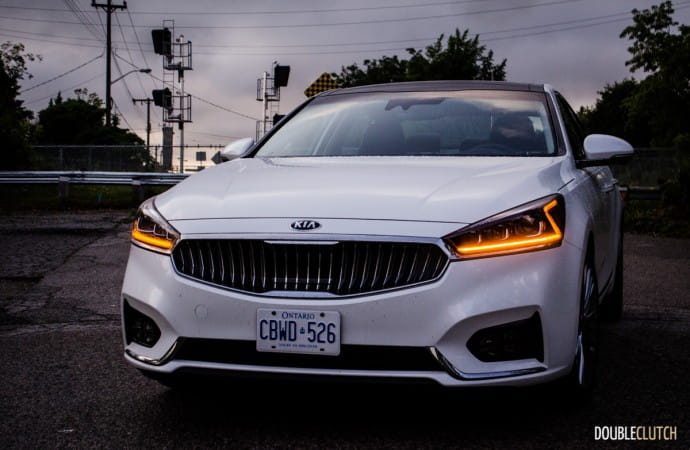 There is an analog clock in the dash, which for some reason, feels like posturing. I didn't deem it necessary and just a well-integrated digital clock would have been fine. The piano black trim might look good from a distance, but again, it's actually not very practical and is overly trendy; it gets covered with dust and fingerprints immediately since it has been placed in high traffic areas.
The biggest over-the-top 'premium' feature is the little sing-song it plays for you when you turn the car on or off. The chime is exactly five seconds too long, and it sounds more like a jingle played during a mid-1990s commercial break, reminding you to "stay tuned, because 7th Heaven will be right back…" Furthermore, the radio keeps playing until you open the door after you turn the car off.  So just about 100% of the time, the chime will clash with whatever song was on the radio. Honestly, the car would be much better off without these pseudo-premium features.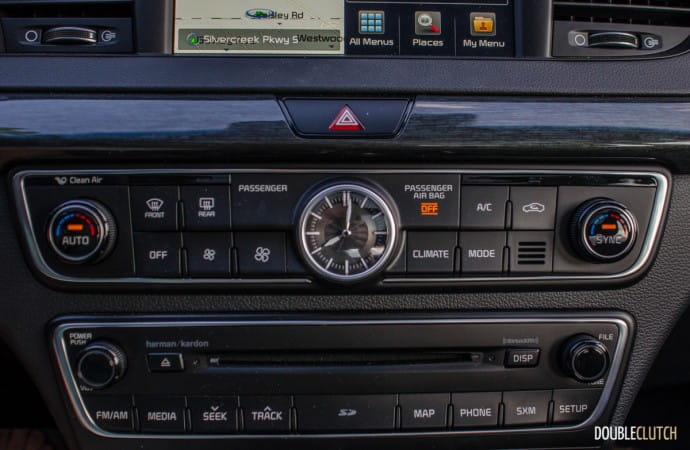 The rest of the interior is very good though. The climate controls are simple enough, the 8" touch screen is quick and clear, and the available Apple CarPlay and Android Auto connectivity is everything you need. The centre screen in the gauge cluster is high resolution and bright as well, and delivers the information you need, including a large clear digital speedometer. There were a few interior quality issues, though. The door cards buzzed when the stereo was turned up a bit, and the sunroof squeaked over bumps (depending on the temperature), but with the price you are paying for so many features, I'll let some go.
Whether or not the 2017 Kia Cadenza Premium is a true luxury car is up to you, the buyer, to decide. If you don't care much for which wheels do the driving, or how a car handles when you push a bit harder, you likely won't take any issue with this one.  No, it isn't a flawless performer, but all things considered, it is indeed a very, very comfortable car and definitely premium in its overall delivery.
See Also:
2017 Toyota Avalon Limited