Taking a good hard look at the current MINI range, it is easy for someone to argue that the nameplate has lost its way. Many of the products sold today are far from "mini", and while they've certainly come a long way from their humble beginnings in terms of refinement, technology and safety; from behind the wheel of a new Countryman (reviewed here) it can be difficult to connect with the historic lineage of the brand. While that may seem like a sad destination for such a storied namesake, it's not exactly true.
You can still buy a car that is true to the legendary success that MINI saw on the rally circuit through the 1960s, led by the infamous John Cooper. John took the rather mundane MINI and built tightly wound lightweight race cars that dominated their competition and inspired a new breed of MINI enthusiasts. That same formula lives on in the current crop of John Cooper Works (JCW) MINI's, and none is more true to original form than the three-door hatchback. We borrowed a 2017 MINI John Cooper Works, fully loaded, to see what the current model offers.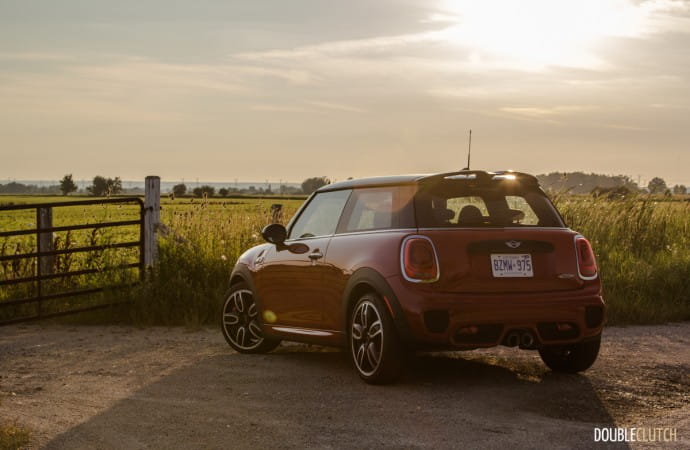 Most have strong opinions about the MINI aesthetically, but it's difficult to deny that the John Cooper Works package, as applied to the three-door test car, really makes it look and feel special. Finished in Chili Red with gloss black accents and bonnet stripes, the JCW boldly stands out amongst just about any other hatchback on the road. That attention grabbing look is only aided by the big 18" wheels, huge red four-piston calipers, and classic MINI grill mounted fog lights.
Exterior fit and finish is excellent, as you might expect from a BMW product, and the adaptive projector beam HID headlamps do a great job of lighting up the night while adding a modern touch to a classic design. As cool as the classic style fog lights are, we could not for the life of us figure out how to get them to turn on, even after consulting the manual. Another nice little exterior touch is the twin JCW-branded exhaust tips which feature a slick carbon fiber heat shield, very well done.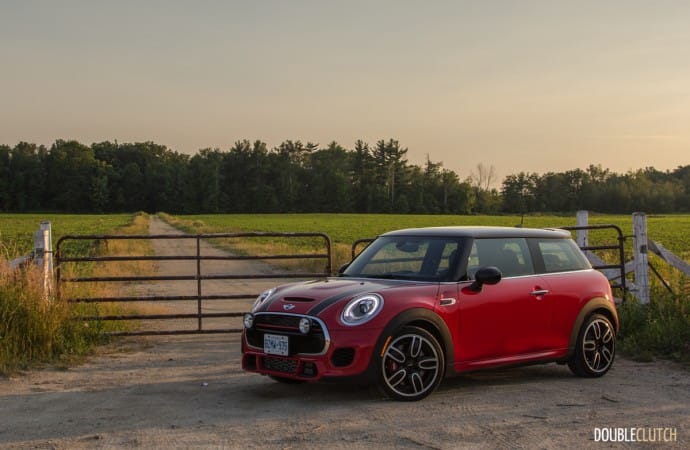 The high quality JCW specific touches carry inside the MINI as well with gorgeous Dinamica (Italian microfiber) and cloth two-tone heated racing style seats. The seats are very well bolstered to keep you in place during spirited driving, but unlike most sport seats are actually quite comfortable for long hauls. The red and black two-tone theming continues on the floor mats, dashboard and steering wheel, all of which are finished to a high standard. The rear seats appear tight at first glance, but were able to comfortably accommodate a smaller adult with relative ease.
The downside is that while the rear seats do fold down to allow extra cargo space, they do not fold flat – which can be a restriction for anyone who wants to use their hatchback for bulky cargo. The other qualm with the MINI is the lack of convenient storage up front. Two small cupholders and a very small centre console are supplemented with awkwardly tight door pockets, and a marginally better glove compartment. Anyone who carries more than a couple of small items with them on a daily basis will struggle to find a convenient home for everything.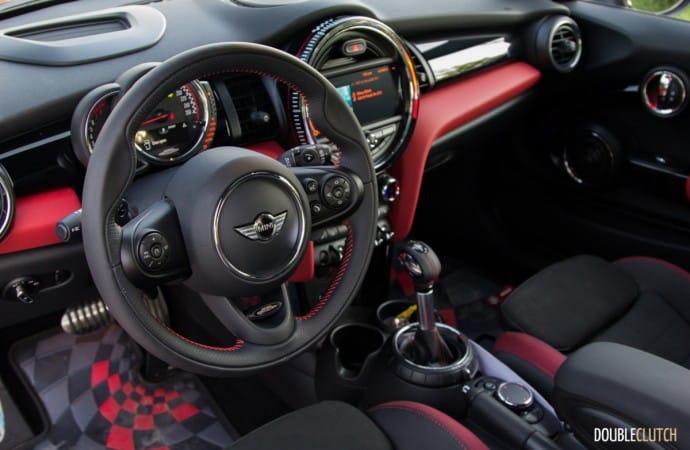 One interesting little gimmick that you'll only find inside the John Cooper Works model is a remote control button that activates Track Mode for the exhaust. To use it you must put the car into Sport Mode using a slider near the gearshift, and then double-tap the end of the remote controller (which uses Bluetooth). Doing so transforms a relatively tame hatchback into a fire breathing high-strung race ready beast, accompanied by an absurd amount of burbling and popping from the twin exhaust outlets. That's all great, but it remains unknown why the folks at MINI decided to build that functionality to be dependent on a removable and easy-to-lose little trigger button, rather than just building it into the dash or console.
Whether you're blasting around in Sport or Track modes, or just cruising along at a relaxed pace, out on the open road is where the JCW really starts to make sense. It is simply one of the most fun front-wheel-drive cars available today. Credit goes to the turbocharged 2.0L four cylinder outputting 228 horsepower at 5,200RPM and 236 lb-ft. of torque at 4,800RPM, mated to the slick and quick six-speed automatic with paddle shifters in the test car.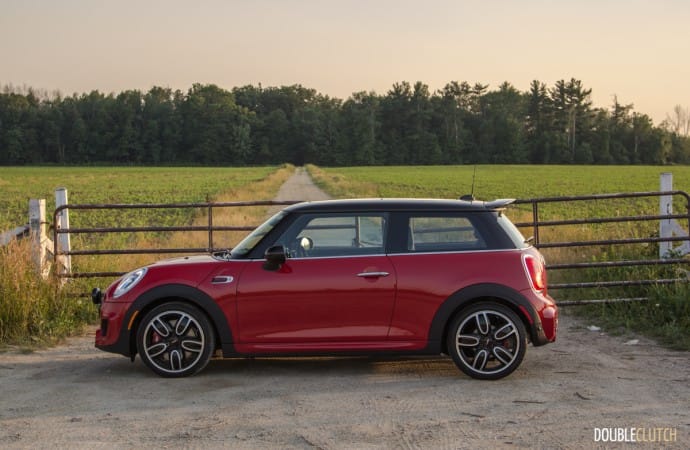 The MINI John Cooper Works is also available with a true six-speed manual if you're so inclined to row your own gears. In all honesty, the automatic is so well tuned and responsive that there is little need to intervene, other than to hear the sweet sound of the rev-happy engine pop and burble on those crisp downshifts. The JCW is quick; there's no other way to describe it. Sure, it's not exactly a giant killer, but it's fast enough to effortlessly blast through traffic or put a serious grin on your face while highway merging.
The rest of the car certainly doesn't let the peppy engine down either with sharp turn-in, decent steering feel (although there is room for improvement here) and a firm well-planted chassis. The MINI loves sweeping corners and feels absolutely great powering through, and despite its front-drive handicap torque steer is limited and you need to push pretty hard before understeer enters the picture at all. In Sport or Track mode the dampers firm right up, which noticeably improves handling and response, but can be very uncomfortable for everyday driving. Happily, Normal and Green modes soften the suspension enough to make it usable for daily commuting in relative comfort.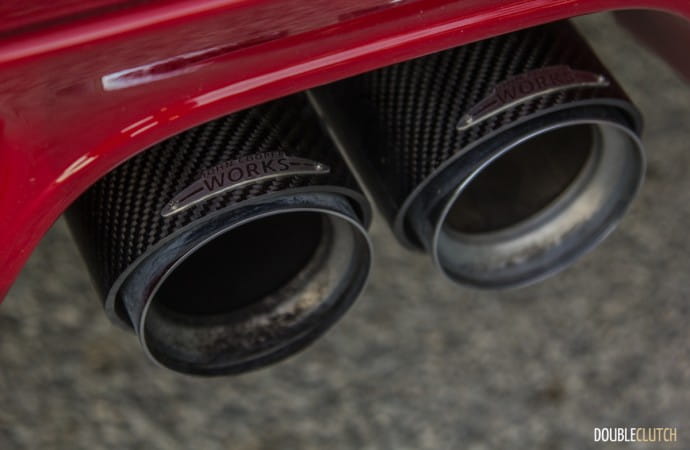 Despite the taunting of the exhaust system, the JCW MINI averaged a healthy 8.2L/100km on premium 91-octane fuel. That's outstanding for a sports car, and maybe a little high for a standard hatchback, so the MINI is likely right where it needs to be from a consumption standpoint.
Since BMW's takeover of the MINI brand, they have traditionally been priced on the higher end of the market and the John Cooper Works model is no exception. The base price for a three-door JCW is $33,740, fairly comparable to a Golf GTI (reviewed here), however adding options can be an expensive endeavour and fully optioned out like the test car with an as tested price of $46,080, the JCW can get into Golf R territory, where its performance is plainly outclassed.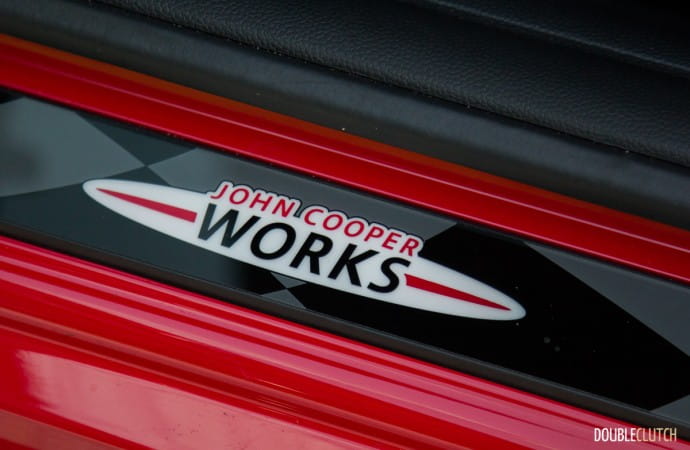 Options are plenty and are packaged out to include a Visibility Package at $1,300 (rear view camera, park assist, HUD), Loaded Package at $1,200 (adjustable dampers, auto climate control, rain sensing wipers, auto dim mirror, etc.), Essential Package at $1,050 (sunroof, heated seats, rear fog lights), Navigation at $1000 and a Style Package at $600. There are also a host of standalone options including the upgraded seats ($2,250), Harmon/Kardon Sound, and loads more. Save for the navigation, which is unnecessary these days, everything else is fairly essential equipment when you're shopping a premium segment like this.
The 2017 MINI John Cooper Works is a phenomenal little car to whip around the city in, and the fact that it does justice to the MINI legacy makes it all the more appealing. However, the price of admission is fairly high, which puts the car up against some very serious competitors if it's strictly performance that you're after. That said, if the quirky MINI style, hatchback practicality and sports car like dynamics appeal to you, then the JCW will not disappoint. Even if it's not a bargain, there are far worse automotive purchase decisions one could be making.
See Also:
2017 MINI John Cooper Works Clubman
First Drive: 2017 Honda Civic Si