On Canadian roads, there is still a strong preference for smaller vehicles and sedans compared to our American neighbours to the south. While demand for crossover sport utility vehicles is snowballing by the hour, a healthy number of compacts still roll off dealer lots every single day. For drivers who wish to inject a bit of fun into their daily driving, there are several good options under $30,000. Nissan Canada recently sent over a 2017 Nissan Sentra NISMO for a week on test, and together with the likes of the Hyundai Elantra Sport, Honda Civic Si, and even the Ford Fiesta ST, the Sentra slots itself right in the middle of the price spectrum relative to its classmates.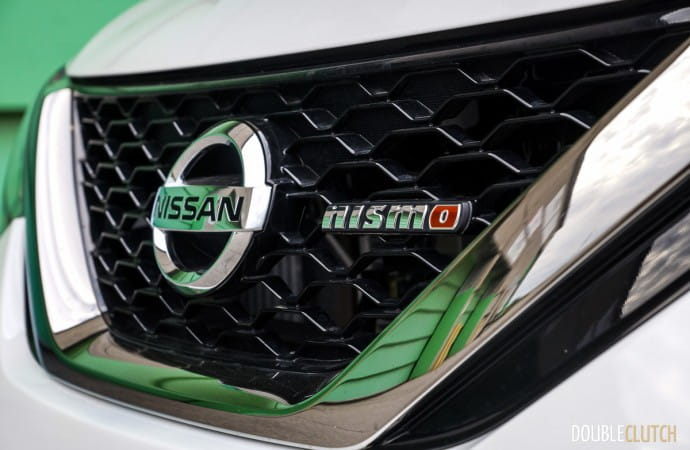 With an as-tested price of $25,998, the Sentra NISMO comes only one way and without any options other than $300 for the pretty pearl colour that Nissan calls Aspen White. All NISMOs come with 18-inch alloy wheels with 215/45R18 Michelin Pilot Sport A/S 3+ performance all-season tires – a solid choice in the sea of mediocre tires outfitted to new cars. There are also LED projector low beam headlights (which make the halogen high beams comically useless), pushbutton ignition, Bose audio, navigation, and a sport-tuned suspension. Automatic climate control and a sunroof are not available on the NISMO.
Powering the Sentra NISMO is a 1.6-litre, turbocharged inline four-cylinder engine that makes 188 horsepower at 5,600RPM, as well as 177 lb-ft. of torque at 1,600RPM. This is a bit less than the new Honda Civic Si (205 horsepower), Ford Fiesta ST (197 horsepower), and Hyundai Elantra Sport (201 horsepower). Thankfully, the NISMO does have great drivability, with good throttle response and imperceptible turbo lag. It revs and behaves very much like a naturally aspirated engine, but with extra oomph thanks to the turbo. The soundtrack on the Sentra NISMO isn't particularly anything to write home about, and is very inoffensive as the revs sweep up to redline. This isn't a slow car, but it also isn't the liveliest.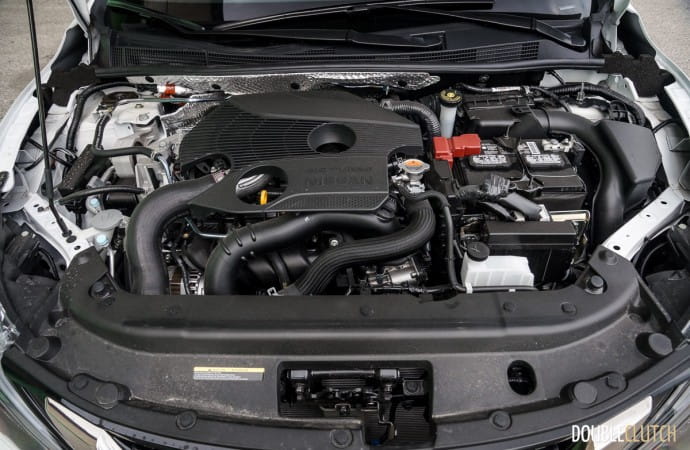 Paired with the 1.6-litre turbo four is a six-speed manual transmission – there's also an available continuously variable automatic transmission (CVT). Shifter feel is decently good, with positive engagement and accurate throws. While it's not exactly up to par with the gold-standard Honda shifters seen in the Civic (reviewed here) and similar products, it's a good gearbox by most standards. Clutch engagement is predictable and easy to modulate, making city driving easy as pie. While many other modern cars include it, the Sentra does not have a hill holding feature. Throttle response and lag out of the drive by wire system is kept to a minimum, and rev-matched and/or heel-toe downshifts are doable on a consistent basis.
Fuel economy figures for the 2017 Sentra NISMO stand at 9.1L/100KM in the city, and 7.3L/100KM on the highway. These are admirable figures considering the power output, and with a slant toward highway motoring, observed fuel economy managed to trump both numbers, with a readout of 7.0L/100KM. Fuel capacity is 50 litres, and premium fuel is recommended by Nissan. Compared to its competition, the Honda Civic Si and Ford Fiesta ST both require premium, and the Hyundai Elantra Sport (reviewed here) happily takes regular.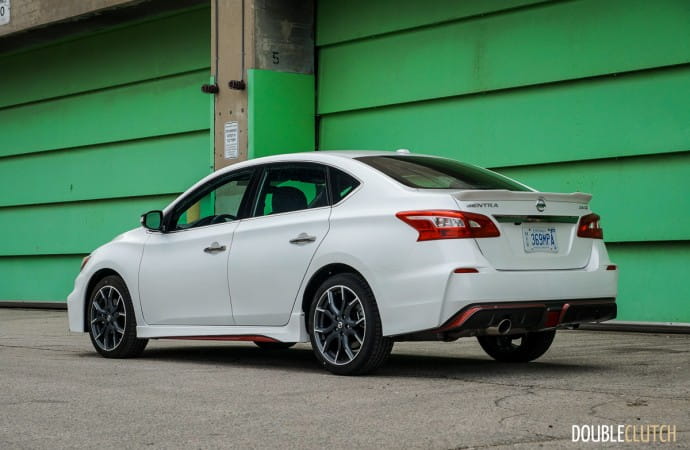 Out in the corners, the Nissan Sentra NISMO manages to do a decent job thanks to its sport-tuned suspension. Ride quality is still very good, with formidable body control and springs and shocks that aren't too firm. Steering response is more weighty and better-feeling than the Honda Civic Si and Hyundai Elantra Sport, but doesn't quite trump the Ford Fiesta ST. As expected for most front-wheel drive cars, handling biases toward understeer at the limit, but is very predictable and progressive in how it presents itself, and can be easily dialed in and out using throttle inputs. While this won't make for the best overall performance, it's certainly better than any standard-fare compact, and is more comfortable than the class-leader Civic and Fiesta. The Sentra is also quieter at speed than any of its archrivals.
Inside, the Sentra NISMO has a relatively large and cavernous interior. For those who frequently take rear seat passengers, the Sentra's legroom is very generous, and thankfully, trunk space isn't particularly negatively affected. The front seats have big bolsters that keep driver and passenger planted in high-load corners, and aren't too aggressive such that long trips become uncomfortable – think Fiesta ST. The seating surfaces and also the steering wheel are finished in Alcantara, which are grippy and sporty.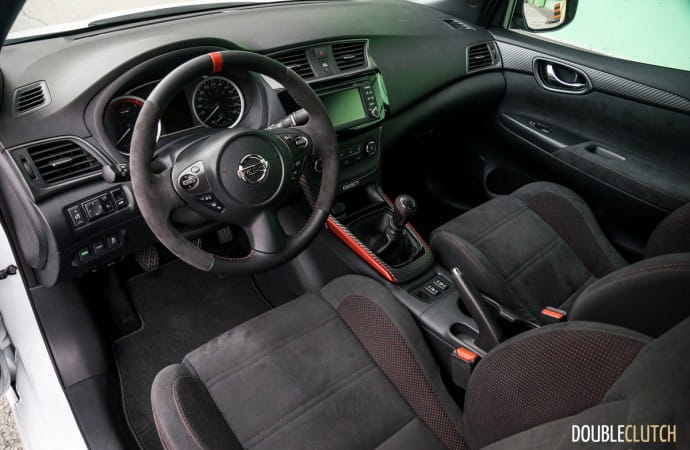 While fit and finish is generally good, the overall interior design is a little more low-rent and feels a bit outdated relative to its competition, and you never quite forget that you're in a car that has a base price that starts below $16,000. Several carbon fibre style trim pieces adorn the interior, which when combined with the Alcantara, make the Sentra NISMO feel a bit more boy-racer than full out race car. This interior would have been fine a few years ago, but the competition has quickly eclipsed it. This rings especially true for the infotainment, which features a now-small 5.8-inch touch screen with an interface that would have been passable five years ago. Functionally, it's all there, with Bluetooth pairing and USB iPod connectivity, but it's no longer as polished as other cars now out there.
At the end of the day, the 2017 Nissan Sentra NISMO finds itself in an interesting spot in the entry-level compact sports car segment. While many will try to compare this car against the likes of the Ford Focus ST or Volkswagen GTI (reviewed here), they need to remember that such similarly equipped vehicles can cost upwards of $10,000 more than the Sentra NISMO. Compared against similarly-priced Hyundai Elantra Sport, Honda Civic Si, and Ford Fiesta ST, the Nissan does have some distinct advantages and disadvantages. It's not the best in terms of performance (look to Honda and Ford for that) or for interior design, but it does have good ride quality, a quiet and extra spacious cabin, and reasonably commendable handling. Those looking for better daily driving manners and interior volume will be smart to check it out.
2017 Nissan Sentra NISMO Gallery
See Also: