The minivan fad of the late 1990s and 2000s is long gone, but when it comes to versatility, practicality and family comfort the minivan is still king. Let's be honest – low step-in, sliding doors, endless amounts of family friendly interior space and a smooth relaxing ride is really what larger families still need. Typically though, there are two approaches to minivan ownership; either you buy the cheapest model around that meets your needs, which usually means a Dodge Grand Caravan.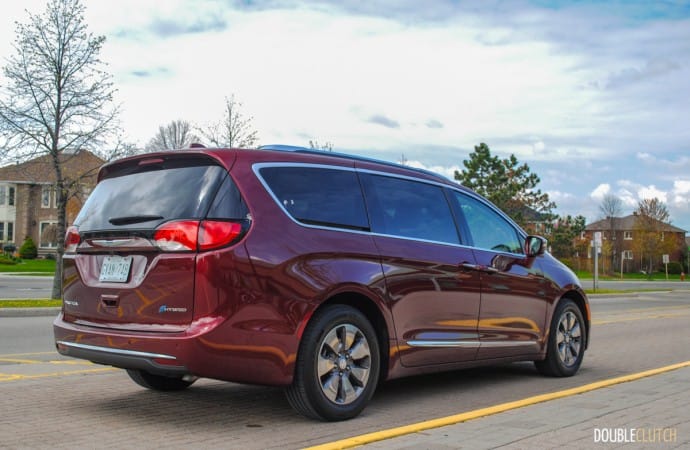 Alternatively, you make the best of it and spend a lot more and get a more premium van that'll hopefully prove to be a family hauler that everyone will enjoy. The market seems to be slowly moving towards that latter option and who better than Chrysler, the forefather of the modern minivan, to take minivan-ing to a new level. Chrysler's latest and greatest Pacifica minivan is now available as a segment-exclusive hybrid. We borrowed a 2017 Chrysler Pacifica Hybrid for evaluation to see how it fares.
The powertrain is actually pretty spectacular in the Pacifica Hybrid; it uses the same 3.6L Pentastar V6 that comes in the standard Pacifica (reviewed here) as the gasoline engine, but with a full hybrid supplementary power system. Fully charged, the Pacifica is good for close to 50km on solely electric power, which is enough for most errands around town without burning even a drop of fuel. Better yet, if you happen to have the ability to charge at work, the electric range will allow many drivers to commute to work with zero fuel use or emissions.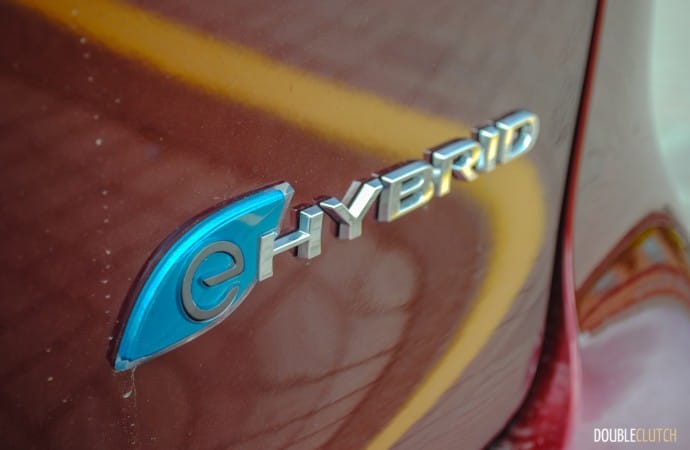 Once the battery is depleted, the Pacifica operates like a standard hybrid, switching between gas and electric automatically and seamlessly to maximize efficiency. This allows for huge range from the relatively small 64L fuel tank, which, depending on your driving style can go close to 900km before it's time to fill up. The Pacifica can be charged in under three hours using an available Level 2 240V charger, or overnight with the standard 120V charger. Charging each night and then commuting 120km in rush hour each day for a week resulted in a fuel economy average of 7.1L/100km.
What's actually more impressive though is the fact that the Pacifica Hybrid is rated at 248 combined horsepower and makes 230 lb-ft. of torque, which means it actually feels surprisingly peppy both in the city and on the highway. Power delivery is smooth, linear and there is absolutely no struggling to pass slower traffic in a big quiet waft. One little gripe with the powertrain is that the V6 gas engine can idle quite roughly at seemingly random times. It might have something to do with the engine kicking into action while stone cold, or maybe just a quirk of this particular test vehicle.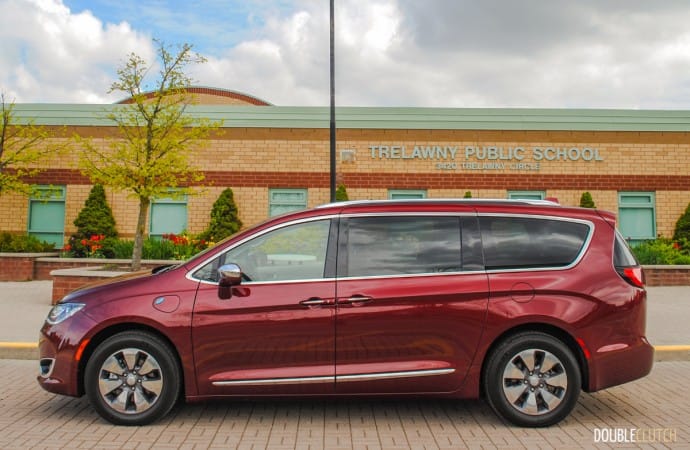 Beyond the slick powertrain, the Pacifica Hybrid does drive like a minivan, which means it doesn't exactly invoke excitement. It feels heavy and the steering is extremely light and easy, but offers little road feel or feedback, not that you'd want much of that in a minivan. The suspension is soft which makes for a great ride, but the van does wallow around quite a bit through cornering or heavy braking. Speaking of which, the brake pedal has a mushy feeling that doesn't do much to inspire confidence, but that is a common trait of any hybrid with regenerative braking.
The extremely quiet hybrid powertrain combined with the Pacifica's already very well-insulated interior means that the cabin can be absolutely silent while you're cruising along – to the point of feeling just a little bit strange. Quiet is nice though, and features like the dual-pane glass and active noise cancelation found in the Pacifica are simply not found in other minivans.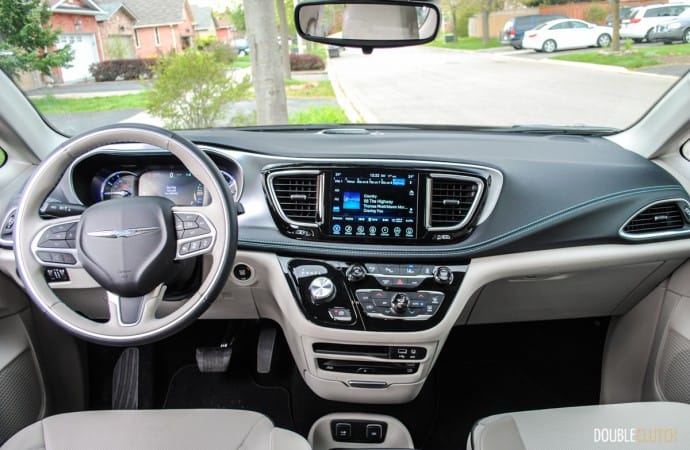 The cabin also happens to be a very nice space for the family to spend time. The test vehicle is a top-line Platinum trim that includes perforated Nappa leather seats throughout – in this case they are a soft cream colour with black piping and Ice Blue stitching. The seats alone are gorgeous, and of course very comfortable with heat and ventilation up front. The second row seats are captain's chairs, but unlike the third row, do not feature Chrysler's Stow-n-Go. The second row needs to be removed if you want to use the space for cargo. This is because the hybrid batteries are using up the space below the second row.
Given Chrysler's experience building good minivans, the interior is a model of functionality with clever storage and thoughtful passenger conveniences everywhere. The dash is colour-coordinated with the seats and flows well with the overall design. The thick steering wheel, wrapped with two-toned leather separated by a thin aluminum rim, is a well-done touch. The dash is dominated by the latest version of the 8.4" Uconnect infotainment system touch screen that can intuitively control just about every feature inside the van, including the rear theatre system.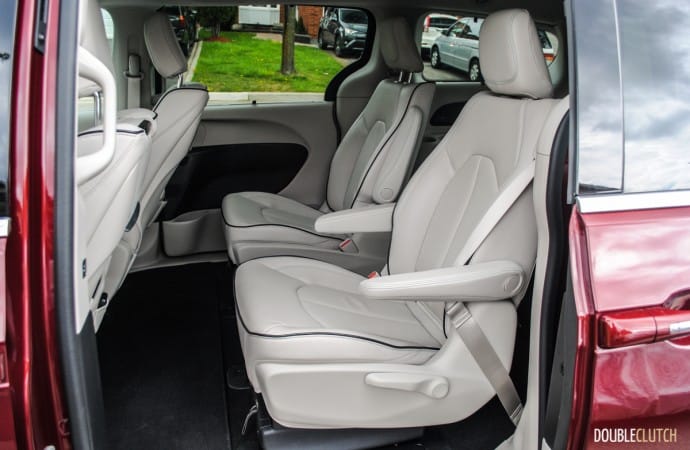 Said optional theatre system is absolutely class leading with two huge 10" touch screens on the back of the front seats, USB and HDMI inputs, 115V household outlets for charging devices, Blu-Ray player, and wireless headphones. The system includes everything you'll need to keep the kids as comfortable and entertained as they would be in the living room, meaning you'll be able to focus on driving, or listening to music on the 13 speaker 506-Watt sound system.
There isn't much on the exterior of the Pacifica Hybrid to denote it as such, other than the charging port and a couple eHybrid emblems. That said, the Pacifica stands out as the most modern looking minivan during our minivan comparison (reviewed here) showdown last winter, and finished in the same Red Velvet Metallic it still looks really good. The 18" alloys unique to the Hybrid and the LED daytime running lamps serve to give the Pacifica a bit more of an upscale look. It's worth noting that even this top of the line Platinum model does not have xenon headlamps, but rather gets by with halogen projector beams, a rarity in hybrid vehicles which tend to favor xenons or even LEDs for their energy efficiency.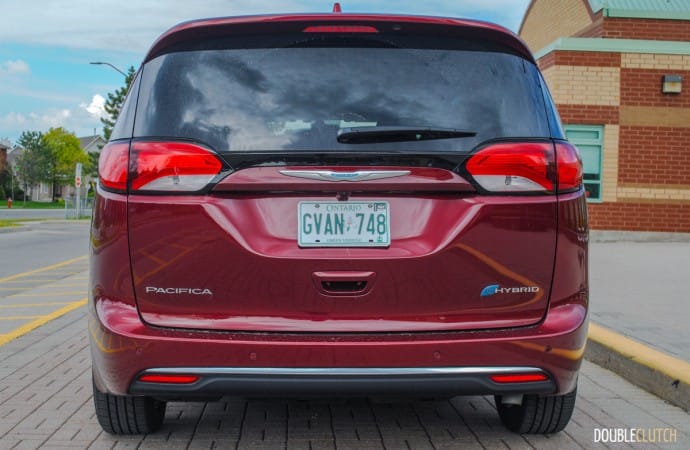 It's probably obvious at this point that the Pacifica Hybrid is not cheap; the as-tested price comes to $58,390. This gets you the Platinum trim model with the aforementioned rear theatre system and full gamut of advanced safety and driving aids such as adaptive cruise control, brake assist, lane departure warning and keep assist, 360-degree surround view camera, and a whole lot more. If that's too rich, you can get into a still very well equipped Pacifica Hybrid in Premium trim starting at $52,495.
There's good news though, because at the time of this writing, under the Ontario Electric Vehicle Incentive Program (EVIP) you can get $14,000 of the purchase price rebated. You can also get $1,000 towards the purchase and installation of a Level 2 charging system, and you'll get Ontario "Green Vehicle" license plates granting access to the HOV lanes on provincial highways. The rebate puts the price of the Pacifica Hybrid on par, or better in some cases, than a comparably equipped regular Pacifica, making it a tempting choice.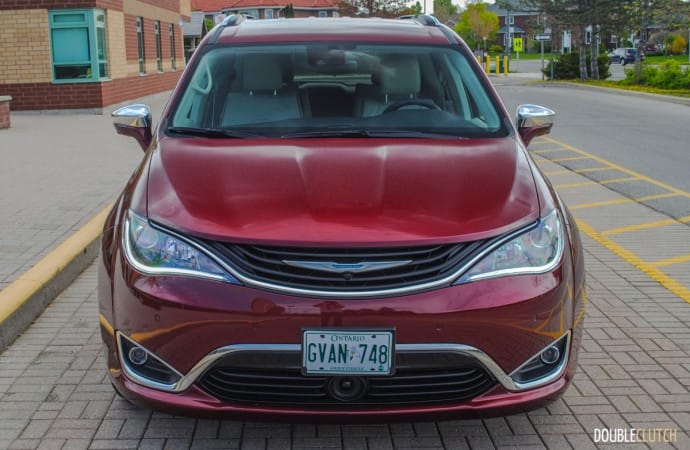 With the growing popularity of hybrids, and with the likes of the original Toyota Prius (reviewed here) with over 15 years of service under their belts, the aftermarket is starting to catch-up and hybrids can now be kept on the road well beyond their initial warranties for increasingly reasonable costs. Maintenance was always the biggest barrier for hybrids, but with that uncertainty beginning to erode, the possibility to reduce fuel bills is now more viable than ever. If you're shopping for a minivan to haul the family around, and don't mind spending a little more to have the benefits and fuel savings of the latest innovations, the 2017 Chrysler Pacifica Hybrid is your ticket.
2017 Chrysler Pacifica Hybrid Gallery
See Also:
Comparo: 2017 Minivan Shootout
2017 Toyota Sienna XLE Limited AWD