Hot off the presses for this year, the 2017 Mazda CX-5 GT recently made an appearance for a week on test. As the latest iteration of Mazda's compact crossover sport utility vehicle, it aims to continue Canada's obsession with the segment. Typically built on a compact car platform, they're basically stilted-up versions of our country's favourite and best-selling compact cars (such as the Mazda3). With very little of the handling and fuel economy drawbacks of a full-size truck, they also often feature all-wheel drive for extra traction from a stop in inclement weather. Throw in a bunch of utility and cargo space with a hatchback configuration, and it's easy to see why sedans are quickly falling out of favour.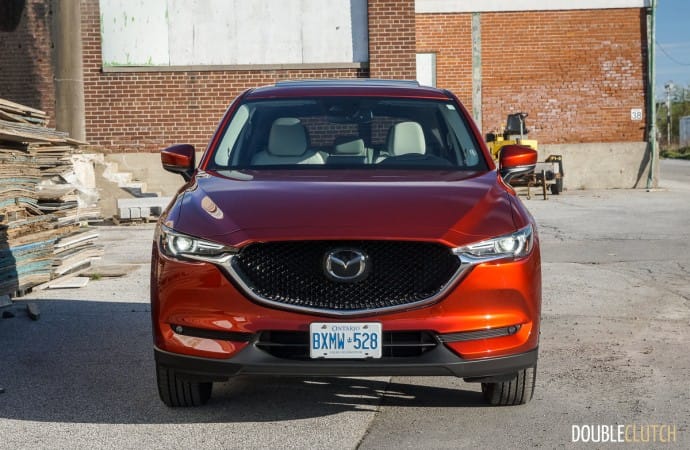 As the top trim level in the CX-5 range, the GT starts at $36,300 and comes well-equipped with all-wheel drive, a power liftgate, a blind spot warning system, heated leather seats (front and rear), a heated steering wheel, 19-inch alloy wheels, Bose audio, seat memory for the power driver's seat, navigation, and LED fog lights. In terms of optional features, the test car's stunning Soul Red Crystal Metallic paint colour is an extra $450, and a $1,600 Technology Package adds a head-up display in addition to today's modern safety suite – adaptive cruise control, forward collision warning with automatic braking, automatic high-beams, lake keep assist, and a nifty traffic sign recognition system. With an as-tested price of $38,350, it's right in line and competitive against the likes of Honda CR-V, Chevrolet Equinox (reviewed here), Toyota RAV4, and Ford Escape, among others.
Compared to the 2016 model, the 2017 CX-5 is more of an evolutionary change than a revolutionary one, but every incremental update sums up to create a fresher, more modern look that also drives better. The exterior styling has been updated to the latest in Mazda's KODO design language, which will resonate with many as a handsome looker in the compact crossover class. The basic interior design is handsome, well-built, and remains quite similar to the previous generation. Moving away from a screen recessed in the centre stack, the new CX-5 now features a seven-inch touch screen that sprouts out of the dashboard, which is also seen in the Mazda3, Mazda6, and MX-5 (reviewed here). Overall, it's a wonderfully premium feeling interior for the money.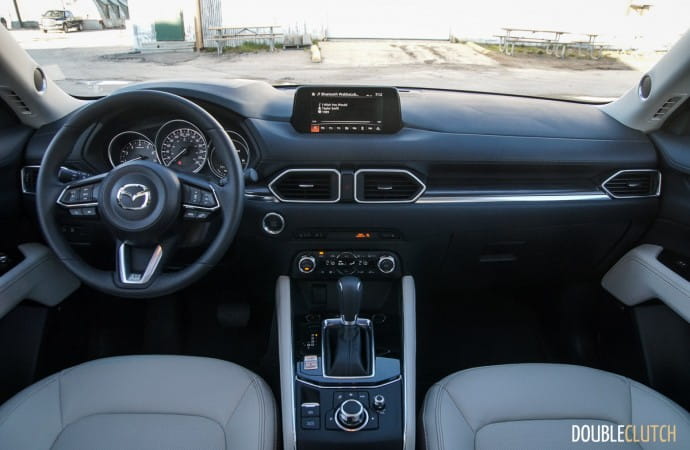 Above all, however, are significant improvements to the refinement and noise isolation. As one of the main weak points of the previous car, Mazda has added noise insulation where it counts, resulting in a much quieter car when cruising on the highway. The side windows are laminated double-pane glass, and the car's gained about 30 kilograms in curb weight as a result. There's still a bit of road noise emanating from the tires, which can potentially be attributed to tire choice from the factory. The bottom line – the CX-5 can now hang with the rest of them in terms of cabin quietness.
With the bit of extra curb weight, fuel economy for the heaviest GT trim is rated at 10.2L/100km in the city, and 8.3L/100km on the highway. Observed economy after a week on test was 9.8L/100km with a bias towards city driving. Fuel capacity is 58 litres, and regular octane is perfectly acceptable.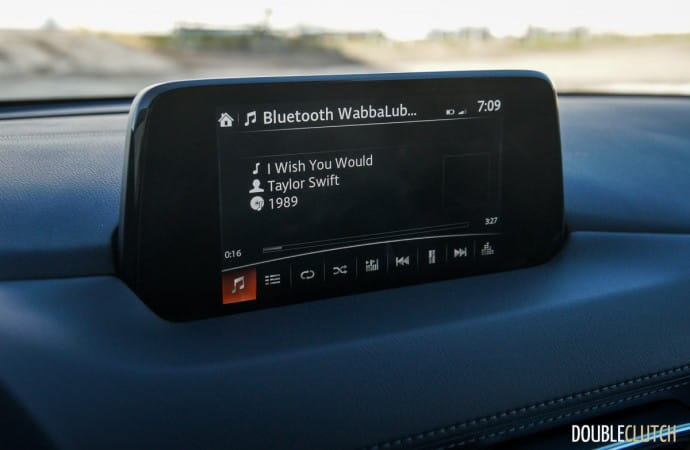 Powertrain is an area that has stayed relatively unchanged compared to 2016's CX-5. Peak horsepower out of the 2.5-litre inline four cylinder engine is up by three to 187 at 6,000RPM, and peak torque is unchanged at 185 lb-ft at 4,000RPM. A slick shifting six-speed automatic transmission continues to serve gear-shifting duty, and shifts quickly with minimal fuss. With the CX-5 GT's 1,659 kilogram curb weight, acceleration is adequate, but it won't exactly win any drag races. Merging and passing will have the engine sounding a bit buzzy and requires a bit of extra thought. In the same price range, turbocharged competitors such as the Honda CR-V (reviewed here), Ford Escape, and Kia Sportage will have more oomph.
Where the 2017 CX-5 really shines, however, is in the handling. It's the best compact crossover to drive when the roads get curvy, and the ride quality is also further improved for 2017. Previously, suspension damping was a bit underdone, resulting in poor body control over bigger bumps and undulations. Mazda has done a formidable job at getting the steering and brake feel just right, and while it's not exactly like the brilliant MX-5, it's still worth writing home about.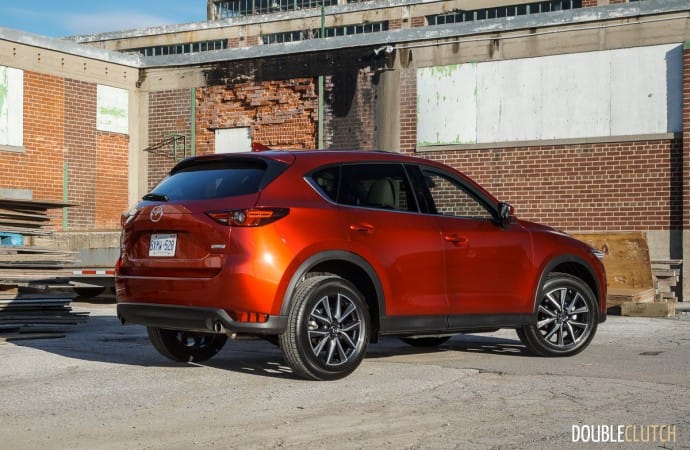 There's also the addition of what Mazda calls G-Vectoring Control (GVC), which makes small adjustments to engine power output to alter the weight shift between front and rear wheels when taking a corner. A slight reduction in engine power when entering a corner shifts load to the front wheels, which improves cornering response. When accelerating out of a corner, power output is restored and stability is improved once the load shifts rearward. Although it's a very subtle system and practically impossible to detect on the road, the CX-5's GVC, surefootedness, and sharp turn-in characteristics make it fun at any speed.
Moving inside, the Mazda CX-5 manages to be fairly useful when it comes to packing in people and gear. There's 875 litres (30.9 cubic feet) of cargo space behind the rear seats, which grows to 1,687 litres (59.6 cubic feet) with the seats folded. This doesn't stack up as well as its archrival, the also-new 2017 Honda CR-V, which manages 1065 litres with the rear seats up, and 2,146 litres with the seats folded. Curiously, it's also smaller than the previous model, which accommodated 966 and 1,852 litres, respectively, even though external dimensions are virtually identical. In the real world, it was difficult the tell the difference.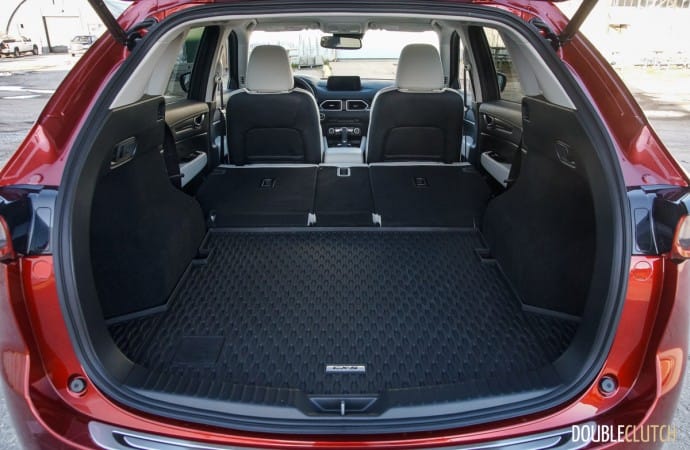 For multimedia and connectivity, the seven-inch touch screen is more or less the same as seen in Mazda products over the last three years. The "HMI Commander Switch" is a rotary dial mounted on the centre console that can control all functions on the screen. Similar to many European cars, it's easier to use the dial when on the road, allowing for less distraction and faster inputs. While Bluetooth phone pairing and audio streaming worked well, there's no Android Auto or Apple CarPlay phone mirroring support currently. These two features are quickly separating the good multimedia systems from the great ones, and automakers are adapting them in droves. Mazda expects to add this capability in the near future, with expected retrofit options on cars not originally equipped with it – there is no clarification yet on how many model years back the compatibility will go.
As an overall package, the 2017 Mazda CX-5 GT once again finds itself near the top of the compact crossover utility vehicle market. For those who enjoy a sportier driving experience and engagement behind the wheel, the CX-5 is almost a no-brainer when looking for a practical daily driver for the whole family. In the past, choosing the Mazda meant making sacrifices in refinement and noise isolation on the highway, but since this is no longer the case, it makes for a good choice for all drivers alike. Fuel economy and interior design are also strong points, and the exterior styling is a little less mundane than some of the other contenders. The CX-5 isn't alone in its place at the top however, as the Honda CR-V and Chevrolet Equinox are also sporting new models that are better than ever before. The addition of an upcoming diesel model to the North American market is also sure to pique the attention of prospective buyers. In any case, the CX-5 comes as highly recommended by the DoubleClutch.ca Magazine editorial team. Expect it to be a strong candidate for winning an award at the end of the year!
2017 Mazda CX-5 GT Gallery
See Also:
First Drive: 2018 Chevrolet Equinox
2017 Subaru Forester 2.0XT Limited